Peanut Sauce Noodles with Crispy Tofu
This recipe for Peanut Sauce Noodles with Crispy Tofu is an easy Thai inspired weeknight dinner that packs in tons of flavor and veggies!
When I think of Thai food, three words come to mind: crazy flavorful sauces. That is what sets Thai food apart and makes it so incredibly delicious. They know how to make a good sauce. When you have a good sauce, the rest of the dish falls into place.
And with this recipe, you can make a delicious Thai flavored sauce at home. This peanut sauce uses pantry staples so that you can whip this up any night of the week. No trips to the store, no Amazon orders, and no Googling unknown international ingredients.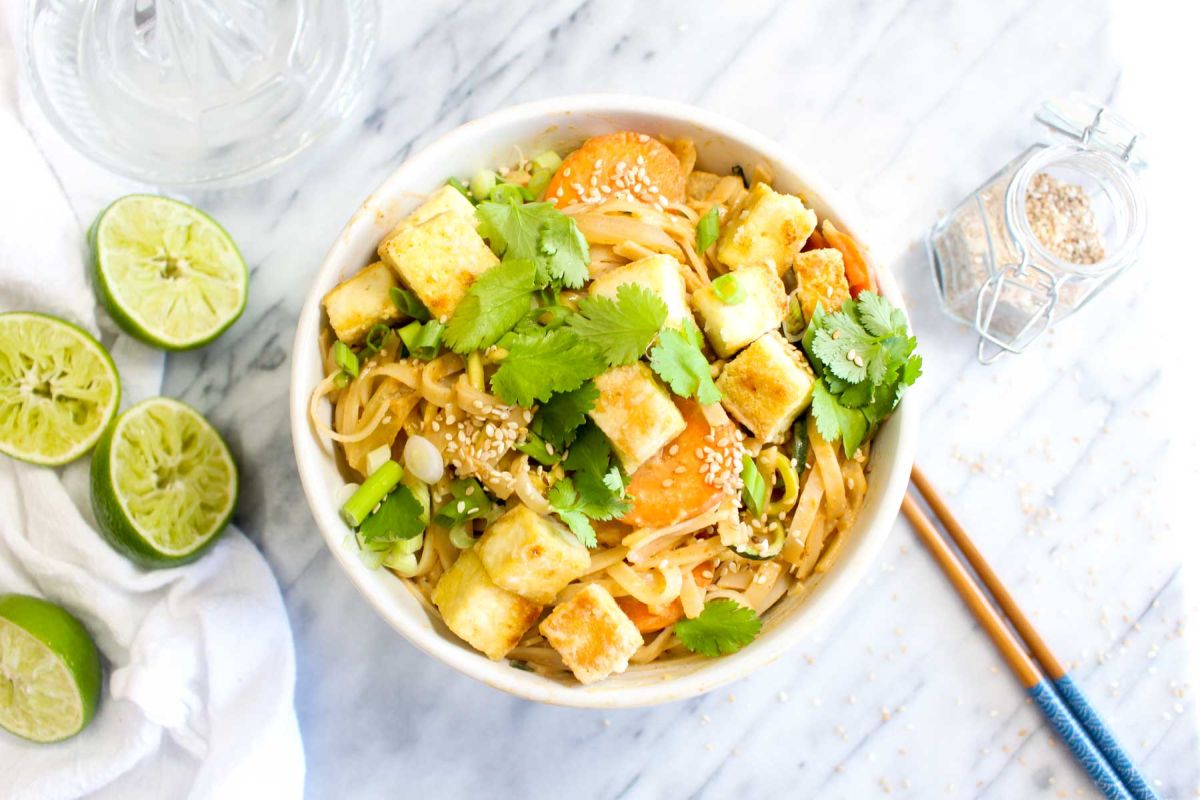 The base of the sauce is peanut butter. It gives the sauce a complex nutty flavor and creamy texture. Maple syrup adds sweetness, and Sriracha spices things up. The secret ingredient: fish sauce. This is optional, and if you don't have it in your fridge, you can leave it out. But if you are willing to invest in a bottle, you will get that traditional Thai restaurant flavor.
To add a crunch factor, we will top this recipe with ultra crispy tofu, no frier needed. Instead of deep frying the tofu to achieve the perfect crunch, we keep things lighter and use corn starch to create a crust on the outside of the tofu cubes. Then they get sautéed in a pan until golden brown and irresistibly crunchy.
If you aren't a fan of tofu, you can substitute in some cooked chicken or just leave it out all together.
These Peanut Sauce Noodles with Crispy Tofu are also high in vegetables. For a simple and healthy swap, we ditch half of the rice noodles and substitute in spiralzed zucchini. Then carrots and onions hit the pan as well. Feel free to add any extra veggies that you have on hand. Bell pepper, broccoli, and cauliflower, would all be welcome additions.
Now let's break down some of the great nutrition we are getting in this dish.
By swapping some of the noodles for zucchini, you get 20 additional nutrients and health benefits to boot! Zucchini can support healthy weight loss, reduce inflammation, and support heart health.
Not only does peanut butter give tons of flavor to our sauce, it also helps to prevent both Alzheimer's and strokes. Since peanuts are full of healthy fats and proteins, they can keep you satiated between meals, aiding in weight loss. Nuts have long been avoided in weight loss circles for their high fat content, but this can actually help you feel full for longer reach your goal weight.
Ingredients:
For the sauce:
1/2 cup Peanut butter
2 teaspoons Fish sauce (optional)
2 tablespoons Maple syrup
2 tablespoons Liquid aminos
1/4 cup Lime
1 tablespoon Siracha
1 clove garlic
2-3 tablespoons water
For the tofu:
1 package super firm tofu, cut into cubes
3 tablespoons corn starch
2 teaspoons avocado oil OR coconut oil
6 oz rice noodles
2 zucchini
1 tablespoon avocado OR coconut oil
2 carrots, sliced
1 onion, sliced
3 stalks celery, sliced
Green onion to garnish
Cilantro to garnish
Directions:
1. Add the rice noodles into a large bowl. Pour over very warm water to cover and let sit for 30-45 minutes until the noodles are al dente. Drain the noodles and set aside. (Note: You may need to use water warmed on the stove if your tap water does not run very hot).
2. While the noodles are soaking, whisk together all of the sauce ingredients, and set aside.
3. Add the tofu to a medium bowl. Add in the corn starch and toss to coat.
Peanut Sauce Noodles with Crispy Tofu 4. Heat 2 teaspoons of the avocado oil in pan over medium-high heat. Once the oil is hot, add in the tofu in a even layer. Cook until golden brown on one side, about 2-5 minutes, and then flip the tofu. Repeat until it is browned on all sides. Remove from the pan and set aside. If the tofu sticks together, just break it apart with the spatula.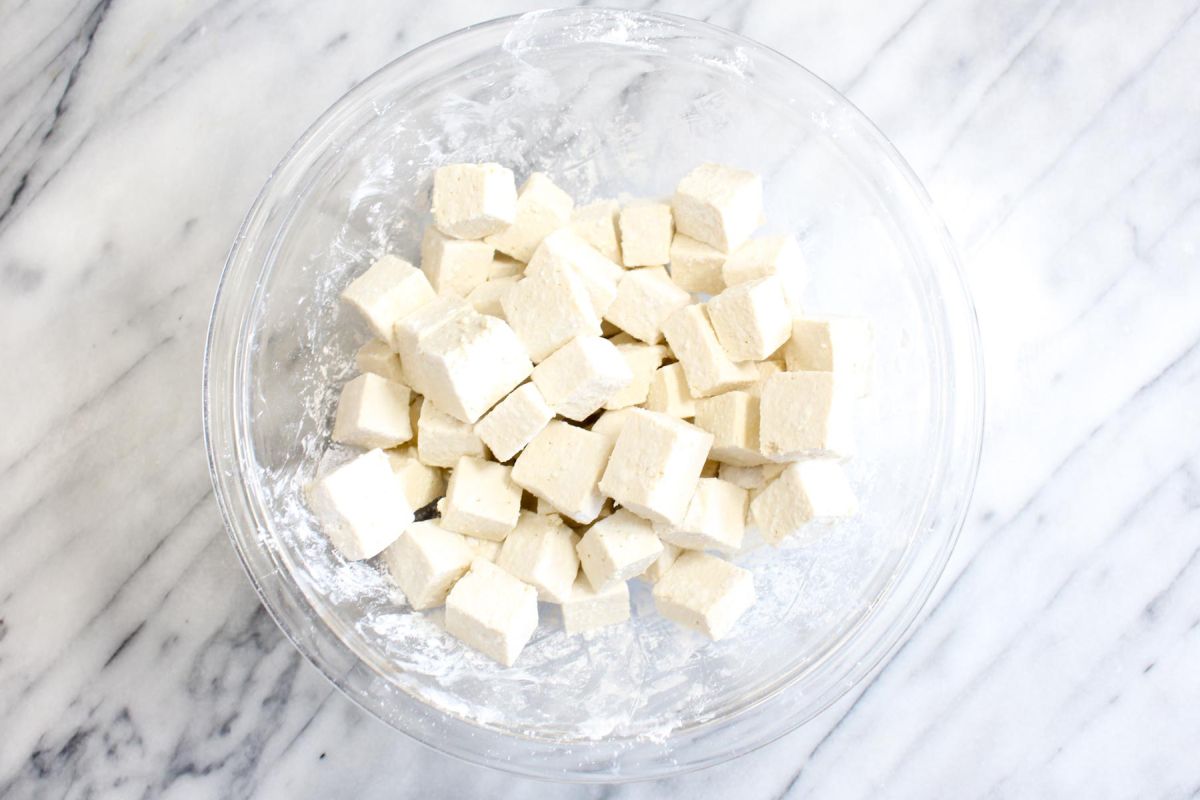 5. Using a spiralizer, spiralize the zucchini.
6. In a large pan, heat the remaining tablespoon of avocado oil over medium-high heat. Add in the onions, carrots, and celery and sauté until softened and the onions are translucent.
7. Lower the head and add in the soaked rice noodles, spiralized zucchini, and sauce. Cook, stirring frequently, until warmed through.
8. Add to bowls, top with tofu, and serve.