Peanut Sauce Noodles with Crispy Tofu
This recipe for Peanut Sauce Noodles with Crispy Tofu is an easy Thai inspired weeknight dinner that packs in tons of flavor and veggies!
When I think of Thai food, three words come to mind: crazy flavorful sauces. That is what sets Thai food apart and makes it so incredibly delicious. They know how to make a good sauce. When you have a good sauce, the rest of the dish falls into place.
And with this recipe, you can make a delicious Thai flavored sauce at home. This peanut sauce uses pantry staples so that you can whip this up any night of the week. No trips to the store, no Amazon orders, and no Googling unknown international ingredients.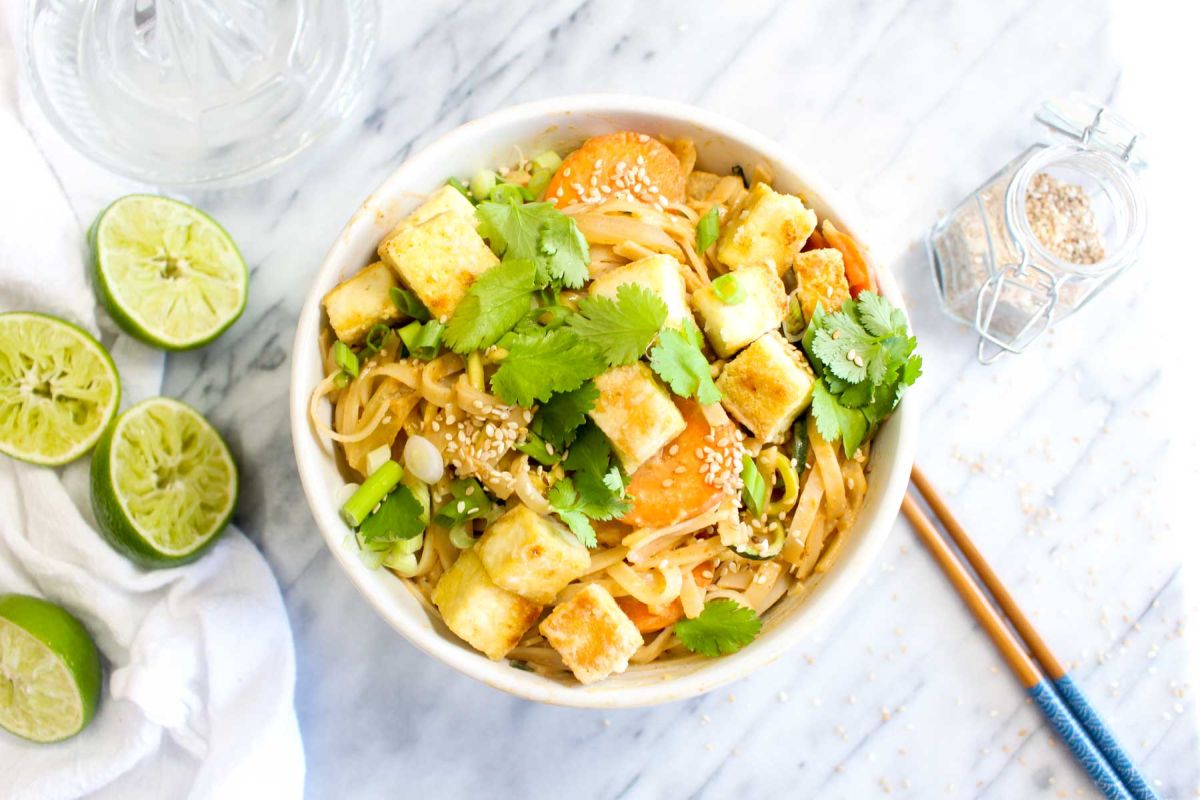 The base of the sauce is peanut butter. It gives the sauce a complex nutty flavor and creamy texture. Maple syrup adds sweetness, and Sriracha spices things up. The secret ingredient: fish sauce. This is optional, and if you don't have it in your fridge, you can leave it out. But if you are willing to invest in a bottle, you will get that traditional Thai restaurant flavor.
To add a crunch factor, we will top this recipe with ultra crispy tofu, no frier needed. Instead of deep frying the tofu to achieve the perfect crunch, we keep things lighter and use corn starch to create a crust on the outside of the tofu cubes. Then they get sautéed in a pan until golden brown and irresistibly crunchy.
If you aren't a fan of tofu, you can substitute in some cooked chicken or just leave it out all together.
These Peanut Sauce Noodles with Crispy Tofu are also high in vegetables. For a simple and healthy swap, we ditch half of the rice noodles and substitute in spiralzed zucchini. Then carrots and onions hit the pan as well. Feel free to add any extra veggies that you have on hand. Bell pepper, broccoli, and cauliflower, would all be welcome additions.