Easy but Awesome Needle Felting Projects for Beginners
If you've ever seen the finished product of an elaborate needle felting project, then you'll understand why people dedicate so much time and effort to the art! Needle felting can be fun and cartoonish or breathtakingly detailed. Before you start creating works of art, however, you have to master the basic techniques! Check out these awesome and adorable beginner's projects that will make learning how to needle felt fun.
Easy round animals
Making a sphere is one of the first things you'll learn when you start felting. Maqaroon hows you how to turn your spheres into adorable animals, like chicks and koala bears!
Happy strawberries
These super cute happy strawberries are fun to make and fun to give to your friends! Get the tutorial from Real Felt.
Fuzzy owl
This fuzzy baby owl looks just like the real thing! Get the simple tutorial at The Magic Onions.
Jelly fish
Needle felting is a great craft for people who love all things kawaii! Round shapes are easy and pastel colours make them adorable. Maqaroon shows you how to make easy felted jelly fish.
Bullfrogs
Petals to Picots recommends easy tutorials for creating adorable cartoon animals like these little frogs!
Gingerbread man
This gingerbread man is the perfect project for needle felters who are still trying to master their basic techniques. Handmade Felt Toys walks you through each step!
Kawaii star
This little star plushie by Flying Mio is a simple shape but lets you switch it up from just learning how to felt things that are round.
Beaded ball banner
Did you know that you can bead your felted projects too? Crafts n' Coffee shows you how to fancy up a basic project without making it much more difficult.
Easter eggs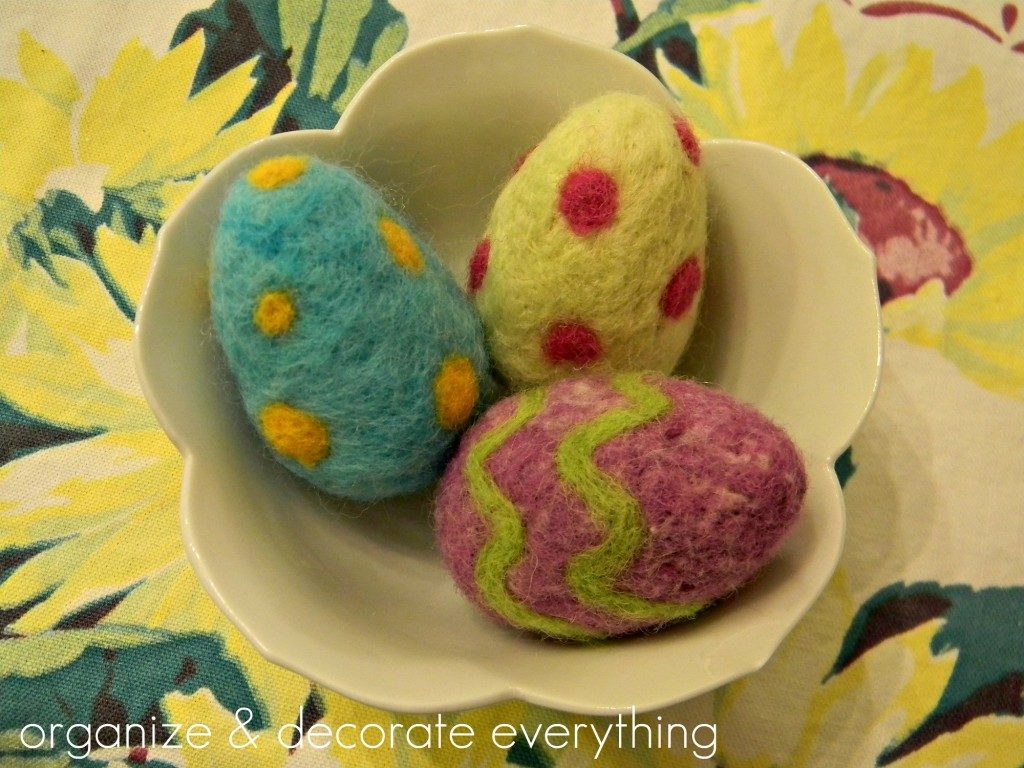 Felting these little Easter eggs lest you practice your basic techniques and learn how to add new colours and details. Check out the tutorial on Organize and Decorate Everything.
Hatching Easter eggs
Are you looking for something a little more exciting than just a solid Easter egg? Try these simple eggs that are hollow on the inside so you can fill them with chocolate, candies, or little knitted chicks! Get the instructions on How to Run a Home Daycare.
Matryoshka doll
If you're ready to try felting something that starts in multiple pieces, check out Lil Blue Boo's Matryoshka doll tutorial!
Kawaii kittens
Not only are these adorable kitties a great way to start attaching external pieces to your main shape, but they also make cute gifts! Check out Maqaroon's tutorial.
Fancy octopus
Sometimes you just need a really fun craft to lighten the pressures of learning something new! Try Flying Mio's hilarious fancy octopus tutorial.
Cartoon owl
Do you love the fuzzy owl pattern from earlier but wish he was a little more cartoony? Try Occupied Hands' blue owl tutorial instead!
Baby seals
There's hardly anything cuter than a baby seal in real life, and the same goes for these adorable little felted seals! Maqaroon's tutorial is easy and helpful.
Do you know someone who is trying to learn needle felting but is bored of practicing their basic techniques? Share these fun projects with them so they can get excited about practicing again!