25 Simple Nail Art Tutorials For Beginners
Colorful patterns and unique designs, it's so fun getting a manicure that suits the season or your own personality; making it one that's a bit outside-the-box in tradition and not just a new color. Have you ever thought about trying your hand at nail art? Creating your own look and getting creative? Well, now you can! Take a peek at these 25 simple nail art tutorials that are perfect for beginners and dip your toes (or hands) into it.
1. Watermelon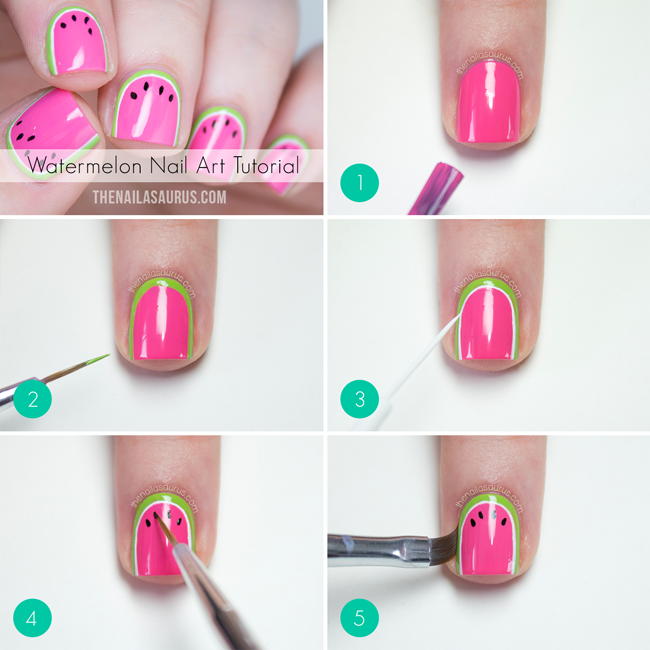 These watermelon nails may look intricate but anyone can recreate this look by The Nailasaurus. They're adorable, they perfect for summer vacation and if you follow the steps, you'll be surprise how easy it is for a novice to do.
2. Geometric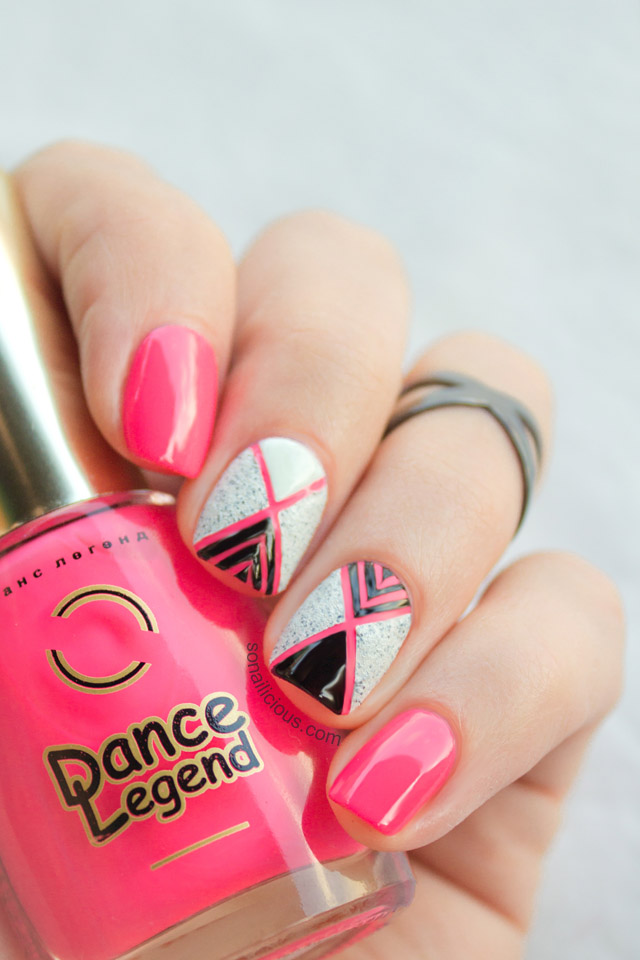 Sonailicious gives us some incredible inspiration for a unique, geometric design that looks like it's straight from the salon. But, with the right colors, it can be made right at home.
3. Glitter Lines
Brit+Co shows us how to use tape. Cover them in glitter, tape a design, paint and peel! It's super easy and you can do it with a variety of textures and colors.
4. Minimalistic
A minimal design from Pshiiit opens us up to so many easy designs. It's simple, it's sweet and it's incredibly modern for your fashion-forward style.
5. Taxi-Inspired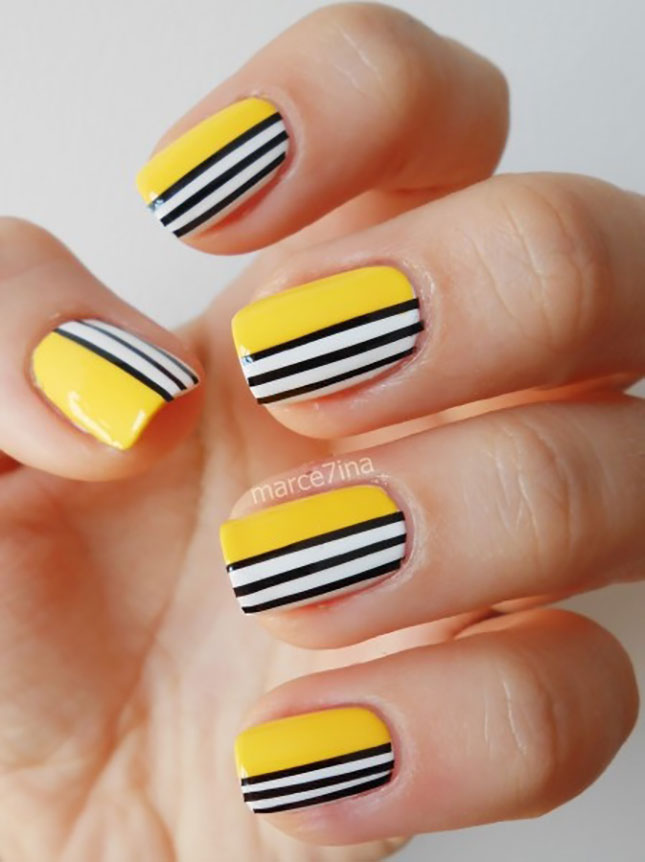 We're in love with this taxi-inspired design from Snobka. The contrast is brilliant and its quite simple to recreate with the right materials.
6. Flowers
LuLu's provides some beautiful amazing tutorials for some unique and intricate nail art. But this floral design can be done by even the beginners.
7. Opal
We're swooning over this opal designs we found at Pshiiit. Layers and swirling of metallic pinks and turquoise come together to create quite the stunner.
8. Nail Tip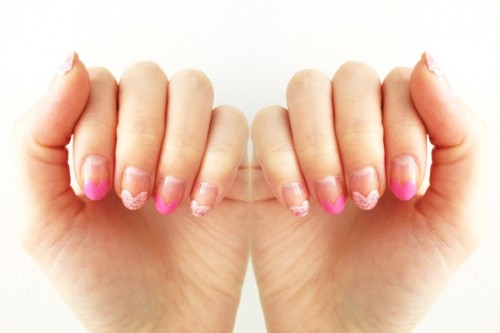 Over at Yes Missy you can find the tutorial for these heart-shaped tips. It's such a quirky and fun way to dress your digits!
9. Glitter Colorblock
All Day Chic provides us with a simple technique for creating colorblocked nails. And we're in love with the sparkling colors choices used in the tutorial.
10. Single Stripe
A single stripe can really make a difference when designed your nails. At Isla Everywhere you can learn how to recreate this easy, simple look within a bat of an eyelash.
11. Pineapple
Divine Caroline gives us another intricate design but one that can be recreated by novice stylers. Just follow the easy steps provided and get creative with this funky pineapple look.
12. Polka Dots
Who doesn't love polka dots? Polish Your Pretty shows us how to make the adorable print that will never go out of style … but on our nails!
13. Melted
Chalkboard Nails featured some incredible nail art. And this one is no exception. Learn how to make your fingernails melt with metallic as you follow their easy video tutorial.
14. Triangles
At A Beautiful Mess you can learn how to utilize nail wraps as you design your own look with them. This geometric look was made easy, go see how!
15. Snow
This snow-topped look is so much fun to recreate but it's also easy, which is what we're all looking for. Quite Polished has an easy way to create the snowing feature.
16. Football
Whether it's for your kiddos first ball game or the first Monday night football party of the season, these Pretty Prudent football nails are great inspiration and easy to do on yourself.
17. Mermaid
Cupcakes and Cashmere created some nails inspired by mermaid colors. Not ever design has to be added to every nail. Instead this glittery addition can just be an accent.
18. Chevron
Chevron is one of the trendiest of patterns. And over at Lulu's, you can learn how to create the chicest version of that fun, modern print.
19. Flocked
Cupcake's Clothes gives us a tutorial that's full of texture, fun and uniqueness. And with this "flocked" look, your nails will look like velvet.
20. Ombre
Chalkboard Nails gives us another inspiring design, but this time it's all about color. A gradient, ombre effect is just as chic on your nails as it is in fashion.
21. Kitchen Tiles
Inspired by kitchen tiles, learn how to make another funky, geomtric design from Nailed It. And remember, you can use any colors you choose!
22. Half-Moon
Hole reinforcers never came in handy like this before. This classy, half-mood design by Lulu's is such a sweet and girlish way to dress your nails.
23. Checkerboard
Sonailicious made a checkerboard print, right on her nail bed. And we love its contemporary feel and sleek touches. Of course, the classic, black and white color combinations helps with that look.
24. Linear Lines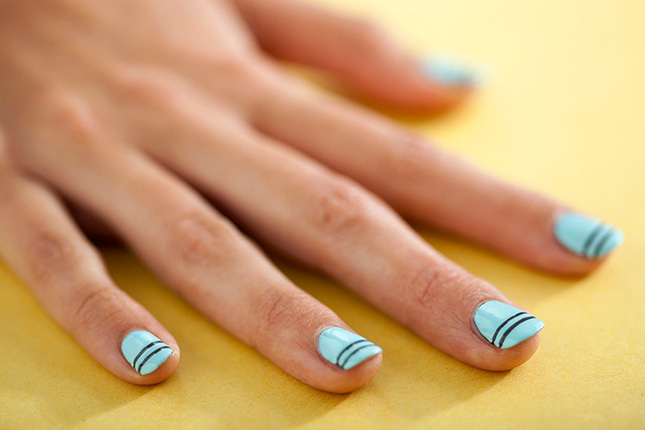 Brit+Co shows us another way to utilize the simplicity of easy lines. Horizontal lines are just another way to dress your nail with chic styling.
25. Ice Cream Cone
And finally, Divine Caroline shows us an easy way to turn your nails into miniature ice cream cones. And yes, this one if for beginners too! Just follow the directions.