Citrus and mint iced tea – a zingy, refreshing drink that will cool you down and perk you up on hot days.
While we haven't quite reached Summer yet, it is getting tangibly close, and I, for one, can't wait for the sunshine and blue skies! I am a big tea drinker, as in hot black tea with milk (I am British after all), but I can't really face hot drinks on hot days. I still need to get my caffeine fix in somehow, though, so that is where iced tea comes in.
I like to keep a big jug of iced tea in the fridge so that I can just pour myself a glass whenever I need a refreshing pick-me-up. It is really easy to make and will keep for at least a few days, so it is definitely worth making a large batch. Iced tea lends itself well to adding extra flavors; fruits and herbs work particularly well, so in this case, I went for mint and citrus fruits – orange, lemon, and lime.
The tea is very thirst-quenching, and because it is only lightly sweetened and is full of fresh fruit juice, it is not massively unhealthy. Feel free to add more sugar if you prefer sweeter tea though I find that it is more refreshing (and better for you) if it isn't overly sweet. You can also swap the sugar for agave or stevia if you prefer.
Here's what you'll need:
5 black tea bags
6 sprigs of fresh mint
5 Tbsp granulated sugar
5 cups freshly boiled water
juice 4 oranges (and zest of 2 – optional)
juice 1 lemon (and zest of 1 – optional)
juice 1 lime (and zest of 1 – optional)
6 sprigs of fresh mint, 1 orange, 1 lemon, and 1 lime to serve (optional)
1.Use a vegetable peeler to strip the top layer of zest, avoiding the white pith from two of the oranges, the lemon, and the lime. (this step is totally optional, using the zest as well as the juice adds extra citrus flavor but make sure you don't leave it to be steep for too long, or it can get bitter).
2.Place the zest (if using), the tea bags, mint, and sugar in a large jug and pour over the boiling water. Give it a stir, then leave to steep for 10-15 minutes. Remove the tea bags, squeezing them out to extract as much flavor as you can. Leave the mixture to cool until it is lukewarm.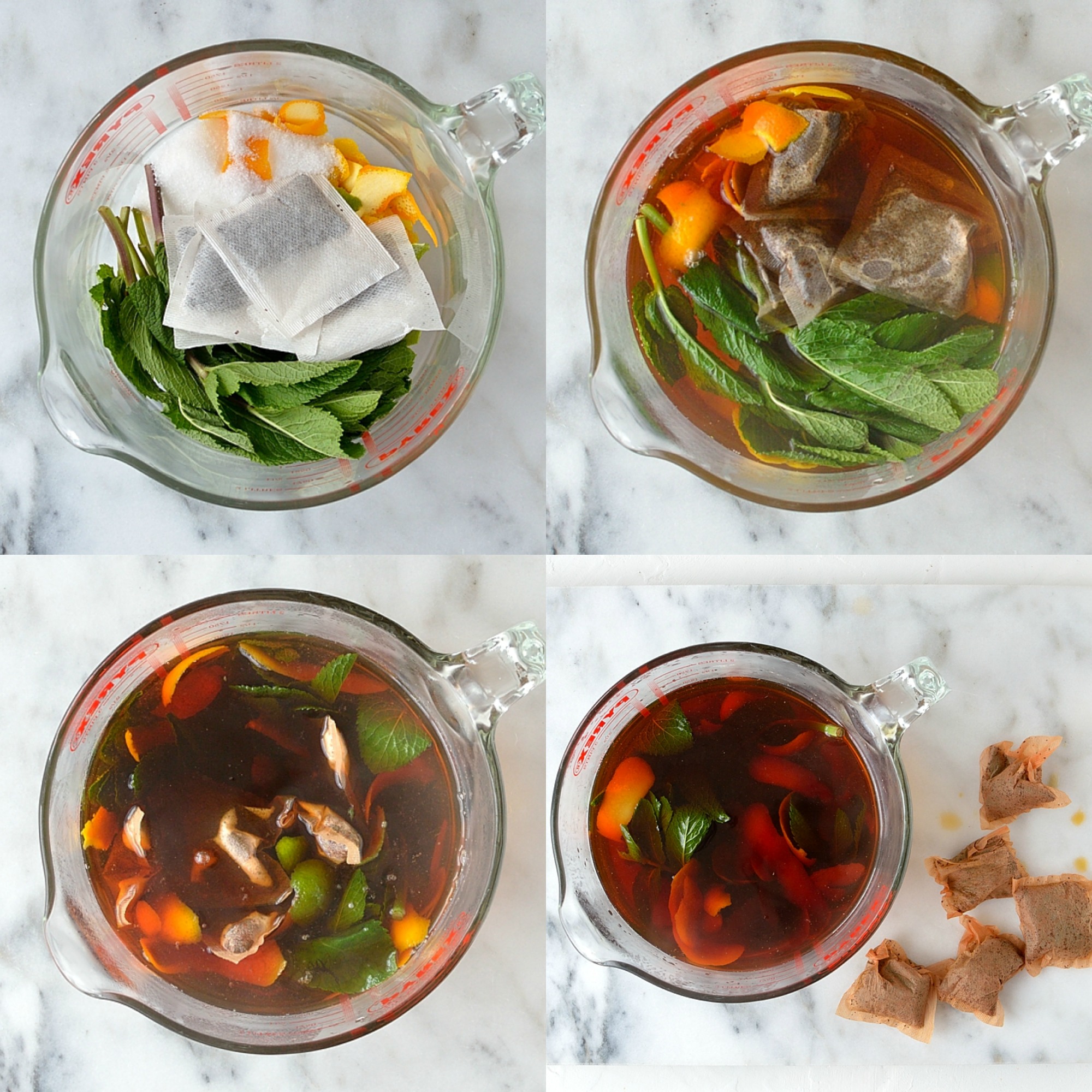 3.Squeeze the juice from the oranges, lemon, and lime and add it to the jug. Pour the tea through a fine-mesh sieve into another jug, discarding the bits.
4.Slice an orange, a lemon, and a lime. Strip the leaves from a few sprigs of mint and add them to a large jug. Fill the jug with ice and add the tea, then serve. Alternatively, the tea can be stored in the fridge, and you can simply pour a glass as and when is needed.
Citrus And Mint Iced Tea
Citrus and mint iced tea – a zingy, refreshing drink that will cool you down and perk you up on hot days.
Additional Time
15 minutes
Ingredients
5 black teabags
6 sprigs fresh mint
5 Tbsp granulated sugar
5 cups freshly boiled water
juice 4 oranges (and zest of 2 – optional)
juice 1 lemon (and zest of 1 – optional)
juice 1 lime (and zest of 1 – optional)
6 sprigs fresh mint, 1 orange, 1 lemon and 1 lime to serve (optional)
Nutrition Information:
Yield:
6
Serving Size:
1
Amount Per Serving:
Calories:

186
Total Fat:

0g
Saturated Fat:

0g
Trans Fat:

0g
Unsaturated Fat:

0g
Cholesterol:

0mg
Sodium:

89mg
Carbohydrates:

48g
Fiber:

6g
Sugar:

36g
Protein:

2g