Spring Minestrone Soup Recipe
Today we are tossing Spring straight into the soup pot for a fresh twist on Minestrone soup.Minestrone soup is a classic Italian dish that contains beans, vegetables, fresh herbs, and pasta. Traditional vegetable choices include carrots, onion, green beans, potatoes, and zucchini. Pasta, kidney beans, and herbs are added to the pot and everything is simmered in a tomato broth. The hearty soup is a filling meal in a bowl, often served with a side of crusty bread.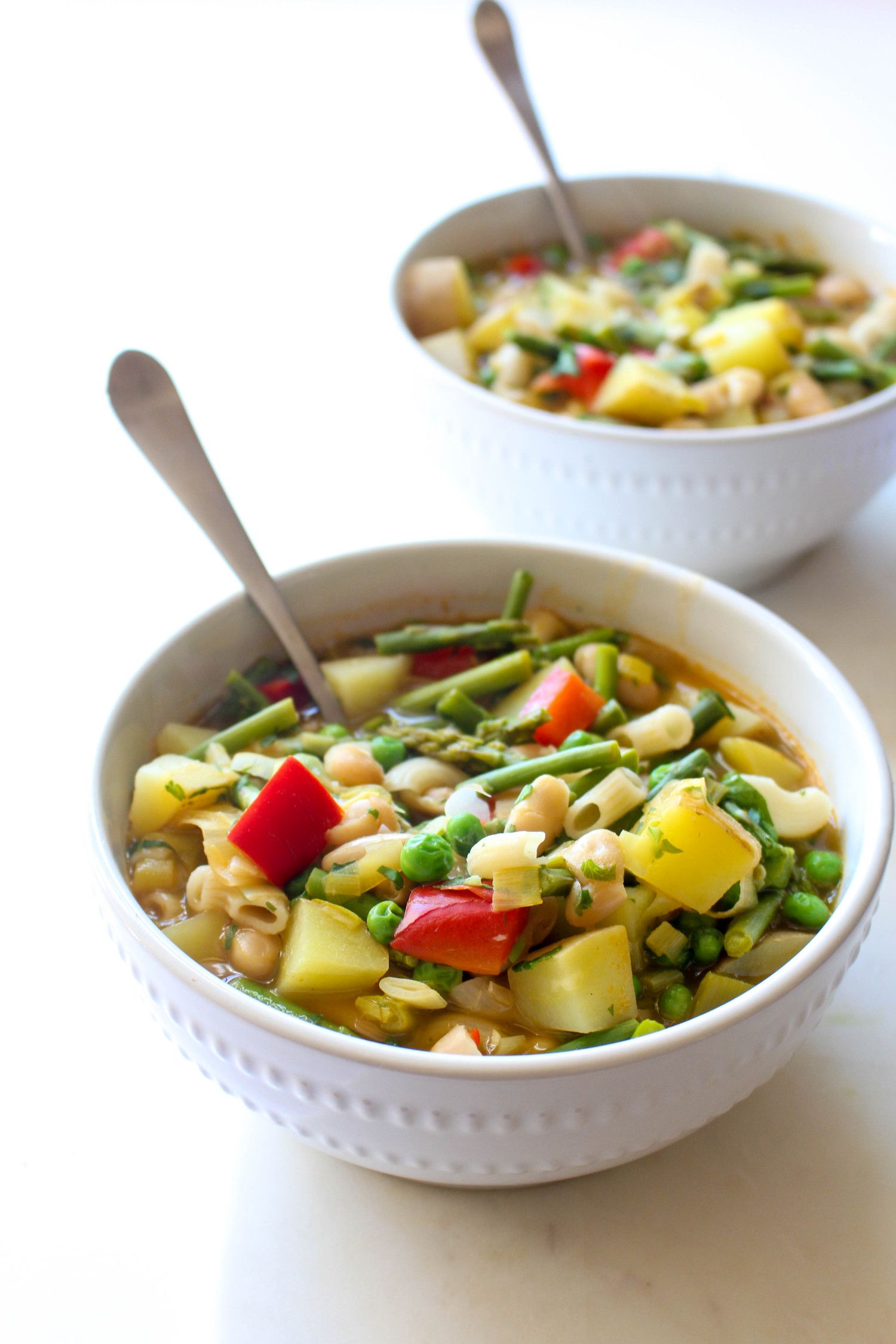 Since Spring is in the air, we are updating this delightful soup by adding Spring's finest ingredients into the mix. This version features fresh peas, baby potatoes, asparagus, delicate basil and parsley, and red bell pepper. Cannellini beans and pasta are added to round out this soup into a real meal. Instead of a rich tomato broth, which could overpower our fresh ingredients,  we are using a vegetable broth so the delicate Spring flavors can shine.
Spring is a time of green gardens, sunny days, and blooming flowers, but it can also be filled with rainy days and chilly nights. This soup is the perfect transition into warmer weather. On those still chilly Spring nights it is great to cosy up with a warming bowl of soup. This soup is light and fresh, tasting of the Spring season rather than the hearty stews of winter.
Ingredients:
2 tablespoons olive oil
2 leeks
1 clove garlic
1 red bell pepper, chopped
2 cups cubed baby gold potatoes
4 cups vegetable broth
2 teaspoons salt, divided
1/4 teaspoon white pepper (or black)
1 bunch asparagus
1 can cannellini beans
1 cup macaroni noodles
1 cup fresh peas, frozen can work too
1/2 cup minced basil
1/2 cup minced parsley
1 lemon, zested
Directions:
1. Add oil to a large pot and heat over medium high. Add in the leeks and cook until softened, about 3 minutes. Add in the garlic, and saute another 30 seconds.