Swoon For These 13 Couples' Bracelet Ideas!
Beaded or braided friendship bracelets used to be the trendiest of accessories. Multiples on your wrist or ankle would signify a solid connection between you and the rest of your gang. But now, there's another charming trend that you may want to dive into. We're absolutely swooning for these 13 couples bracelet ideas. Initials and mixed materials, there's a variety of designs that will ensure a fitting style for you and your beau. Let's take a peek at some of our favorite finds.
1. His & Hers Couples Bracelets
We begin with these simple his and hers couples' bracelets. Coming as a set, you'll be able to display your love in a subtle, easy fashion and with a unique sense of style. The bracelets included a beaded agate band, silver plated band, and personalized coin feature.
2. Personalized Silver Couples Set
There's a personalized silver couples set that hits our minimalistic lovers' hearts. They are easily stackable and mix well with other bangles and bands. But mostly, they're subtle personalization feature may for quite the romantic gesture.
3. Otter Couple Travel Bracelet
How adorable is this design? For those with a quirkier spirit, you may just fall head-over-heels in love with this otter couple travel bracelet. The design comes in silver, bronze, or gold as well a variety of sizes.
4. Set of Copper Hammered Cuffs
Your couple bracelets don't have to be loud and apparent. Instead a set of copper hammered cuffs could be exactly what you need to make a more private statement and commitment. These particular designs are made with a heavy hammer and one order gets you four pieces to share.
5. Sterling Silver Engraved Cuff Bracelet
One of the more traditional routes to take in this arena comes in the form of the sterling silver engraved cuff bracelet. You can essentially engrave this in any way you both see fit. Inside jokes, nicknames, dates, you can get really creative and personal with it!
6. Relationship Synastry 22 Necklace
Technically, this is a necklace but it bring bouts of positive energy to your relationship. In fact, it's called the relationship synastry 22 necklace. What does that mean? Well, within this design, you get a custom gemstone necklace that will compare your astrology chart to your lover's. And you can carry each other wherever you go.
7. Custom Stamped Sterling Silver Cuff Bracelet
Here's some more custom stamped sterling silver cuff bracelets that may be fitting for you and your beau. Again, you can personalize these, essentially, in any way you want so you can really flex your creative muscles with this one. It's also a simply design that will fit versatility into your everyday style.
8. Beaded Personalized Couples Bracelet
Some of us believe beaded in better and go with a more bohemian flair to our everyday wardrobe. If that's the case, you'll want to check out these beaded personalized couples bracelets. Created with lava beads, they come in either black or white with a customizable center.
9. Minimalist Couples Bracelets with Hematite & Black Onyx
How gorgeous is this minimalist couples bracelets with hematite & black onyx? This may be some of our favorite materials on the list. It's organize in nature but speaks to our modern-loving hearts at the same time.
10. Silver Split Heart Bracelet
Here's a sweeter, more unique design to play around with. This silver split heart bracelet comes in silver, gold plated, rose gold plated, or rhodium plated and the charm can be split into two bracelets or other pieces of jewelry such as a necklace.
11. More Personalized His & Her Options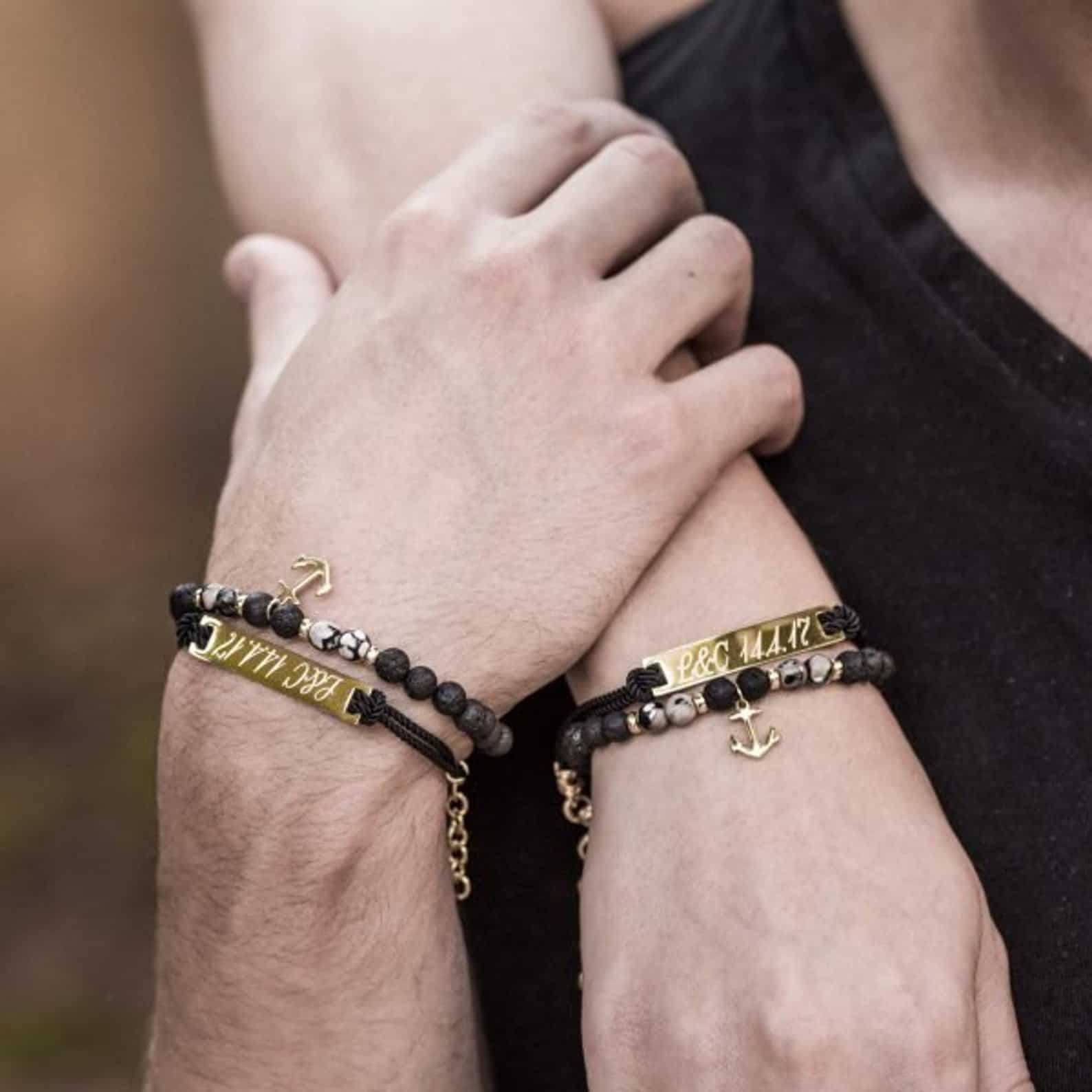 Who is your anchor? With this design, you get ever more personalized his & her options. With this purchase you get a matching set and a means to customize your design your own, personalized couple flair.
12. Stainless Steel Personalized Couples Bracelets
If you want a longer-lasting design, you may want to think about going for materials which are a bit more withstanding. These stainless steel personalized couples bracelets work as anniversary or Valentine's Day gifts – and are easy to mix and match with other accessory options.
13. Leather Personalized Couples Bracelets
Finally, we are showing the leather personalized couples bracelets. Leather is another versatile and long-lasting material for those that believe they'll be wearing their piece on a daily basis. It's also a bit more casual for those looking for a more subdued look.