35 Mason Jar Recipes For Every and Any Occasions
DIY gifts, party favors or just a fun way to experiment in the kitchen, mason jar recipes are such a charming way to get creative cooking and baking. Layered hot chocolate or fresh cookies, there are an infinite amount of ways to pack a mason jar with all of the delicious ingredients you need for a weeknight treat or Saturday side. Check out 35 of our absolute favorite mason jar recipes and come to share the results of your own experiments!
1. Sweet & Spicy Chili with Cornbread
Iowa Girl Eats made an entire meal inside a mason jar, and we want a bite! This sweet and spicy chili with cornbread topping recipe is the perfect addition to a fall day.
2. Artichoke & Tortellini Salad
For an easy work or school lunch, get this healthy meal together. Made by Organize Yourself Skinny layer your tortellini salad right inside the jar.
3. Cowgirl Cookies
This recipe isn't ready-to-eat, instead, it's ready to mix together and bake. It's a great DIY gift or party favor – but the result is also delicious. Thanks Put It In A Jar!
4. Mini Smore's
Grab some smaller jars and create some smaller desserts for your next dinner party. Check out the recipe for these adorable smore's over at Lovely Little DIY.
5. Salted Caramel Brownie Trifles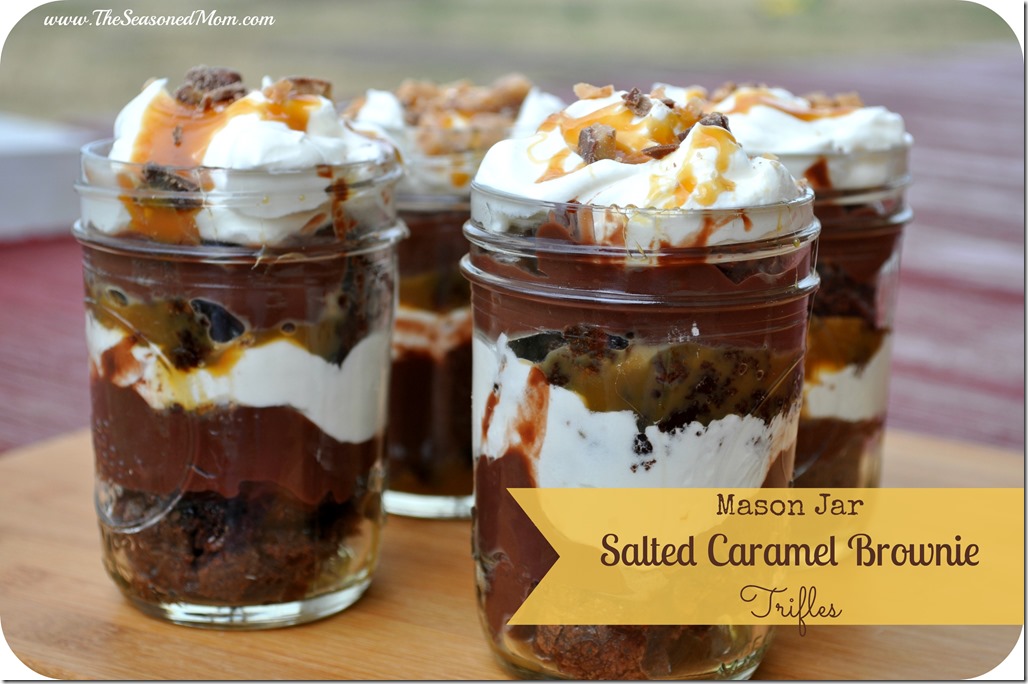 For a richer dessert, one that would be great around the winter holidays, try these salted caramel brownie trifles from The Seasonsed Mom. Chocolate, smooth caramel … and it's all in a quaint jar!
6. Banana Split Parfait
Here's another ready-to-eat dessert that everyone will love. Learn how to make your own banana split parfaits over at Season with Spice!
7. BLT Salad
Grab a fan-favorite lunch and stuff it in a jar making it easier for work, school or on-the-go lunches! This BLT salad is the perfect bite, grab the idea from It All Started With Paint.
8. Spinach, Mozzarella & Pasta Salad
Maybe you're in the mood for some Italian flavors! This spinach, mozzarella and pasta mix will be the perfect (and healthiest) of treats! Grab the recipe at Organize Yourself Skinny.
9. Rainbow Cake
Treat yourself and your little ones with one of these charming and fun-to-make rainbow cakes! Check out the tutorial at Lovely Little Details and have fun with the colors!
10. Granola Breakfast
Joyous Health gives us the recipes for breakfast in a jar! This granola parfait is perfect for those on-the-go that don't want to miss out on something yummy in the morning.
11. Lemon Meringue Pie
Sunny and sweet this lemon meringue pie from It All Started With Paint looks like it was meant to be served up in a jar, don't you think?
12. Greek Salad
A Beach Cottage makes us another salad for inspiration and tasty bites. Perfect for a beach vacation meal or lunchtime break at work, layer your ingredients and go!
13. M&M Cookies
Damn Delicious gives you everything you need to make M&M cookies – and it's all inside a mason jar. This too is a great DIY gift for the holidays or just something fun to try out with your buddies.
14. Instant Noodles
Find out how to make your own instant noodle jar – by just adding hot water, over at The Food Lab. Just like the spread says, you'll make your co-workers jealous and enjoy your work day lunches!
15. Egg Salad
Who says you can't make egg salad and not only make it pretty but delicious – in a jar – too. Make and Takes shows us how to do it for anyone or anytime of the week.
16. Tacos
You don't have to have a tortilla or taco shell to have tacos – instead you just need some mason jars. Build your taco right inside like What's Gaby Cooking did and you'll have yourself a tasty and healthy meal.
17. Fruit & Feta
This gorgeous fruit and feta salad was made by The Cookie Rookie. And it looks just as pretty inside the jar as it does out. This bite is a beautiful summer bite and healthy too!
18. Punch Bowl Cake
Love of Family and Home makes a punch bowl cake that looks out of this world. But then she put it inside a mason jar and made it adorable too! Swoon …
19. Fall Salad
Popsugar divulged the recipe to this gorgeous and rich fall salad and we're dying to try it. Some of the ingredients include squash and sprouts!
20. Zucchini Noodle Salad
Have you ever had a zucchini noodle salad, because Inspiralized made it in such an accessible and fun way that we think everyone should have a bite!
21. Quinoa Breakfast
At Kerry Gold you can find a recipe that incorporates quinoa into your morning routine – make sure to check it out! There are quite a few ingredients and coming together it'll definitely be a flavorful burst.
22. Mango Chicken Salad
If you're in the mood for something a bit tropical, try out this recipe from Cupcakes and Kale Chips, It's hearty but also light enough to feel like summertime.
23. Banana Bread
Who would have thought to have banana bread find a home inside a mason jar? Made From Pinterest did it, so why don't you hop over and see how!
24. No-Bake Key Lime Pie
Check out this easy, breezy no-bake recipe on Million Moments. Key lime pie is such a refreshing treat and when it's served in such a charming way, it can never be passed up!
25. Cobb Salad
Everyone loves a good cobb salad and you can make it so much easier to handle and travel with when you stuff it in a jar. Make sure to check out The Little Foodie's recipe.
26. Cherry Chia Oats
This breakfast is a bit outside-the-box but delicious all the same. Prepare this the night before and get up and go with it in the morning. Hop on over to Blissful Basil and see how to create it.
27. Breakfast Bread Pudding
The Yummy Life made a bread pudding that's approprirate – and healthy enough – to be eaten for breakfast! We're in love and you will be too.
28. Skinny Chocolate Smoothie
Of course, you can make drinks inside a jar – but this is a smoothie. Cap it when you don't have a chance to finish it and grab it when you're on the run. Check out the mixture at The Happier Homemaker.
29. Bacon & Eggs
This portable version of a classic, American breakfast is quite genius. You'll need to visit At The Picket Fence to see how she took her bacon, eggs and hashbrowns to go!
30. Eclairs
Everyone loves an eclair but no one loves the mess. Get all that silky, rich taste in a mason jar with this recipe from Me and My Pink Mixer.
31. Veggie Salad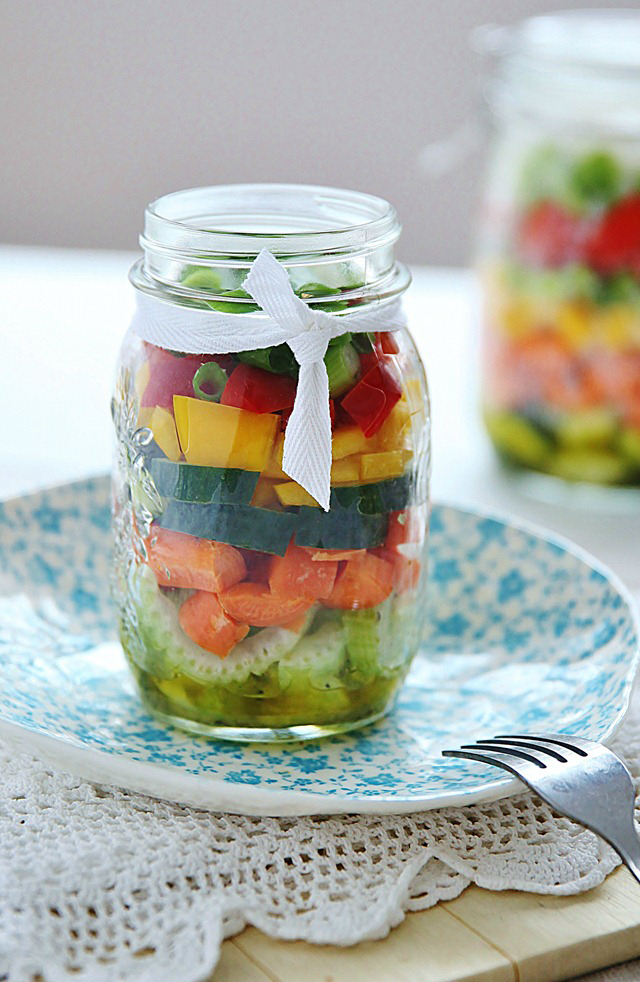 A Beach Cottage also makes a quick and snazzy veggie salad complete with lemon dressing and spring onion. Check out the full recipe on the site!
32. Brownie Batter Parfait
If you're looking for something a bit richer and classically comforting check out this recipe from Cookies and Cups. It's a winner among the masses and full of chocolaty goodness.
33. Mini Butterfinger Pies
These are the perfect treats to pass around at showers, parties, weddings or even dinner parties! And they include one of our favoite candies, check out the recipes at Crumbs and Chaos!
34. Layered Cheesecake with Raspberry Sauce
The Cafe Sucre Farine made a gorgeous, layered cheesecake inside a mason jar and it's hard not to want to devour it right through the screen. Topped with raspberry sauce and ganache, this one will be a sure hit among your friends and family.
35. Balsamic Grilled Chicken Salad
Chatelaine gives us another healthy, weekday lunch that's easy to put together – inside a jar – but also tasty, interesting and so much better than a fast-food drive through.