How To Make Your Own Body Scrub
Body scrubs are great moisturizing exfoliates that are super easy to make at home. The ingredients are all inexpensive and the best part is that it doesn't take very long to create. These scrubs make great gifts for a dinner party hostess, a work friend going through a hard time, or just friends and family. I make jars for myself for days when my skin feels a little dry.
For this DIY, you'll need:
2 cups of Epsom salt or organic cane sugar
1 cup of carrier oil
8 drops of an essential oil
1 drop of food coloring
Optional: Mason jar, medicine dropper
Decorative elements: Ribbon, tag, fabric square about 4 x 4, small porcelain spoon
Essential Oil
Essential oils are the true essence liquids drawn from parts of plants. Just about every sweet-smelling plant has an essential oil. So if there's a particular scent you like, for example grapefruit or lavender, you can find the essential oil for it. You can find essential oils at your local GNC and I've heard that Walgreens carry some. But for more variety, you can look online.
Carrier Oil
A carrier oil is vegetable oil that comes from a portions of the plant like seeds or nuts. Because essential oil directly applied to the skin can cause irritation, carrier oils are necessary to dilute the essential oil and carry it onto the skin. Vegetable oils are the carrier oils used primarily for aromatherapy purposes. Examples of vegetable oils are avocado oil, grape seed oil, macadamia nut oil, evening primrose oil, and apricot kernel oil. There are several other vegetable oils that you can use and they all have different scents. Just experiment to see which scents you like best based on the oil ingredient.
1. In the mason jar, mix together the Epsom salt with your carrier oil.
2. With your medicine dropper, add the essential oil one drop at a time.
3. Then add your drop of food coloring and stir until color has been evenly spread in the mixture.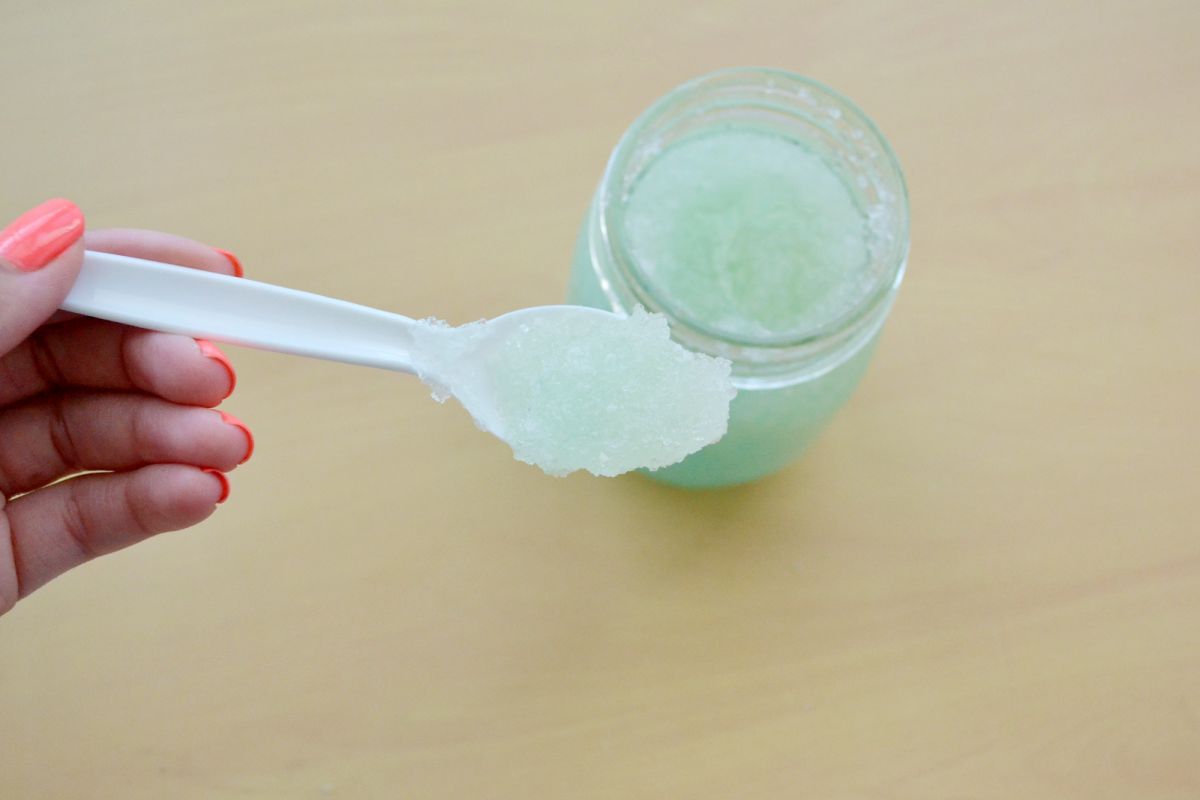 4. Stir all of the ingredients together until well blended.
5. Put the flat metal disc-lid onto the jar and then place the 4 x 4 fabric square over the lid. Screw on the outer band over top of the fabric.
6. Tie on the ribbon with the tag, and then, give to a dear friend!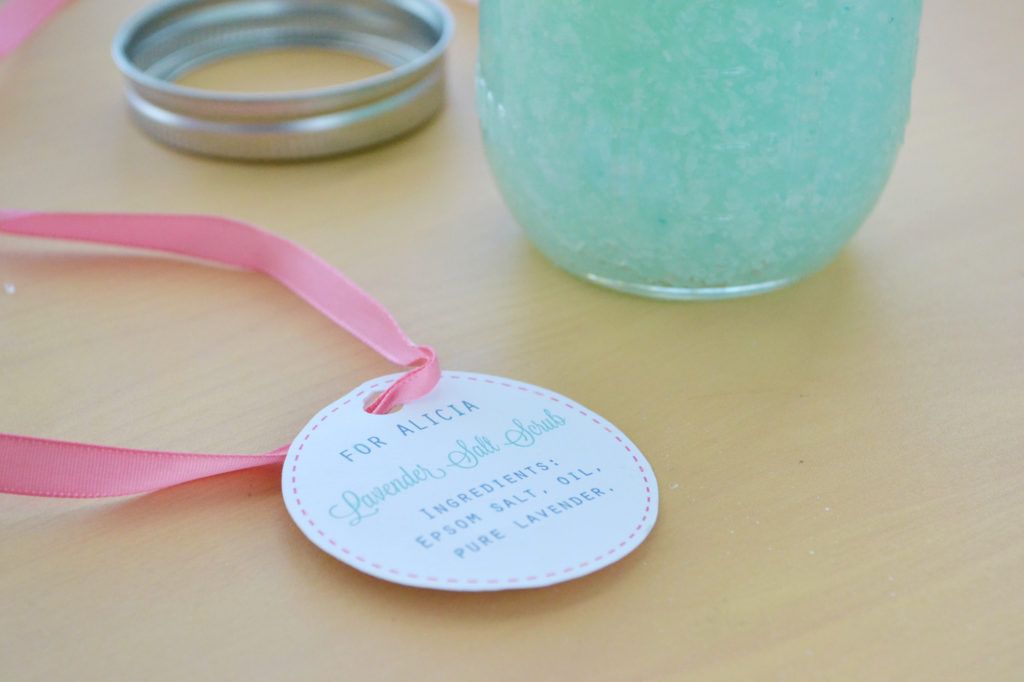 You might not need a pipette depending on the packaging for the essential oil. For instance, my lavender oil bottle had a thin opening so that the liquid could only escape one drop at a time.
For the food coloring, try to match the color to the essential oil. For example, if you're going to make a lavender body scrub, you can use purple coloring; or use any color you like. Here, I've used one drop of blue food coloring to give it a light seaglass color.
You can also match the color and design of your ribbon and fabric square to the particular essential oil you've chosen. For instance, if you're using tangerine oil, you can use an orange ribbon. Or to create some variety, you could use another color like pink or blue. I like to implement blue in the creative packaging because blue is the color most associated with all things calm, refreshing and spa-like.