15 Magical Unicorn DIY Projects
Everyone once in a while, something trends in the world that hits just about every corner of fashion, decor, style, and DIY. At the same time, those things also usually appeal to people of all ages. We love when this happens because it makes for really fun, really versatile crafting! So, what's the latest example of the kind of trend we mean? It's unicorns, of course! Everywhere you look, things are unicorn themed. People are wearing unicorn themed clothes, eating foods coloured to resemble unicorns, and making unicorn themed crafts with their kids because the whole idea is just so happy and magical!
Just in case you adore the whole idea of unicorns and unicorn themed things just as much as we do, if not more, check out these 15 awesome unicorn themed DIY ideas that we've either already tried in real life or simply can't wait to make ourselves.
1. Cute no-sew unicorn sleep masks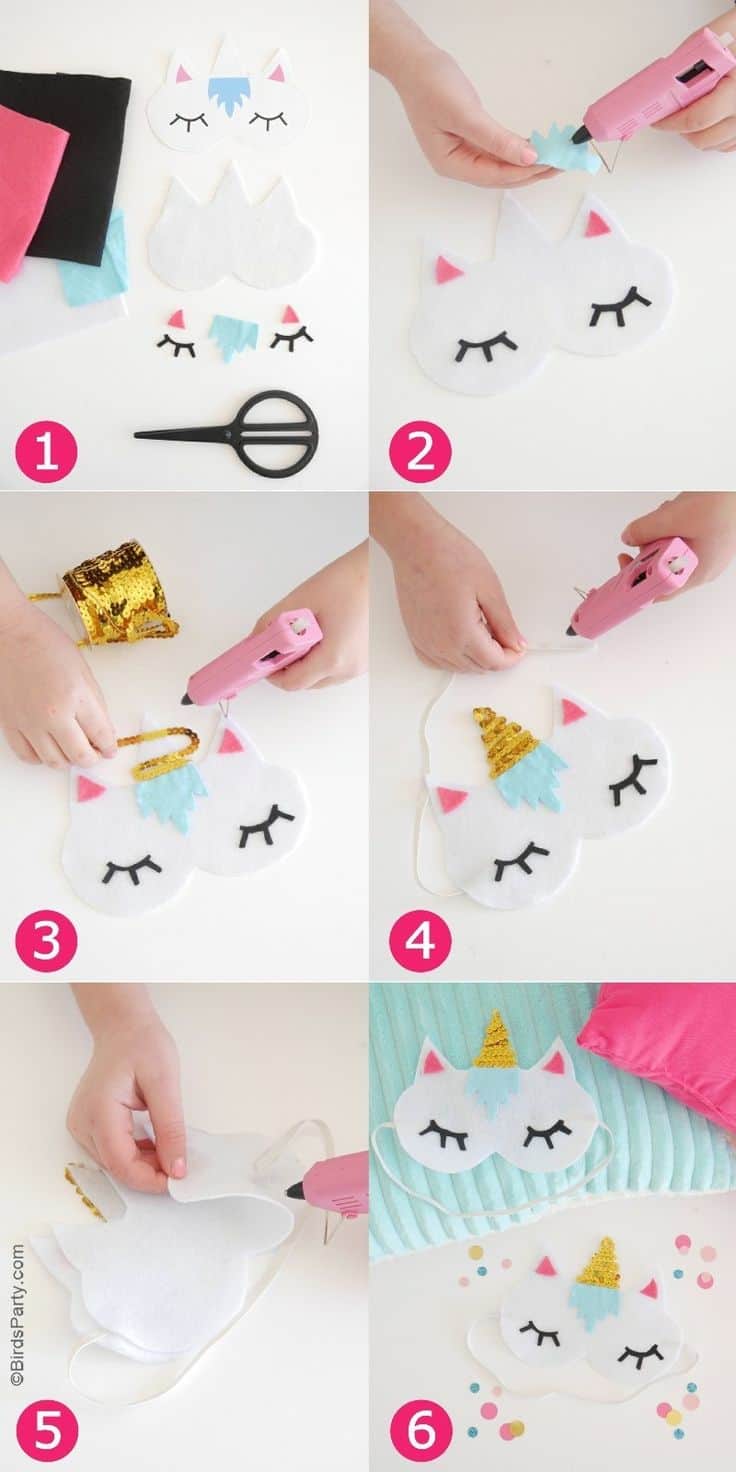 Are you or your kids either hosting, planning, or attending an awesome slumber party and you'd like to make something cute for each friend to wear, just to make things even more fun? Then we definitely think you should check out these adorable unicorn shaped sleep masks! Sure, they might look like something that mostly little kids would wear, but spending time with your friends is a time to unwind, so you wouldn't catch us saying no to one of these as a gift from a crafty friend. Find out how they're made in surprisingly few steps on Bird's Party.
2. DIY unicorn stationary for back-to-school time
Perhaps you're going back to school and you're hoping to keep things cheerful all year by getting yourself the happiest looking supplies and stationary you possibly can? In that case, we have a feeling you're really going to love these super cute unicorn pieces outlined by Arte y Salid en Casa! Choosing a theme for your school supplies might sound silly and simple, but it's amazing how much of a positive impact something to small can have on your attitude throughout the year.
3. Pretty unicorn bath salts
If you're going to make yourself or a loved one something cute and cheerful, would you prefer to create something that will also help them relax and unwind while it cheers them up? In that case, we have a feeling this awesomely colourful bath salt style soak recipe outlined on Lydi Out Loud will be right up your alley! Besides looking fantastic in the jar when you gift it, this mixture smells great too.
4. Unicorn dream catchers
Have you ever just needed to make something cheerful, cute, and full of ribbons and rainbows? Well, whether we're crafting with our kids or for ourselves, we actually know exactly how that feels. That's why we were so happy to stumble across these DIY unicorn themed dream catchers outlined on Hello Wonderful! They show you how to do ribbon wrapping around a foam ring, as well as how to add rainbow webbing, ribbon tassels, and even a sparkly unicorn horn! We love this idea because even just a ribbon fringed dream catcher itself would have made for an awesomely cheerful craft, but adding a unicorn element to it just makes everything better.