15 Magical Unicorn DIY Projects
Everyone once in a while, something trends in the world that hits just about every corner of fashion, decor, style, and DIY. At the same time, those things also usually appeal to people of all ages. We love when this happens because it makes for really fun, really versatile crafting! So, what's the latest example of the kind of trend we mean? It's unicorns, of course! Everywhere you look, things are unicorn themed. People are wearing unicorn themed clothes, eating foods coloured to resemble unicorns, and making unicorn themed crafts with their kids because the whole idea is just so happy and magical!
Just in case you adore the whole idea of unicorns and unicorn themed things just as much as we do, if not more, check out these 15 awesome unicorn themed DIY ideas that we've either already tried in real life or simply can't wait to make ourselves.
1. Cute no-sew unicorn sleep masks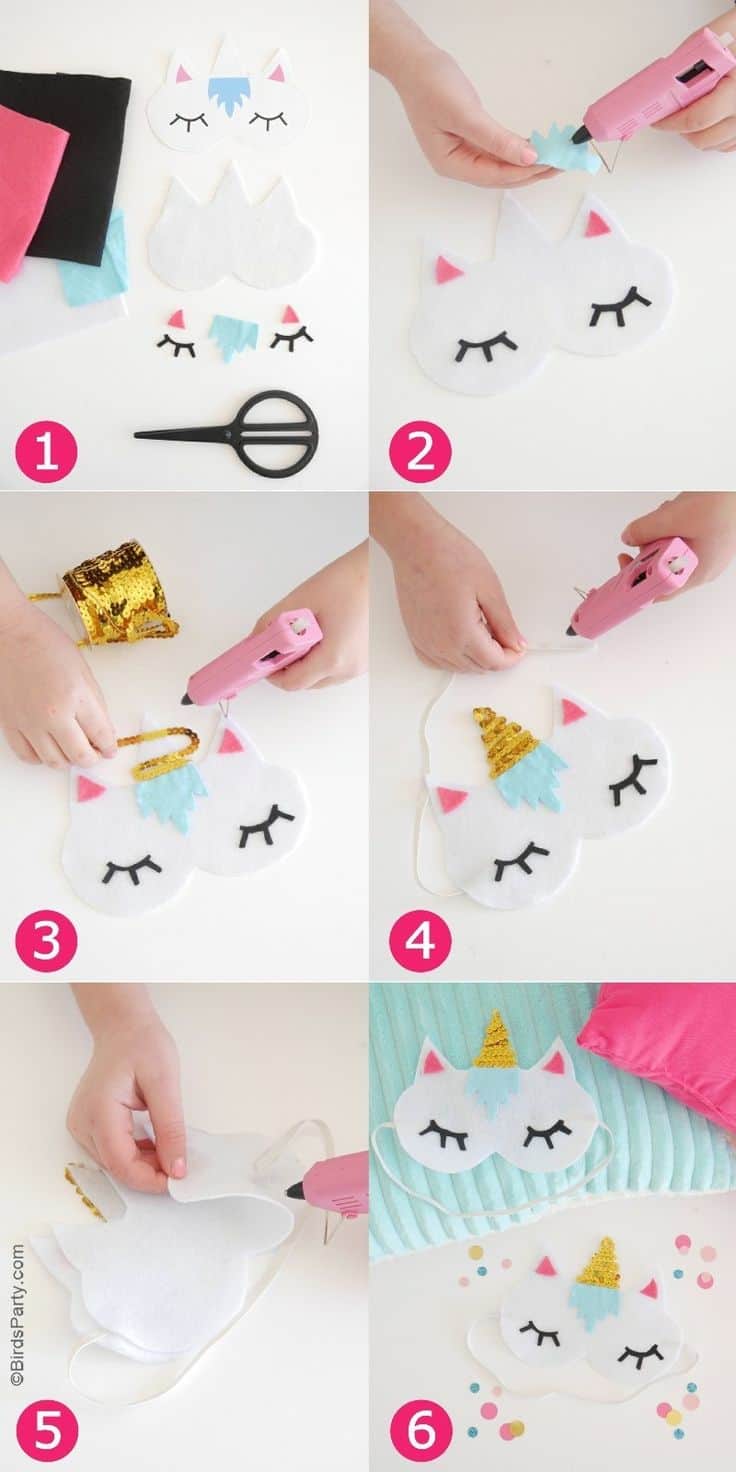 Are you or your kids either hosting, planning, or attending an awesome slumber party and you'd like to make something cute for each friend to wear, just to make things even more fun? Then we definitely think you should check out these adorable unicorn shaped sleep masks! Sure, they might look like something that mostly little kids would wear, but spending time with your friends is a time to unwind, so you wouldn't catch us saying no to one of these as a gift from a crafty friend. Find out how they're made in surprisingly few steps on Bird's Party.
2. DIY unicorn stationary for back-to-school time
Perhaps you're going back to school and you're hoping to keep things cheerful all year by getting yourself the happiest looking supplies and stationary you possibly can? In that case, we have a feeling you're really going to love these super cute unicorn pieces outlined by Arte y Salid en Casa! Choosing a theme for your school supplies might sound silly and simple, but it's amazing how much of a positive impact something to small can have on your attitude throughout the year.
3. Pretty unicorn bath salts
If you're going to make yourself or a loved one something cute and cheerful, would you prefer to create something that will also help them relax and unwind while it cheers them up? In that case, we have a feeling this awesomely colourful bath salt style soak recipe outlined on Lydi Out Loud will be right up your alley! Besides looking fantastic in the jar when you gift it, this mixture smells great too.
4. Unicorn dream catchers
Have you ever just needed to make something cheerful, cute, and full of ribbons and rainbows? Well, whether we're crafting with our kids or for ourselves, we actually know exactly how that feels. That's why we were so happy to stumble across these DIY unicorn themed dream catchers outlined on Hello Wonderful! They show you how to do ribbon wrapping around a foam ring, as well as how to add rainbow webbing, ribbon tassels, and even a sparkly unicorn horn! We love this idea because even just a ribbon fringed dream catcher itself would have made for an awesomely cheerful craft, but adding a unicorn element to it just makes everything better.
5. Cute unicorn finger puppets
If you're going to make a unicorn themed craft with your kids, would you rather make it something that they can not only create all by themselves but also continue to play with after they're done? In that case, we absolutely think you should take a look at these awesome paper and yarn finger puppets featured on I Heart Crafty Things! Cut out four holes for your child's four fingers to go through so it looks like the unicorn has four legs, then watch them gallop around all afternoon.
6. Sparkling unicorn slime
Speaking of trends, if you know anything about how crafting trends and Internet culture interact, then you probably already know all about how "slime" has taken the world by storm. There are plenty of themed and textured slime designs out there, but our favourite one is obviously this wonderfully pastel, adorably sparkly glitter slime that looks just like something you'd find in the land of the unicorns! Find out how it's made in just a few simple steps on My Frugal Adventures.
7. DIY unicorn tote bag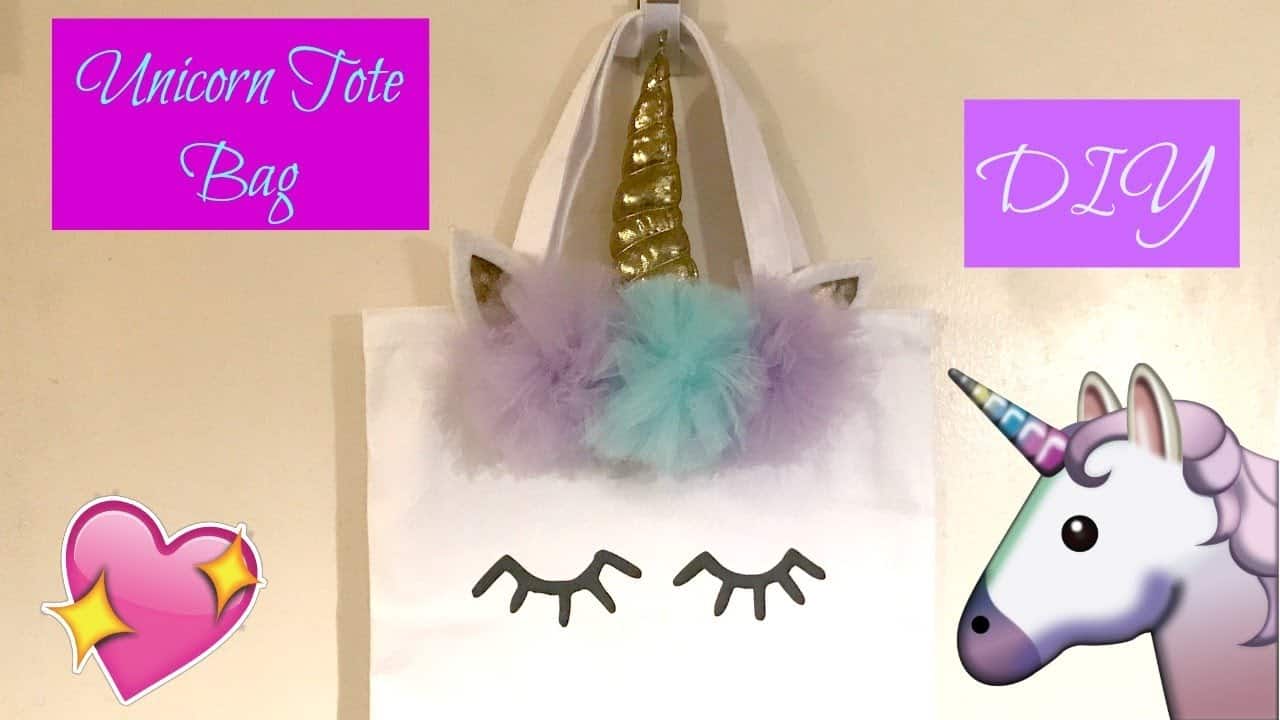 If you ask us, there's just something so wonderful about DIY tote bags, especially if they're really fun and novelty in design. We like that you can completely customize them to look however you want when you make them yourselves! We know that tote bags are a small, simple part of life, but using one that's been decorated in a fun way really does make everyday things like doing the groceries or carrying your runners to the gym feel a lot more interesting. Naturally, we just had to find a unicorn design! See how this cute tote was made on SD DIY Mommy.
8. Hand made rainbow unicorn pillow
In our house, we do a lot of traveling, so we're often sitting on planes and in cars wishing we had a neck pillow to relax on. Of course, we usually prefer to make our own things whenever we can, so we started searching for DIY neck pillows to make. As you can imagine, the moment we saw this absolutely wonderful unicorn neck pillow, our decision was made! Find out how the basic shape was sewn and embellished with sparkling stars and rainbow yarn hair on The DIY Mommy!
9. DIY unicorn bath bombs
Did we really catch your attention when we started talking about DIY bath products that might help your friends relax? Well, believe it or not, there are actually other DIY bath treats you can make for your loved noes, and they're even also unicorn themed! One of our favourites is this awesome unicorn horn shaped bath bomb featured on A Pumpkin and A Princess. They show you how to mould the shape, blend the colours, and add fun sparkles.
10. Amugurumi crocheted unicorn
Are you actually a skilled yarn crafting enthusiast looking for a unicorn craft that you can make for someone else who loves unicorns as a gift? Then we think we might have found the perfect project for you! This amigurumi crochet pattern from 1 Dog Woof helps you make a rolly-poly stuffed unicorn with a rainbow mane and curly rainbow tail. This toy is so cute and enjoyable to make that we've actually made it three times in real life; one for each of our nieces.
11. Crocheted unicorn hat
Did we really catch your attention when we started talking about crochet patterns because you're a total crochet enthusiast, and we solidified your decision when we started talking about unicorn patterns, but you're just not sure creating a whole stuffed toy is quite the commitment you were looking for? Then perhaps you'd prefer this adorable crocheted unicorn hat idea as a cool alternative! You'll still get to make awesome curly rainbow hair just like on the unicorn toy, but this time someone gets to look super cute wearing the curls on a hat after. Get the full details on All Crafts Channel.
12. DIY balloon unicorn stuffed animal
We've talked a lot about DIY ideas that make good projects for crafting with your kids or giving away as gifts but if we're being honest with you, sometimes we really just want to make unicorn themed things for ourselves! We've always thought that novelty decor pieces are a neat way to incorporate the things you like into the regular scheme of your home. That's why we thought this decorative unicorn plushie sewn to look as though it's made from balloons is such a cool idea! See how it's made step by step on Little Inspiration.
13. DIY felt riding unicorn
Have you ever thought about making your kids their very own DIY riding horses just like the old fashioned ones children have played with for generations, but you kind of want to put a cute, super fun spin on yours, since you are in creative control thanks to making it yourself? In that case, we absolutely think you should take a look at this riding unicorn toy instead! Lia Griffith guides you through the process of sewing the head piece and attaching it to the riding stick.
14. Pretty glass unicorn ornaments
Have you always been a fan of hanging ornaments because you can put them essentially anywhere and they'll look awesome and brighten up any room? Then we have a feeling you're really going to enjoy both making and displaying these funny little unicorn orbs featured on Posh Little Designs! They show you how to embellish and customize glass ornament balls with glitter, clay, and metallic paint to look just like tiny unicorns that will look cute no matter where you put them.
15. DIY sleepy unicorn pencil case
Have you been looking for a unicorn project that, while still totally adorable, will actually be useful to you once you're finished making it beyond just decor? Then perhaps you're the perfect person to make an awesome unicorn pencil case just like this one outlined on 2 Cats & 1 Doll! Their tutorial guides you step by step through the process of cutting and sewing the pieces and embellishing them with a sleepy little face, a cute horn, and a rainbow mane.
Have you made other fantastic and magical looking unicorn crafts before that you really enjoyed but that you don't see here? Tell us all about what you made or link us to photos of your finished project in the comments section!