Delicious Recipes Made With Pineapple
When it comes to fruit, there are endless ways we're willing to enjoy it. Some days we just cut it up, sprinkle it with a little bit of sugar, and eat it the way it is and other days we bake it into sweet treats. We love many kinds of fruit, but one of the forerunners for us lately has definitely been pineapple. Recently, however, we started looking more into pineapple entrees too! There are just so many ways to prepare and use pineapples that we don't want to miss out on.
Just in case you're a total pineapple lover too, check out these 15 awesome recipes that we've either tried in real life or added to our list to be tried immediately!
1. Pineapple creme brulee
As if the idea of making your very own creme brulee wasn't already delicious enough on a regular day, HGTV is here to teach you how to do it inside a pineapple! You heard that right. Their recipe shows you how to not only make a creme brulee taste like pineapple, but serve it to your friends, family, and guests inside the shell of the pineapple you used, just for some deliciously bright novelty.
2. Grilled aloha chicken
Did we really catch your attention when we started talking about pineapple entrees earlier and you've been thinking about how you can get those sunny yellow rings you love so much into the main portion of your meal ever since? Then you're going to completely adore this mouth watering chicken entree featured on Delish! They teach you how to grill yourself some "aloha chicken" in just a few simple steps.
3. Salt and sticky maple pineapple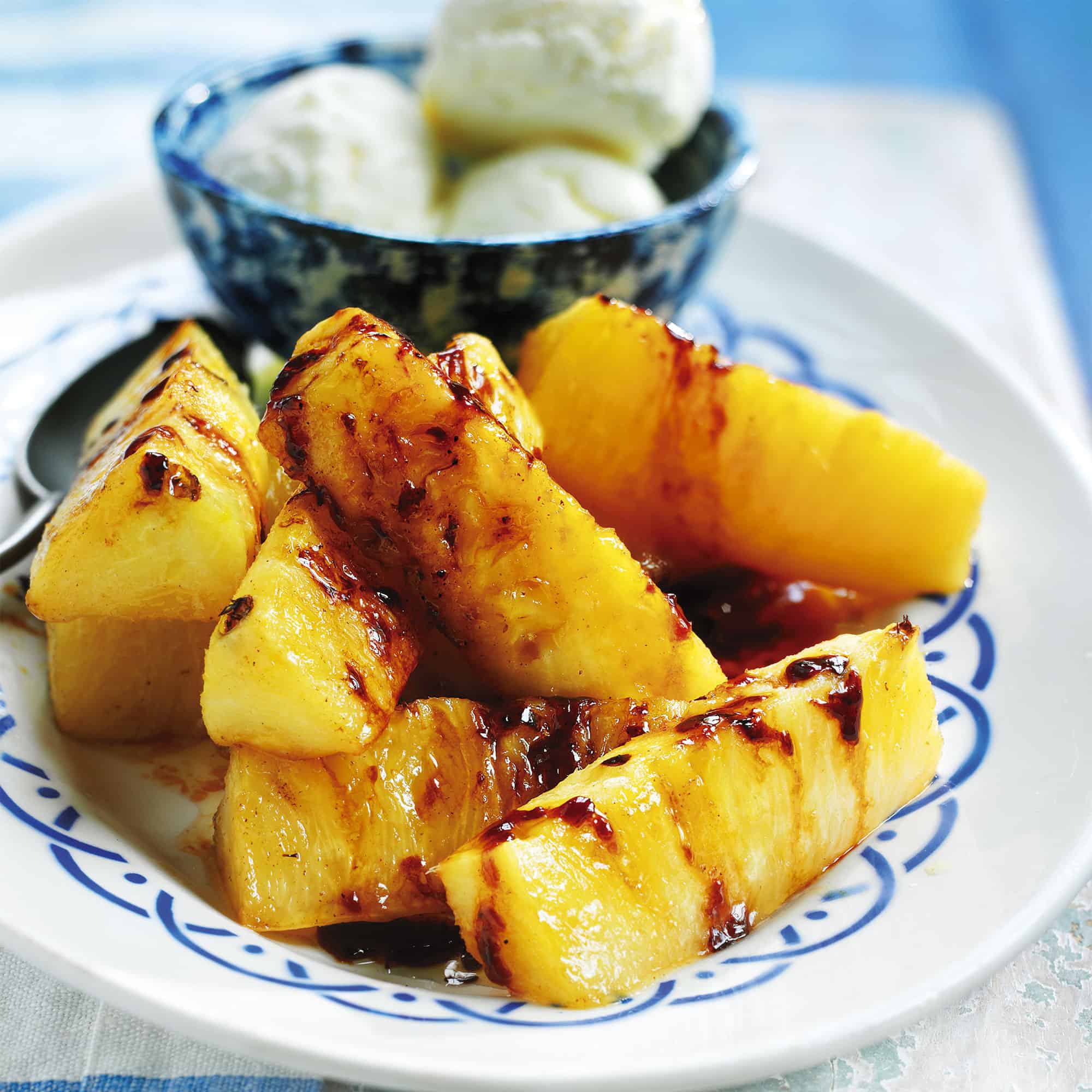 Perhaps the idea of pineapple as a dessert is actually the way you'd prefer to go with your dish but you're not sure something overly sweet and topped with icing or ice cream? Well, you already know how delicious pineapple is on its own, so why mess with a good thing? We love the way Woman and Home turned simple pineapple slices into a treat of their own just by sprinkling them with the tiniest bit of salt and then drizzling them with a contrasting sticky maple syrup. Add a side of ice cream if you feel like it or stick with just your beloved tropical fruit!
4. Pineapple ring sundaes
When we mentioned ice cream and pineapples in the same place did your mouth basically start watering right then and there? Then we have a strong feeling that you're going to completely adore these decadent pineapple sundaes outlined on Delish! Use the pineapple rings as the base for a scoop of vanilla ice cream and top it with caramel sauce, and voila!