Delicious Recipes Made With Pineapple
When it comes to fruit, there are endless ways we're willing to enjoy it. Some days we just cut it up, sprinkle it with a little bit of sugar, and eat it the way it is and other days we bake it into sweet treats. We love many kinds of fruit, but one of the forerunners for us lately has definitely been pineapple. Recently, however, we started looking more into pineapple entrees too! There are just so many ways to prepare and use pineapples that we don't want to miss out on.
Just in case you're a total pineapple lover too, check out these 15 awesome recipes that we've either tried in real life or added to our list to be tried immediately!
1. Pineapple creme brulee
As if the idea of making your very own creme brulee wasn't already delicious enough on a regular day, HGTV is here to teach you how to do it inside a pineapple! You heard that right. Their recipe shows you how to not only make a creme brulee taste like pineapple, but serve it to your friends, family, and guests inside the shell of the pineapple you used, just for some deliciously bright novelty.
2. Grilled aloha chicken
Did we really catch your attention when we started talking about pineapple entrees earlier and you've been thinking about how you can get those sunny yellow rings you love so much into the main portion of your meal ever since? Then you're going to completely adore this mouth watering chicken entree featured on Delish! They teach you how to grill yourself some "aloha chicken" in just a few simple steps.
3. Salt and sticky maple pineapple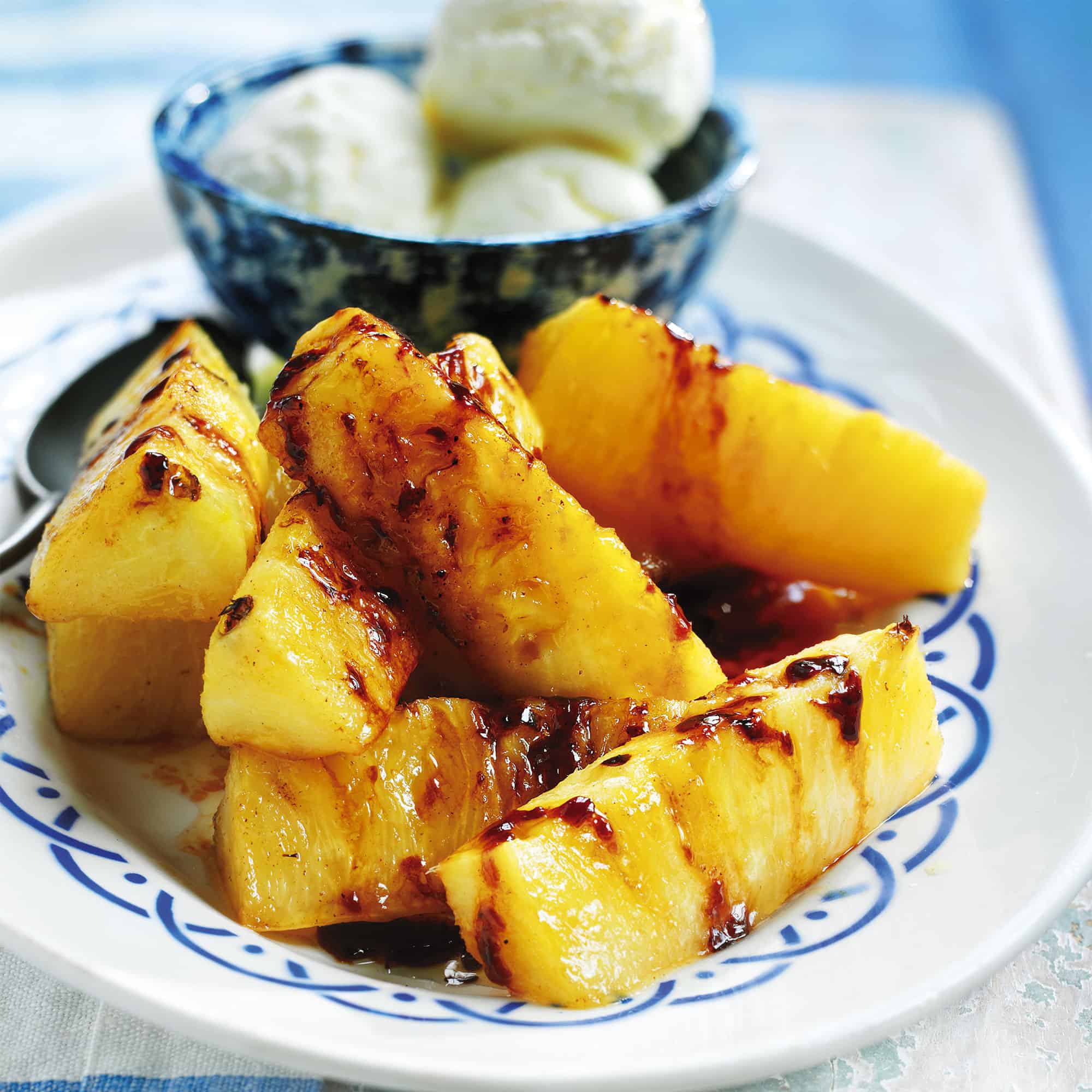 Perhaps the idea of pineapple as a dessert is actually the way you'd prefer to go with your dish but you're not sure something overly sweet and topped with icing or ice cream? Well, you already know how delicious pineapple is on its own, so why mess with a good thing? We love the way Woman and Home turned simple pineapple slices into a treat of their own just by sprinkling them with the tiniest bit of salt and then drizzling them with a contrasting sticky maple syrup. Add a side of ice cream if you feel like it or stick with just your beloved tropical fruit!
4. Pineapple ring sundaes
When we mentioned ice cream and pineapples in the same place did your mouth basically start watering right then and there? Then we have a strong feeling that you're going to completely adore these decadent pineapple sundaes outlined on Delish! Use the pineapple rings as the base for a scoop of vanilla ice cream and top it with caramel sauce, and voila!
5. Pineapple kimchi dumplings
As kitchen enthusiasts, we've always been big fans of "fusion" recipes. By that, we mean recipes that combine unique pairings of ingredients that wouldn't necessarily be put together elsewhere! We're sure you can imagine, then, how pleased we were when we came across these insanely delicious pineapple kimchi dumplings outlined on Destination Delish!
6. Grilled pineapple rings with Nutella and macadamia nuts
If you're going to make a whole dish with an ingredient as unique and versatile as pineapple, would you rather go all out and choose something really unconventional? Then we think perhaps this delicious pineapple ring tower from Joyful Healthy Eats is the perfect recipe for you! They show you how to lightly grill pineapple rings, pile them atop each other with a heaping layer of Nutella between each one, then sprinkle them with macademia nuts to add some extra flavour and a bit of crunch!
7. Fresh Pineapple upside down cake
If you've already tried upside down cake before, then you know how delicious the classic recipe can be, but just because something is good doesn't mean you shouldn't give it a fun new twist every once in a while! We can't get over how delicious this pineapple spin on upside down cake, outlined in a great, straight forward recipe on Inspired Taste, really is. Top it with as many juicy pineapple sections as you please!
8. Sticky pineapple cashew chicken and rice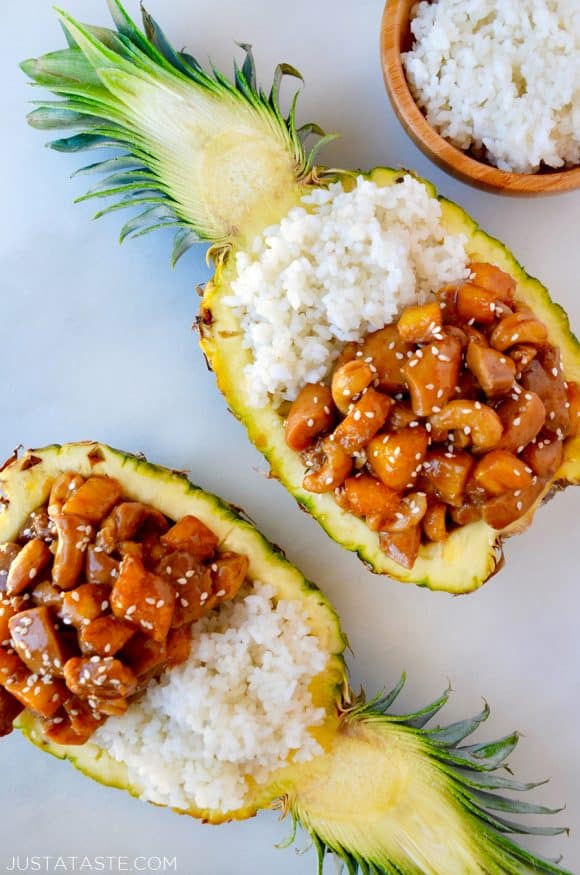 We know we've already talked about a pineapple chicken entree dish, but what if you wanted a little more flavour than what you saw in the first recipe we showed you on our list? In that case, we're convinced you'll become obsessed with this delicious pineapple cashew chicken dish pretty quickly! Just a Taste shows you not only how to make the pineapple chicken dish, but also how to serve it with delicious sticky rice inside the hollowed out pineapple you already cooked with.
9. Sauteed shrimp with tropical fruit salsa
Are you obsessed with the idea of cooking an entree with pineapple but you'd actually prefer something with fewer carbs and no meat? Then perhaps a seafood dish is the perfect choice for you! We definitely think you should take a look at how Simply Recipes used pineapple and tropical fruit salsa to add flavour to some delicious grilled shrimp to make a summery tasting dish (but we'd enjoy it any time of year).
10. Skillet pineapple BBQ chicken
Just in case you haven't quite found the pineapple and chicken entree recipe you're really looking for but you're still feeling hopeful, here's another alternative for you! Budget Bytes shows you how to grill both the chicken and the pineapple rings all together so you get that good flavour swapping, but also how to kick the flavour up a little bit with barbecue sauce.
11. Grilled pineapple with lime dip
Are you tempted by all these super sweet looking treats but you think that, in the end, you'd rather just keep things simple and enjoy the pineapple itself? Then perhaps you'd prefer this grilled pineapple recipe from Taste of Home! We love that their tutorial shows you now only how to grill the pineapple just right, but also how to make a mouth watering lime sauce to dip it in for even more flavour!
12. Lime and pineapple fried rice
We've shown you quite a number of pineapple entrees and desserts, but what if it was a side dish that you were really hoping to find because you already had an entree in mind? Then we have a feeling that you're going to completely adore this lime and pineapple fried rice recipe from Suburbia Unwrapped! This is a great dish for people with dietary restrictions that exclude meat.
13. Pineapple pretzel salad
In North America, the word "salad" doesn't necessarily always refer to a leafy green or potato salad. Sometimes it refers to a very unique combination of sweet ingredients that give you an awesome flavour experience you might never have tasted elsewhere! Of course, because you can combine almost anything in a sweet salad, we had to make sure we found a pineapple recipe for you. Check out this pineapple pretzel salad made by The Recipe Critic.
14. Scalloped pineapple casserole
Perhaps you've been scrolling through our list looking for a dish that mimics something a little bit more traditional, like a casserole, but you still want to make sure that pineapple flavour shines through? Then this delicious scalloped pineapple casserole from Taste of Home might be right up your alley! This one's so good that we make it for our family probably once a month.
15. Deliciously simple pineapple jam
Have you always been a big fan of homemade jams, jellies, and preservatives because breakfast is your favourite meal? In that case, we might have saved the best for last when it comes to your tastes! Honest Cooking guides you through the process of making your very own jam using the very pineapples you love so much.
Do you know someone who loves pineapple just as much as we do, if not more, and who is also a total whiz in the kitchen? Share this post with them to give them all kinds of new delicious ways to enjoy their favourite food!