15 Different Ways To Decorate Your Home With Faux Fur
You may not first think to decorate with it, but it's quite the popular addition right now. Shaggy parts and comfy cozy throws, we've compiled 15 different ways to decorate your home with faux fur. And we're confident that you'll be falling in love with each of them. From romance to lushness, from welcomed feelings to warm vibes, there's something that will strike the heart of all below.
1. Throw Blankets
My Amazing Things used some throw blankets to add some cozy feels and inviting warmth to the living room. Using faux fur while doing so only adds even more texture and interest to the space. That lushness makes us all want to just jump right on the sofa and have a nice night with the family.
2. Chair Cushions
Shop Room Ideas turn their faux fur additions into chair cushions. It adds so much interest and trendy appeal to this little nook. It's especially nice to add this look throughout the winter months to add that festive, seasonal approach.
3. Area Rugs
Faux fur area rugs will knock your socks off too. Whether it's adding some fun to the play room or some warmth to your hardwood-floored living room, these pieces aren't going out of style anytime soon. Check out this inspiration all thanks to Crazy Chic Design.
4. Bedding
We love the idea of faux fur bedding as well. It really adds an even cozier and more welcoming appeal to the bed. You may not want it on there all year round, but for the fall and winter months it's becoming a true staple. We found this beautiful peek over at Decorpad.
5. Ottomans
Pin-Insta-Decor has a lot of great inspiration to grab ideas from. And We're in love with this space and it's varying neutrals and textures. But it's those faux fur ottomans that we're drawn to the most. We love that extra lushness displayed in unsuspecting areas.
6. Accent Pillows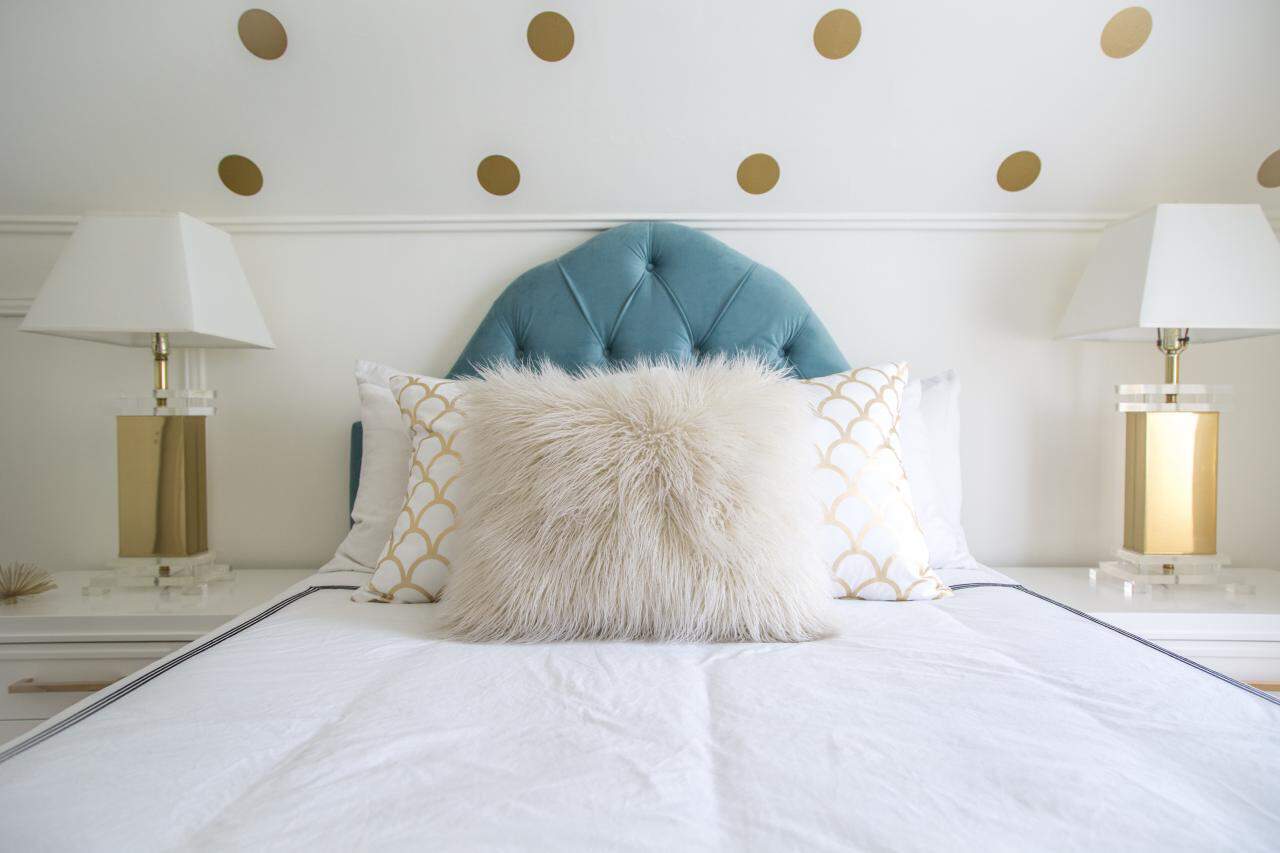 HGTV provided us with this bedroom look and we love its simplicity. That easy addition of a faux fur throw pillow is something that provides extra warmth and personality to the display. You can easily find these pieces in the store – and in all different shades.
7. Coffee Table
This is actually a DIY piece that you can whip up yourself at home. It's from Simple Stylings and we're absolutely in love with the finished product. Add some comfort to the living room with this project!
8. Bench Display
When you're decorating for the seasons, add some faux fur in the mix. Perfect for fall and winter setups, this bench display from Thoughts From Alice is highlighted nicely by a bout of texture, don't you think? And the white contrast to that pumpkin is killer.
9. Including Winter
Here's another gorgeous example of how a bit of faux fur can help bring some winter into the home. Shelterness brought us this beauty and we love how truly easy it is to sprinkle this around the house. You don't even have to prep anything.
10. Reading Nook
The Life Creative created a reading nook for the kids and its foundation is grounded in faux fur. From the bed to the floor, everything is plush and lush and inviting. It's really the best way to invite the kids for story time.
11. At the Vanity
Even your vanity could hold a bit of faux fur. Over at Randi Garrett Design we saw a lot of beautiful setups. But this one in particular caught our eyes because it makes the nook more cozy and fun for our morning routine.
12. Highlight the Entryway
Love Grows Wild has so many great ideas when it comes to home design. But we really love this shot of her entryway. That small bout of faux fur creates a softness and romance to the setting. No one will feel unwelcome upon entrance.
13. In the Kitchen
Who knew that faux fur could even find a home in the kitchen? If you're table and chairs share the stage with the stove, you can see how you can style it so nicely. Check out this setup and others over at Elle Decoration.
14. Layer Them
You could always go all out with the faux fur and layer them up. Create an extra bout of plushness by using it all at once. Check out this scene over at Shelterness and then try to easily recreate this at home.
15. Base for the Table
Studio Meroe gave us another easy idea to try out at home. Use a faux fur throw as a base to your table or desk. Instead of a traditional throw or area rug, go with something that has a bit more texture. This works especially well when you have hardwood floors – the contrast is a beauty!