Creative Decor Ideas for Shabby Chic Lovers
Some people might look at furniture and decor that's worn and aging and see something that should be thrown out. If you're anything like us, however, then you see the potential for a beautifully rustic looking upcycling project! After all, things that are a little stylishly shabby are really just well loved and well used!
Check out these 15 gorgeous shabby chic projects that will make your home feel lived in and friendly.
1. Tin can cutlery holder
Stylish Eve walks you through the process of creating a cutlery sorter out of tin cans! This will be handy if you're serving a meal on the patio and need to carry out many sets of silverware.
2. Decorative wooden spoons
Red Brolly suggests saving worn out wooden spoons from the trash can by wrapping their handles with pretty scrapbooking paper and tying them in a little bundle with burlap string. Hang the bundle on the wall or rest it on a counter to add a little shabby chic to your kitchen.
3. Torn fabric window hanging
Homemade Interest shows you how to create adorable hanging decor that will frame the top of your window simply by tearing and tying strips of pretty coloured or patterned fabric along thick twine. This is a great way to use up old fabric scraps that you don't have enough of for other projects but still want to make use of!
4. Worn frame and tin flower hanger
Cottage Flair suggests using an old, worn picture frame even if the glass has long since been broken and thrown away! Try placing it around a vintage tin wall hanging to accentuate a cute floral arrangement, embracing its chips and scratches.
5. Chipped window wreath hanger
The House of Smiths has a similar idea to the picture frame, but for an old window frame! Contrast the worn, chipped look of the frame by hanging a clean, white wreath or other delicate looking decor from a ribbon attached to the top of the frame. We love how it looks when fresh and shabby are put together!
6. Worn window frame photo
Does the window frame you found still have its grid in the middle? That's a good thing! Embrace its worn character by using it to frame an old black and white wedding photo. It creates the illusion that you're looking back on the scene through a window in time and we're completely in love with the idea. Check it out on The Hamby Home.
7. Shabby chic Easter eggs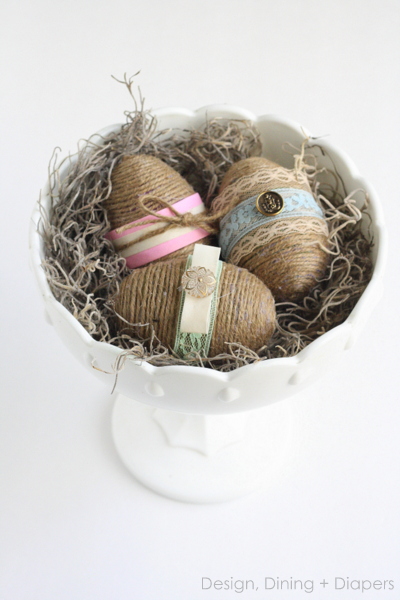 The shabby chic aesthetic you love so much can apply to specific holidays too! We think these little rope wrapped Easter eggs might just be one of the cutest springtime decor ideas we've seen in a very long time. Check out how they're made on Design, Dining, Diapers.
8. Rustic chair top shelf
Have you found an adorably rustic chair that's missing a leg or has one that's broken? Shabby Story is here to tell you why it's still useful! We love the idea of turning the seat and back into a shelf for plants to sit on. This project would look adorable on a balcony or a cottage porch.
9. Vintage key wind chime and mobile
Can Can Dancer reminds you that smaller vintage things than just furniture and frames can be transformed into shabby chic decor as well! We love the idea of turning old skeleton keys into a beautiful mobile. If you hang it outside in the breeze, the keys will clang together and it'll become a wind chime too!
10. Log ladder and hanging jar decor
Hverdagsbloggen suggests building a small, decorative ladder (don't stand on it!) from smooth, thin logs and strong jute string. Lean it against the house and hang some wire wrapped mason jars containing tea light candles or bunches of flowers!
11. Rounded lace candle holder
This project puts your decoupage skills to good use to create something that might be freshly made but still has an air of shabby chic about it. We love that the top of this one by Candlemaking looks a little unfinished, contrasting with how pretty the lace pattern is. Pop a tea light candle inside and voila!
12. Shabby chic flowers
These little flowers design by Deja Vu Designs are made from burlap, string, pearl beads, and basically whatever else you might have lying around that looks like it might make a great addition to the shabby chic look you're going for! We love that these could be used for home decor, fashion alteration, or basically any other type of crafting and embellishment.
13. Burlap and lace corked bottles
Katrinshine shows you how simple a bit of the shabby chic look can be to get. Take a couple clean, corked bottles, wrap them in a strip of burlap, and fix that in place with a length of cotton lace tied in a bow. Whether you store something in these or just let them sit as decor, you're creating a down home feel that's still completely stylish!
14. Vinegar distressed furniture
White Lace Cottage walks you through the steps of painting and then partially stripping the surface of an old piece of furniture in order to give it that well loved, worn out look (or enhance the natural wear that's already there). We love how pieces like this become subtle statement pieces in modern homes.
15. Shabby chic painted fridge
Trois Petites Filles shows you a bigger shabby chic DIY project to take on if you're ready for a challenge! Some vintage fridges already have the raised embellishments on them, in which case they just need a shabby coat of paint. If yours doesn't, however, you can add the embellishment using frames or other decor.
Do you know someone who loves nothing more than rummaging through estate sales for a bit of shabby vintage decor that they can transform at home? Share this post with them for some inspiration!