50 Layer Cake Filling Ideas: How to Make Layer Cake (Recipes)
We love cake. It really is as simple as that! There are so many different kinds and flavours and ways to make cake, though, that we feel like we never stop learning when it comes to baking it. Lately, we've been completely obsessed with layer cakes that have all kinds of creative fillings! We've spent days combing through all kinds of baking blogs, compiling a delicious list that we fully intend to bake our way through.
Best Layer Cake Filling Ideas and Recipes
Just in case you love the idea of making an impressive layer cake with some kind of unique, delicious filling just as much as we do, if not more, here are 15 of the very best flavours and recipes we've come across so far in our search!
1. Chocolate layer cake with cream cheese filling
Just in case you want delicious, rich decadence without getting too crazy with the flavours right off the bat, here's a chocolate and cream cheese filling recipe that's sure to make your mouth water. See it in more detail on Yummiest Food.
[amazon box="B01C78JS5U"]
2. Cannoli layer cake with cinnamon sponge and mascarpone filling
Are you looking for something a little closer to what you might find in a dessert boutique and eat on a special occasion? Then you simply must check out this cannoli layer cake with a filling that tastes like cinnamon and mascarpone. See it on Life, Love, and Sugar.
3. Vanilla custard cake filling
Usually when we think of layer cakes, we picture tall cakes with many layers, but that's not always the case! Veena Azmanov is here to show you just how delicious a simple double layer cake can really be, especially if you both fill and top it with scrumptious vanilla custard.
[amazon box="B07RBL4H37″]
4. Berry mascarpone layer cake
Did we catch your attention when we started talking about mascarpone but cinnamon has never really been your thing? Then maybe this delicious mixed berry idea featured step by step on Life, Love, and Sugar will be a little more up your alley.
5. Lemon raspberry layer cake
Lemon raspberry flavour things might just be one of our favourite taste combinations because it's so fresh and zesty, no matter what you're making. We love the way Beantown Baker made lemon sponge with a cream and raspberry jam filling between the layers.
6. Strawberry jelly layer cake filling
This particular layer cake from Wilton is actually a little different than the ones you've seen so far. Rather than having many layers and thin spots where filling presses between, they've cut out the entire centre and filled it with strawberry jelly!
[amazon box="0544453735″]
7. Triple layer white cake with orange curd filling
Speaking of flavours that are zesty and really take your tastebuds to the next level, here's a recipe from Simply Recipes that gives you three delicious layers of white cake with fragrant orange curd filling in between.
8. White chocolate layer cake with blueberry curd filling
have you been scrolling through this list and thinking about how you wish all the white cakes you've seen were white chocolate cakes? Then we thin you'll get a kick out of this recipe from Beantown Baker, especially if you also adore blueberries!
9. Raspberry white chocolate layer cake
Just in case white chocolate and berries does appeal to you but you've never really liked blueberries, here's an alternative for your consideration! Completely Delicious shows you how to make it using fresh raspberries instead.
10. Six layer chocolate cake with toasted marshmallow filling and malted chocolate frosting
Are you an absolute sweet lover with a big love for chocolate? Well, besides being impressed with the sheer number of layers that this particular cake has, we think you'll like how Brown Eyed Baker paired chocolate sponge and malted chocolate frosting with a deliciously rich roasted marshmallow filling for more sweetness that somehow also contrasts.
[amazon box="B07113Z19W"]
11. Triple later chocolate cake with coconut cream cheese filling
Are you still thinking about how much you loved the idea of chocolate cake with cream cheese filling but you can't help wonder whether there's something missing in that combination? Well, Barbara Bakes thinks it's coconut and we're inclined to agree!
12. Chocolate chip cookie layer cake with cookie dough filling
Are you one of these gourmet baking lovers that adores any chance you can find to combine one treat with another treat? Then we just know you're going to love the way Mississippi Kitchen combined cake with chocolate chip cookies in this delicious layered creation that actually has a filling that tastes like chocolate chip cookie dough.
[amazon box="B01LWI5QLR"]
13. Coconut layer cake with Nutella filling
Did we really catch your attention when we mentioned coconut flavours but you'd rather have coconut sponge than filling? Then we'd definitely suggest taking a look at how This Grandma is Fun paired just that with some delicious Nutella in the centre!
14. Spring layer cake with strawberry mousse filling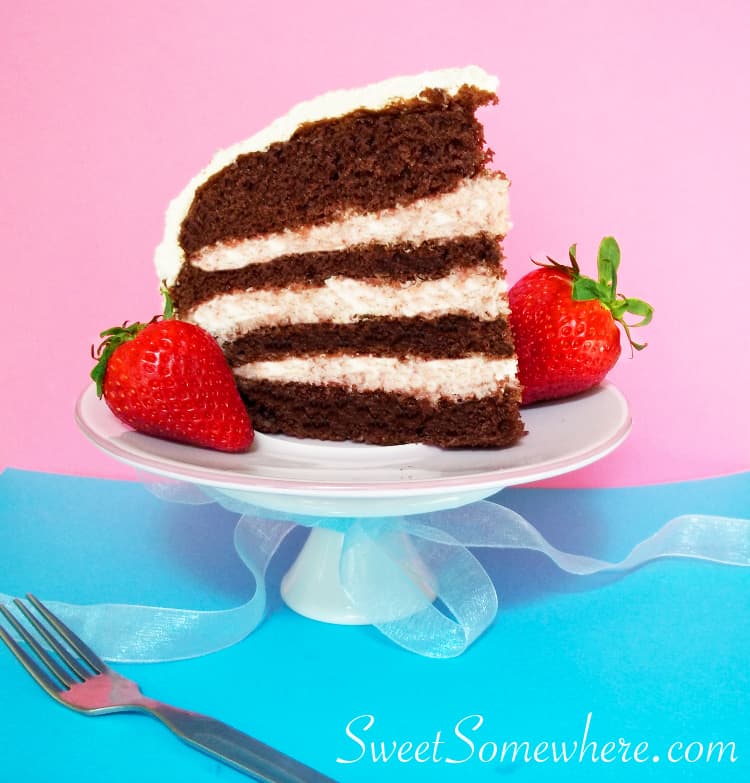 Would you rather make a version that tastes light and fresh even though there's still some rich chocolate involved? Then we think you might get along quite well indeed with this delicious recipe from Somewhere Sweet that has a light strawberry filling.
15. Triple layer lemon cake with strawberry jam filling
We've already showed you a lemon recipe or two, but that doesn't mean the combination was quite right for you. Here's another option to consider instead! Check out how Nordic Ware paired lemon sponge and icing with a fresh strawberry jam filling instead.
[amazon box="B00M4JCHRE"]
16. Semisweet chocolate layer cake with vanilla cream filling
Just in case you're a lover of the classics and you pretty much stick to that, here's a delicious recipe from Bon Appetit that stays true to what you love! Try pairing rich chocolate sponge with a sweet and creamy vanilla filling layered on thick.
17. Pink champagne velvet layer cake with strawberry raspberry filling
Have you actually been hoping to challenge yourself a little more by getting fancier with the combinations? Then we think you'll get along quite well with this delicious pink champagne cake that has a flavourful strawberry raspberry filling in the centre! Get the full details on Wicked Good Kitchen.
18. Six layer coconut cake with passion fruit filling
Here's another one for the coconut lovers out there! Besides being extra tall (six whole layers!) this delicious recipe from Food and Wine gets creative with the taste blends because it's filled with mouthwatering passionfruit cream.
19. Lemon blueberry layer cake with lemon buttercream frosting and blueberry jam filling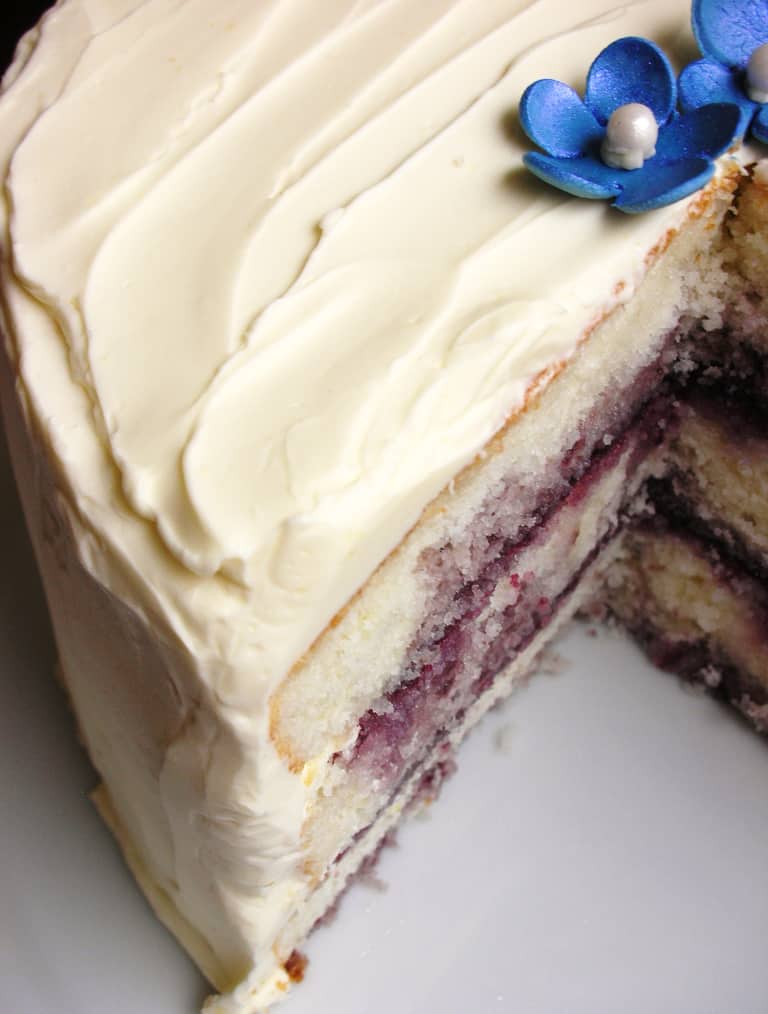 Were you actually a huge fan of the lemon blueberry idea we showed you before but you're looking for a version of that flavour combination that will actually put your baking, layering, and icing skills to slightly better use, since you're feeling confident? Then we'd definitely suggest taking a look at how Better Baking Bible made this delectable treat!
20. Vanilla sponge and orange curd filled layer cake with chocolate frosting
Just in case we made your mouth water when we talked about orange curd filling before but the sponge and icing combination we outlined there wasn't quite for you, here's another recipe from Martha Stewart that sticks to chocolate and vanilla in contrast.
21. Salted caramel cake with caramel chocolate ganache and fluffy whipped cream filling
Don't get us wrong; we love all these different fancy fillings just as much as the next person, but sometimes it's nice to take a bite of cake that just has classic, delicious whipped cream in between the layers! That's why we loved this chocolate lover's recipe from Eats Well With Others.
22. Chocolate cake with whipped fudge filling and chocolate buttercream
This recipe from Chowhound is for only the most serious chocolate lovers! Between the sponge, the filling, the icing, and the melted chocolate detail, it's basically chocolate with more chocolate, topped with chocolate (and we don't have a single complaint).
23. Three-tiered candied pecan cake with brown butter pear filling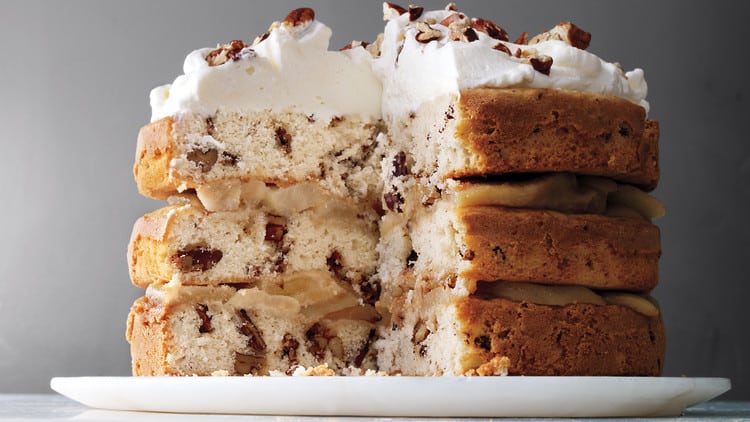 Are you looking for a slightly more unconventional flavour combination that you wouldn't normally find in stores or on the average dessert menu, but you're feeling creative? Then we'd absolutely encourage you to take a look at how Martha Stewart made this tall layered cake with candied pecans and a brown buttered pear filling.
24. Danish layer cake with creamy vanilla pudding and raspberry jam filling

We've shown you a couple different cake options that have raspberries or raspberry jam involved in some way, but where's the harm in showing you one more? Check out how Culinary Hill combined their jam with deliciously creamy vanilla pudding, just to keep things sweet and light.
25. Crunchy milk chocolate peanut butter layer cake filled with almonds, salted peanuts, creamy peanut butter, chocolate and Rice Krispies
This recipe is different from the rest in that it not only contains a lot more delicious ingredients, but the whole point of the cake is to really get that satisfying crunch! We love the way Food and Wine combined these crunchy treats smack in the middle of a spongey cake like a surprise.
26. Strawberry and cream filled chiffon cake
Are you actually just looking for a light tasting texture experience that you can enjoy without feeling heavy at the end? In that case, we think perhaps this lovely strawberry chiffon cake, filled with actual slices of fresh strawberries in the middle, might appeal to you in a big way. Get the details on Martha Stewart.
27. Mocha layer cake with chocolate rum cream filling
Isn't it funny how some of the best sweet treats contain flavours from things that aren't actually naturally sweet at all? This decadent chocolate cake featuring hints of espresso and rum is the perfect example of what we mean. See the recipe in full on Bon Appetit.
28. Blueberry lime layer cake with whipped cream cheese and blueberry filling
Just in case you're still scrolling through thinking about how you love the idea of making a blueberry cake but you're just not sure that lemon is the direction you want to go in for combinations, here's an equally zesty alternative! Check out how PBS made this version that's distinctly lime flavoured instead.
29. Fluffy banana cake with fresh banana curd filling
Banana lovers rejoice, we've finally found the recipe for you! We adore the way Mama Gourmand stayed true to their favourite flavour by making both a sponge and a filling that tastes like bananas.
30. Chocolate cake with coconut cream filling and marshmallow buttercream frosting
We've talked about each of these elements separately so far, but not all together like this and, frankly, we'd be doing you an injustice if we left it out. Check out how Spoonful of Flavour made this cake that includes chocolate, coconut, and marshmallow.
31. Banana cake with gooey walnut filling
Just in case you loved the banana idea but you'd still like to contrast something else in there too, here's a tutorial for how Restless Chipotle did just that using walnuts!
32. Ombre peach filled layer cake
Besides the stunning ombre look of the way it was decorated, this delicious cake from Liv For Cake is practically perfection because its subtle yet tasty peach flavour is unlike any other type of cake we've tried before. We adore it!
33. Coconut layer cake filled with lemon curd
In your opinion, is the best policy always "the more fruit, the better'? Then we have a feeling you're going to enjoy this fantastically fresh tasting coconut and lemon curd idea featured on Beantown Baker.
34. White chocolate layer cake with apricot filling and white chocolate buttercream
We're back with yet another deliciously sweet white chocolate idea, just in case the first few didn't quite give you what you needed! Here's a recipe from The Cilantropist that comes with a crunchy almond outside and a sweet apricot filling.
35. Pumpkin layer cake with Kahlua, espresso, and tiramisu filling and mascarpone frosting
Are you looking for a recipe that's slightly less sweet and has a little bit of spice? Then this recipe from Life, Love, and Sugar is absolutely the best choice for you!
36. Gingerbread layer cake with fig filling
Here's a delicious cake recipe that combines more than one treat in one place! We adore the way World Market decorated their delicious cake with wonderfully elaborate gingerbread cookies.
37. Boston cream pie cake, or vanilla cake with chocolate frosting and homemade pastry cream filling
Are you actually usually a donut person if you're going to eat any kind of baked good? Well, that doesn't mean you can't branch out while still enjoying the flavours of your favourite donuts! Check out how Brown Eyed Baker made this scrumptious Boston cream cake.
38. Carrot layer cake with vanilla pecan buttercream filling
Sometimes all you need to making a layer cake delicious is the same smooth buttercream all over the outside and as a filling in the middle. Taste of Home knows exactly what we mean.
39. Chocolate cake with Oreo cream filling
Here's another baked delicacy that knows why we love the idea of combining treats so much! Check out how Tastes Better From Scratch made a fantastic chocolate cake that's filled with a wonderful concoction made of Oreo cookies.
40. Lemon layer cake with lemon mascarpone filling
So far we've only shown you lemon cake ideas that also contained other flavours, but what if you're the kind of pure citrus lover that just wants lemon? Then we insist you give this fantastic all-lemon creation from Life, Love, and Sugar a try!
41. Pineapple layer cake with pineapple cream filling and cream cheese frosting
We've talked all about our favourite kinds of fruit in various sweet iterations so far, but there's one key flavour we left out: pineapple! This pineapple cake from My Cake School is one of the most delicious recipes we've ever tried.
42. Caramel sponge cake with gooey salted caramel filling
Are you the kind of caramel lover who will eat your favourite flavour in absolutely any form that it comes in? In that case, we have a feeling you're going to get along very well indeed with this delicious all-caramel, all the time cake from Sweets by Raegan.
43. Six layer coconut cake with mango filling
We know we've shown you how to make coconut cake with all kinds of different contrast flavours by now, but there's still one more that's so unique and delicious we can hardly believe it! Check out how this mouthwatering coconut cake with flavourful mango filling was created on Kaitlyn in The Kitchen!
44. White velvet cake with cheesecake filling and silky marshmallow buttercream
have you actually found yourself thinking most about the marshmallow elements you've seen in some of these cakes so far but you find that some of the recipes had other flavours that overshadowed them? Then we think you might pefer this delicious white velvet, cheesecake, and marshmallow buttercream recipe from Cake, Paper, Party.
45. Layered tres leches cake with peaches and cream filling
We know we already showed you one peach recipe but if you ask us, that's the kind of thing you can never have too many of! Check out how Say It With Cake made this delicious tres leches and peach creation surprisingly simply.
46. Eggnog layer cake with apricot filling
Just in case case you're looking for a holiday appropriate kind of cake that has a bit of a twist, here's a flavour from Sugary and Buttery that's somehow subtle and also satisfyingly impactful! Eggnog and apricot go wonderfully well together after all.
47. Praline layer cake with brown sugar pecan filing
Here's a recipe that's perfect for nut lovers who still love sweet things rather than just salty! Check out how My Recipes used their cake as a place to combine pralines and pecans.
48. Cinnamon brown sugar cake with apple pie filling
Yes, you read that right! The layers of this cake are filling with actual apple pie filling, just like your favourite fall pie! Besides the deliciousness of that, we can't get over how beautiful The Cake Blog's pie crust detailing is all up the side.
49. Pina colada cake with coconut icing and crushed pineapple filling
We've talked about cakes that combine with the tastes of your other favourite treats, but what about a cake that tastes like one of your favourite drinks instead? We were beyond intrigued when we came across this pina colada inspired layer cake full of coconut and pineapple flavours and we're pleased to tell you that we were not disappointed! Get the full details for making your own on My Cake School.
50. Naked buttermilk chocolate chip cake with passionfruit filling
When we first read the term "naked" in reference to a cake, and then again when we realized it meant that there was no icing on the outside, we'll admit we were confused. Then we actually tried this passionfruit recipe from Love and Olive Oil and we were beyond pleased with what we tasted!
How to make a layer cake?
We honestly think these 50 types of cake above will satisfy even the pickiest of layered cake fans. Just browse through each one and try them at home.
Parting Words
Do you have another favourite layer cake filling that your family adores but that you don't see here on our list? Tell us all about how it's made or link us to your recipe in the comments section!