Cute Knitted Sun Hats For Babies
It's always important to have fun in the sun while you can, but when you have little kids, it's even more important to keep them cool and safe while you do it. Sun hats are the best way to protect their heads without hindering their playtime. Just because a sun hat is a functional necessity, however, doesn't mean that it can't be completely adorable too!
Check out these pretty knitting patterns for kids' and babies' sun hats that you'll just love, whether you're making or receiving them!
1. Swirling Sun Hat by Lucy Neatby
Between the swirling pattern around the crown, the lacy grilled edge, and the contrasting coloured band, we know your child will look completely darling in this hat.
We're pretty sure this one's called the Sun Brim because it's almost as bright as the sun itself! You could switch up the colours, of course, but this one is just so cheerful.
3. Safari Sun Baby Hat by Tot Toppers
Doesn't everyone love dressing their baby in adorably themed outfits? This pattern will keep him cool and make him look like he's ready to go on an adventure… which he probably is!
Three solid stripes of colour looks simple and stylish no matter which colours you choose! We like this combination because it's light enough for summer, but not so bright that it would look out of place on warm days in the spring or autumn.
5. Girl's Sun Hat and Jacket by iKnitDesigns
Are you look for a bit more of a challenge that just a simple sun hat? This pattern offers you lacy stitches and a matching summer sweater, so it might be just what you're looking for!
Between the finely coloured edging, the classically flopping brim, and the adorable bow at the back, this sun hat is like looking at a vintage painting of a little girl sitting by the lake. We love that it's tacked up at the front, though, so it doesn't get in her face!
7. Dungarees, Polo Shirt, and Sun Hat Set by Oge Knitwear Designs
Do you like the purple matching set we listed previously but you only have sons, grandsons, or nephews? Never fear! This little suit and matching sun hat are knit to be breathable and cool, and they'll make him look like a little prince too.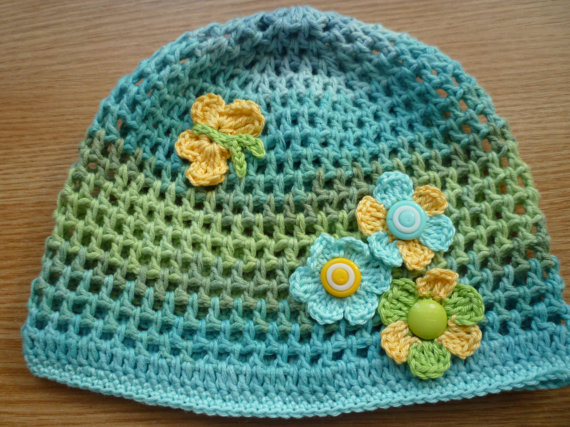 As if the open stitches aren't cute enough, this pattern walks you through the process of knitting and affixing little button flowers too! Between that and the colour combination, your little one will look about as bright and cheerful as the sun you're protecting her from.
Simple stripes and a frilly edge are a classic style and, if you ask us, we don't think they'll ever get old. Alternate the colours with stripes of white so each one stands out!
Sometimes you just need a simple little sun hat that will stay on well! Choose your two favourite colours, grab your needles, and get down to business before it gets too warm outside.
If you like the idea of flowers on the previous hats but you're not quite up to the challenge of knitting and affixing too many of them, try this pattern instead! It's completely adorable, it has a practical brim, and you'll only need to make one big, cute flower.
You don't have to make the Purple Waves sun hat in purple if you don't want to, but we think it looks pretty cute in contrast to the white! A simple string of yarn all the way around makes it adjustable so it stays on and also gives you a stylish little accent bow on one side.
Do you like the style of the hat above things but not the waves? Try this simpler design instead! You still get the cute practical brimg and the adjustable string, but all yo need to do is knit and purl.
A deep bucket hat is probably your best bet on a very hot beach day. The depth and brim on this simple hat will make sure that Baby's scalp, ears, eyes, and cheeks are all protected!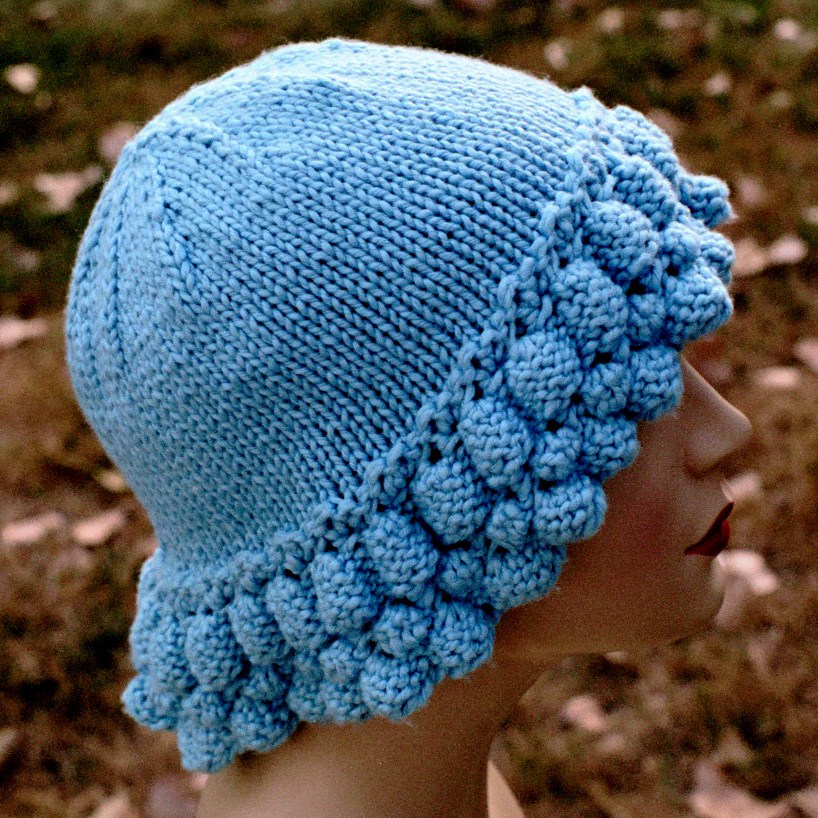 We can't stop admiring the lovely textured brim around the edge of this hat. We love the way it cascades down in layers, just like the name says. You will love the way those layers protect your baby's face from UV rays!
Do you know a knitter with a little one? Share these post with them for a little bit of summertime inspiration!