Adorable Knitted Diaper Covers
We find that whenever one of our friends or family members has a baby, suddenly many other people around us start having babies too. It's like springtime brings a fresh wave of baby season, and few things make us happier. Few things, that is, except being able to knit adorable little gifts for all of those babies, of course! Because so many babies tend to arrive at once, however, we're always on the lookout for things to knit that are simple, quick, and easy to do many of, but that are still useful for new parents so they have the things they actually need rather than just clutter in the chaos of bringing a newborn home. That's why we love knitting diaper covers so much.
Check out these 15 wonderful, useful, and absolutely darling diaper cover knitting patterns that we've actually tried in real life and enjoyed every moment of knitting, gifting, and seeing in use!
1. Seed stitch cover with a ribbed waistband
Perhaps you like the idea of keeping your stitch design quite simple when you're making knitted diaper covers since they'll be used and washed often but you still want it to have some visual appeal even if the pattern is easy? We usually resort to seed stitch when we're in that position! It's easy enough to do but it's also stylish and detailed look enough to keep us interested, both while making it and seeing it in use. Check out these straight forward pattern that's great for beginners on 3 Rabbits Patterns!
2. Pull-on draw string diapers
Maybe you prefer the slide-on style of diaper cover a lot more than the folding kind that buttons or needs pining, but you still have concerns about the cover staying up? In that case, there's nothing like a simple drawstring to save the day! This pattern from Knitting is A Romantic Drama shows you how to make the simple garment with some ribbing at the bottom so baby can stretched comfortably, but also how to put in a drawstring so it can be tightened at the top in case Baby is smaller than you anticipated when you made it and hasn't quite grown into the size yet.
3. Wooden buttoned newborn covers
 
Are you actually looking for something tiny and simple that you can make many of at once so you can knit a whole set of covers in different sizes for your latest new mom and her bundle of joy? In that case, perhaps you'll prefer this simple folding button pattern from Knits du Nord instead! This pattern comes with some of the smallest sizing we've seen, making it perfect for babies who were born with slightly low birth weights or a little bit earlier than they were expected.
4. Buttoned cover with a matching hairband
Most newborns we know prefer to wear as little clothing as possible at home unless they're swaddled up warmly and ready for nap time, but that doesn't mean you can't dress them up adorably even while you're keeping them comfortable! That's why we love this pattern from Knitting Pretty on The Farm for a diaper cover and matching headband set. They'll look absolutely adorable no matter what colour you do them in!
5. Seed stitch cover with legs
Did you like the first seed stitch pattern we showed you but you actually prefer the look of diaper covers that have a bit of a leg on them so the diaper doesn't peek out around the edges and the garment actually gives Baby a bit of warm coverage? Then you should definitely check out this adorable alternative pattern from 3 Rabbits Patterns instead!
6. Loom knit adjustable cover
Perhaps you actually prefer loom knitting to knitting with two needles but you don't often find patterns for the common things you like to knit that are meant for your technique online? Well, this time you're in luck! Here's an absolutely awesome pattern from Good Knit Kiss for making not only a diaper cover using a knitting loom, but a matching hat and booties as well!
7. Seed stitch and buttons cover with a matching newborn hat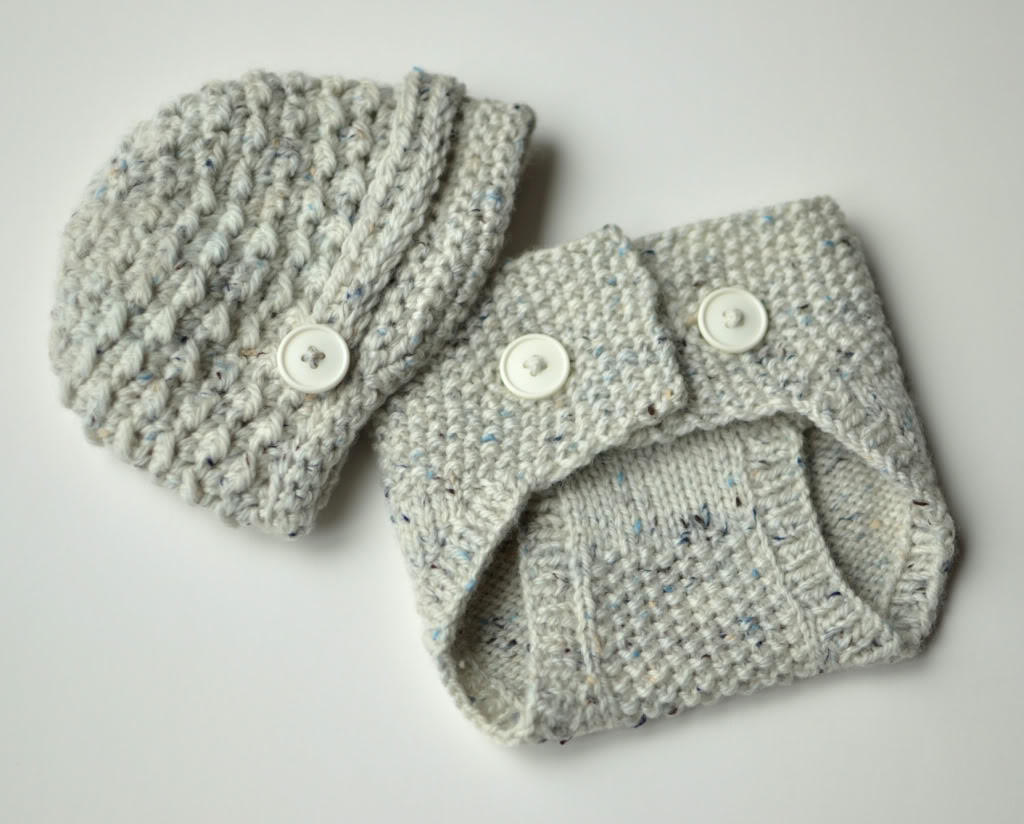 Are you still quite attached to the simple seed stitch cover idea but you feel like you'd like to do just a little something more for the mommy whose baby you're creating the piece for? Then choose one that has a matching hat to go along with it! We suggest this adorable beanie pattern from Patterni because it was actually one of our favourites we've ever done.
8. Roomy drawstring covers
Are you still thinking about the drawstring pattern we showed you before but you prefer diaper cover styles that are made a little baggier so Baby has more room to move around, rather than ones that are sized to be more closely fitting? In that case, you might want to check out this simple pattern by Miss Julia's Patterns instead! It's made using the same easy technique, you'll just be working with more stitches from the get-go at each size level.
9. Little ruffled diaper cover
Are you knitting for a little girl whose parents will certainly dress her like a little princess or a tiny ballerina from day one? Then this extra sweet looking ruffled diaper cover is the perfect piece to gift them! We can't get over how adorable the little multi-layered skirt effect is, but we also love that it's close to the body so it doesn't actually impede Baby's movement at all. Find out how surprisingly easy this patter is to make on Craftsy.
10. Little rubber ducky pattern
Maybe you're intent on keeping the diaper cover very simple in terms of stitching pattern and construction but you're rather experienced in colour working and you don't shy away from a simple little picture chart, especially if it makes the piece look extra cute? In that case, this adorable rubber duck diaper cover pattern from Eros Gifts is an awesome option for your consideration!
11. Flower applique diaper cover and matching hat
Have you always loved knitting textured and embellished things that are as decorative as possible, because you just can't help creating the prettiest pattern around whenever you cast on? In that case, you're going to simply adore this floral cover pattern from Melody's Makings. They'll show you how to knit these flowers, but if you already have a flower pattern you like or perhaps you prefer to make your flowers with a crochet hook, you can simply use their attachment techniques instead!
12. Bumble bee inspired hat and diaper cover
Are your favourite things to knit for babies always the ones that have some kind of adorable theme to them? We can't blame you; we're particularly fond of designs that make our little ones look like adorable baby animals. That's why we love this little bumblebee set from Luulla! We also quite enjoy that the pattern is simple, making it a great introduction to easy colour striping and swapping.
13. Stripy slip on cover
Do you love the idea of colour striping but you'd prefer to do it all across the whole diaper cover and you're not quite confident enough to do it without instructions from start to finish, even though you understand the basic technique? In that case, this simple slip-on pattern from Fluff Love University is definitely the one for you! This pattern will be completely adorable no matter which colour combination you choose.
14. Rainbow skirt diaper cover
Did you love the idea of the ruffled diaper cover we showed you earlier on our list, but you'd actually like to take the idea further and make the cover feature its very own skirt, with the regular slip-on component inside underneath? In that case, you should definitely check out this pattern from Machine Knitting is My Life! We love their idea of using a rainbow variegated yarn to give the look some simple detail without making your stitch pattern more complicated.
15. Little pumpkin hat and diaper cover
Are you still thinking about how cute the idea of knitting a themed diaper cover and hat combination is but you're not sure baby animals is the route you want to go because you're just really excited that fall is coming soon? In that case, we have a feeling you're going to absolutely love this little pumpkin outfit from Laurel Arts! Their pattern shows you how to knit the basic shapes and embellish the hat with some curly-cues at the top like a pumpkin stem with vines.
Do you know a new mom or a mom to be who loves to knit and has been looking for small patterns to work on until Baby arrives? Share this post with them for a little bit of inspiration! Perhaps you're looking to make some covers yourself as gifts? Tell us which pattern you liked best in the comments section!