Kawaii Hairstyles That Will Make Anyone Feel Cute
Japanese kawaii style has evolved greatly over the years and been adapted by many different countries and groups, but it's always had one sure consistency: it's absolutely adorable! One of the key aspects to adopting a truly kawaii look is styling your hair. Without a cute hairstyle, you might not feel like your kawaii look is complete!
Check out these adorable kawaii hairstyles that will make you look and feel the part.
1. Double braided hairbands
These whimsical braids are the perfect way to jazz up some long, loose curls. They add just a touch of cute detail!(Source: She's Beautiful)
2. Curls and bows
 
A simple loose curl and a subtle pink bow hairband help you look adorable without overshadowing your kawaii makeup!(Source: Fashion Guilt)
3. Simple blunt bangs
Neat, blunt bangs that cut across your forehead help frame the shape of your face and draw attention to your eyes!(Source: Fashion Guilt)
4. Glitter star hair pin
On days when you feel like keeping the style simple, don't be afraid to keep it kawaii with adorable DIY hair pieces like this whimsical sparkly star!(Source: Hapy Friends Shoppe)
5. Big, big hair bow
The bigger your bow is, the more adorable it'll look! Pair it with simple braided pigtails or some nice bouncy curls.(Source: Everyday Kawaii)
6. Kitty cat ears
Sure, you could get a cat ear shaped hairband to help you get that adorably kawaii look, but your friends will be even more impressed if you can build some cute little ears right in your hair!(Source: Everday Kawaii)
7. A wig with peekaboo colour
Plenty of kawaii lovers wear wigs! They're easy to style and they let you wear fun colours in your hair without damaging your natural locks with bleaches and dyes.(Source: Yumi King)
8. Decora hair clips
Traditional decora style wasn't quite this bright because most Harajuku who wore decora kept their hair dyed black, but choosing clips in bright shapes and colours adds a kawaii style pop to your hair! Especially if you have straight bangs, place as many small clips around the front of your hair as you like! Decora is a great way to express yourself.(Source: Tokyo Fashion)
9. Messy high ponytail
Are you having a bad hair day? Turn it into a playful kawaii style by gathering it into a high ponytail. Smooth your bands, but let the rest be messy in the back for a cute, playful look!(Source: Little Galy)
10. Kawaii twin hair buns
This style is easy to make in either your real hair or a fun coloured wig! Create two ponytails, wrap them around at the base, and voila- adorable, kawaii buns.(Source: Yumi King)
11. Coloured curls and a statement clip
Choose a bright colour, add some big, fun curls and let a super bright hair piece complete the look! The bigger and more cartoon-inspired, the better.(Source: Hawaii Kawaii)
12. A bob and floral headpiece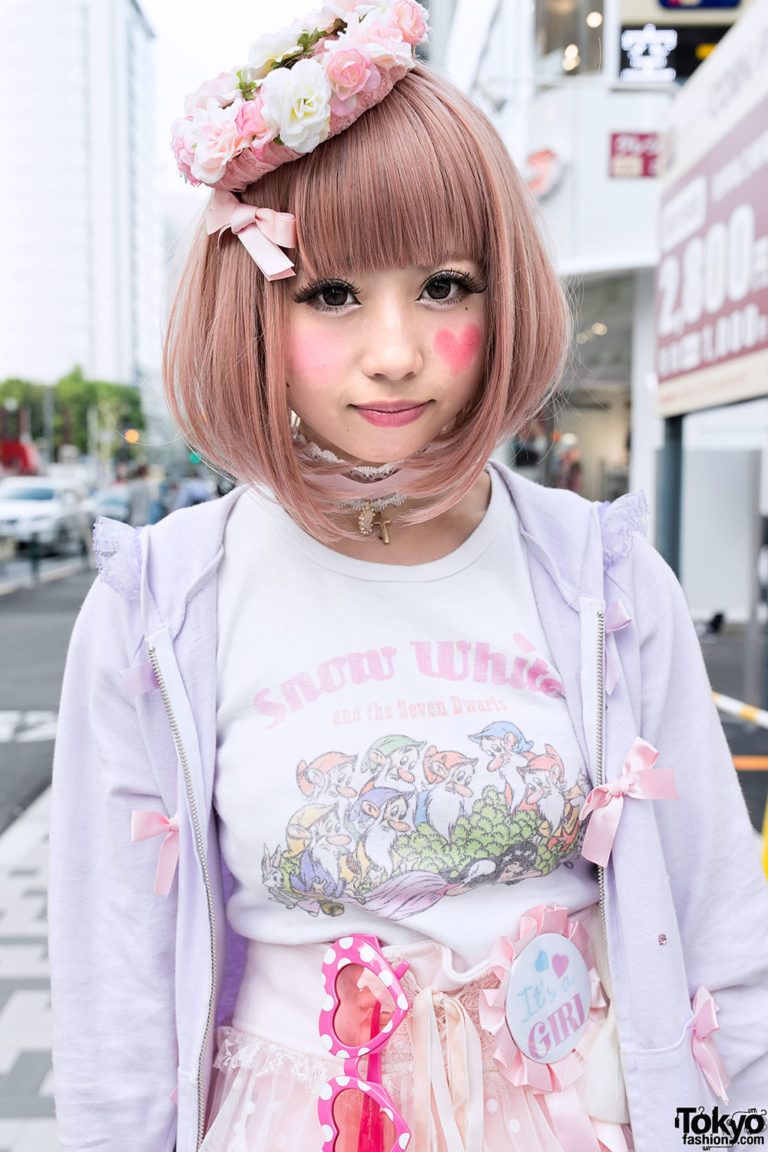 Are you looking for a cleaner look that might be cute for a family dinner? A sleek bob and bangs are complimented perfect by flower crowns or floral headpieces, topped off with a little bow or two!(Source: Tokyo Fashion)
13. Gyaru cat ears
If you like the car ear look from earlier but you'd prefer a more subtle shape, try this Gyaru cat ear style! The "ears" are created by sectioning the side of your hair, brushing it back smoothly, and then curling it in to the sides of your head like 1950s victory rolls. Pin them in place up and to each side!(Source: We Heart It)
14. Messy high pigtails
High, slightly messy pigtails on each side are adorable in themselves, but they're especialy cute and kawaii if you add a couple bows and coloured clips in each!(Source: Tokyo Fashion)
15. Everything at once!
Do you really want the full Harajuku style kawaii look? Try all different kawaii hairstyles at once! Grab your peekaboo coloured wig, brush its bangs smooth, put in some high messy pigtail buns, grab your favourite oversized hair bow, and get creative with colourful clips!(Source: Jazmyn Edwards)
Do you know someone who would look amazing in one of these kawaii styles? Share this post with them for some cute-spiration or link us to your own kawaii hairstyles in the comments section!