Cute Nails To Show Off Your Love for Blue
Sometimes the best way to show off your favourite colour is with a gorgeous manicure! Choosing one shade to set your theme gives you unlimited options for customizing while still keeping the whole looked tied together!Are you excited for the blue skies and blues waters of summer?
1. Blue with glitter accent nails
Silver glitter is the perfect way to balance all that blue with a glitzy accent nail or two.(Source: Ideas For Beauty)
2. Swirling accent patterns
Break up solid colours with a swirling pattern on a white background! Toothpicks or very fine paint brushes are useful here.(Source: Beauty Manicure)
3. Blue and silver geometrics
Taping across a thoroughly dried nail will help you paint geometric patterns and triangles. Just make sure the polish you paint over the tape is fully dried before you try to peel it off!(Source: Ol Women)
4. Black-blue and glitter
Deep blue that looks almost black will resemble an indigo night sky, especially if you add glitter in complimenting shades.(Source: Nail Design Ideaz)
5. Glitter gradient nail bed
Concentrate glitter at the bed of an accent nail and let it dissipate as you move towards the tip. It looks like fairy dust!(Source: Fashionsy)
6. Blue with black zebra stripes
A blue background with black stripes looks like the funkiest of zebras.(Source: Designs Next)
7. Matte blue and a glitter tip
Matte blue looks velvety and rich, while chunky glitter on the tip gives the look some flair.(Source: Creative Jasmin)
8. Matte blue with big accent gems
Are you looking for something more dramatic than a bit of glitter? Pair that same rich matte blue with actual rhinestones!(Source: Ruben Carrillo)
9. Deep blue ombre
Get all of your favourite shades of blue in at once with this deep reverse gradient on each nail.(Source: Style 2 Inspire)
10. Dripping blue paint
Why not get messy and let your polish drip? Well… maybe just make it look like it's dripping instead!(Source: Webadim Nails)
11. Blue and white fine details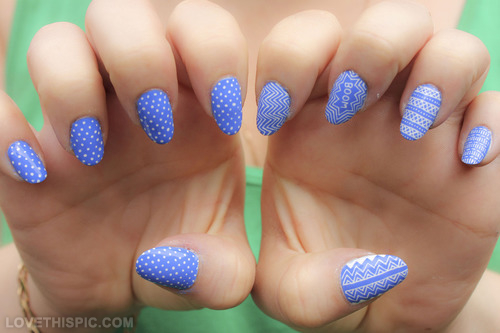 If you have time and a lot of patience, this super-fine detailed look is an amazing way to draw the eyes to your blue manicure.(Source: I Heart My Nail Art)
12. Blue with glitter nail beds
Concentrating glitter at each nail bed contrasts nicely with the blue and brings the look a bit of subtle glamour.(Source: Pretty Designs)
13. Blue with a caviar accent nail
A "caviar" accent nail gives your manicure some texture without overwhelming the colour.(Source: Pretty Designs)
14. Blue with silver glitter stripes
Break up the blue to make the look a little more eye catching all around!(Source: Cuded)
15. Blue velvet
Yes; velvet nails are actually a thing, and we're totally into them. You can find the fibres at your local craft store! Match them with a blue nail polish you like and dip your nail right before the polish dries!(Source: The Daily Varnish)
Do you know someone who loves nail art and adores the colour blue? Share this post with them for a little bit of nail inspiration!