These 50 July 4th Desserts Will Set Off Fireworks At The Dinner Table
Start prepping for Independence Day now! With a bit of red, white, and blue as well as some extra-sweet ingredients, you can whip up a slice or a bite of something delicious for the entire family to enjoy. Whether it's at the dinner table or out on the lawn while everyone enjoys some fireworks these 50 July 4th desserts are perfect ways to celebrate!
1. Ombre Funfetti Cake
Brit + Co starts us off with this fabulous and fun ombre cake filled with funfetti inside! It's extra festive and the kiddos will definitely want to dive right in.
2. Tie Dyed Fudge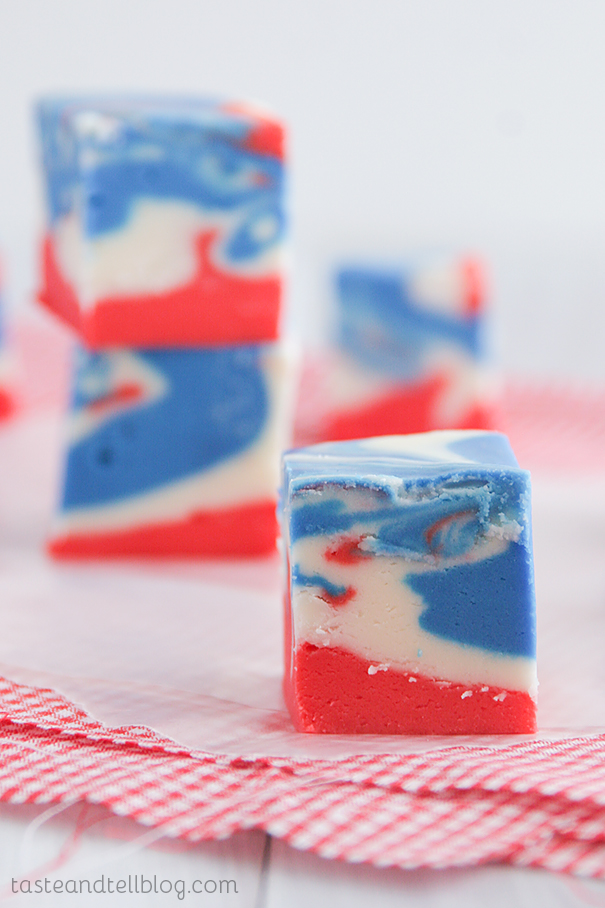 Taste and Tell gives us a fudge recipe that you've never seen before. Swirled and sweet, it's the perfect bite to end the night.
3. Independence Cookie Pops
And then there are these cookie pops. Dipped in chocolate and rolled in sprinkles, you can grab the recipe for this one over at A Step in the Journey.
4. Red, White and Blue Jello Shots
Brit + Co also gave us the recipe for these smooth and fun Jello shots. They'll certainly give everyone something to look forward to.
5. Pinwheel Icebox Cookies
Just a Taste made some pinwheel icebox cookies that are both patriotic and tasty too! Check out the recipe after the jump.
6. Patriotic Whoopie Pies
Even your whoopie pies can be dressed for good ol' Uncle Sam. Take the jump and take a peek at all the how behind these cuties. (via)
7. Chocolate-Dipped Oreo American Flag
Start with the Oreos and then start dipping. Blue and white, with a bit of red too, grab the details over at The Pink Flour.
8. Red, White and Blue Cheesecake Strawberries
Spicy Southern Kitchen grabbed some fresh strawberries and stuffed them with cheesecake goodness! Don't forget the blueberries on top!
9. No-Bake Summer Berry Lasagna
How does a dessert lasagna sound to you? Trust us, it's delicious. Catch the recipe for this one at Chocolate Dessert Recipes.
10. Red, White & Blue Strawberry Shortcake
Two Sisters Crafting also have fun ideas! Just check out this strawberry shortcake served with blue whipped cream for Independence Day!
11. Berry Angel Food Cake Roll
The Recipe Rebel rolled up their cake and stuffed it with fresh berries too. Talk about delicious and full of summertime flavor!
12. Flag Cake with Cheesecake Topping
Top your dessert off with cheesecake and berries too. Make it a bit festive by going with a flag design like you see here at Spend with Pennies.
13. Red, White & Blue Chocolate Cookies
Two Sisters Crafting knew that even some classic, chocolate cookie could have a 4th of July makeover. Just add M&M's, of course!
14. American Flag S'mores Dip
The Decorated Cookie created a s'mores dip in the spirit of the holiday. Grab some graham crackers and dive right in!
15. Red, White & Blue Sugar Cookie Pie
Over at Betty Crocker, you'll find out all the details in the creation behind this sweet and festive sugar cookie pie! The kiddos will love this one too – it's an easy recipe to make everyone happy.
16. No-Bake Berry Icebox Cake
Cake's Cottage created this no-bake icebox cake that will keep everyone refreshed and satisfied. Sweet and filled with summer flavors, it's a winner!
17. Buzzed Cherry Bombs
For the adults, these "buzzed" cherry bombs will be the highlight of the party. Grab the recipe at Frosting and a Smile.
18. Red, White & Blue No Churn Ice Cream
It's Always Autumn will show you how to make ice cream right at home – with no churn involved. That dash of red, white and blue is rather festive too – don't you think?
19. Mini Cherry Pies
Like Mother Like Daughter showed off these charming, mini cherry pies. They're perfect to take to the neighborhood potluck!
20. Red, White & Blue Cheesecake Bars
These red, white and blue cheesecake bars has a chocolate crust and sprinkles on top. We have a feeling these will easily be the hit of the party! (via)
21. Red, White & Blue Frozen Bananas
Who loves a good frozen bananas? Check out the easy recipe – and decorating inspiration – over at Two Sisters Crafting.
22. Fireworks Pudding Cookies
Crazy for Crust makes a batch of pudding cookies that are perfect for the 4th of July too. And these bites are addictive – we warned you!
23. S'mores Bars 4th of July Style
Turn classic s'mores into decadent bar dessert! Over the Big Moon has all the details behind these delicious squares.
24.  Fireworks Sugar Cookie Cake
Crafty for Crust also has a sugar cookie cake that you can whip up quite easily for the family. Visit now and don't forget to add the sprinkles to this one!
25. Red, White & Blueberry Boozy Cheesecake Pops
Host the Toast has another adult-only recipe. These boozy popsicles will keep everyone cool and giggling all afternoon.
26. Patriotic Nutella Cookie Dough-Dipped Pretzel
There's just so much to love about this recipe from Crazy for Crust. The Nutella, the pretzels, the chocolate, the cookie dough – it's a dream bite.
27. Red, White & Blue Candy Corn
Candy corn isn't only for Halloween, apparently, it can be for Independence Day too! Check out the recipe at Eclectic Everyday.
28. Red, White & Blue M&M Cookie Bars
No. 2 Pencil utilizes red, white and blue M&M's for their cookie bar recipe too! They're festive and super yummy in everyone's tummy.
29. Oven-Baked Berry Cheesecake Chimichangas
OMG Chocolate Dessert Recipes has a recipe that goes along with summertime flavors but also takes the classic dessert ideas up a notch. Serve these chimis up once dinner is done and before the fireworks begin.
30. Red, White & Blue Cupcakes
Then there's the red, white and blue cupcakes that you can make for friends and family. Just top them off in all different ways: with icing, with fruit or even sprinkles. (via)
31. Patriotic Caramel Pretzel Bites
Two Sisters Crafting whips up a sweet treat to snack on all day and night long. Even novice bakers can make these happen.
32. Fourth of July Candy Bark
Festive candy bark could be a fun way to end the night as well – and double as party favors for the night. Check this out at Coupons.
33. American Flag Pie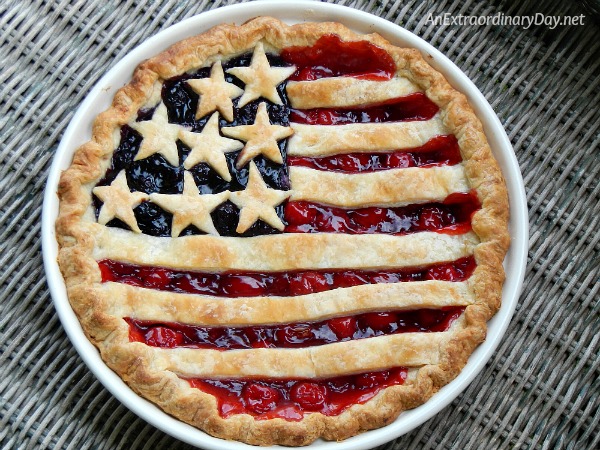 An Extraordinary Day makes a classic pie but tops it with July 4th spirit! Learn how after the jump!
34. Red, White & Blue Trifles
These mini, personalized trifles can be a fun project to take on. Just allow Fox and Briar to help you with all the details.
35. Patriotic Rice Krispie Treats
Allow Deliciously Declassified to teach you how to whip up some classic Rice Krispie Treats. With addition of some red, white and blue sprinkles – they become the perfect treats for July 4th too!
36. Red, White & Blue Brownie Pizza
Jo Cooks went the fruit pizza route but with a brownie crust instead of a cookie! If you like a little more chocolate in your bite than this one is for you!
37. Berry Monkey Bread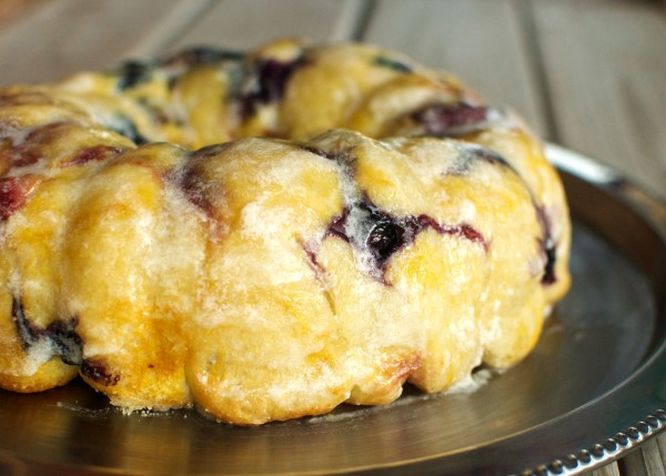 Do we have any monkey bread fans out there? If so, then this one is for you! Filled with berries and sugary sweetness, every bite is satisfying. (via)
38. Firecracker Popcorn
This fiery, firecracker popcorn snack is great to serve all day long. It's sweet and spicy, just check out Blommi for the details.
39. July 4th Sprinkle Cookies
Simply Gloria made sprinkle cookies that will always be a great route to take for dessert. Just make sure the kiddos don't eat them all before dinner is served.
40. Cherry Bomb Brownie Bites
Here's another cherry bomb recipe to take a bite out of. Check it out over at Eating on a Dime.
41. Strawberry Pretzel Dessert Squares
A southern treat, check out this strawberry pretzel bar over at Kraft Recipes. You can even add some blueberries to the recipe!
42. Red, White & Blue Fruit Salad
If you're looking for something a bit healthier, serve up a colorful fruit salad! With whipped cream, n the side, of course. (via)
43. July 4th Yogurt Bites
Love and Marriage made a healthier sweet bite as well. Using yogurt and fruit, you can make them too!
44. Patriotic Strawberry Shortcake Kabobs
The Classy Chapter took all the goodness of strawberry shortcakes and turned them into kabobs. And we're loving the addition of the blue icing to finish off the festivity.
45. Firecracker Cupcakes in a Jar
We found more cupcakes – just this time they're in a jar! Whip up these personalized sweets the day before! (via)
46. Lemon Cream Pie
Brit + Co makes a lemon cream pie that can be used to celebrate the 4th with. Just add some red, white, and blue on top too.
47. Red, White and Blue Fruit Cookie
A classic fruit pizza will doo too. A cookie crust, icing in the middle and fruit on top, the kids will love decorating it. (via)
48. Patriotic Strawberries
The Girl Who Ate Everything knew that everyone loves a good dipped strawberry. So, she made some with some patriotism.
49. Frozen July 4th Pops
Here's another recipe for frozen pops that will keep everyone cool and serve as a nice refreshment to the warm day. Take the leap and snag the recipe now. (via)
50. Star Spangled Fruit Kabobs
And the Simple Girl finishes us off with these fruit kabobs. They're easy to make and easy to prep for, even the kids can help out.