I absolutely adore making my own home decor. Besides looking chicly DIY, it makes me feel accomplished and I love being able to customize pieces to my existing decor and my tastes! Recently, my biggest decor obsession has been industrial decor. I love the way the stripped down style looks even though I live in a comfortable home.
Just in case you haven't scrolled through the hundreds of amazing industrial decor tutorials and ideas available on the Internet, here are 15 DIY pieces that I either can't wait to make myself or currently already have sitting proudly in my apartment!
1. Galvanized bucket sink
Bathrooms and guest bathrooms are the perfect place for a little bit of stylish novelty. I love how this galvanized bucket sink idea blends a bit of rustic chic with the idea of industrial decor. Here's a full tutorial for it from Remodelista so you can make your own!
2. Numbered crate vase
Fashionably weathered wood, spray painted stencils, and metal edgings are all characteristic of classic industrial chic and it's an aesthetic that I just can't get enough of. Even something as simple as this wooden box centre piece filled with mason jar vases helps you build the scheme. Check out how easy it is to make on Pneumatic Addict.
3. Wood and pipe side table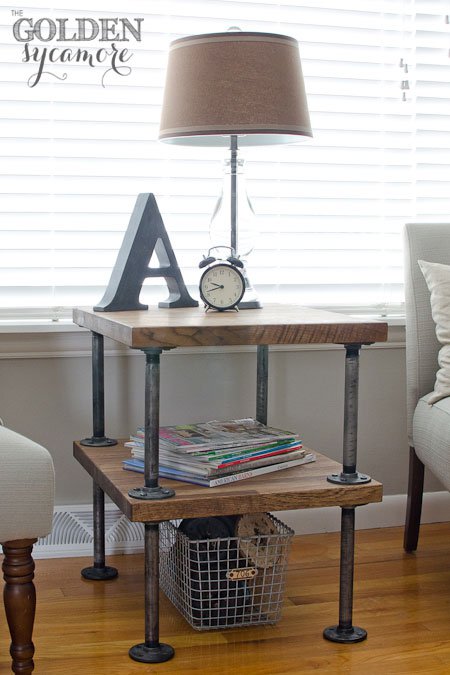 Nothing else quite says "industrial chic" to me the same way as exposed pipe, especially if it's dark, weather, and vintage looking! I love the contrast between wood and metal in this stylish pipe leg table idea from Liz Marie. Like most of the things on this list, this project is hands-on but still quite simple.
4. Industrial frame coffee table
House Updated guides you through the process of building your own wooden top, industrial frame table using vintage looking wrought brackets! I love the sturdy, practical construction of the table and the fact that it manages to still look chic in its simplicity.