I absolutely adore making my own home decor. Besides looking chicly DIY, it makes me feel accomplished and I love being able to customize pieces to my existing decor and my tastes! Recently, my biggest decor obsession has been industrial decor. I love the way the stripped down style looks even though I live in a comfortable home.
Just in case you haven't scrolled through the hundreds of amazing industrial decor tutorials and ideas available on the Internet, here are 15 DIY pieces that I either can't wait to make myself or currently already have sitting proudly in my apartment!
1. Galvanized bucket sink
Bathrooms and guest bathrooms are the perfect place for a little bit of stylish novelty. I love how this galvanized bucket sink idea blends a bit of rustic chic with the idea of industrial decor. Here's a full tutorial for it from Remodelista so you can make your own!
2. Numbered crate vase
Fashionably weathered wood, spray painted stencils, and metal edgings are all characteristic of classic industrial chic and it's an aesthetic that I just can't get enough of. Even something as simple as this wooden box centre piece filled with mason jar vases helps you build the scheme. Check out how easy it is to make on Pneumatic Addict.
3. Wood and pipe side table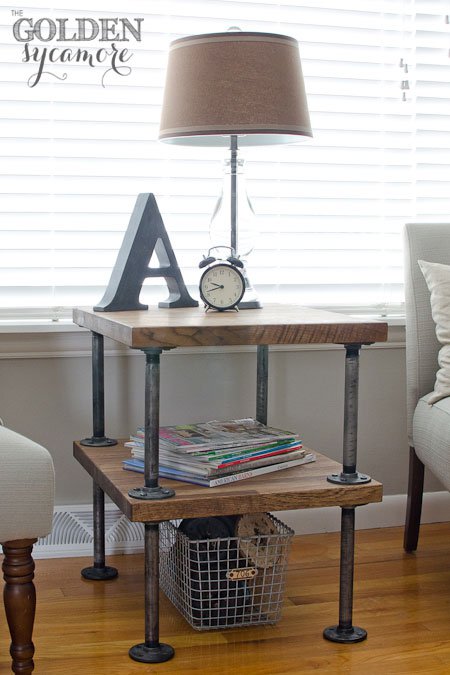 Nothing else quite says "industrial chic" to me the same way as exposed pipe, especially if it's dark, weather, and vintage looking! I love the contrast between wood and metal in this stylish pipe leg table idea from Liz Marie. Like most of the things on this list, this project is hands-on but still quite simple.
4. Industrial frame coffee table
House Updated guides you through the process of building your own wooden top, industrial frame table using vintage looking wrought brackets! I love the sturdy, practical construction of the table and the fact that it manages to still look chic in its simplicity.
5. DIY rustic industrial desk
Do you love the look of a good rustic industrial piece as much as I do, but you're already got a coffee table and don't know where the designs above would fit into your home? Perhaps you need a desk instead! Mountain Modern Life shows you step by step how to make your own with a pieced together wooden slat top and industrial styled metal legs that finish off the whole aesthetic of the piece.
6. Custom painted industrial stools
Are you looking for an idea that's a little more hands-on and required a little more customization? These industrial chic metal stools are a great option for the bar or island in your kitchen! I love how the painted metal finish gives off a unique cross between mod and vintage looking. You could paint yours any colour to influence the style and blend them with your existing decor! Check out how they're done on All Things Thrifty.
7. Industrial wooden valance
Tables, chairs, and centre pieces aren't the only parts of your decor that can be customized to contribute to an industrial aesthetic! I like the idea of really making a style statement with this old industrial looking window valance! Leaving the corner brackets visible like The Golden Sycamore did here really finishes off the intentionally unfinished look.
8. Factory cart coffee table
Are you still really into the idea of making your very own rustic industrial coffee table but none of the designs we've posted so far have quite peaked your interest just right yet? Here's one that I just can't get over because it's ever so slightly more unique in that it's not a table at all- it's a wagon! Even so, Ana White shows you how making your own actually will serve you as an awesome little table for years to come.
9. Rustic wooden dresser with wheels
Are you noticing a theme when it comes to industrial chic and wheels? I caught that too in my search, but I'm not mad about it by any means! This intentionally weathered DIY dresser is only amplified by the inclusion of wheels on the bottom. Thanks goes to Shanty 2 Chic
for showing us all how it's made!
10. Pipe and wooden slat bed
Are you feeling so handy and DIY this week that you're feeling up to a real building challenge? Well, why not try to build yourself an entire bed? I absolutely adore this very industrial and stylishly unfinished bed frame, and I also like that it suggests shiny or chrome pipes rather than the black or darker rustic ones that are often more common when it comes to industrial decor. Check the tutorial out in more detail on That's My Letter.
11. Industrial wood and concrete coat hanger
Is your idea of "industrial chic" a little more modern than some of the examples you've seen so far, even if the piece is a DIY one? There are totally designs out there for you too! I'm a really big fan of this industrial coat rack idea that's simple style lets the fact that it's made from new materials, rather than reclaimed ones, take centre stage. Check it out in more detail on Ana White.
12. Concrete pendant light
We've pointed out quite a few designs that are rather "hands on", but many of those have been based in furniture construction and working with metal and wood. That's not the only kind of hands on DIY project you can do when it comes to industrial chic decor though! I can't believe how cool this concrete pendant light is, or how unexpectedly simple the technique of moulding your own concrete shape is. Check out the full tutorial on Curbly!
13. Industrial pipe plate rack
Shanty 2 Chic guides you through the steps for making your own wood and pipe rack, or adding pipe bars along the front edge of premade shelves to make sure the valuables and decor that you display there stay put and keep things away from the edge. The pipes might be practical, but they also contribute to a nice industrial aesthetic in the room!
14. DIY wire laundry basket
Even the simplest elements in your home, including ones that aren't necessarily decorative, can be incorporated into the industrial chic theme! I think this wire and canvas DIY laundry basket is both thrifty and practical and it'll give you the thorough experience when it comes to making and building your own authentically DIY industrial core aesthetic yourself. Check the idea out on more detail on Homedit.
15. Industrial kitchen cart
One of my very favourite places to build an industrial decor aesthetic is in the kitchen. I love this idea for building your own island for a little extra counter space in a kitchen that doesn't already have a stand alone surface. This design from Ana White certainly fits the bill on industrial chic with it's metal brackets and wheels, and it's completely DIY!
Do you know someone who loves industrial chic styles and has been collecting design ideas for when they re-design their home? Share this post with them for a little bit of inspiration!