How to build pantry shelves for more storage – 15 inspirational ideas
Have you ever opened up your pantry to grab a snack and realized that you can't even find what you're looking for, or maybe you can but you can't get to it very easily without knocking something else over? We've been having that issue lately too, and we just can't help thinking that our DIY skills might be the key to better pantry organization and probably even more effective storage for a greater amount of storage. That's why we've been combing the Internet lately for different guides and tutorials that might help us overhaul the inside of our pantry and make it a more effective space in our home. To be honest, we were very pleased indeed with just how many useful resources we came across!
1. Basic DIY closet shelving
Do you have at least a little bit of experience with simple woodworking and basic wall mounting techniques, but you're also still quite new to the game in the grand scheme of things? Then we'd definitely suggest taking a look at something like this project from Blesser House. They show you how to make some basic wooden DIY pantry shelving using a simple bracing system.
2. Poplar wood DIY pantry shelves
If you've got a little more woodworking experience than the above project calls for and you'd like to put it to good use, then perhaps you'd be better off taking a look at this project and full tutorial featured in detail on Rmarvids! They guide you step by step through their own experience creating strong, high weight-bearing pantry shelves made of strong poplar.
3. How to make a pantry out of a closet
Perhaps you actually don't have a pantry at all but you do have a regular closet in the hallway that you could easily clear out? In that case, we'd absolutely suggest checking out this guide from The Turquoise Home that teaches you how to put some simple board shelves in just about any old closet. This resource is particularly great in the way it deals with classic clothing closet dimensions and shape, making it a little more universal.
4. The ultimate custom pantry
Are you working with a uniquely shaped or sized limited space that you think would benefit more from different organization than just board style floating shelves like the ones you've seen so far? Then we'd be willing to bet that you'll get along a little better with something like this fully detailed outline featured on Live Pretty on A Penny! They show you how to build an easily customized cubby style closet insert of your very own that will cater to the space you're working with in just about any circumstance.
5. Farmhouse pantry makeover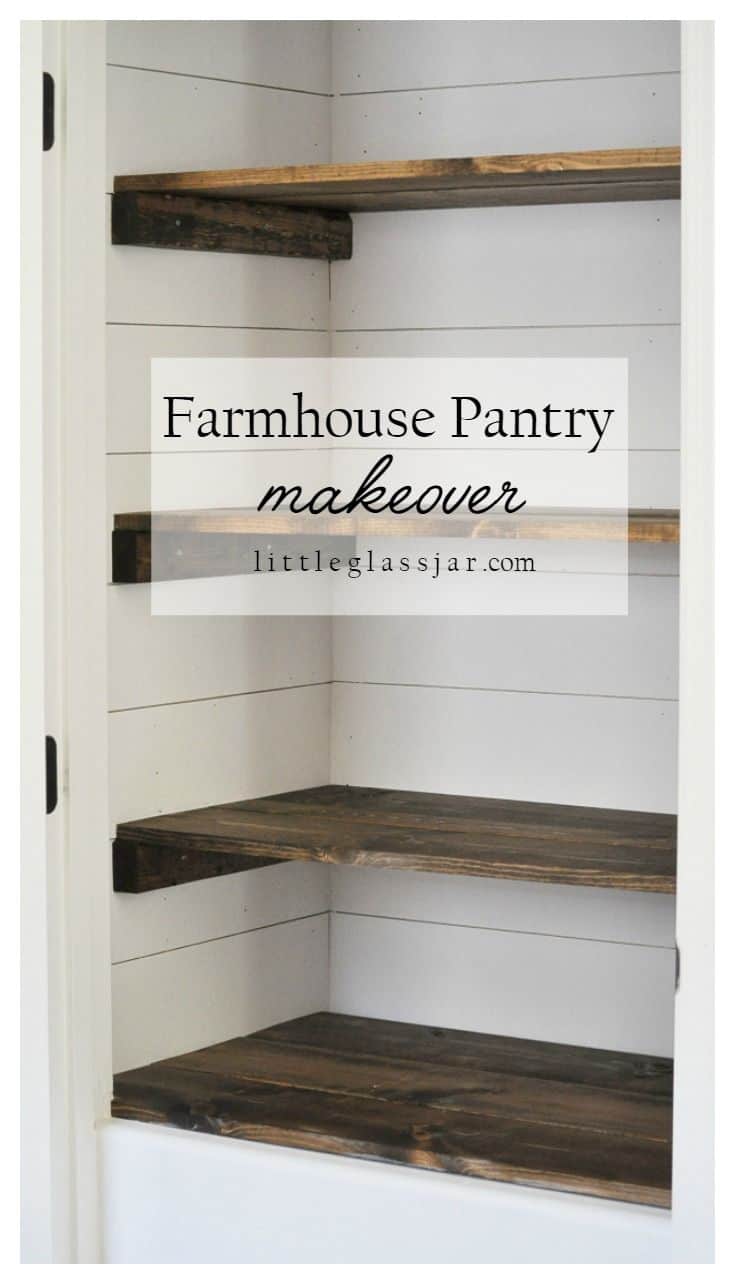 Just because the pantry isn't an area of your house the necessarily stays on display when guests come over doesn't mean it can't still be present nicely and match the aesthetic in the rest of your house! For those with a farmhouse inspired aesthetic, here's a tutorial from Little Glass Jar that shows you how to put in slatted pantry shelves made from stylishly weathered reclaimed wood that provides a very rustic chic atmosphere.
6. DIY open inset pantry walls
Is the problem you're having actually that you don't have a proper pantry closet at all? Well, if you've at least got a little bit of space to work with around your appliances or between cupboards then you might find this resource from Young House Love more of a help than some of the other things we've shared here. This guide teaches you in surprisingly simple steps how to make a set of inset shelves that give you pantry-like storage right there on or in the walls near your kitchen.
7. How to replace pantry wire shelving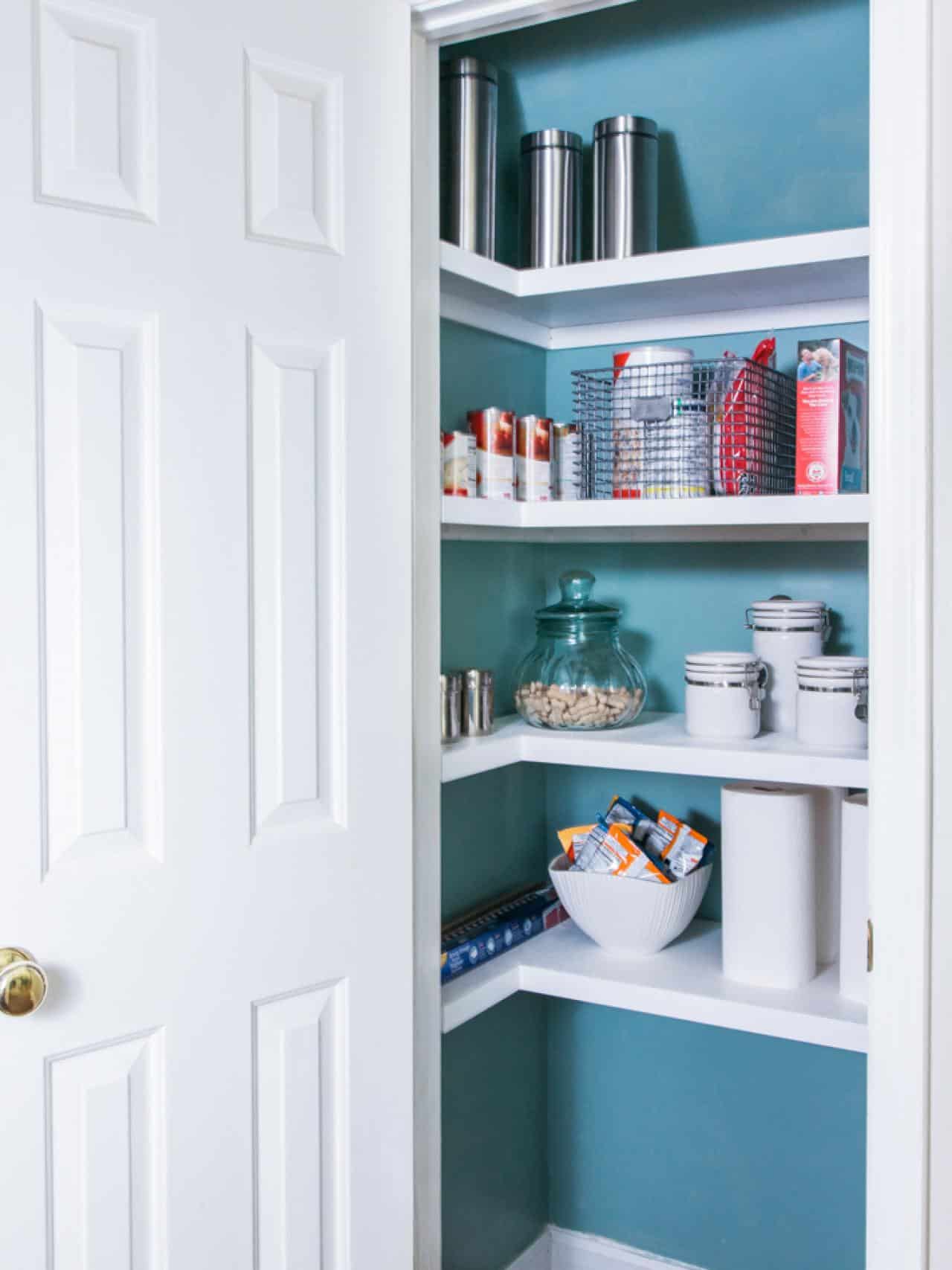 Are you actually living in a slightly older house that has a bit of a 1980s flare, right down to that old style metal wire shelving in the pantry? Well, there's nothing wrong with that per se, but we've lived in places with those shelves before and found that most things won't sit straight or solid on shelves with spaces in them. That's why we thought this tutorial from DIY Network that teaches you how to replace wire shelves with stronger, more solid wooden ones was such a good idea.
8. DIY farmhouse inspired pantry shelves
Just in case you're still in love with the idea of creating a pantry that's consistent with the rest of your farmhouse aesthetic but the particular structure of those shelves doesn't work for your space, here's another alternative. This time, however, Jenron Designs shows you how to make rustic chic reclaimed wood shelves that are a "floating shelf" style, rather than being inset into the wall like you saw earlier. This is a slightly simpler alternative.
9. Awesome pantry upgrade in a kitchen remodel
Did we catch your attention the best so far with all this talk of customizable and inset cubby shelves, but you're feeling up to a challenge and wouldn't shy away from an even more extensive design? Then this fully pantry upgrade guide featured in awesome detail on Dad Rambles Workshop might be right up your alley! They show you how to create an entire system of inset shelves that even includes a rotating tower in the corner to maximize all spaces possible.
10. DIY built-in pantry shelves
If you're still feeling a little bit enamoured with the idea of making built-in or inset pantry shelves but you're looking for another resource to truly get an idea of the best approach, here's another awesome option for your consideration. This resource from Centsational Style guides you through the steps for making differently sized and shaped cubic shelves that will let you store just about anything with careful, space efficient arrangement.
11. Tips for selecting the right kind of pantry shelving for your space
Just in case you've been scrolling our list unsure of what kind of shelving is actually best for the particular pantry space you're trying to make over, here's a great resource for helping you analyze its dimension and shape and make an informed decision! This Old House walks you through different kinds of DIY pantry shelving, gives you some pros and cons, and suggests some ways to get solid results.
12. Freestanding pantry shelves
Are you still thinking about the built-in wall option we showed you earlier because you don't actually have a pantry at all, but you're just not sure that particular design is a feasible option for you? In that case, particularly if you're prefer something with a little more character, we'd suggest checking out how Handmade Haven used reclaimed wooden boards and organized plastic bins and baskets to create a freestanding "pantry" instead!
13. DIY pantry floating corner shelves
Have you been feeling pretty intent on making your own set of pantry shelves but the prevalence of corners in your little closet has thrown you off, since angles are a little harder to work with in the building process for beginners? Then we think you'll really appreciate the way this tutorial from Sawdust Girl actually specifically outlines the process of making floating shelves in those very corners that felt intimidating to look at.
14. How to install wooden wrap shelves
If you've never made wrap shelves before but you're looking for a decently simple shelving solution then we don't think you'll have to look much further than this resource outlined on Lucy Designs! They show you how to make shelves that span the entire length of the pantry's walls on either side, meeting in the order on specific measurements to create a wrapping effect that gives you consistent shelving space all the way around.
15. Custom pantry cubby shelves
If your favourite concept on the list so far has truly been the cubby design but you're still looking for the guide that's quite the right one for you, here's a tutorial that specifically outlines the process for shallow pantries that don't leave you a whole lot of depth to work with. Live Pretty on A Penny shows you the basics of how to make a collaged cubby wall like this and then tells you simple steps for customizing one of your own in the measurements that work best for what you're planning to store there.
Do you know someone else who has been thinking about tackling their own DIY pantry makeover but could use a little bit of help along the way? Share this post with them so they have lots of help and many different styles and techniques to choose from.