20 Minute Red Thai Curry Recipe With Extra Vegetables
An easy and tasty red Thai curry recipe – perfect for a quick after-work dinner. Thai food has to be one of my absolute favorites. It's generally quick, packed with flavor and easily modified to include lots veggies.
This makes it a great option for getting a quick dinner on the table without having to reach for the take-out menu.
This recipe uses store-bought Thai paste to speed things up. If you want to make your own simply whizz up 2 or 3 red chillies, a peeled and chopped small onion, 1 tsp minced ginger, 2 cloves of garlic, 2 tsp lemongrass paste, a small bunch of cilantro, ½ tsp turmeric and a couple of kaffir lime leaves (optional). Then add this paste to the dish in place of the store-bought paste.
Whether using homemade or store-bought paste – this curry is delicious!
I love to serve mine with regular boiled rice or sticky rice, plus lots of cilantro and wedges of lime.
You could also top with a few slices of freshly chopped chillies – watch out though, this curry is already on the fiery side!!
Here's what ingredients you'll need for a delicious red Thai Curry recipe:
Serves 4
1 tbsp oil
3 chicken breasts, cut into bite-size chunks
2 cloves garlic, peeled and minced
1 tsp minced ginger
1 tsp lemongrass paste
4tbsp red Thai curry paste
1 cup snowpeas, roughly chopped
1 red bell pepper, deseeded and sliced
1 yellow bell pepper, deseeded and sliced
2 tsp fish sauce
14oz can full-fat coconut milk
Juice of half a lime
1 tsp cornstarch mixed with 1 tbsp cold water
To Serve:
Boiled rice
Lime wedges
Small bunch of cilantro, roughly torn
1 red chili, sliced
Step by step instruction to prepare this dish:
Heat the oil in a large skillet, add the chicken and fry for 6-7 minutes until nearly cooked through. Add the garlic, ginger, lemon grass paste and curry paste.
Cook for 1 minute until the paste starts to release its fragrance, then add in the snow peas, red and yellow peppers. Stir then add in the fish sauce and coconut milk. Bring to a gentle bubble and allow to simmer for 2-3 minutes.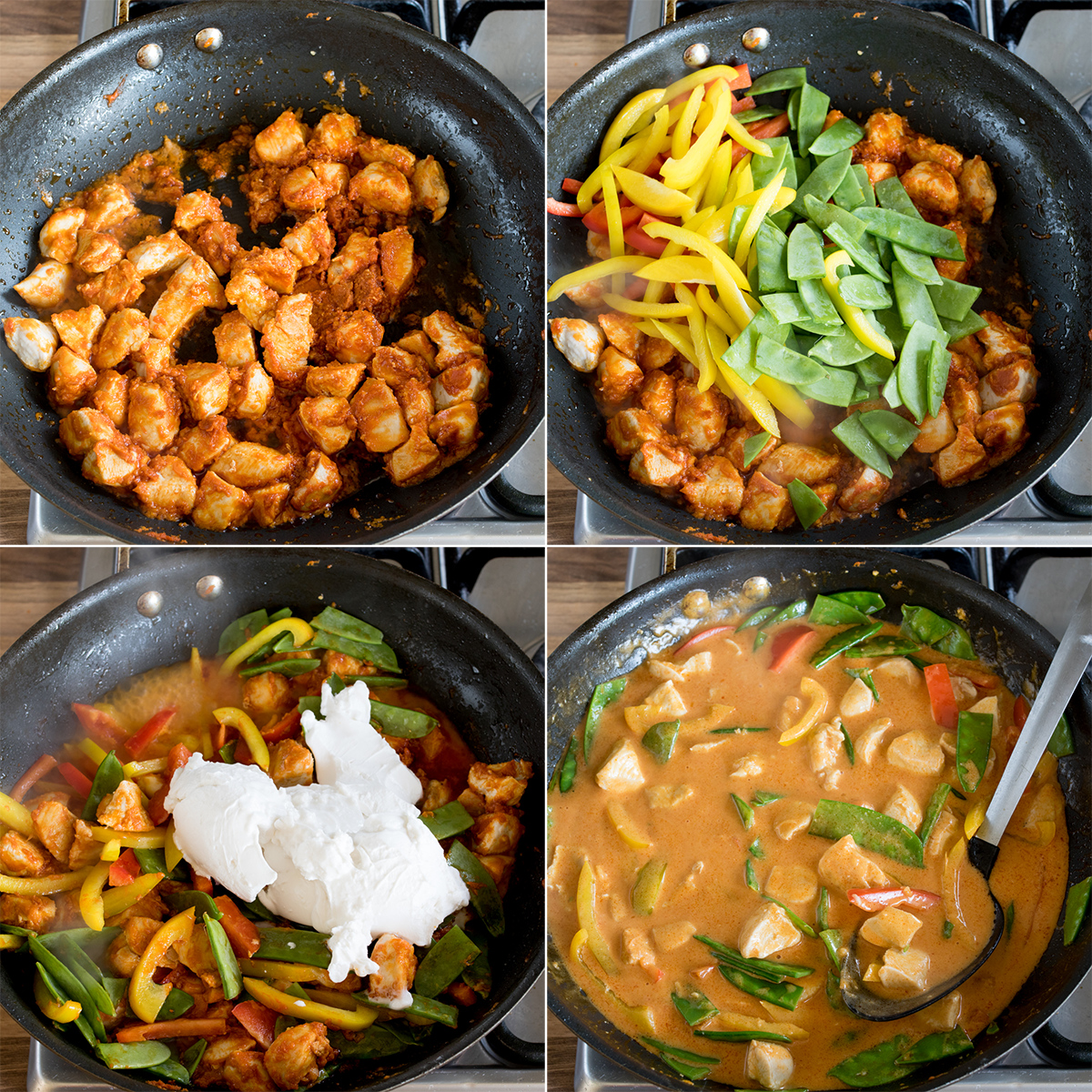 Add the lime juice and serve as is, or if you like it a little thicker you can stir in the cornstarch slurry.
Serve over rice topped with lime wedges, fresh cilantro and sliced red chillies.