These 20 DIY Housewarming Gifts Are The Perfect Thank You
Next time you show up at your best friend's or neighbor's housewarming party, make sure you bring a for the host or hostess. Whether it's something to "warm" their home or an nice bottle of wine, they'll love the sentiment. And today we're showing off 20 DIY housewarming gifts that are the perfect thank you – plus, they're made by your own two hands!
1. Sundae Box
Tip Junkie gives us a charming and fun idea that the entire family of the newcomers will love. This sundae box is perfect for those celebrating in the warmer months!
2. Welcome Wreath
teach. craft. love. shows us how to make a welcome wreath and bring it right over to the host or hostess of the party. DIY a front door piece that has that housewarming feel.
3. Essentials Jar
Then over atOh Happy Day, you'll find another way to gift some basic home essentials. A large glass jar filled with some ready-to-use items is a great "welcome home" idea!
4. Rosemary-Infused Olive Oil
Make something tasty and useful for the kitchen. Follow along atMiss Buttercupto learn how to recreate this beautiful bottle.
5. Ultimate Basket
How To Nest For Lessput together the ultimate housewarming basket. Filled with necessities and cleaning supplies, the new one in town will put all of these goodies to use!
6. Italian Mix
Over atTasty Southern Chicyou'll learn how to theme a gift basket just right. Essentials for the kitchen and some Italian-inspired bites thrown in make for quite the housewarming present.
7. Wooden Caddy
Fill up a shabby chic wooden caddy with goodies too. This is just another style route to take and you can get inspired by the mix over atMagnolia Market.
8. Canape Knives
Yarni Gras makes some snazzy, wine cork canapé knives that are too a great gift for this type of celebration. Wrap them up beautifully and present them to the new homeowner.
9. Mason Jar Planter
Over at Juggling Act Mama you'll learn how to make an adorable and charming mason jar planter complete with a fresh plant for the new homeowners to enjoy and love.
10. Garbage Disposal Refreshers
Here's a unique and fun gift to create for the new family on the block.Monika McMahongives us all the details on how to make these garbage disposal refreshers.
11. Wooden Spoons
Farmhouse Chicshows us how to make some wooden spoons be the forefront of the gift. Stamp them yourself or add in some recipe cards, linen bags and more!
12. Love Pot
Maison de Paxfilled a planter with so much love. It includes a plant and a handmade address sign that will make a beautiful decorative piece for the front porch!
13. Polka Dot Napkins
FreutCakemade some gorgeous, golden polka-dot napkins that will be abeautiful addition to any home. And it's quite the fun project to try your hand at!
14. Lavender Pieces
Grab a basket and create a bathroom mix of sorts. With some lavender soap, hand towels and a lavender plant tooJulie Blannermakes the most charming concoction on the list!
15. Cookies in a Jar
Give the gift of baking with help from this fabulous recipe idea. All you need is a mason jar to get started.
16. Box ofFlavored Salts
Country Living shows us how to create a homemade box of flavored salts. It's a great housewarming gift that'll stick around your neighbor's kitchen or a while!
17. Lemonade Kit
VisitThe Idea Roomand learn how to make a homemade lemonade kit for your new neighborhood family to have fun making. Catch the tutorial now!
18. Hey There Doormat
Griffaniewill show you how to make a personalized doormat. Help dress up the front porch with this adorable and thoughtful DIY project.
19. Cocktail Mixes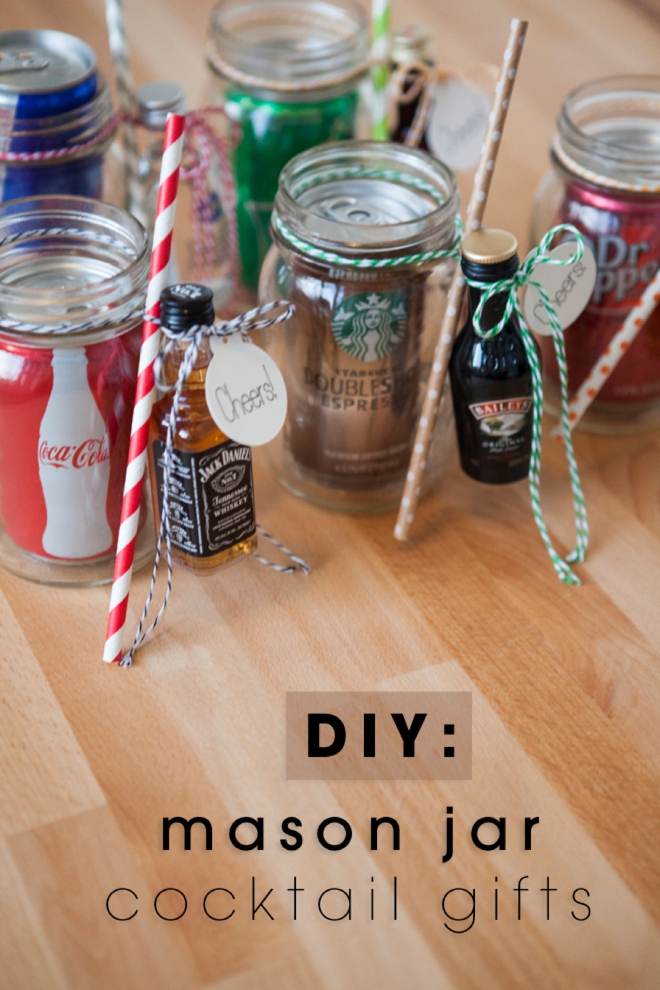 Visit Something Turquoise if you want to celebrate in a more adult way. These cocktail mixes are so much fun and charming too!
20. Wifi Password
They'll never forget their "free" wifi password with this beauty hanging on the wall. And it's so easy to recreate. (via For Rent)