40 Healthy Chicken Recipes For The Entire Family
Everyone loves chicken. It's easy to prep and it's a safe zone for the kids. Whether it's a sandwich or a casserole, let's take a peek at 40 healthy chicken recipes that entire family will enjoy. Satisfy this week's dinner menus with a few of the ideas below!
1. Sriracha Shredded Chicken Tacos
Jar of Lemons begins our healthy chicken recipes off with a bang! If the family likes a bit of spice, then they'll definitely get a kick our of these Sriracha tacos. Hop on over and grab the details now.
2. Chicken Stir Fry
Whole fully shows us how to make a chicken stir fry – with rice – that's a bit healthier for the family. It's full of flavor and the kiddos won't shy away from their veggies in this one. Serve it up with low sodium soy sauce!
3. Chicken Parmesan
There's even a "right" way to whip up a batch of healthy chicken parm. Zucchini helps and so does Pinch of Yum since they have all the details behind the recipe. Serve this up on a Friday night and have the entire family happy and satisfied.
4. Chicken Shawarma Quinoa Bowls
These quinoa bowls are the perfect lunchtime treat or, serving a bigger portion, for dinnertime too. Peas and Crayons shares all the fresh and delicious ingredients behind the concoction. And just think of the leftovers here, you'll have something to look forward to at work or school with this bowl of goodness.
5. Lemon Chicken with Asparagus
Pinch of Yum has this light and healthy meal of their sleeve too. It's a great meal for a warm summer evening. Lemon chicken with a side of asparagus, it's wrapped in loves of great flavor but won't have you feeling guilty once the plate is licked clean.
6. Chicken with Tahini
Chicken tahini has lots of possibilities as well. Use it in a wrap, on a salad or on its own – just don't forget the pita or naan bread on the side. Hop on over to HuffPost to snag all the details behind the dish. It's a great one for meal prepping too!
7. Chicken Vegetable Casserole
Spark Recipes has an indulgent casserole recipe that we're all drooling over. Who knew casseroles could take such a healthy turn? Of course, it's packed full of vegetables and chicken too!
8. One-Pan Chicken and Veggies
Here's a super easy recipe – one that you just can't mess up – that we found over at Chelsea's Messy Apron. All you need is one pan and a knife to cut the veggies to get yourself started. Don't worry, just because it's simple though, doesn't mean it's not packed full of flavor.
9. Teriyaki Chicken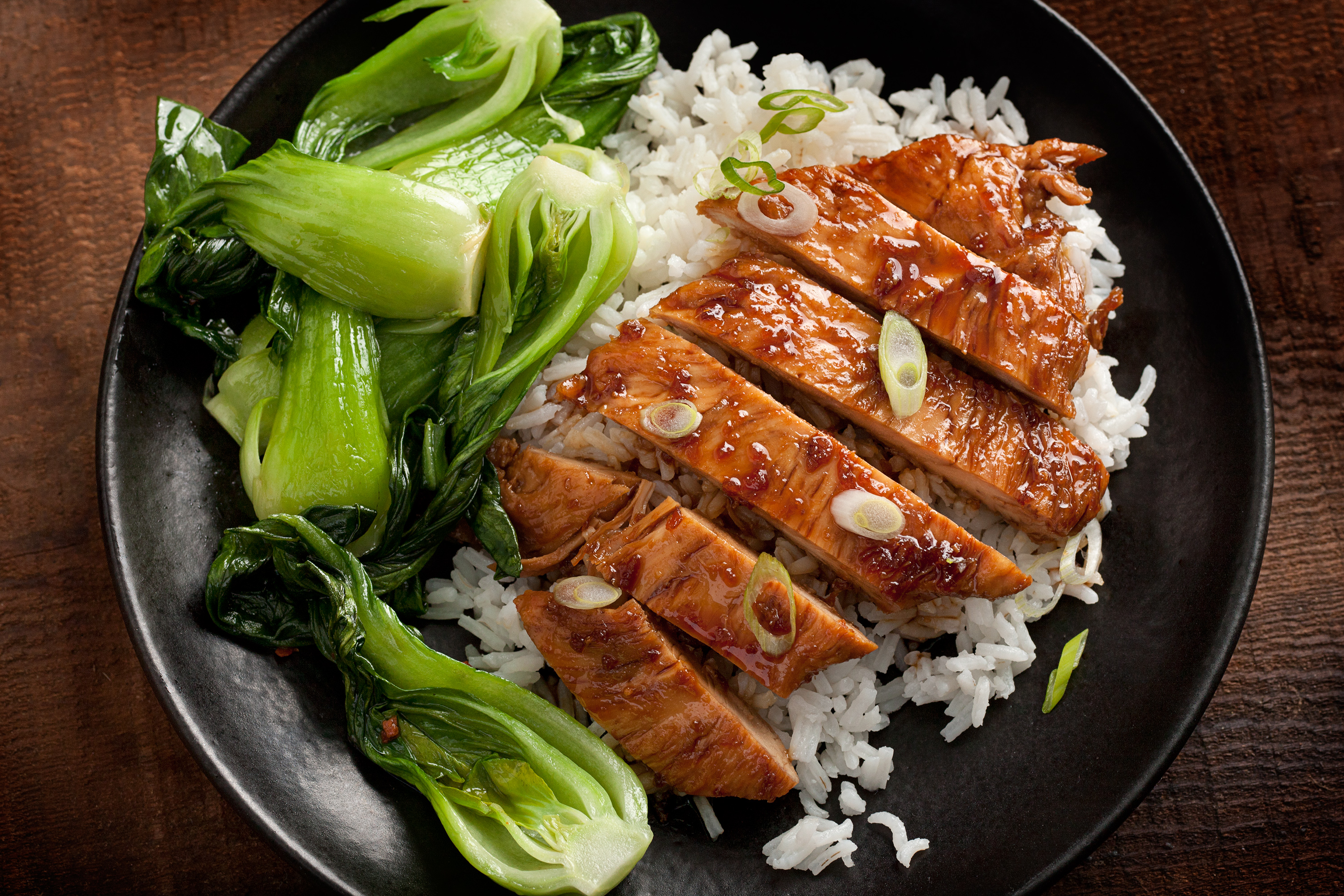 Fill the bowl with some white rice and top it off with bok choy and teriyaki chicken. The bowl is full of healthy ingredients and flavors that everyone at the table will enjoy. Check it out over at Chowhound and whip it up for dinner tonight!
10. Cumin Chicken and Pumpkin with Warm Chickpea Salsa
Taste has a super flavorful chicken dish featured as well. Filled with rich pumpkin and spicy cumin, this fall-inspired plate is the perfect way to finish off an October night. Serve it up with a side salad and a glass of wine.
11. Chicken Fajitas and Peppers
Find out how to create a bowl full of fajita-style chicken and peppers right now! You can go the lower-carb route and nix the tortillas. You can create a salad out of the warm topping or even fill a baked potato with this yumminess. It's all up to you!
12. Broccoli and Chicken with Peanut Sauce
Happy Healthy Mama made up a broccoli and chicken bowl that everyone will love too. It's safe ingredients and the peanut sauce is scrumptious! You can even add rice if you want something more filling.
13. Orange Chicken
If you're searching for other Asian-inspired dishes that fit the "healthy for you" bill, then this orange chicken creation will work too! Again, you can serve it up with some white rice to make it more filling. And it's a great plate for leftovers as well!
14. Chicken Skillet with Cajun Potatoes and Veggies
Skillet recipes are so easy to pull off which make them the perfect way to finish off a busy weekday when you don't have a lot of time in the kitchen. This cajun chicken and potato recipe is a great way to have the family satisfied and fulfilled by the nights end. Check it out at Sweet Peas and Saffron.
15. Chicken Salad with Grapes, Apples and Tarragon-Yogurt Dressing
Whether you make these up for lunchtime or as a quick and light dinner, this chicken salad is filled with fresh ingredients and lots of flavor. The recipe can be grabbed over at Two Healthy Kitchens. And we're loving the possibilities here as well, create a sandwich, a wrap or top off a bed of greens with the mix.
16. Chicken Fajita Bowls with Rice
Yellow Bliss Road made up some gorgeous chicken fajita bowls – with rice – and we found them to be the perfect source of dinnertime inspiration too. Fresh ingredients but ones that even the kiddos will enjoy. You can even meal prep these out as healthy lunches for the family too.
17. Roasted Garlic Chicken
Roasted chicken will always be a great way to serve a healthy dinner for your and the family. Check out how to do it with a bout of garlic flavor over at Its Yummy. Healthy sides or with a salad, it's a great accompaniment for a variety of dishes.
18. Chicken Pot Pie
Well Plated serves up a healthy pot pie that we've fallen in love with. We've tried this one out ourselves and can attest to its deliciousness. Who knew this comfort food could end up feeling – without tasting – guilt free?
19. Curried Chicken Sauté
My Recipes went with curry as their main source of flavor. Curry is full of spice and it's also really good for us too! Cover your chicken and veg with the popular taste and learn how to make a treat that everyone at the table will want seconds of.
20. 4-Ingredient Chicken Quesadilla Casserole
Here's another casserole that you'll love to whip up on a night that you just don't have a lot of time but want something yummy – and healthy – to dive into. Hop on over to The Seasoned Mom to snag the recipe. And don't worry, the grocery list won't be long for this one because all you need is four ingredients to get started.
21. Garlic Herb Chicken Salad
Pinch of Yum strikes again with another healthy and delicious chicken-inspired recipe. Check out all the ingredients after the jump but know that this is a great salad to take to work or pack up for school time too. If you love all these flavors together, then it's definitely worth a try.
22. Chicken Tikka Masala
Chicken tikki masala is a recipe that lots of people already adore. But with this one, we learn how to make it a bit healthier. Take the leap and let us know how your finished product comes out – and what you served it up with!
23. Chicken Paprika Skillet
Healthy Seasonal Recipes went the skillet route as well. And we love these recipes because they're just so easy! With bouts of paprika and veggies too, you'll love the finished dish here. Some rice wouldn't hurt it either.
24. Roasted Chicken Thighs and Veggies
Here's a hearty meal that feels like the perfect way to end a fall or winter's night. Chicken thighs and veggies all in one pot, you'll be filled up and still within the means of your healthy lifestyle with this dish. Just hide the extra veggies alongside some potatoes for the kiddos.
25. Baked Bacon-Wrapped Chicken
Who says bacon can't be a part of the healthy recipe? Well, over at HoliCoffee you'll be allowed to incorporate it without feeling bad about it. Wrap up your chicken and enjoy every single bite.
26. Chicken Waldorf Salad
And here we have another chicken salad recipe that has endless possibilities. Its Yummy will show you how to make it happen. Whether you create some healthy wraps for lunch, croissant sandwiches for dinner or top off your greens with a scoopful, you'll definitely enjoy this recipe.
27. Honey-Mustard Chicken Thighs
Clean Eating Magazine went with chicken thighs too. But this time there's a certain amount of honey mustard flavor that will have you falling in love with every bite. Veggies are the best way to accompany the meal.
28. Chicken Chickpea Chopped Salad
Ambitious Kitchen created a salad full of ingredients that we all love already. Chickpeas for protein, corn, tomatoes and some delicious cheeses too, you may even add some of your own ideas inside. Meal prep or serve up at the potluck, it's just as healthy and satisfying just like everything else on the list.
29. Maple Dijon Chicken and Vegetables
Maple has a certain amount of indulgent flavoring that we all feel comforted in. And thanks to Well Plated, we learn how to incorporate it into a healthy dish that we won't feel bad about finishing off for dinner. Check out this chicken and veg recipe after the jump!
30. Chicken Divan
Who doesn't love a good chicken divan recipe? Fortunately for us, Healthy Seasonal Recipes shows us how to create a healthier version of what we all already like to eat! Lots of veggies and served nicely with a side salad, it's a great recipe to keep on hand.
31. Bruschetta Chicken
If you love bruschetta, then you'll definitely love this dish. Take the flavors you love from the appetizer we all crave and top off your chicken with a good dose of it. Eat Yourself Skinny will show you how to make it happen for tonight's dinner.
32. Orange Honey Mustard Chicken Breasts
We have another honey mustard-inspired recipe here thanks to Chowhound. But this time there's a bit of orange flavors thrown in to make something a bit more outstanding and unique happen on the plate. Just think about some healthy sides you may want to serve up alongside it.
33. Chicken & Waffles
World Market shows off a chicken and waffles recipe that we love. And although, at first glance, we would assume there's no way that chicken and waffles could actually be healthy – they fortunately can be. Take the leap and check out all of the delicious details.
34. Chicken Pizza
Everyone loves pizza. And everyone loves healthy pizza a little bit more. This pizza includes some delicious chicken and we can't wait to make our Friday nights just as delicious but a little more on the "good for you" side of the menu.
35. BBQ Grilled Chicken
Eating Well gave us a classic, BBQ grilled chicken recipe that we need to all have in our recipe box. Switch up dinner by creating new, seasonal sides. You can even grill it or bake it depending on your own preferences.
36. Moroccan Chicken Breast
Mid-Life Croissant went with some Morroccan inspiration for their chicken dish. If you want to shake up some flavors at the dinner table tonight, then this is definitely the route you'll want to take. Get creative and do something a bit more unique for the family.
37. Lemon and Garlic Chicken with Mushrooms
Lemon and garlic go together quite nicely, especially if there's a side of mushrooms to be had. Grab all the details and the recipe behind this beauty over at NYT Cooking. A baked potato would be a nice addition to the plate, don't you think?
38. "Fried" Chicken Sandwich
If you're searching for some comfort food, then you'll definitely want to check out this "fried" chicken sandwich from earthly taste. You'll get all the flavors you love without all of the guilt. And yes, the kids will like this one too.
39. Baked Chicken Nuggets
Learn how to make some chicken nuggets for the entire family with some help from Cooking Classy. Grab the ketchup and satisfy everyone at the table – or at the breakfast bar during the kid's afternoon snack – with these delicious bites. Preheat the oven and get started now!
40. Creamy Avocado Greek Yogurt Chicken Salad
And finally, we finish off the list with another healthy chicken salad recipe that you can create the best sandwiches and salad toppings out of. Creamy avocado is packed with flavor and healthy benefits. Just check out the recipe over at Healthy Liv.
SaveSaveSaveSave