Hang Up Your Fedoras and Stetsons With These 22 DIY Hat Racks
Instead of throwing your hats in the corner of the coat closet or losing them to a top shelf in any or every room of the house, build yourself a hat rack to organize and display them nicely. Whether you've got a large collection, using them for decor purposes only or wear them enough to build a need to grab-and-go, hang up your fedoras and Stetsons with these 27 DIY hat racks!
1. Copper
A Pair & A Spare created this super chic copper DIY hat rack and we're swooning over it. It's as much a piece of art for the walls as it is functional and helping to organize your space.
2. 1-Hour
Build this super simple hat rack with the help of The Family Handyman in just about an hour. Fill up the entryway and use it to clear up the outerwear clutter.
3. Nautical
The Lily Pad created this nautical-inspired hat rack for your little one's room! We love how thematic and perfectly it fits right inside and how much it jumpstarts other great ideas.
4. White Tree
Check out this quirky white tree hack rack from Hello, Scarlett. It will fit inside a lot of differently themed spaces and it's super easy to recreate as well.
5. Standing
Say Yes made this fabulous standing hack rack to fill up and organize the corners of your home. It's perfect for studio apartments or those with mini style.
6. Board & Batten
Over at Shanty 2 Chic you'll find this awesome DIY that works as both an accent wall and an easy hat rack for all your boy's baseball caps. it's a great way to display a collection.
7. Animals
If you check out Say Yes one more time, you'll find this adorable piece for your own or the kiddo's bedroom. Neon animal hooks could be a great way to hang up the hats!
8. Pine
You'll need some cypress pine to make this multifunctional rack that's quite perfect for hats. Go grab all of the details at Yahoo Lifestyle.
9. Records
Grab some old records from the flea market and create a super funky hat rack for your home! BHG has all the instructions you need to recreate this piece.
10. Pegboard
This idea from The Merrythought is a perfect fit for the entryway of your home. Hang up all of your goodies or clean up the hat collection in an instant.
11. Colorful
Making Nice in the Midwest may not have made a rack but she did make some colorful hat stands that we're swooning for. Display, organize and add a fun style to the bedroom!
12. Multi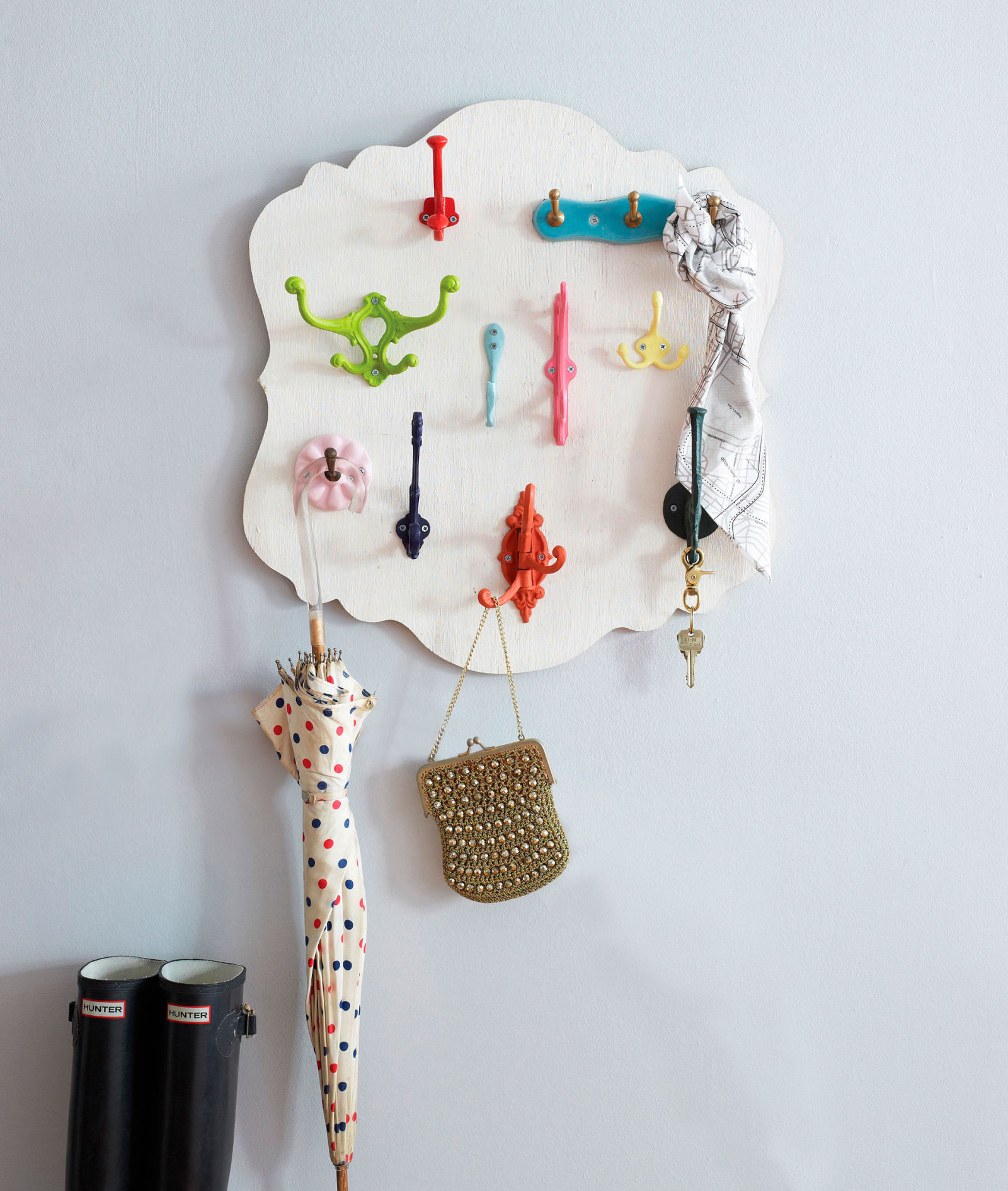 This multi-hooked rack from Redbook is so much fun! You can easily personalize and then use it to get all of your favorite hats up off the floor.
13. Antlers
Camille Styles created a gorgeous hat rack after a major transformation to a set of antlers. Check it out after the jump!
14. Designer
Run over to The Stir and learn how to create a designer-inspired hat rack without shelling out the big bucks to do so. You'll love this quirky idea!
15. Yardsticks
Save It For A Rainy Day made this rack out of some old yardsticks. It's rustic, it's fun and inspiringly innovative too.
16. Fallen
Garden Therapy has another branch DIY we're "fallen" for. Hang up more than your hats too as it's a great organizational piece.
17. Trophies
Grab some of your old participation trophies or snag some at a flea market to create this fun piece. And you can catch all the details at Design Sponge.
18. Traditional
If you're looking for more of a traditional project then grab this idea from Lively Green Door. It's a lot simpler and easier than one may expect!
19. Industrial
This rack has a bit more of an industrial style and we're loving it's simplicity. Hang up more than just your hats on this piece from Boat People.
20. Paper
If you want something that's easily personalized then create a paper project like this one from Design Sponge. Hop over for the details.
21. Hangers
Over at A Little Glass Box, you'll find a great DIY for creating this hanger-centric hat rack! It'll be great for organizing some of your other outwear as well!
22. Chevron
The Sweet Survival made a hat rack with lots of snazzy style! If you love chevron then this is the DIY for you to dive into.