15 Awesome DIY Projects for Things That Glow
We have always been crafty parents, ever since our kids were very small. Now that they're getting a little bit older, however, we've been able to start making things that are a little more advanced and very cool with them, exploring DIY ideas that are a little bit closer to science experiments than they are to simple arts and crafts! Recently, we visited the local science centre in the city we live in and the kids got to learn about phosphorescence and things that glow. We're sure it'll come as no surprise to you, then, to learn that our kids are completely obsessed with anything that glows now! That's why we've been doing our best to find and bookmark as many DIY projects as we possible can that glow, just to keep the kids interested, learning, and creative, all at once!
Just in case you think your kids might get a huge kick out of homemade things that actually glow, just like ours did, here are 15 of the coolest and most creative ideas, designs, and tutorials that we've come across in our bright search so far.
1. Glowing oil and ice experiment
Besides learning about how certain chemicals and materials can absorb light and then glow in the dark, would you also like to teach your kids a little bit about how certain substances won't mix? In that case, we have a feeling you'll get along very well indeed with this super interesting glowing oil and ice experiment featured step by step on Growing a Jewelled Rose! Our kids were so enthusiastic about this project that we've actually done it several times, and we're sure to do it again in the future.
2. Glow in the dark tic-tac-toe game
Have your kids always been completely in love with the awesome phenomenon of glow sticks, but sometimes the novelty wears off a little bit because, besides bending into bracelets, the sticks don't really do anything? In that case, perhaps your kids would prefer to use them as lit up game pieces instead! We love the way Family Maven turned all their lights off, keeping some of the glow sticks straight and bending some into circles, and used them to play glow in the dark Tic Tac Toe!
3. Glowing bath paint
In our house, some of the most popular things we could possibly make are the things our kids can use during bath time. Perhaps it's because we started them in water activities and swimming lessons when they were extremely young, but our kids have always loved absolutely anything to do with water! We're sure it'll be no surprise for you to hear, then, that this totally awesome (and surprisingly easy to make) glowing bath "paint", outlined step by step on Paging Fun Mums, was a huge hit in our house.
4. Glow in the dark bouncy balls
Are your kids actually very active and always on the go, so you've been scrolling through and wondering whether there might be a glow in the dark craft that they can make into something that glows but that they can also keep using or actively playing with afterwards? In that case, we'd suggest taking a look at how Growing a Jewelled Rose created these super fun, DIY glow in the dark bouncy balls! Turn off the lights and watch your kids chase the glowing balls all over the room.
5. Glowing yard game
Just because you're trying to make something that lights up a little bit and lows in the dark doesn't mean you have to stick to things that must be used inside! After all, it gets light and dark outside as well, right? That's why we enjoyed this awesome glow in the dark target practice game outlined on The Country Chic Cottage so much. They show you how to outline differently shaped and sized holes, cut into a bedsheet, in glow in the dark paint. Hang the sheet up in the trees in your backyard so it can absorb the sunlight during the day and then glow for a bit of night time ball practice after sundown.
6. Glow in the dark slime
Besides things that light up, are your kids also totally obsessed with the idea of making something awesomely textured that they can get really hands-on with? Then we'd be willing to bet that they've been just as enthusiastic about how hard slime has been trending in the DIY world as ours have been! We'd definitely suggest looking up this DIY glow in the dark slime recipe on Momdot, then, to combine two things they love in one place.
7. Glow in the dark window clings
Speaking of cool textured things that glow and that you can make yourself entirely from scratch, here's another alternative idea that we think your kids will get a big kick out of! Family Maven guides you step by step through the process of making awesome glow in the dark window clings that you can construct in all kinds of shapes and outlines, sticking them to the glass of your windows so glow against the outdoor scene when night falls.
8. Glowing rainbow water beads
Did we really catch your attention when we started talking about awesome glow in the dark things that will make your kids' bath time a lot more fun, but you've actually tried the "bath paint" idea before, so you're looking for something else to do instead? Then we'd absolutely encourage you to try making this awesome glowing bath beads project outlined step by step on Growing a Jewelled Rose instead! We made these and we were pleasantly surprised by how well they really glowed.
9. Neon glowing rice
Have you always been interested in making DIY toys and crafts that let your kids get involved in a little bit of kinetic play, so they can learn about new textures and materials as they play? In that case, we think you'll enjoy this very cool glow in the dark play rice just as much as we did! Family Maven shows you how to make the little grains glow in rainbow colours, as well as how to set up a play area that will keep the rice contained so you don't just end up with rice scattered all over your floor.
10. Glowing spider webs
Are your kids actually a little bit older, with a little bit more patience, so you've been hoping to find something that requires a touch more skill to make, keeping them very busy and well amused while they enjoy their latest glow in the dark project? In that case, we'd definitely suggest taking a look at how Still Playing School made a frame from popsicle sticks and then wove glowing neon elastics around the spokes to create a spooky spider web.
11. Glow in the dark star shirts
Are you the kind of crafty parent who adores making your kids DIY garments and shirts because you've always loved custom fashion? Well, believe it or not, you can transform that kind of project into a fun opportunity for enjoying glow in the dark things as well! Dukes and Duchesses guides you step by step through the process of cutting and affixing awesome, space-like stars onto a t-shirt from clothing vinyl that will actually glow.
12. Glowing rainbow water
Are your kids the kind of patient, observant little scientists who love nothing more than watching awesome changes happen and have no problem sitting patiently and learning about how something works? Then we think you might actually be the perfect people to try your hands at making this awesome glowing water project outlined step by step on Growing a Jewelled Rose! We love that they separated the water into different clear bowls to make a row of rainbow colours.
13. Galaxy jar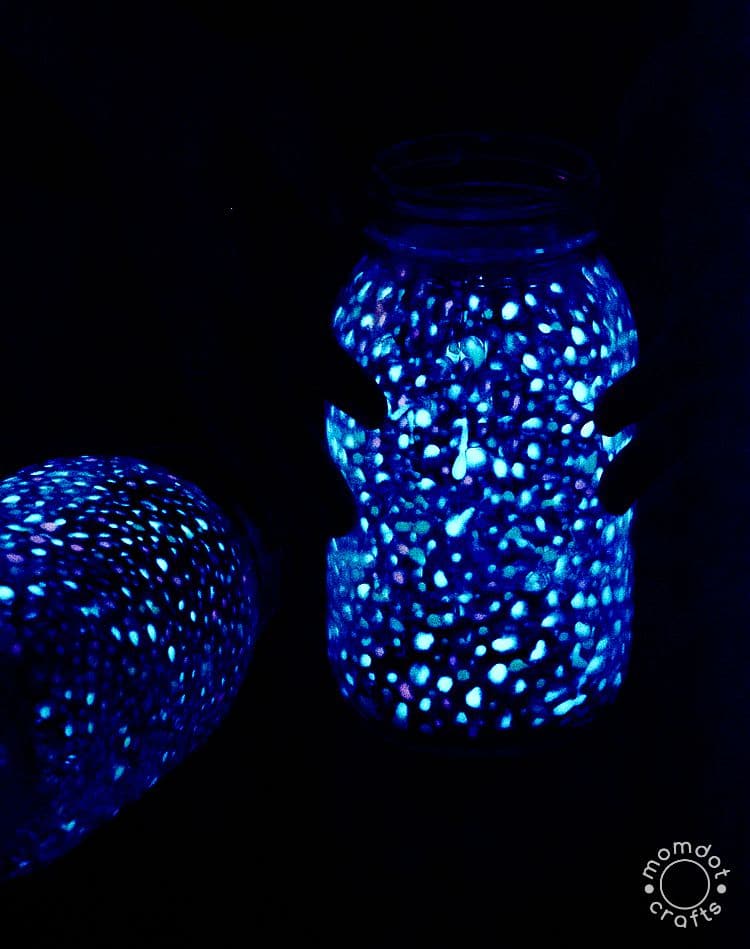 In our house, the hours before bedtime are always reserved for relaxation. Our kids are so curious and active, running around all day long, that they definitely need some time to unwind if we want them to sleep well once we've actually put them to bed. That's why we've always been totally enamoured by the idea of making things together that are useful during that relaxation time, so they know how valuable it is and can be an active part of their own bedtime process! These lovely, glowing galaxy jars featured on Momdot are the perfect example of what we mean. They're simple to make, but very cool and calming to look at.
14. Glow in the dark cotton candy
Are you actually a part of a very creative but also very food enthusiastic family, so your favourite or most honed DIY skills are actually usually rooted in the kitchen and food prep? Well, that might not sound like something you can combine with the concept of things that glow in the dark, but we're very pleased to report that you actually can make "glow in the dark" foods! For example, check out how Living Locurto made their cotton candy glow by inserting glows sticks into the centre stick so it shines through the sweet, sugary fluff.
15. Glowing volcano
Did we actually really catch your attention when we started talking about glow in the dark DIY projects that are also a little bit like science experiments, but you haven't seen anything that's quite messy and neat enough for your kids' tastes? In that case, we think you simply must take a look at the way Growing a Jewelled Rose made an awesomely foamy glowing volcano that actually "erupts" in a torrent of lit up colours when you turn the lights off.
Do you know another avid crafter or DIY enthusiast whose kids adore things that glow in the dark just as much as ours do, if not more? Share this post with them to give them all kinds of fun new things to try getting creative with!