It's the season of giving thanks, and what better way to spread the word than by creating a simple, yet modern "give thanks" banner for the holiday season.  This craft doesn't require much work but and the trick is to add as many embellishments as you like to enhance the design.  The base of the craft consists of piece of cut burlap, wood chips and sticker letters.  When you create the basic design, you can add other pieces to build upon it and make it your own.
For this DIY you'll need:
10 piece of precut burlap sheets (or you can create your own)
Wooden circles – about 3 inches in diameter
Sticker letters (or you can draw or paint letters if you want)
Twine or rope
Mini clothespins
E-6000 craft glue
I found these precut mambi sheets of burlap from my local craft store, but if you cannot find this exact kind, it's very simple to create your own.  Purchase about a yard of burlap in the style you prefer from your local fabric store.  These sheets measure 6 inches long by 5 inches wide. Cut a square with that measurement and then cut out an inverted "V" shape at the bottom-center of the square; and you should end up with a burlap mambi sheet to use for the banner.
Start by sticking the letters on to the center of the circles.  Pretty simple, right?
Next, add the circles onto the burlap sheets with a fabric glue or E-6000 glue.  If you use a heavy-duty glue such as E-6000, you'll have to wait a while (a few hours) for the glue to cure completely.  But it should be dry to the touch in about an hour.  Keep that in mind as you decide when you will create this craft.  A small bead of glue in multiple areas on the back of the circle will do to hold it in place.  Center it on the burlap sheet and press down lightly.  Burlap tends to have small holes in it, so be sure that you place a piece of paper or cardboard underneath to not ruin the surface- the glue will probably bleed through a little bit.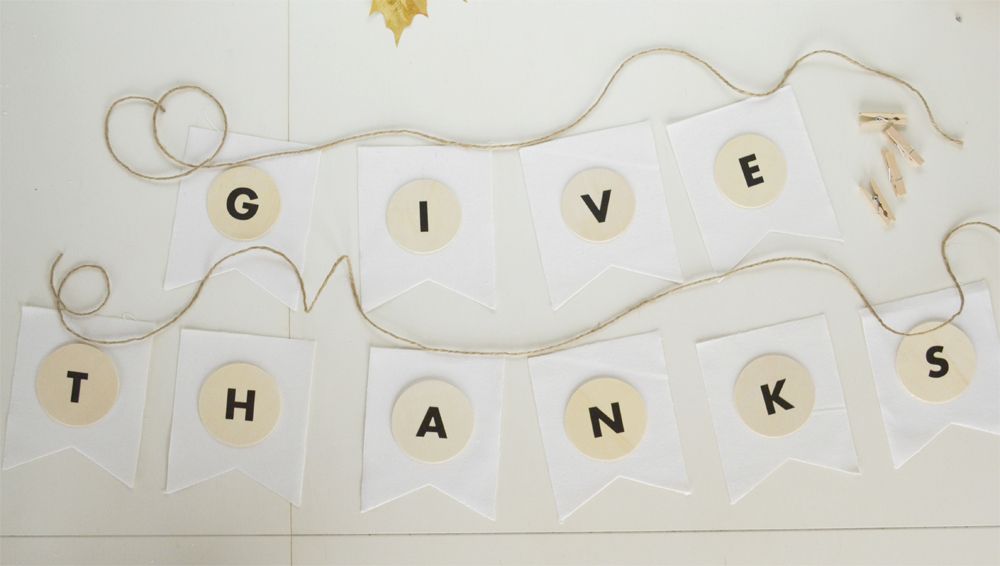 Once you have all the letters/circles attached, cut the amount of twine you'll need to hang the sheets.  You can hang the twine first on you wall or fireplace with tacks or Command Strips and then add the burlap letters later (which I found to be easier), or you can attach the burlap sheets first with clothespins and hang it all at once.  It's easier to hang the twine first, then you can decide how you want to space out the letters without worrying about it all falling apart as you try to hang it.
When it's hung, here's where you can choose to add more decorative items.  I decided to add a few Autumn leaves to the ends of the twine to give the banner a little bit of color and a touch of the season.  All you should need are a few more clothespins to hang an other items you want on the twine.
Now you have a simple and modern "Give Thanks" banner you can show to your friends and family when they come over for Thanksgiving!