25 Creative DIY Planter Projects
Now that summer is over and the weather is getting colder, we're spending more time indoors … which is why it's important to bring the outdoors in! Filling your house with plants will not only make it look prettier, but it will also purify the air too. Continue reading to see 25 of our favorite DIY planter projects for your home.
1. Hanging Macramé Planter
This stylish planter is made using rope and wooden beads, giving it a hint of a retro vibe. And you can experiment with different types of pots and different rope colors to give it a variety of different looks. Make your way over to Deuce Cities Henhouse to find out how to make your own modern macrame hanging planter.
2. Modular Geometric Planters
Geometric shapes are so popular these days, making this modular planter an oh-so-stylish choice for your home. They're made out of concrete, so they shouldn't crack or break like ordinary terra cotta planters can. Head over to Instructables to find out how to make a set of these funky modular planters.
3. Neon and Gold Planters
If you're a fan of the color-blocking trend, then these adorable planters might be for you. There are a couple of different steps involved, but nothing too complicated. And I love the addition of neon aquarium gravel to the top of the pot! So clever. Check out Pottery Barn Teen's easy tutorial right here.
4. Metallic Geometric Succulent Pots
You'll never guess how these gorgeous metallic succulent planters were made… I'll give you a hint – there isn't any actual copper involved! You'll be shocked when you find out how easy these are to make. Head over to Curbly to find out how to make your own set of metallic geometric succulent planters.
5. Dip Dyed Planters
There's something about these dip dyed pots that's almost painterly… don't they look like mini landscape paintings? Believe it or not, they're really quite simple to make. And if you don't feel like buying the materials separately, I Spy DIY sells the kit already assembled. Check out their tutorial here.
6. Brass Hanging Planter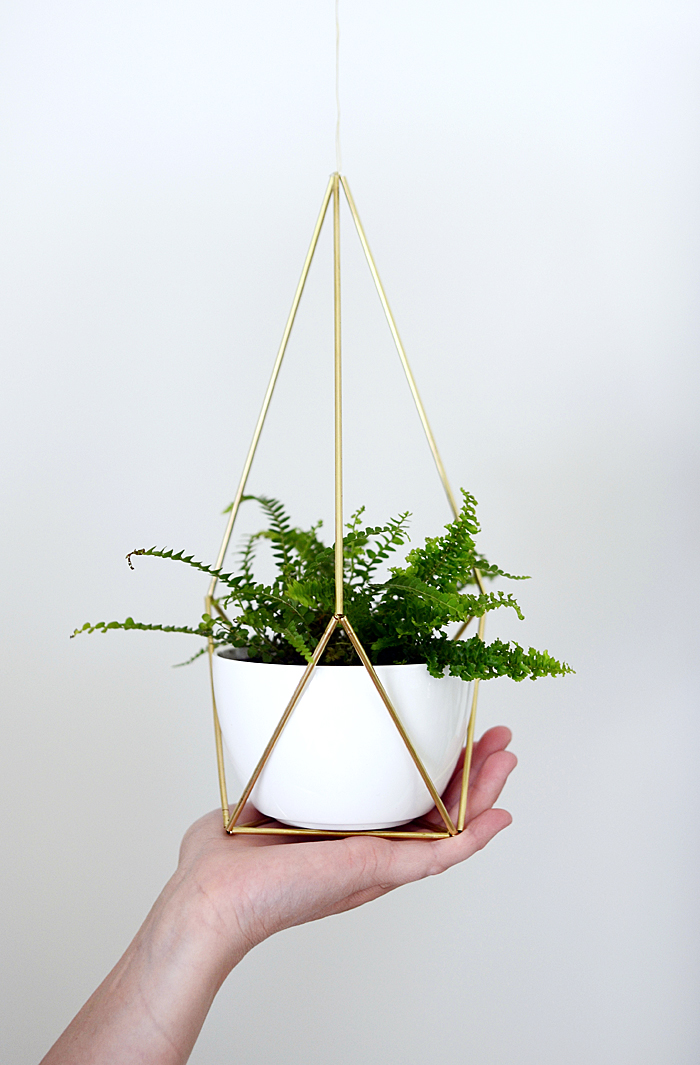 The understated simplicity is the beauty of this project, with lovely brass geometric shapes holding the pot up in the air. And the brass pieces are just tubing from the hardware store! Make your way over to Nalle's House to find out how to make one of these fantastic hanging brass pots for your house.
7. Neon Marbled Hanging Pots
Channel your inner 80's rocker to make a few of these fun neon marbled hanging pots. And chances are, you might even already have some of the materials – they're made using nail polish! Head over to Oh Joy! to check out the full tutorial. And if neon isn't your thing, you can easily customize the colors to match your decor.
8. Gold Leaf Geometric Planters
Here are some more cement planters, but this time they involve gold leaf… because who doesn't love gold?! Ruffled Blog shows us how to recreate these whimsical little pots right here. These have a series of different sized triangles, but don't stop there – give some other shapes and patterns a try too!
9. Plastic Figurine Planters
If you love animals, this might be the project for you. This whimsical planter is made using a plastic animal figurine and paint… so cute! Head over to Little Bit Funky to find out how to make one yourself. Oh, and they claim that this project only takes 20 minutes to complete; so not having enough time isn't a good excuse!
10. DIY Geometric Planter
This faceted geometric planter looks just lovely with a little cactus inside. And not surprisingly, it's another one that's made out of cement. But for this one, you'll make your own mold! Check out the full photo tutorial over at A Beautiful Mess. And because you make your own mold, it means that you can experiment with different shapes.
11. Air Dry Clay Planters
These house-shaped planters would be a completely adorable addition to any home, and this is an easy project that requires only air dry clay. Head over to Say Yes to find out how to make them. And they even provide free templates for you to print out so you don't have to cut out the house shapes freehand.
12. Easy DIY Pineapple Planter
Pineapples are hot on the internet these days, so why not make yourself a cute pineapple inspired planter? This project is clever in that it uses a terra cotta pot as the base, but then you cover it in air dry clay to give it a more organic shape. Check out the full tutorial over at the Lines Across blog.
13. Wall Mounted Plant Pockets
Wall mounted planters are great for those of us who may not have very much space to work with, or for those with pets who are curious about their plants. So these colorful wall mounted plant pots might be just the ticket! Head over to Design Love Fest to find out how to make a few of your own.
14. Recycled Kitty Planters
Those of you who have pets might like this one too! Recycle an old soda bottle to make a couple of these absolutely adorable cat planters. Find out how to make a few of your own by making your way over to Bru DIY. These can be hung or simply placed on the counter top… whichever you prefer.
15. Birchwood Tin Can Planters
These also utilize a recycled container, believe it or not! Inside these lovely birchwood covered planters are plain old tin cans. Head over to Lolly Jane to find out how to make your own set. They won't take you long to make! And these would make a lovely addition to your home for the holidays.
16. Black and White Cube Planter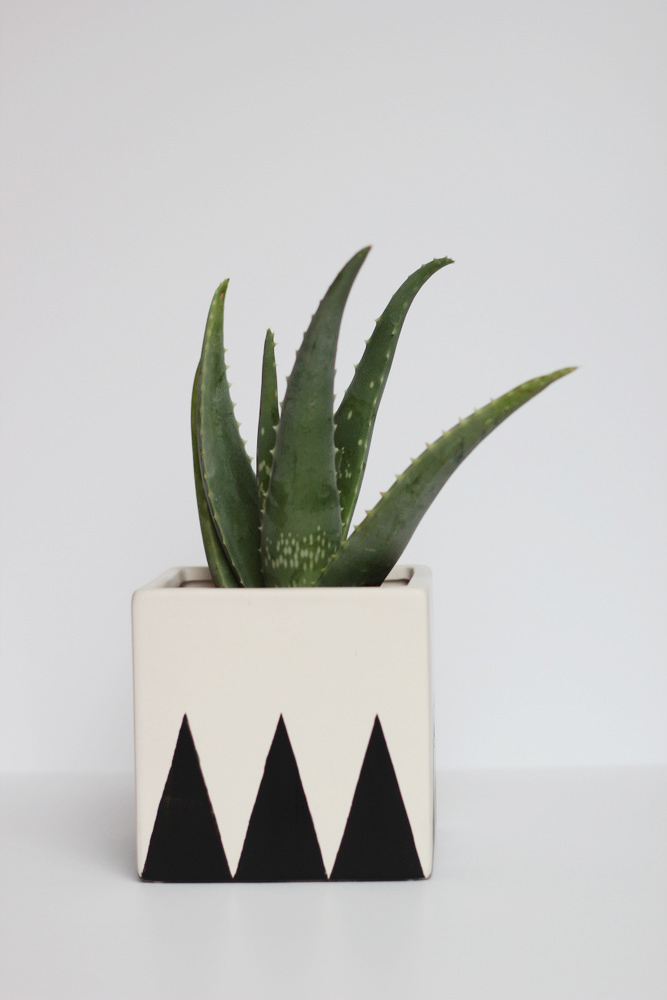 This cube shaped planter is embellished with a gorgeous black and white triangular pattern that highlights the beautiful green plant above. All you'll need for this one is an existing planter, some paint and the pre-made template which is available within the tutorial. Head over to Hank & Hunt to check it out.
17. Lace Covered Pots
If you already have a ton of terra cotta plants, then this might be the project for you. Just grab a few different types of white lace at your local craft store and follow the simple instructions over at A Beautiful Mess to create your own lace covered pots. You can even make these with pots that already have plants in them!
18. Self Watering Wine Bottle Planters
There are so many clever aspects to these fantastic wine bottle planters… this is a great way to recycle all of those empty bottles, and also – you won't need to worry about forgetting to water the plants! Check out the tutorial over at DIY Ready to find out how to make your own wine bottle planters.
19. Mid-Century Modern Planters
If you're a fan of mid-century modern style, then you're sure to love these fabulously retro little planters. These require a bit more effort to make than some of the others, but the end result is worth the trouble! Head over to Sugar & Cloth to find out how to make your very own mid-century modern planters.
20. Mini Hanging Planters
These mini hanging planters are fully customizable, and oh-so-cute! I'm partial to the gray brick-style pattern shown above, but you could put anything your heart desires on there! Make your way over to A Beautiful Mess to find out how to make these adorable miniature hanging plant pots.
21. Rope Covered Planter
This one is incredibly easy, but not an obvious one… wrap rope around a plain old plastic planter to create something that looks more organic and natural. Try experimenting with other types of rope, too… thick, thin, light or dark. Head over to Serendipity Child to find out more about this easy project.
22. Tiny Polymer Clay Pots
These teeny tiny pots are totally adorable, and perfect for very small succulents. They're made out of polymer clay, a material that is shaped and then baked in the oven so it holds its shape. Check out the tutorial over at Transient Expression. These make great little gifts during the holidays, too!
23. Wooden Ring Hanging Planter
This hanging planter is created using a variety of wooden rings in different shapes, and painted different colors. Rope is then added to suspend the colorful planter from the ceiling. Head over to the Ohhh Mhhh blog to find out how to make your own wooden ring hanging planter for your home.
24. Brass Plant Pot
Here's one more metallic planter, because who doesn't love brass?! This one is made specifically for succulents and other small plants, using aluminum sheeting in a brass color. Head over here to find out how to make one of these pretty planters. And you can even layer them to make them taller.
25. Gold Polka Dotted Planter
This pretty little plant pot is an easy project to complete, and it doesn't require a long list of materials either. All you'll need is a white planter and a gold permanent marker! I'm partial to the polka dots, but you could draw any pattern you like. Make your way over to Show Me Pretty to find out more.