From Bananas to Tacos: These 50 Food Costumes Are Easy To DIY!
One of the easiest categories of costumes to DIY is … food! From bananas to tacos, we've compiled a list that will have you brainstorming, daydreaming and planning your next big – and tasty – ensemble. Whether it's for a Halloween party or themed event, check out these 50 food costumes and some of the doable tutorials that follow!
1. Croquembouche
Studio DIY gives us an unbelievable amount of gorgeous DIY idea. And that includes this French pastry costume that will have every head turning and stomach growling.
2. Donut
And again, Studio DIY makes our sweet tooth ache with this sprinkled-covered donut idea. The kiddos will love this one!
3. Macarons
Studio DIY does it again. This time with a French cookies that can come in a variety of colors (and flavors) …. the macaron!
4. Funfetti Mug Cake
Over at kitchen, find out how to make yourself into a mug cake. A funfetti one to be exact – since it's a bit more fun!
5. Grapes
Utilize your balloons! Step on over to eHow and catch all the details on turning yourself into a vine of grapes this Halloween.
6. Cheeseburger
Studio DIY gives us a sexy and sassy idea for your next food-inspired costume. Turn your fitted dress into a cheeseburger!
7. Gumballs
The Joy of Fashion gives us a personal favorite idea. Why not go to the party as a fluffy and colorful bout of gumballs?!
8. Sriracha
If you're feeling spicy and trendy too, why  not go as a bottle of sriracha? Sarah Hearts has all the details.
9. Deviled Egg
Featured on Flickr, this deviled egg costume combines food and humor! And we love the creativity behind it.
10. Pineapple
Studio DIY gives us another sweet and stylish food costume. Pineapple never looked so good.
11. Cupcake
Broadsheet shows us how to make a super adorable cupcake costume. And the toppings are included!
12. Pizza Pie
Use it for the kids or yourself and turn to DIY Network for all the help. A pizza pie – with any topping you'd like – could be the easiest costume to make!
13. Sushi Squad
Brit + Co gives us a great idea for you and the friends. Turn your squad into a delicious sushi dinner for the night.
14. Icee
We are loving this idea from Costume Works. It's perfect for trick-or-treaters of all sizes!
15. Tomato
Sprinkled Nest shows us how to make an easy tomato. And we're thinking you could use the same pattern for an apple costume as well!
16. Banana
Check out Instructables for the instructions on turning yourself into a slippery banana peel. It's easy and you'll still be festive for whatever event you need a costume for!
17. Carrot
Make it Love it has the more adorable carrot around featured on their blog. You can adapt this one to adult size as well.
18. Eggs
Doesn't this fried egg look super comfy? My Poppet Makes has all the details on creating one for yourself or your little one.
19. French Fries
Check out Studio DIY again for another great food costume idea! And this time … it's French fries. Who doesn't love those?
20. Sushi
Hungry Girl shows us how to turn our classic closet pieces into a sushi roll. With a side of wasabi and ginger as a hair accessory!
21. Jellybeans
Visit eHow if you want to learn how to make yourself into a bag a jellybeans. How funny and clever is this one?!
22. Salt & Pepper
Cooking Channel gives us some more great inspiration. Brainstorm a bit and make some at-home costumes for you and a friend to go to the party as salt and pepper!
23. Nerds
Relish has another clever food-inspired idea. It's a bit quirky and funny too … going as Nerds – as in the candy.
24. Cheap Wine
Over at Delish, you'll find some more group inspiration. Going as a box of wine to the party never looked so easy … or refreshing!
25. Broccoli
Relish shows us how to easily DIY a broccoli costume for a little one. So many wonderful, from-the-mind ideas on this page.
26. Quinoa
For another funny treat, go at this super quinoa woman. Check out the details at kitchn.
27. Tea Bag
We found this beauty on Flickr and couldn't help but think what great inspiration it way. Look at those real leaves inside her bag!
28. Fried Chicken
And you'll find some ideas at PopSugar too. Turn yourself into a box of fried chicken this Halloween!
29. Nutella
And who doesn't love a spoonful of Nutella? PopSugar had this idea swirling around as well.
30. Take-Out
You'll have fun making this outfit at home. Thankfully, PopSugar provided us with this Chine take-out costume and got our wheels turning.
31. S'mores
Finally, over at PopSugar again, we found another group costume. Go as a fully-involved s'mores!
32. Candy Corn
Relish had this beauty floating on their site as well. Candy corn is the perfect treat to … trick-or-treat in don't you think?
33. Peanut Butter & Jelly
Are you looking for a DIY couple's costume? You could always go as a peanut butter and jelly sandwich like this duo we found on Delish.
34. Strawberry
Studio DIY gives us another stylish fruit to rock the costume party with. This time … it's a strawberry – and don't forget you could always add some whipped cream or chocolate on top.
35. Spaghetti and Meatballs
Epicurious gives us inspiration for a spaghetti and meatball costume that can be perfect for little ones … but big ones can adapt it for themselves too!
36. Corn on the Cob
You'll find all the easy details for this DIY corn on the cob costume at IntoxiKate. It's so unique!
37. Bowl of Cereal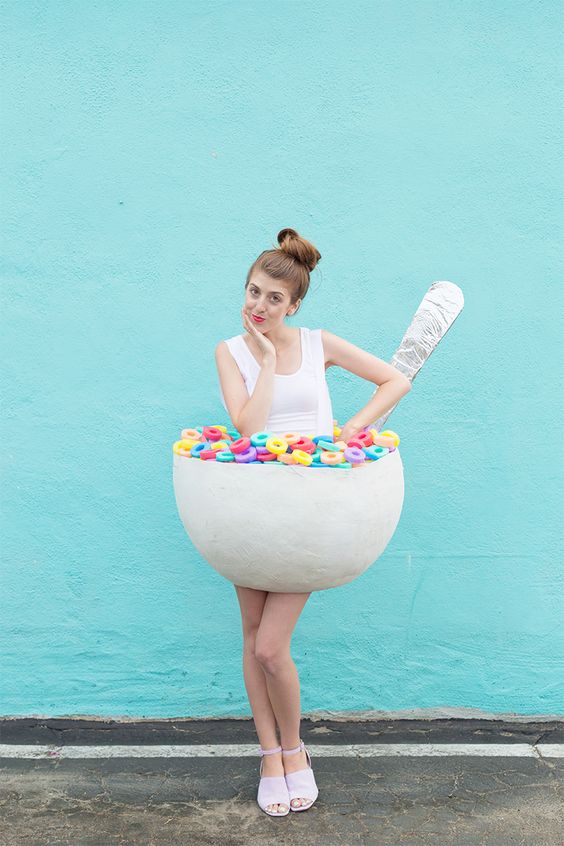 Obviously, we are loving all these charming ideas from Studio DIY. And we had to feature the super clever bowl of cereal!
38. Watermelon
And the watermelon dress too. It's both stylish and obviously in terms of costumes. Check out Studio DIY for the details.
39. Fruit Salad
Brit + Co shows us how to make a fruit salad, in the less than literal sense. It's another great "squad" idea!
40. Ice Cream Cone
We love this adorable idea from Treasures & Travels. Don't forget the sprinkles, they're my favorite part of this ice cream cone!
41. Captain Kale
And here's another food-inspired and humor-induced costume from kitchen. Captain Kale … fighting fried foods everywhere.
42. Cookies + Milk
Brit + Co has some amazing costume ideas too. And this one is a couple's dream because it's both easy and obvious.
43. Double-Stuffed Oreo
Aubrey Jo gave us this giggle-inducing costume idea. Don't go as just an Oreo … make sure it's double stuffed!
44. Milkshakes
Studio DIY shows us how to turn our favorite dress into am milkshake. It's never been easier to dress for Halloween!
45. Tacos
It's not a costume list without a taco. Aww, Sam gives us the tutorial for the recreation of this beauty.
46. Cotton Candy
Big or small … cotton candy is a great costume idea for all. Costume Works gave us this little bit of spun sugar.
47. Burrito
DIY Network has all the details on turning yourself into a burrito. It's similar to the taco, but foil included.
48. Pizza Slice
Again, Studio DIY gives us a favorite food costume. Go as your most scrumptious slice of pizza pie!
49. Birthday Cake
Studio DIY gives us another gorgeous costume idea, yet again. This time … a slice of birthday cake!
50. Cupcake
And last but not list, She Knows shows us another way to make a cupcake costume. And of course, sprinkles are included here too.