How to Make Firewood Racks
Where we live, one of the most popular things to do in the spring and summer is to have a nice, safe bonfire with your family and friends! Fire pits are permitted in our neighbourhood so long as they meet standards and they're one of our favourite parts of bonding with those we love on warm nights. Have bonfires does, however, mean that we need somewhere to store the firewood though (as does having a wood burning stove in our house the rest of the year round), so we've have our eyes peeled lately for tutorials that will help us use our DIY skills to get our chopped wood up off the lawn and stored in a better way.
Just in case you love the idea of making your very own DIY firewood rack just as much as we do, if not more, here are 15 of the very best ideas, designs, and tutorials that we've come across so far in our search for inspiration and guidance!
1. Add-on style firewood shanty
Just in case you don't have a whole lot of space to work with in your yard but there's enough down one side of the house, here's a simple wooden firewood shanty that's built like an easy add-on to your house! We like that this design makes the rack feel like it's part of the home itself for a cohesive look. Get the full details for making one of your own on Suomela.
2. Firewood rack using no tools
Even though you're a pretty handy person, are you also the kind of DIY enthusiast who is always looking for ways to make things even more simply than you might have before? Then we think you might feel rather intrigued by this tutorial from Instructables that shows you how to make a wood and cinder block firewood rack by stacking and strategically placing things in a way that actually requires no tools at all!
3. DIY rolling firewood card
Maybe you have quite a small yard and patio area and you know you'll need to use firewood at some point this season but you're just not sure you want to commit to a permanent instalment that will take up space you can't really spare? Well, if you have another nook or cranny that you can move the wood into temporarily when you have guests over, then we'd definitely suggest making yourself something like this wooden rack on wheels, outlined step by step on The Wood Grain Cottage!
4. Fire pit hideaway bench
Did we actually really catch your attention when we started talking about having a fire pit because you also have one that you worked really hard on and now it's one of your favourite spaces to enjoy all summer? Well, if your fire pit happens to be missing permanent seating just like ours does, then maybe you can get two things done at once using this awesome tutorial from Intstructables! They show you how to make a curved bench that's perfect for bonding around the fire with other people on, but that also has tons of firewood storage underneath its seat all the way along.
5. DIY log holder using 2x4s
Just in case you're really liking the basic idea of building your own firewood rack from simple wooden 2×4 planks but you feel like you'd prefer a much more basic frame that you can build and leave standing for the whole season and beyond? In that case, we'd absolutely suggest taking a look at how Fresh Patio made this log holder that's actually solid enough to withstand a little more weight than some you'll come across.
6. Fully DIY log storage shed
Just in case you really liked the idea of building a whole log storage shed like the ones you saw at the top of our list but you'd prefer that it be freestanding rather than built onto your house like a lean-to, here's another tutorial for your consideration! We're in love with the way Little House on The Corner made this DIY wooden log storage shed in a way that is strong and impressive but that is still actually quite simple, even if it looks large and intimidating.
7. Thin, stained firewood rack for a small space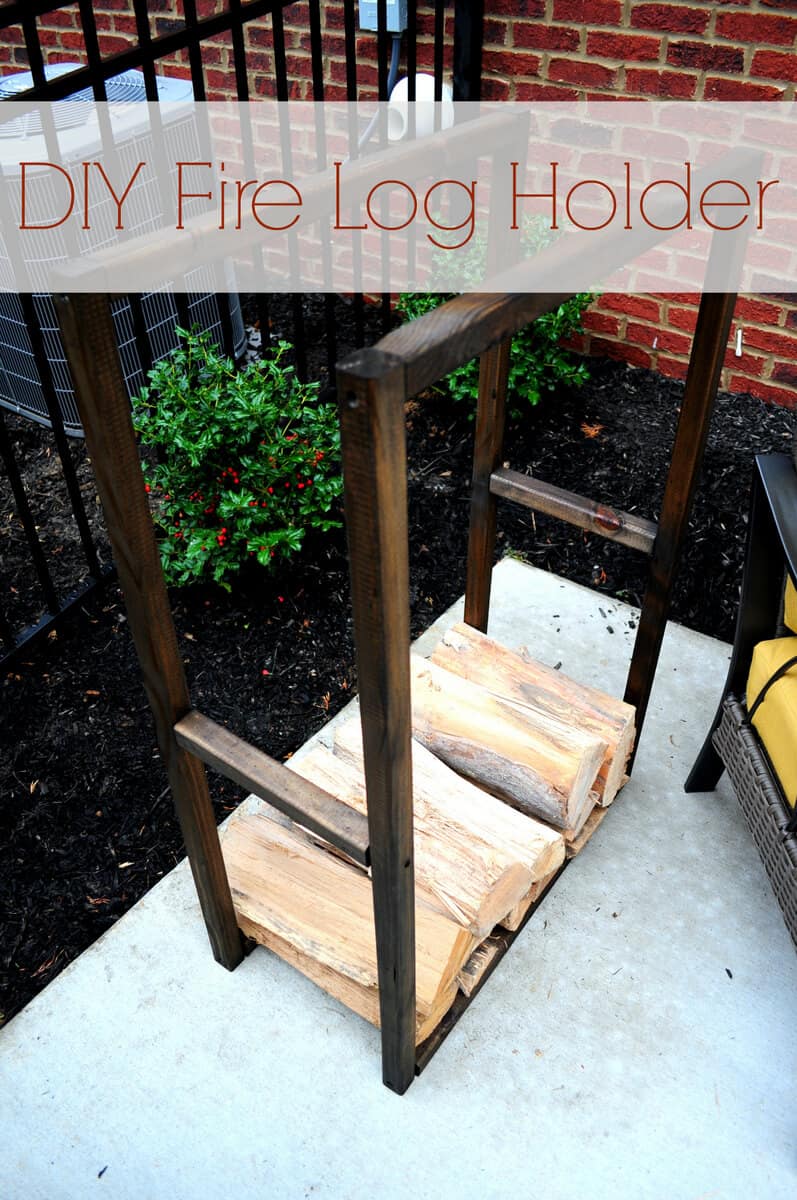 Just in case you're still really loving the idea of a wooden firewood rack that's simple looking and can be left stationary but you have a little less space to work with than some of the tutorials you've seen so far require, here's a slightly smaller design from True Value that gives you a more vertical structure. They even show you how to stain it beautifully.
8. Outdoor firewood storage with countertop
If you're going to invest all the time and effort it takes to make yourself a DIY firewood rack from scratch, would you rather make it an extra useful piece that can help you out with more than just one thing? In that case, we'd definitely suggest taking a look at how Bower Power made this outdoor firewood storage rack that has its own countertop! You could easily use this as a patio bar when you host friends or a potting station if you have a green thumb.
9. Tall timber and cinder block wood rack
Did we really catch your attention when we started talking about firewood racks made with 2×4 boards and cinder blocks because you actually already have those materials to work with but you can't help wondering whether there might be a more space efficient way to put the two to good use together, rather than the slightly splayed design you saw earlier on our list? Then we think perhaps you might get along a little better with something like this timber and cement block stand outlined step by step on Fresh Patio.
10. V-shaped branch rack stabilized with cinder blocks
Maybe that tool free, leaning style of firewood rack is precisely the kind of thing you're interested in but you're just not sure you need one quite so big in dimension because you tend to store only branches for burning small fires, rather than full sized logs? Then we think you'll really appreciate the way Homedit made this slightly smaller version of the same technique that has more of a V-shape to it, which will help the branches stay in place better!
11. Stacked cinder block log storage
Of course, we've talked a lot about cinder blocks already, but what if the kind you have are much larger than the small blocks you've seen used in most of the racks we've included on our list so far? In that case, we'd absolutely suggest taking a look at the way Welke made their own sort of firewood tower out of just  the blocks! Their tutorial shows you how to stack them concretely (no pun intended) and fill the insides with the wood so it stays organized and accessible.
12. Round tin drum rack to organize firewood and kindling
Have you actually been scrolling through our list and thinking about how you really like the idea of making yourself a backyard firewood rack but you'd actually prefer something a little more unique and modern looking rather than just stacking your wood inside more wood? In that case, you just might be the perfect person to give this round tin drum rack by Lowe's Home Improvement a try! We love the way they built a division through the middle to separate logs and smaller kindling.
13. Easy DIY log rack under $30
Just in case you're really a beginner and you've been scrolling through our list hoping to find something that's not just as simple as possible but that's also quite cheap to get supplies for since you're working on a budget, we'd absolutely suggest taking a look at the way Fresh Patio made this DIY log rack with a solid bottom brace for under $30 in total.
14. Wood and piping indoor firewood rack
Maybe you've been admiring the different ideas on our list but really waiting to find a smaller and perhaps more stylish idea that could work to store some firewood indoors too? Well, your patience has finally paid off! Check out how Dunn Lumber created this lovely wood and metal piping rack that has a really wonderful industrial chic aesthetic to it.
15. Interior X-frame indoor firewood rack
Just in case an indoor firewood rack really was what you're looking for but you'd prefer to make something a little bit bigger so you can store many logs at once, here's a fantastic design from Ana White that will look very professionally made indeed once it's finished, despite the fact that it's quite easy to do! We love the way the X-frame on the inside keeps the logs from rolling around as you use them.
Do you know another home crafter or DIY enthusiast who is intent on making their very own firewood rack but who could use a little bit of guidance along the way? Share this post with them so they have all kinds of inspiration and information while they work!