15 Lovely DIY Night Stands
When it comes to choosing new pieces of furniture, we're not opposed to buying a piece pre-made from the store if we can find precisely what we need. Lately, however, we've been having a lot of trouble tracking down a night stand that really looks like what we're picturing in our heads, so we've taken to the internet to learn more because we think we'd rather make our own custom piece!
Just in case you love the idea of making your very own DIY night stand just as much as we do, if not more, here are 15 of the very best ideas, designs, and tutorials that we've come across so far in our search for inspiration and information.
1. Floating night stand
Are you actually the kind of person who loves a rustic chic aesthetic but you're just not sure you have the floor space for some of the night stands you've found in stores in the style you're looking for? Well, what if we told you that you could cut out the idea of standing floor space all together? Take a look at My Love 2 Create to see how this lovely wooden cubby style wall mounted night stand was made!
2. Sitting cubby night stand form an IKEA Kallax shelf
Sometimes the best way to get precisely what you're looking for a in a piece of furniture without having to take on too hard a challenge like building it from scratch when you're not confident in woodworking is to "hack" a store bought piece by using it or putting it together a little differently than suggested! We love the way The Every Girl made themselves a cubby night stand by doing precisely that with a Kallax shelf from IKEA.
3. Small DIY X-end night table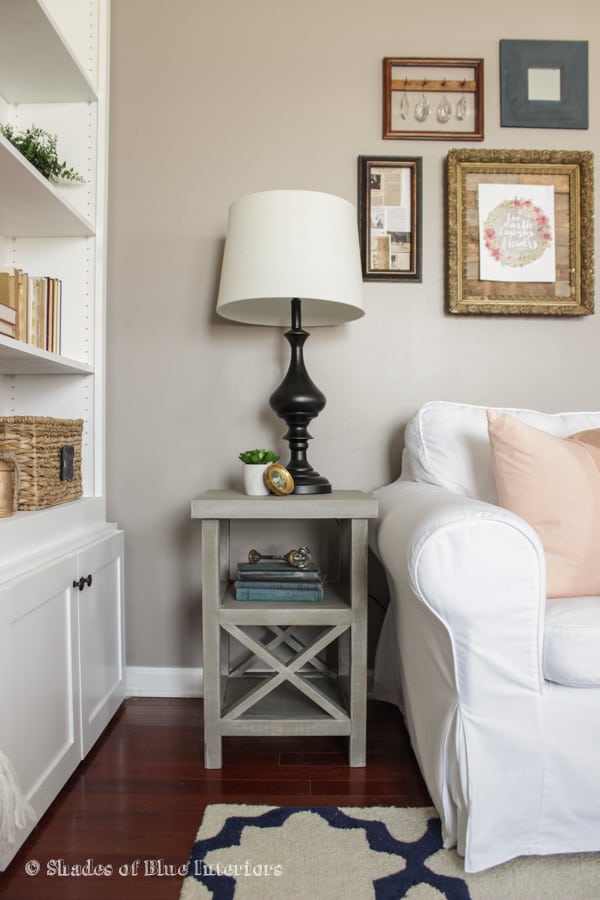 Are you a huge fan of the idea of making a wooden piece in the sort of rustic or farmhouse style aesthetic that we showed you before, but you'd much rather build the whole stand than mount it directly on the wall? In that case, we'd absolutely suggest taking a look at the way Shades of Blue Interiors made this lovely wooden X-frame table that could work as a night stand or a side table in the living room.
4. Rustic square bedside table
Just in case you're still in love with the rustic wooden table idea but you're looking for something a little simpler and more minimalist in its structure, here's a fantastic design from Rogue Engineer that walks you step by step through the process of making a rustic square bedside table with nice, strong metal corner braces but no fancy features that make building it any harder.
5. Simple midcentury night stand from a set of shelves
Rather than going rustic with your style, would you actually prefer to make a night stand that looks a little more mid-century? We'll admit that we're kind of in love with the fact that mid-century styles like those you might have seen in your grandparents' home as a kid are coming back into fashion in new and contemporary ways. That's why we loved the way Build Basic made this simple mid-century styled night stand from a section of old shelves!
6. DIY suitcase night table
Just in case you're very intrigued indeed by the concept of making a night stand from repurposed materials but you're also pretty set on choosing a very unique design that clearly looks upcycled as well, here's a DIY night stand idea that's perfect for those with wanderlust! Take a better look at this tutorial from The Weathered Door to see how this awesome night stand was made from a suitcase.
7. Wood and basket night stand with bun feet
Have you actually been looking around at local stores and thrift sales in search of something that's a little more weathered and old fashioned looking than a lot of what you've seen so far, but that's still isn't quite as contemporary looking as the mid-century pieces we've shown you so far? Then we think perhaps you'll adore the way Shanty 2 Chic outlines the process for making your own weathered wood and basket night stand. We love the way they added bun feet rather than metal ones for a homey touch!
8. IKEA step stool as a kids' night stand
Did we actually really catch your attention when we started talking about the idea of making a new furniture piece out of something else store bought that you're just putting together or using slightly differently? In that case, we'd definitely suggest taking a look at how Everything Emily made this fantastic kids' height night stand out of a simple stepping stool, also from IKEA.
9. Urban Outfitters knockoff hanging wooden night stand
Have you ever seen a piece in a store that you really liked but that you simply couldn't justify the price of? Well, what if we told you that you could probably make it yourself for cheaper instead? That's precisely what Gwyl did here by mimicking a fantastic wood and string hanging bedside table they originally saw in Urban Outfitters.
10. Midcentury hairpin leg and singular crate night stand
Just in case you're still totally in love with the idea of making a mid-century piece but you're just not sure you want something as wholly finished and store bought looking as the idea we showed you further back on our list (even though that piece was actually also homemade), here's a slightly more clearly DIY alternative for your consideration! Burkatron guides you step by step through the process of making a mid-century night stand from a wooden create and hairpin legs.
11. Minimalist box with plated feet night table
If you're going to make yourself a simple night stand, would you rather keep it quite simple not only because you're new to the idea of building furniture from scratch, but also because you're always really appreciated minimalist decor schemes? In that case, we'd definitely suggest taking a look at how Fall For DIY made this simply cubic cubby stand with nice plated feet for detail.
12. $15 stacked crate nightstand
Just in case you're looking for something that's rustic looking, clearly upcycled and homemade, and also incredibly simple to create, here's a fantastic night stand tutorial from Simply Real Moms that's perfect for create lovers! We have pieces made from crates all over our house, stacked and built in various ways, so it's no surprise that this idea was right up our alley.
13. Antique nightstand revamping project
What if you've actually come across an old night stand already that you really enjoyed the shape and look of but that you can't help thinking looks slightly outdated and would pop better with a bit of TLC? In that case, we think you should absolutely take a look at the way Sew Woodsy amped their vintage stand up a little with a fresh coat of mod looking paint in a bright colour.
14. $8 paint and wallpaper night stand project
Have we actually really caught your attention with all this talk of giving outdated pre-made pieces a makeover but you've got the kind of night stand with a cubby inside and you don't want to leave that part plain if you're jazzing up the rest of it? In that case, we'd absolutely suggest taking a look at how DIY Projects used not only bright paint but also wallpaper to transform their own!
15. Circular floating wooden night stand
Just in case you really fell in love with the idea of a floating night stand like the Urban Outfitters one we showed you earlier but you can't help feeling you'd prefer a look that's slightly neater than their slatted wooden design, here's a rounded version of the same idea! Monsters Circus walks you step by step through the process of making a flat circular night stand that's quite modern looking indeed.
Have you made another kind of fantastic DIY night stand before that's very unique indeed and that you were very happy with but that you don't see here on our list? Tell us all about what you created and how you did it or link us to photos of your finished project in the comments section!