15 Lovely DIY Night Stands
When it comes to choosing new pieces of furniture, we're not opposed to buying a piece pre-made from the store if we can find precisely what we need. Lately, however, we've been having a lot of trouble tracking down a night stand that really looks like what we're picturing in our heads, so we've taken to the internet to learn more because we think we'd rather make our own custom piece!
Just in case you love the idea of making your very own DIY night stand just as much as we do, if not more, here are 15 of the very best ideas, designs, and tutorials that we've come across so far in our search for inspiration and information.
1. Floating night stand
Are you actually the kind of person who loves a rustic chic aesthetic but you're just not sure you have the floor space for some of the night stands you've found in stores in the style you're looking for? Well, what if we told you that you could cut out the idea of standing floor space all together? Take a look at My Love 2 Create to see how this lovely wooden cubby style wall mounted night stand was made!
2. Sitting cubby night stand form an IKEA Kallax shelf
Sometimes the best way to get precisely what you're looking for a in a piece of furniture without having to take on too hard a challenge like building it from scratch when you're not confident in woodworking is to "hack" a store bought piece by using it or putting it together a little differently than suggested! We love the way The Every Girl made themselves a cubby night stand by doing precisely that with a Kallax shelf from IKEA.
3. Small DIY X-end night table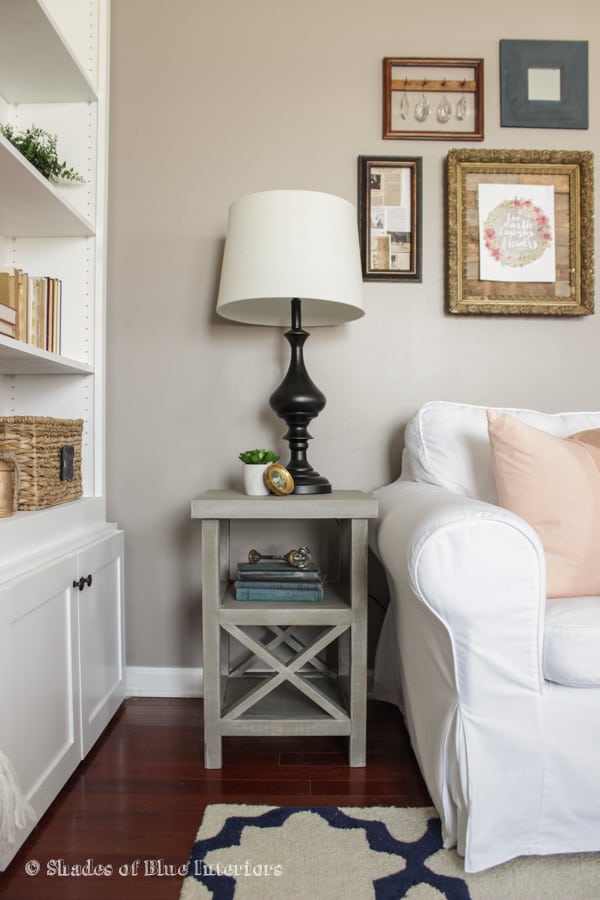 Are you a huge fan of the idea of making a wooden piece in the sort of rustic or farmhouse style aesthetic that we showed you before, but you'd much rather build the whole stand than mount it directly on the wall? In that case, we'd absolutely suggest taking a look at the way Shades of Blue Interiors made this lovely wooden X-frame table that could work as a night stand or a side table in the living room.
4. Rustic square bedside table
Just in case you're still in love with the rustic wooden table idea but you're looking for something a little simpler and more minimalist in its structure, here's a fantastic design from Rogue Engineer that walks you step by step through the process of making a rustic square bedside table with nice, strong metal corner braces but no fancy features that make building it any harder.