Brilliant Tool Storage Ideas for Garage
Now that the weather has warmed up and the conditions are becoming perfect for home maintenance, hand projects, and spending a lot of time in the garage, it's time to dig the tools out! We got into ours last weekend but we realized as we were pulling them out that we really don't have a fantastic system for storing them in an organized fashion where they're not in the way but can still be reached easily when we need them. That's why we've had our eyes peeled for awesome DIY tool storage suggestions lately!
Just in case you love the idea of making your very own DIY tool storage solutions just as much as we do, if not more, here are 15 of the very best ideas, designs, and tutorials that we've come across so far in our search for inspiration and guidance.
1. CD/DVD case small parts storage
Along with all your bigger tools, did you find a collection of small parts like screws, nails, bolts, and so on that need some kind of better organization than the plastic bags you've currently got them sorted into? Then we'd suggest taking a look at how Makezine upcycled some old bulk rewritable CD cases by turning them upside down, fastening to the underside of their tool cabinet, and creating a hanging bin that's perfect to store small handy pieces in.
2. PVC pipe drill holsters
Maybe you've been feeling like your larger tools could really use a more permanent home as well, so you can just grab the one you need and when rather than digging in bins or cupboards every time you need a drill? In that case, we'd have a feeling you'll really appreciate the way Popular Mechanics made a sort of drill hanging rack but fastening cut sections of PVC pipe to the underside of a shelf. Make sure you get the kind that's wide enough for a whole hand drill to fit inside!
3. Jumbo pegboard tool wall
Just in case you have all manner of things to organize and get sorted but not a lot of floor space for things like cabinets and bins, here's a wall mounted idea that's a little more diverse and space efficient! We love the way The Creativity Exchange made this pegboard organize wall and attached various hooks and baskets to make it the ultimate place for tools and other handy supplies.
4. Wooden cubby sanding disc storage
Just in case you're actually an experienced handy person who finds yourself using larger power tools like sanders a lot, here's a fantastic storage idea for storing all the spare and replacement disks you might be keeping on hand! Lazy Guy DIY outlines step by step how they built, installed, and filled a long, thin cubby shelf to give the disks and accessible place to live.
5. Fully DIY mobile garage workbench
Are you the kind of person who is very good indeed at handy work and has need of tools, but who also uses your garage space for plenty of other things and therefore doesn't want a permanent work bench attached to a single place all the time? Then perhaps you'd get along a little bit better with something like this mobile work bench from Woodshop Diaries instead! This piece has wheels so that you can move it around the garage or driveway as you need.
6. Custom DIY hand tool storage cabinet
Have you actually been a pretty big fan of a number of the storage ideas you've seen so far but you're also trying to keep your tool space to a minimum so you can't help wondering whether you might condense a few of them into a smaller space? In that case, we'd absolutely encourage you to take a look at how Her Tool Belt built themselves a fantastic DIY tool cabinet that shelves for hand tools and even miniature versions of those pegboards you liked so much mounted inside.
7. Smaller pegboard cabinet and matching workbench
Perhaps you're quite interested in both the work bench and the pegboard that we've shown you so far, but you don't actually have as much space to work with and you've been considering whether you might be able to make a smaller version? In that case, we'd definitely suggest taking a look at how Remodelaholic created more space efficient versions of both and provided the measurements and techniques so other people can make smaller pieces too.
8. How to build a base cabinet full of tool drawers
Just in case you're prefer a work bench that's more closed off a neat looking, like a cabinet with doors and drawers rather than open shelves and cubbies, here's a fantastic tutorial that shows you how simply that cam really be done! Fix This, Build That even teaches you how to make custom tool drawers that work like pull-out platforms for larger electric tools.
9. DIY metal topped and lined shop cart
If you're going to put in the time and effort it takes to build a workbench and tool storage station of your very own, would you rather invest what it takes to make it durable and long lasting so you know you'll be able to use it for years to come without a lot of wear and tear? Then we'd definitely suggest taking a look at how DIY Creators made this worktop and storage bench that is lined with metal.
10. Cordless power tool docking and charging station
Just in case it's the electric and hand tools that you're really having trouble getting stored efficiently and accessibly, here's a DIY wooden solution that will not only solve the problem of where to put them but also give you a way to make sure they stay full charged and ready to use any time! Her Tool Belt guides you step by step through the process of making a power tool storage space and charging station that's easy to mount right on the garage wall.
11. Rustic pallet tool storage
Are you the kind of handy person who also adores aesthetic and home decor and has been working hard to create a rustic chic atmosphere throughout the whole house for a while now? Well, why not follow suit and do the same here? We're kind of obsessed with the way Funky Junk Interiors created this storage shelf with all kinds of useful tool cubbies and baskets by upcycling old wooden pallets.
12. Scrap wood French cleat power tool storage
Just in case you're still thinking about how much you love the idea of creating storage specifically for your awkwardly shaped power tools but you need a design that's a little more space efficient and shaped for more kinds of tools, here's an alternative tutorial for your consideration! Wilkerdos shows you step by step how to make this French cleat style power tool storage using scrap wood.
13. Easy DIY jumbo tape dispenser
Sometimes the things that take up the most space in the form of clutter on your countertop are the things that seem like the simplest to use. That's why we were so intrigued when we came across this wooden jumbo tape dispenser rack outlined step by step on Popular Woodworking! They even show you how to safely install a hacksaw blade along the edge to make the tape easier to rip off the roll by pulling it against the blade's teeth.
14. Magnetic bar for drill bits
Smaller tubs and mounted organizational things for bits and pieces are all well and good, but what of the things that you swap between very often and would rather have even more accessible and organized than those things allow for? Well, for small but sized metal pieces like drill bits that you'll want to be able to find easily, we'd absolutely suggest taking a look at how BHG made this magnetic bar that's perfect for sticking them to in order.
15. Easy DIY screwdriver shelf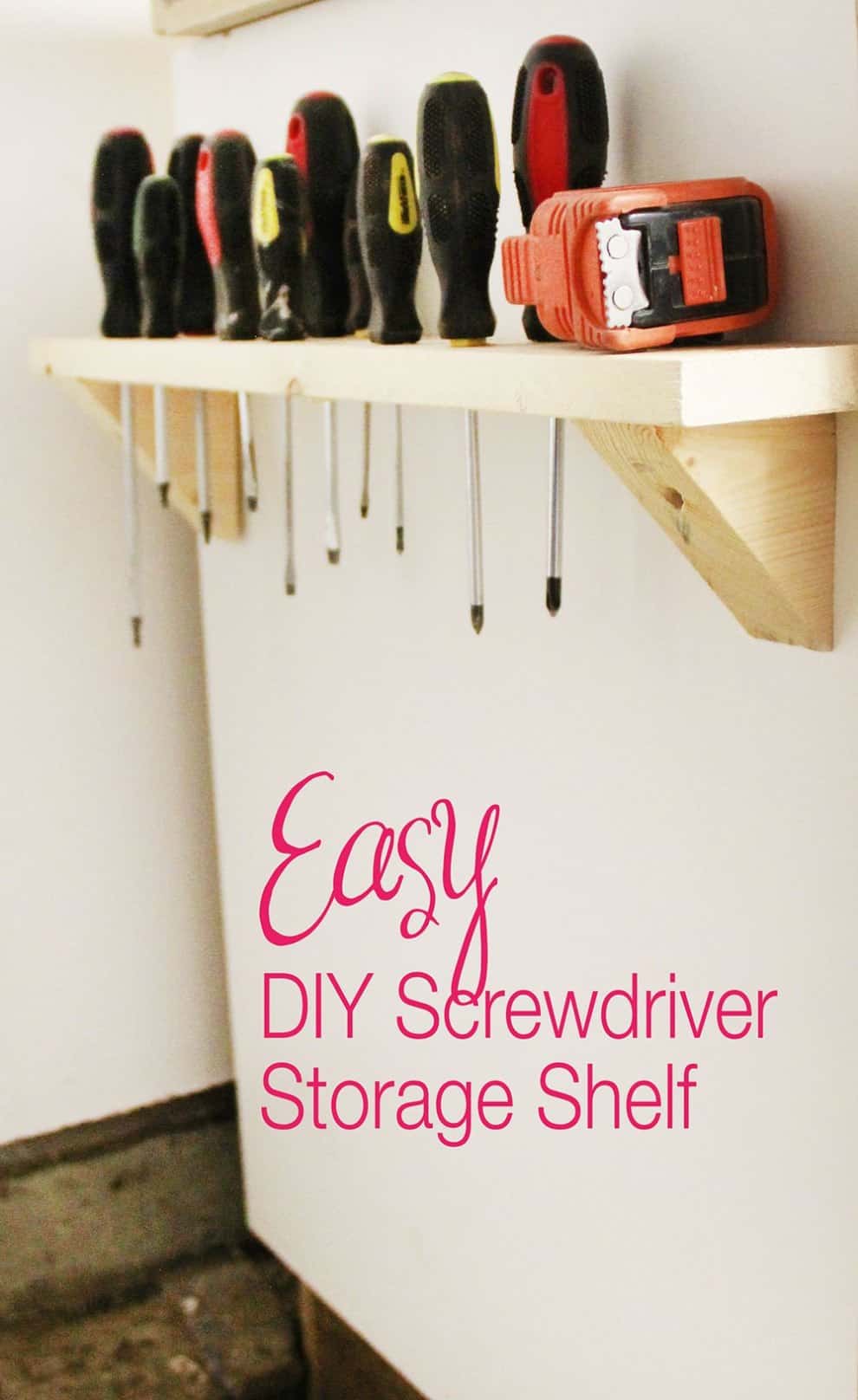 In our house, screwdrivers are probably the thing that we use most, even for just everyday tasks rather than woodworking or larger handy projects. That's why we like to keep all our different kinds and sizes of screwdriver on hand where we can find them whenever we need them! This fantastic storage shelf that's designed and built specifically for storing and organizing them is a life save in our space, as you can imagine. See how simply it can actually be done on Fresh Crush.
Do you have another DIY tool storage solution that you made for your garage or workbench area and were very happy with indeed but that you don't see here on our list? Tell us all about what you created and how you did it or link us to photos of your finished pieces in the comments section!