50 Fireplace Makeovers For The Changing Seasons and Holidays
Winter, spring, summer or fall, there are so many ways to revamp and redo the mantles. And with these 50 fireplace makeovers you'll learn how to design and decorate for all of the changing seasons and holidays throughout the year. Dive in and peek at some of our favorite finished products!
1. Mosaic Tiles
Remodelaholic shows us how to makeover a simpler fireplace with some mosaic tile. It doubles as decor too so your mantle can stand on its own.
2. Wooden Panels
If you visit Remodelaholic again, you'll learn how to install these wooden panels. They also can stand on their own without too much fuss.
3. Spanish Gold
Sometimes all you need are the right decor pieces to pull off rooms that can last all year long. Give your fireplace a makeover with some inspiration from House Beautiful – a golden mirror can jazz things up quite nicely.
4. Window Screens
A pair of window screens like the ones you see here from Country Living will round our your rustic home with ease and comfort. Go to a flea market and rummage a bit to see what you can find.
5. Special Quotes
Whether it's Laura Ingles Wilder or F. Scott Fitzgerald, a beautiful, big-printed quote could liven up the fireplace and your living room. And it lasts all year long, of course. (via)
6. Trellis Tile
Driven by Decor has one of my favorite fireplace makeovers around. Those trellis tiles really give this focal point a nice, unique pop of style!
7. Large Watercolor
Pick something that inspires you. Sometimes the addition of something simple and grandiose, like a large watercolor canvas can really make a difference – like this design from Unskinny Bop.
8. Yellow Brick
A little paint in unsuspecting areas could makeover your fireplace in an instant. From the inside out, just look at this white and mustard combination from Studio McGee.
9. Painted Black
Black may not be your first thought when it comes to a fireplace makeover but look at this beauty! Rhiannon's Interiors gave us so much unique inspiration with this one.
10. Fun Prints
Yes, you can even add fun prints to your fireplace design. Apartment Therapy has all the details behind this stunning decor idea.
11. Just Marble
House Beautiful showed off this chic and sleek marble fireplace and we're swooning. Marble will flow throughout all the seasons and stand alone without too much fluff.
12. TV Focus
An easy way to consolidate and make your fireplace the focus without clutter is to make it the "TV stand" as well. It's stylish without worrying too much about decor or changes. (via)
Wood Mantle
Remodelaholic gave us this snazzy makeover as well. Installing a ledge will help with your decor purposes and it's such an easy way to make it all look new!
13. Family Initial
Country Living provided us with some initial inspiration. The family name can be displayed proudly without fuss and look great within any style home.
14. Dynamic Depth
You can think outside-the-box. For a non-working fireplace or one where you don't ever plan on lighting it up, stuff it with books, lean an extra-large piece of art atop and you've got an edgy design to love all the time. (via)
15. Colorful Pops
Another idea for unused or nonworking fireplaces comes from The Art of Doing Stuff. Grab some firewood, stuff the hearth and use paint to add some pops of color!
16. Chicly Polished
If you want to see a beautiful before and after you'll want to follow along over at Swing N Cocoa. Take a look at how this chicly polished fireplace started out.
17. Vibrant Pattern
This is another makeover that made us scream, "Wow!" Veneer Designs shows us how this space went from drab to ultra fashion-forward and unique.
18. Antique Crest
To top off a traditionally styled room with a bit of grandiosity, think about fixating an antique crest you love above the mantle. This is an easy, DIY makeover and one that will stick. Thanks for the idea HGTV!
19. Chalkboard Changing
If you want something easily transitional throughout the year, add a chalkboard! HGTV shows off how to makeover your mantle and personalize it once the seasons change.
20. Sheet Music
If you visit Country Living again, you'll become inspired by this sheet music collage. Find some at a flea market or estate sale and get to work getting creative!
21. Art Deco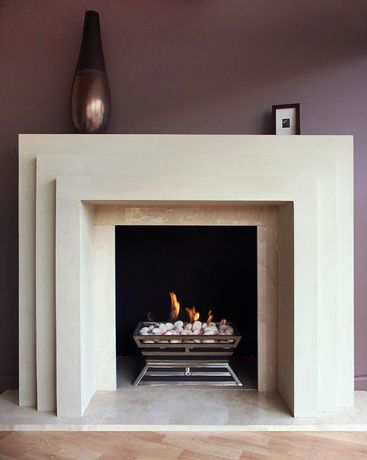 Take your fireplace from simple to art decor-inspired with this layered frame. This is a great design to pocket for your next renovation. (via)
22. Herringbone Work
The herringbone accent behind this fireplace is stunning. Decorology just gave us our next home makeover idea that pumps up the most warm and welcoming space in the house.
23. Gray Stone
Framing the fireplace in gray stone could be exactly what you've been waiting for. Add a touch of romance with this inspiration from Everything LEB.
24. Rock Tumble
Why not have your rocks and stones pouring right into your fireplace design. Nifty Homestead inspired us to redo our own fireplaces with this one.
25. Calming Art
Sometimes the right piece of art can go a long, long time. Country Living showed off this easy, breezy space and how this artwork compliments this fireplace so nicely.
26. Layered Delicates
Layering delicate, framed prints on your fireplace like Park & Oak is another great way to makeover the space without getting your hands too dirty. It's subtle and it works for modern homes.
27. Faux Tile
Check out this stenciled faux tile fireplace from Infarrantly Creative! Follow along and learn how to create this nifty pattern in your own home.
28. Varying Blues
This fun tile design from This Old House would be a great bit of inspiration to grab from. Don't be afraid to add bits of color to your makeover.
29. Blonde Boards
Adding some blonde wood to your reclaimed design could be fun! Contrast your pieces and take a peek at this makeover at Hometalk.
30. Three Elements
Stone, wood and brick come together in this fireplace design quite nicely. There's an old age spirit here we've fallen in love with. (via)
31. Rose Screen
Here's another super simple idea that will give your fireplace area a quick lift but without a total renovation. Add a rose gold screen for a pop of femininity.
32. Seating Area
Especially if you don't really ever light your fireplace, use it as a backdrop to your seating area. Just a move of the furniture could be the makeover you're looking for. (via)
33. Shiplap Wall
Here's a great tutorial for a fireplace shiplap wall over at Sweet Threads Design Co. Follow the link and dive into the directions!
34. The Starburst
We're big fans of starbursts around the house. It's exciting, it's chic and it uplifts absolutely any corner of the home. Thanks Foxy Oxie!
35. Wood Mosaic
You don't have to tile a mosaic. You can use reclaimed wood too! Check it out at Shannon Berrey.
36. A Chandelier
Sometimes a chandelier can do the trick too. Houzz gave us some feminine and charming inspiration with this easy hang up.
37. Italian Accents
Houzz gave us this style inspiration too. Take your plain fireplace and turn it into something with a bit of Italian spirit.
38. Gray Brick
Kylie Interiors has some great ideas for making over your fireplace. Of course, taking paint to your brick can always do the trick. We're loving this gray!
39. Chocolate Solid
Check out Kylie Interiors one more time for this great idea. Choose a paint color, like chocolate, and paint the mantle a brand new shade!
40. Airstone
In My Own Style shows off how to make a beautiful airstone fireplace for your home. It's the ultimate, DIY makeover!
41. Iron Gate
Salvaged items can be the best accents to your home, especially when you want stable pieces to stick. An iron gate adds breath and interest to the fireplace. (via)
42. Some Antlers
Thanks to Pinterest, we stumbled upon this modern beauty. Some antlers hanging above the fireplace can transform your space into something new too.
43. Lit Candles
For an unused or nonworking fireplace, add some candles for light! It instantly cleans the slates and adds some romance. (via)
44. Inside Out
Apartment Therapy showed us that painting just the inside can truly go along way. It's a quick and easy fireplace makeover idea for brick. And we love it.
45. Think Contrast
When making over the space, sometimes it's just about thinking about color. Black paneled walls behind your white, marbled fireplace is the perfect compliment and a timeless way to style. (via)
46. Tell Time
Of course, adding a clock is a great way to makeover a drab space that needs a quick lift. And that includes above the mantle! (via)
47. Traditional Frames
We spotted this polished, traditional look over at HGTV. For a swift fireplace makeover, grab some frames and hang them over the mantle asymmetrically.
48. Vintage Greens
Over at Country Living you'll see how to constantly add a bit of seasonal greens to your mantle. Keep everything the same and swap them out as the year progresses.
49. Marble Tile
Another great way to makeover your fireplace – especially for one that's a bit on the boring side – would be to add some tile. Check this one out at Young House Love.
50. Built-In Bookshelves
Finally, if you visit Remodelaholic just one more time, you'll see this great makeover that involved bookshelves. Built-in shelving is the best kind, especially when framing the hearth of the home.