25 Engagement Party Ideas
So you've been tasked with planning an engagement party… don't worry, it's not as complicated as it sounds! There are so many fun, easy DIY projects and creative ideas that you can do yourself, creating a party that no one will soon forget. Read on to check out 25 of our favorite engagement party ideas.
1. Gold Heart Drink Stirrers
Top off your drinks with these pretty gilded drink stirrers in the shape of hearts. All you'll need for this simple project is some gold leaf, wooden hearts, and a few other basic materials. Make your way over to A Bubbly Life to find out how to create a set of these romantic drink stirrers yourself.
2. DIY Greenery Globe Light Garland
Transform an ordinary string of globe lights into this magical green garland to dress up your engagement party. The key is to find lots of artificial greenery that can be attached to an existing string of white lights. Head over to The Merry Thought to find out how to execute this stunning project.
3. Colorful Balloon Chandelier
Add some festive color to each table at your engagement party with this easy yet beautiful DIY project. Begin with a pretty jar of colorful flowers, and then attach a cluster of bright balloons using clear fishing twine. Head over to Kojo Designs to find out all the details.
4. Carved Heart Wood Slice
Share the bride and groom's love for each other with this adorable carved wood slice. Begin with a plain slab of wood, and then use a wood burning tool to create the romantic message of your choice. Check out all the instructions for this simple project at Average Inspired.
5. Diamond Garland
Looking for a fun decor idea for your engagement party? Give this diamond garland a try! Large colorful paper diamonds are strung up and accented with gold tape. Readthe directions over at The Flair Exchange. And they can be hung vertically or horizontally!
6. Champagne Bubble Wall
Are you serving champagne at your engagement party? Try lining the wall behind thechampagne tablewith shiny, light-colored balloons to mimic the bubbles in the champagne. So pretty! Check out this and lots of other party ideas over at Honey & Fitz.
7. Champagne Bar
Speaking of champagne, take it a step further and serve a mimosa bar – guests can pick their poison by adding a variety of different juices and fruits to their champagne. Great options include orange juice, mangojuice, and a variety of berries. Read more right here.
8. Glitter Dipped Cups
Add some serioussparkle to plain old plastic cups with this simple DIY project. Grab a can of spray adhesive and lots of gold glitter, and you'll be well on your way to a super sparkly engagement party. Make your way over to Evite's blog to find out all the details.
9. Donut Diamond Rings
If you'd like to infuse your engagement party with a bit of whimsical humor, give these adorable donut diamond rings a try. Just print out the diamond shapes and add edible glitter to create your very own "rings." Get all of the instructions over at Evite's blog.
10. Printable Photo Booth Props
Create your own engagement-themed photo booth props to get people into the mood for photos! You don't necessarily have to have a photo booth, either… once guests have a glass or two of wine, they'll start using them in all of their iPhone snapshots. Get the how-to here.
11. Tissue Paper Pom Poms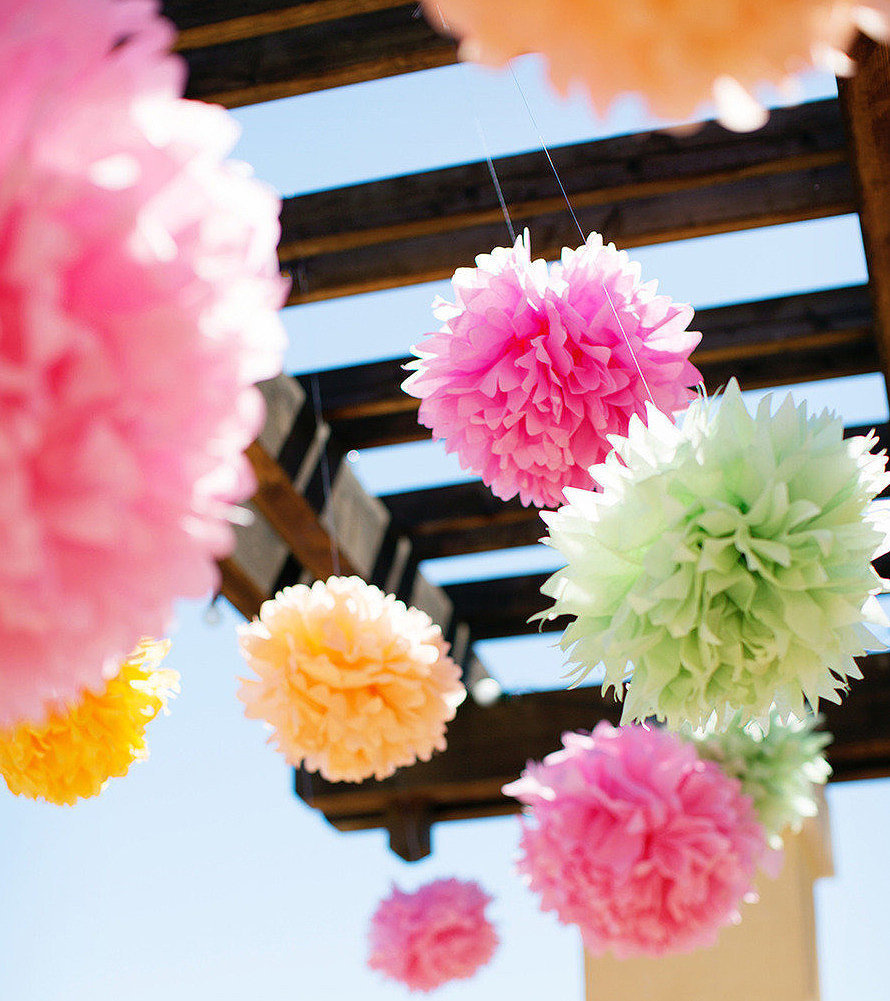 Add some serious color to your engagement party with these festive, large tissue paper pom poms. They are a simple way to add drama to any party, and they won't cost you much to make. Head over to PopSugar to find out how to create a set of these yourself.
12. Confetti Balloons
Here's another great way to add some colorful decoration to your party. These whimsical balloons are easy to make… all you'll need are some transparent white balloons and lots of confetti. Make your way over to Mummy and Mini to check out this and other fun party ideas.
13. Monograms
Be sure to personalize your party with as many details as possible. Adding the happy couple's monograms to various areas around the party is a great technique. Find out how to style your own backyard engagement party using these helpful tips from Burnetts Boards.
14. Baby Photo Banner
Give guests a laugh by hanging up baby photos of the bride and groom-to-be. This is a lovely way to add another personal touch. Use jute twine and mini clothespins for a rustic vibe. Head over to Pretty My Party to find out more about this tea party themed event.
15. Mr. & Mrs. Burlap Banner
Get the happy couple excited about their new titles as Mr. and Mrs. by hanging up this adorable burlap banner. Simply paint the letters in your favorite font onto burlap squares and string them along some colorful yarn. Check out the full how-to at Rustic Wedding Chic.
16. Date Night Game Ideas
Have the guests jot down their favorite date night ideas on wooden popsicle sticks and then place them in a jar with a fun customized label. Head over to My Wedding to check out this and lots of other wedding game ideas to keep your friends and familyoccupied and having fun.
17. Sangria Bar
Along the same lines as the aforementioned mimosa bar, this colorful sangria bar lets your guests pick and choose exactly what they'd like to have in their sangria. The base is made ahead and strained, and then a variety of fruit is provided. Head over to Wedding Chicks for more.
18. Engagement Photo Guest Book
Turn all those unused engagement photos into a book and have guests sign it at your engagement party… then you can display it right on your coffee table for all to see after the festivities are over. Make your way over to WeddingPhotography.com for more guest book ideas.
19. Custom Mini Champagne Bottles
Add some custom style to your engagement party with these fun mini champagne bottles. Add a straw, flag and and faux engagement ring using fun ribbonand you'll be ready to go. Make your way over to Krista and Michele to see the full photo tutorial.
20. XOXO Cookies

Give your desserts a dash of custom appeal by making cookies in the shape of X's and O's… because what's more romantic than hugs and kisses? Ice them with frosting to match your decor. Check out this and other pink party ideas over at Style Me Pretty Weddings.
21. Cornhole Game
It's always important to have some activities for your guests to do during your engagement party. Cornhole is a wonderful option, as it can be played with four people and is a fun one for others to watch as well. Head over to Southern Weddings to check it out.
22. "Love is in the air" Balloons
Float a few of these fun "love is in the air" balloons to lend a unique, romantic flair to your party. You could also use colored ribbons that match your decor to personalize them a bit. Make your way over to Nordstrom's website to buy a few of these balloons by Kate Spade.
23. Lace Wrapped Cupcakes
If you're going for a rustic, romantic look at your fete, try wrapping pretty cream-colored lace around the liners of your cupcakes. Rose colored frosting makes these yummy treats even prettier. Check out more related lacy ideas over at the Quintal blog.
24. Rustic Painted Signs
Helpguests with one of these pretty wooden signs with painted words that will point them in the right direction. This is a great way to add some fun and humor, too! Make your way over to Huffington Post to see this and lots of other autumnal ideas for your engagement party.
25. Glass Welcome Sign
This stunning framed glass welcome sign is a beautiful way to set the tone for an event… and it doesn't have to be only for a wedding specifically. Simply change the wording to "Welcome to the engagement party of…"Check it out over at 100 Layer Cake.