DIY Fall Centerpiece Projects
Fall is just around the corner. Crisp breezes and the crunch of autumn leaves, pumpkin flavors and soft scarves, it's a cozy, warm and welcoming part of the year. And that means, it's time to start thinking about your fall spread. We're starting in the dining room. Check out all of these wonderful DIY fall centerpiece projects and learn how to recreate some of your own!
1. Dried Corn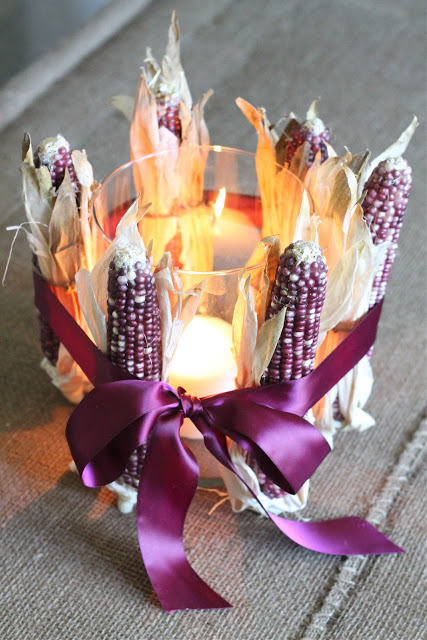 Julie Blanner created this unique, plum-dressed dried corn centerpiece with ease. And she showed all of us how to create our own in mere minutes.
2. Autumn Branch
At Sasinteriors you can learn how to make this special, tea-light treat. Organic in feel and full of fall flavor, we're in love with this more grandiose, homemade design.
3. Coffee Beans
We're loving this earthy, and deliciously aroma-theurapeutic, centerpiece idea. It's got the feel of autumn life but a very cozy, warm essence too. Thanks for the idea Calm Cradle!
4. Harvest Crate
We're in love wight his adorable and charming, easy-to-make harvest crate. It's perfect to cultivate seasonally-inspired centerpieces and Let's Go Sunning did it with such subtle styling and ease.
5. Apple Votive
Country Living gives us another way to add romantic lighting in a natural, fall-sensible way. Carve out some apples and create something cozy and delicious!
6. Corn Kernels
Over at the Passionate Penny Pincher, we learn how to create this simple fall-inspired centerpiece for a mere $6. It's creative and it's budget-friendly!
7. Pumpkin Bouquet
This pumpkin bouquet, made by Gwen Moss, is incredibly easy to recreate for your own home, but it's also incredibly easy to personalize! Fill with mums or roses, different colors and themed it any way you choose.
8. Candy Corn
Crafty Teacher Lady shows us how to utilize that candy corn you'll be munching on all throughout the fall months. Add some candles and you've got an easy, festive experience!
9. Candle Branches
Here's another crafty way to utilize candles in a seasonal way. Grab some thick, wooden branches and carve a spot out for some subtle, romantic tea light! Find out how on Home Talk.
10. Veg Spread
This beautiful inspiration from PopSugar has the best of both worlds when it comes to centerpieces – especially for entertaining: style and festivity. There is vibrancy, color, texture and seasonality.
11. Jar Lid Pumpkin
The Country Cook did something quite ingenious. She used mason jar lids to create funky, pumpkin pieces for her centerpiece! And we're in love!
12. Tray Fill
All you need is a decorative tray or container to get this started. And then you build from there. Learn the quick and easy steps by visiting Your HomeBased Mom.
13. Succulents Inside
Luxe Happens adds succulents to pumpkins in a stylish and design-worthy way. The best part is that anyone can do it, from the novice DIYer to the veteran!
14. Edible Style
John Kernick had the right idea with this centerpiece. Make it edible and create a tasty, yet fall-inspired spread full of the season's best colors and flavors!
15. Pumpkin Vase
Use a pumpkin, some fresh flowers and a beautiful color to turn your home into a fashion-forward but stylish representation of fall. Thanks to Shelterness, you have a unique and dewing-worthy DIY to start with.
16. Casual Leaves
Country Living gives us another easy way to spruce and style for fall. Grab some fresh, colorful leaves outside and create a bouquet full of the autumn color.
17. Wooden Pumpkins
Creating the illusion of fun, fall pumpkins can become an easy, creative project for the entire family. Learn how easy this DIY is – and how to style it too – over at Ribbons & Glue!
18. Branch Vase
You could also try your hand at making this rustic, vase-like design. Encase your flowers in something a bit more organic with the help of The Shady Porch's inspiration!
19. High & Low
HGTV has some gorgeous inspiration, and this is one of our favorites. We love the idea of picking out your own fresh florals, greenery and even gourds and designing an interesting piece for your table.
20. A Chalkboard
Use a chalkboard tray as the foundation to your centerpiece design. Check out this beautiful creation by Dear Emmaline and snag some of your own inspiration.
21. Pinecone Dips
Learn how to easily dip pinecones with FDC. Then add them to a textural and fun autumnal centerpiece full of life and festivity.
22. Textural Creation
At Love of Family and Home you'll learn how to create this entire spread. It's easier than you may think and Tonya makes it a blast to follow along!
23. Sparkle Additions
Whether you decide to paint and DIY your very own, or store buy and design a set-up that's personalized and creative, HGTV shows us how a little sparkle can be fall-flavored too.
24. Simple Pumpkin
Ten June shows us how simple and easy it is to sprinkle fall around the house, including this easy peasy pumpkin centerpiece!
25. Bling Pumpkin
Find out how to stylishly and timelessly bling your pumpkin over at Chaos Served Daily. There are so many different themes and styles you can personalize with!
26. Thrifty Finds
Made with several thrifty finds, this concoction was brought to us by Confessions of a Serial DIYer. And we're in love with all of the colors and detail!
27. Gold Pumpkin
Dip your pumpkins in gold for a subtle, fall experience and addition to your dining room. New House New Home shows us how easy it is!
28. Kid Leaves
We're swooning over this kid-friendly idea brought to us by HGTV. It's one the entire family can get involved in but still look fun and festive all fall long.
29. Harvest Filled
If it's getting close to Thanksgiving, this Harvest-inspired centerpiece may be exactly what you need. Find out how to make your own at Country Living!
30. Creamy Pumpkins
Sophiasdecor shows us, again, how to create a cozy and welcoming centerpiece. Full of fall flavor and stylish neutral, there's a femininity about this design that we'd love to recreate at our own homes!