15 DIY Decor Designs for a Cat Themed Home
If you're the kind of person who would absolutely be a crazy cat lady if presented the chance, but currently lives in an apartment that's far too small, then there are other ways to keep a feline presence in your life! Home decor, for example, is an unexpected but fun way to involve kitty cats in your daily routine, even if they're not the living, purring kind. Sure, your friends might think you're a little nutty for decorating your home in whiskered creatures at every opportunity, but cats are so cute that it's worth the funny looks from visitors!
Check out these 15 adorable ways to DIY your decor with your favourite furry friends in mind.
1. Kitty shaped thread organizers
Okay, so thread organizers aren't exactly the most explicit decor there ever was, and most of your guests probably won't see these little trinkets, but we loved them so much that we had to include them. Cutting lengths of cardboard into a cat shape, adding little noses, and wrapping your crafting threads or embroidery flosses around them will add a bit of cute whimsy to your craft room as your organize it! Check out how Little White Whale made these ones!
2. Cat Lady embroidery
The Pink Samurai suggests an easy embroidery pattern that makes your feelings about your feline friends pretty clear for everyone to see! We love this hilarious little cartoon needlework pattern, especially because it contrasts a classic DIY skill with a silly modern notion.
3. Stitched cat pillow
Kollabora walks you through the process of sewing yourself a kitty cat pillow with a whiskery little embroidered face. We love how bright the eyes are, as thought a real cat with smart yellow eyes is quietly watching you go about your day.
4. Kitty cat planters
These adorable little kitty planters by Bru DIY are made from different sizes of upcycled pop bottles! Get creative with your paint job and make the cat's faces look happy, sleepy, silly, or simply just contented like the ones in the picture. Place your plants in the top where you've cut a little pair of ears and voila! Now you just have to make sure that your real cats don't try to eat the plants.
5. Little cat string holder
Handmade Charlotte shows you how to make an adorable vintage style string organizer that's shape like- you guessed it- a little black cat! Once again, this one isn't necessarily home decor, but it'll sure look cute sitting to the side in your craft room while you go about creating new things.
6. Cat heart pillow
Do you like the idea of sewing yourself a cat pillow but prefer something a little more cute and cartoon than the previous idea we listed? Then this pattern by How Sweet It Is might be just what you're looking for! The way the cat snuggles the hear makes this a really cute gift idea for Valentine's Day.
7. Sequinned cat wall art
Chicfetti shows you how to make unique wall art that combines your love for cats with your love for all things glitz and glamour! Cats are, after all, quite fancy animals.
8. DIY "Meow" canvas
Do you love the idea of cat themed wall decor but worry that a sparkly piece doesn't really suit the rest of your scheme? Try this simple "Meow" idea by 100 Layer Cake instead!
9. DIY kitty cat coasters
A Beautiful Mess walks you through the process of making and painting your own kitty coasters with spots, patches, and fur colours of your choice! Because you're the one painting them, you can even choose the expressions they have. Guests will enjoy choosing whether they want the happy, grumpy, or silly cat with their afternoon tea.
10. Crochet cat butt coasters
Do you like the idea of creating cat coasters but you're looking for something a little sillier and more hilarious? Then you're in luck if you know how to crochet! These funny cat bum coasters by Makezine are a lot easier to make than you might think! Visitors will get a real kick out of them.
11. Cat tail coat hook
The Turquoise Piano suggests jazzing up and old coat rack by painting little animals as though they're facing away from you, so the coat hook rests where the animal's tail would sit! The example in the picture involves different kinds of zoo animals, but you could easily customize your own rack to be covered with kitty cats.
12. Stuffed kitty pillow
Just in case neither of the other cat pillow patterns quite did the trick for you, here's a third option by The Crafted Sparrow! This one is less like a pillow and more like an actual little plush cat. We love that it's sleeping features look as though it's curled up for a nap when you place it in a chair.
13. Wooden cat clothes pins
Design Sponge suggests getting creative with even the smallest details of your home! We love these hand painted little wooden cat clothespins very much. You might continue simply using them as clothespins and enjoy them while you do laundry, or stick them to the wall and use them to pass notes to your family members as you all go in and out of the house throughout the day. Either way, you'll have a few more little cats to greet you as you go about your business.
14. 3D felt kitty coasters
Just in case you still haven't found the ones you want, here's another kitty cat coaster design! These ones had 3D heads as though they cats are looking around at you while you enjoy your morning coffee, and we think that's completely adorable. Check out how they're made on Baker Ross!
15. Cat rope basket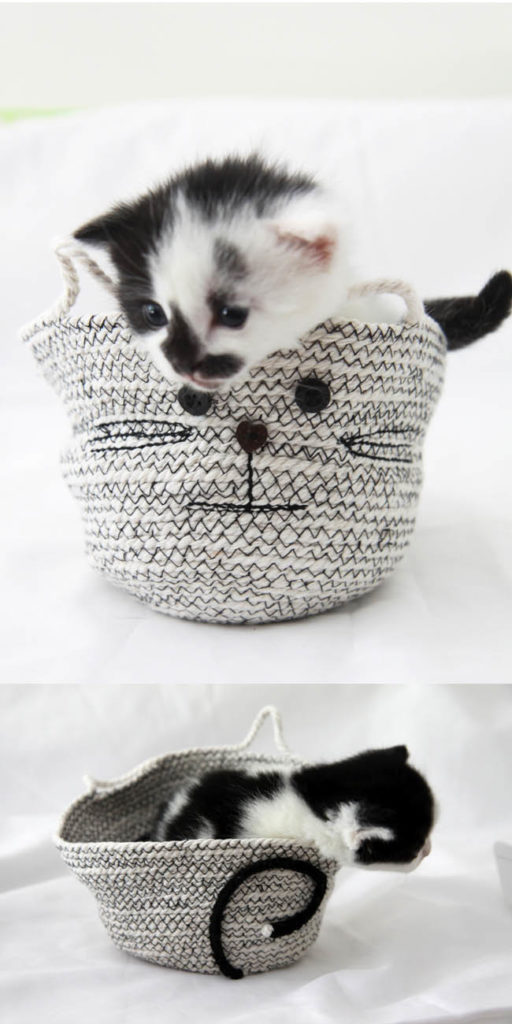 Hello Glow walks you step by step through making a soft basket made of rope that's been wrapped and sewed all the way around. Add some arched pieces for ears on the top layer, embroider a face, and embellish the back with a curly little tail. You might not have a fuzzy kitten to place in your finished basket, but we're willing to bet that it'll still look very cute!
Do you know someone who loves cats more than they love most humans? Share this post with them for a little bit of feline decor inspiration that'll get them excited about DIY!