Cute DIY Key Chains That Will Stop You From Losing Your Keys
Whether you want a new key chain because you're tired of losing your keys or just because you just love novelty trinkets, you DIY skills can help you out! There are hundreds of different key chain designs you can make, but we've sought out some simple ones that won't take you very long to make. Even though they're simple, however, each of these key chains is eye catching and totally adorable.
Check out these 15 DIY key chain designs that we can hardly even choose between!
1. Cord organizing key chain
Monsters Circus shows you how to make chic little faux leather pouches with a pocket designed to hold the cords you usually take with you when you leave for the day. Store your phone charger or head phones inside to so they're handy and you don't lose them!
2. Leather tassel key hoops
Leather and faux leather come in all kinds of colours and, if you ask us, the brighter the colour it is, the more fun it looks! These decorative tassels are are super cute and you'll have trouble losing your keys in your purse with one of these attached. Get the instructions for how to make them at Design Love Fest.
3. Wooden glitter heart key chains
Do you love trinkets with a bit more of a rustic feel? These round little pieces of wood are perfect for you then! Add a bit of modern flair by creating a glittered heart in the centre, just like Flax and Twine did!
4. Beaded key circles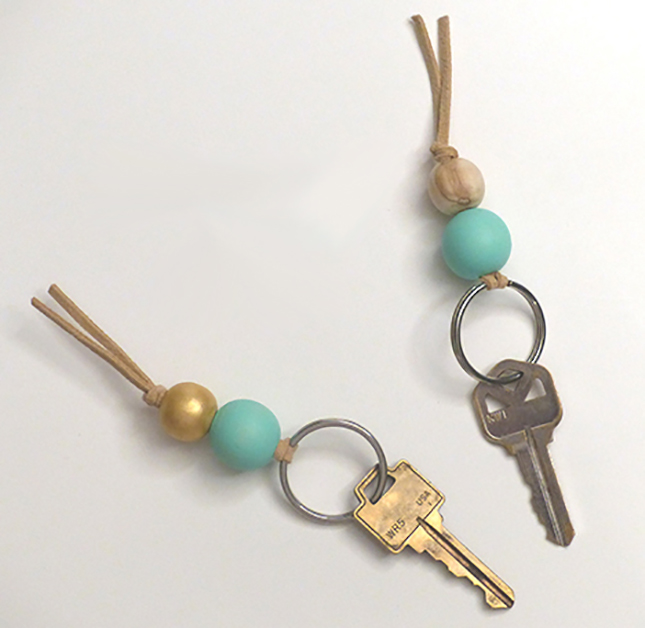 Do you need something super simple but still cute to attach your spare key to before you hand it to a friend for house sitting? These beaded key chains from Love and Notion are a quick fix, but they're still totally trendy too!
5. Mini home key chains
La Maison de Lulu reminds you that keeping it simple can be a good thing. Cut (or have someone help you cut) a small square of wood into the outlined shape of a house. Paint it up how you please or leave the little abode au naturel. Attach the house to your actual house key in order to differentiate it from the rest of your keys.
6. Macrame key lasso
Do you remember weaving and braiding friendship bracelets as a kit? That's basically what you're doing here too! Lebenslustiger shows you how to make this woven and beaded pattern easily.
7. Leather and gold leaf key hoops
Besides a strip of leather or faux leather and a key ring, all you really need for these trendy little key chains is a pair of scissors and some gold leaf paint! Creative Bug shows you which cuts to make.
8. Paint stick key chains
Do you have leftover paint stirring and swatching sticks from the last time you painted your home? Ruffled shoes you how to upcycle those into these adorable labeled key chains that you can paint any colour you like.
9. Geometric leather key loops
Geometric shapes and patterns are very stylish right now, and we're not mad about that at all! Lovely Indeed shows you how to cut, sew, and fill the leather or faux leather that you'll use to make these little shaped key chins.
10. Personalized key wraps
Having leather printed with words, names, or initials is always thought because people just love customization! These little leather ribbon chains by The Sweetest Occasion will help your family keep it straight whose key is whose.
11. Bright monogram key chain
Thanks, I Made It Paint and an enamel or sealing mod podge later are all you need to transform a regular old initial key chain into something bright that we would totally wear.
12. Ombre yarn key tassels
Do you have tons of yarn ends that you've been trying to us up for a while now? A projet like this one by Twinkle and Toast are easily identifiable and visibly a cute craft to do and wear.
13. Animal toy key chains
Do you have a collection of toy animals lying around from when you were a kid? Try following Ginger Snaps' lead and turning them into key chains by giving them a fresh coat of people and lightly drilling a small key chain into each one.
14. Heart pillow key chain
x
This little heart "pillow" key chain is an adorable way to mark out the new key you just got for your boyfriend's place! Check out the full instructions on Ginger Snaps.
15. Leather feather key danglers
Love Maegan Carefully cut a feather shape in a small swatch of leather or faux leather. feather one side of it the overall effect turnd out quite pretty.
Have you created yourself othr DIY key chains that we absolutely must see? Tell us all about that in the comments section@