15 DIY Rugs To Create, Weave, and Produce For The House
It could be for the front door. Maybe even for the back door. There needs to be something in the bathroom or kitchen. But there should be a pop of something in the hallway too. Rugs are an essential to the home – so why not try to design and make some for yourself? Thankfully, you can and we're showing you some ways to bring it to fruition. Find 15 DIY rugs to create, weave, and produce for the house below.
1. Dyed Faux Fur
Paper & Stitch will show you how to dye a faux fur rug with ease. This is perfect for making over found pieces or upcycling an old design you already have. We especially love this blushing shade used in this project.
2. Ciao
Francois et Moi created a rug with some rope! The addition of the "ciao" is a nice bout of personalization and sparks a ton of unique ideas in our head. Try placing this one at the front door, back door, or even in the kitchen.
3. Bear Rug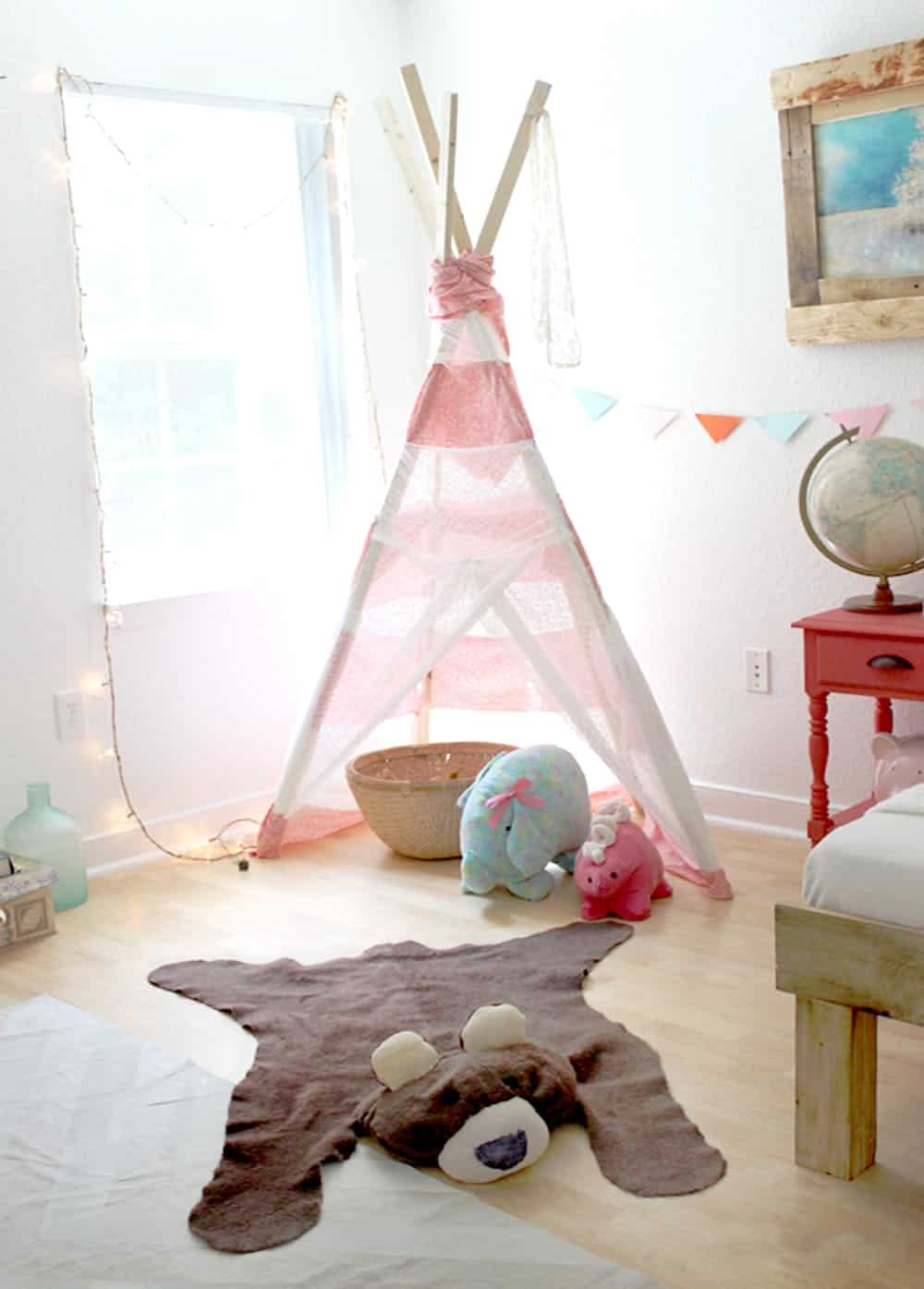 We Lived Happily Ever After has a design that works for the nursery or kids' playrooms. Create your own bear rug and add a bit of extra comfort and youthful appeal to any space. It's a nice setup for a relaxing spot for reading or napping as well.
4. Pineapple Bath Mat
We're definintely swooning over this cutie from Dream Green DIY. You can even take this idea further and use it as inspiration for other designs. Any of fruit slice would work inside the bathroom too.
5. Heart Shag
We're loving this one too. A heart, shag rug is the perfect, plush addition to – truly – any space of the house. In the kitchen, in the bedroom, or as an extra pop in a small dorm room … check it out at Stitch Craft Create.
6. No Sew Braided
If you want no parts of sewing … you'll want to check out this no-sew option from The Wonder Forest. You'll be braiding pieces of fabric together to finish off the design. Pick your colors and create your personalized piece for the kitchen or bathroom.
7. Triangle Painted
You'll need some paint for this job. The geometric print is perfect for more contemporary spaces and work well to add a pop of personalization to any nook or cranny that needs it. Hop on over to October June to grab all of the details.
8. Fruit Slices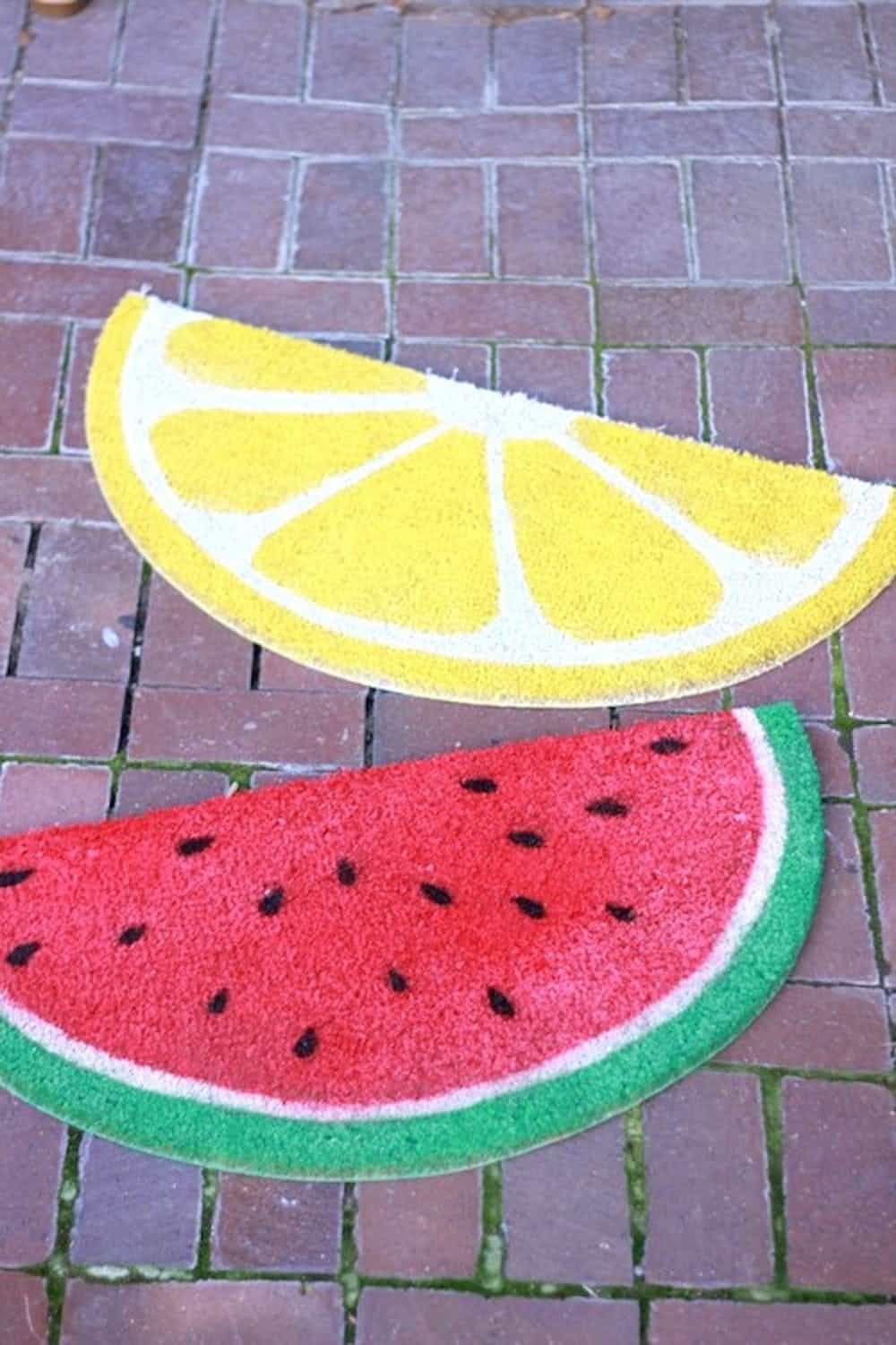 The House That Lars Built has another fruity project for us to swoon for. These really are perfect for bathrooms and kitchens. Pick a slice and start whipping it up for your space by the weekend.
9. Static Woven Lines
Check out this amazing project at A Beautiful Mess! The finished project looks to me store-worthy and right on trend with all the various bohemian and contemporary fused options floating around the magazines and blogs. Visit now to get started.
10. Coil Crochet
We're loving this coil porject as well. It's a more traditional piece but the shape makes it a more offbeat option. My Poppet Makes has the tutorial for it.
11. Pom Pom
If you want another unique project at your fingertips, you'll need to visit The Wonder Forest again. A bout of pom poms can definintely turn into something plush and magical for your home. Hop on over now to uncover the instructions.
12. Twisted
We're really impessed with this project from Pat Bravo Design. And because of its texture, it seems to be a great fit for our outdoors areas, don't you think? And the bits and bouts of color really personalize the finished rug nicely.
13. Spiralling
Pat Bravo Design has another unique rug that we fancy quite alot. It has a plush and comofortable vibe but also a comfortable and welcoming look as well. Take the dive now and make one happen for your own bedroom or home office.
14. Donut
We're really into this adorable donut rug. Welcome guests with one of these cuties by the front door. Details can be found at The House That Lars Built.
15. Fabric
And finally, check out Brit + Co and its creation of this gorgeous, fabric throw rug. It took as a store-bought quality we're loving and falls right in line with current interior design trends.