DIY Wainscoting Ideas – How to Create a Diy Wainscoting Look at Home
Whether you're making over certain space in a new house before you move in or simply looking to liven up plain expanses of wall in the house you've been living in for years, wainscoting is a fantastic option because it's shockingly simple, a great beginner's project for home DIY starters, and quite affordable to boot! We've been thinking about adding some wainscoting detail to our hallway recently, so we've had our eyes open for all kinds of tutorials and guides that might help us decide on a technique and design.
Just in case you're as enamoured with the idea of putting in your own wainscoting as we were, if not more, here are 15 of the very best ideas, designs, and tutorials that we've come across so far in our search for inspiration and guidance!
1.An introduction to wainscoting for beginners
Have you actually never really been familiar with wainscoting or how it's done and now, even though you know what it looks like enough to be interested, you're looking to learn more about it before you start? Then we think you might find this lovely little guide to all things wainscoting outlined in the form of easy discussion and nice, clear photos on Netluxury!
2. Classic wainscoting panel on a staircase
Possible the most common kind of wainscoting project, the angled ledge down the stairs from the upper hallway is probably also the kind you're familiar with and have seen places the most. Just in case that's the space in your home you're looking to makeover with some wainscoting now too but the idea of working on an angle intimidates you, here's a tutorial fromSnazzy Little Things that has tons of information to help put you at ease!
3. Learn the steps for properly installing wainscoting
Any time you decide to do something yourself that you're even semi-new at, there's a chance that you might tall into one of the common mistakes that even more experience home DIY experts have made before. That's why we find lists of tips and tricks having to do with whatever kind of small renovation we're doing so useful! Take a look at this one from Spencer On The Go to get some helpful overall info about installing wainscoting of just about any kind.
4.Understanding the parts and different types of wainscoting
Have you always been the kind of learner who really wants tounderstand the deeper how's and why's of the way things work, especially if it's something you're about to try doing and making yourself? In that case, we thinkElizabeth Bixler might havejust the resource for you! They walk you through the anatomy of wainscoting, explaining what each piece is called and the purpose it serves, which will make your whole process a little easier once you get started.
5.How to measure, layout, and estimate your wainscoting materials before you start
Have you ever heard of a helpful little thing called a wainscoting calendar? Well, we hadn't either to be honest, but we're certainly glad we have now! Besides giving you an actual calculator designed to help you estimate how much of each wainscoting material you'll need for the measurements of your space, this page on Inch Calculator also gives you some guidelines for measuring the area properly depending on the style of wainscoting you intend on installing.
6. Barn door inspired wainscoting in a room
Are you actually so in love with the idea of putting in wainscoting that you're willing to commit a large portion of the room you have in mind to it? Well, particularly if you've gone out of your way to establish a sort of farmhouse chic aesthetic throughout your home, then we think you just might be the perfect person to give this fantastic barn door inspired wainscoting project outlined on Remodelaholic a try!
7.Installing wainscoting shapes to the wall to be painted
Have you actually always loved the way monochromatic wainscoting looks, where the ridges and the flat background blend quite well together, but you were planning on using your actual wall as the background rather than installing a separate wainscoting piece? In that case, we think you'll find this tutorial fromHometalk that does precisely that and then outlines steps for a seamless paint of the entire area very helpful indeed!
8.DIY board and batten wainscoting
Just in case you're not familiar with different types of wainscoting yet, board and batten is a type of wainscoting that is simple, features clean lines, and is slightly old fashioned looking, hearkening back to a kind of farmhouse or shaker aesthetic. Over the years it has trended in and out of interior decor fashion, but its classic look makes it quite a staple and we love how simple it is. Here's a full tutorial fromHome Depot for making it happen right, with those recesses done properly!
9.DIY recessed wainscoting
Are you very intrigued indeed by the concept of recessed wainscoting but you're also not sure you want to go quite as deep as the board and batten style we showed you above? In that case, we think you might prefer a slightly more subtle alcove look like this one outlined step by careful step onHousekaboodle.
10.Installing floor to ceiling wainscoting
If you're going to go to all the time, effort, and money of installing wainscoting in your home, would you rather make sure it'sreally noticeable in at least one room, almost like a statement piece? In that case, we'ddefinitely suggest taking a look at howFour Generations, One Roof did this wonderfully squared off wainscoting project that extends all the way from floor to ceiling.
11. Wainscoting entryway space
Wainscoting doesn't necessarily have to be solely decorative; it can actually serve a practical function in different spaces as well! We're completely in love with the wayCarefree Blonde outlines and entryway wainscoting project, for example, that's actually also a proper welcome station complete with coat hooks and a bench for sitting on when you put on your shoes. It's certainly a challenge, but we'd be willing to bed that it's actually easier to do than you might think!
12.How to install picture frame moulding
Are you actually quite interested in the more subtly recessed wainscoting design we showed you earlier but you can't help wondering whether there's a way around using individual pieces to construct the square shapes right there on the wall? Then we think you just might be the perfect person to give this simple photo frame hack a try! See how it's done in more detail onAddicted 2 Decorating.
13.DIY bathroom wainscoting for under $50
Are you actually looking for an incredibly simple and affordable bathroom based wainscoting project but you might also need some tips along the way for working with very limited spaces, since your bathroom is quite small indeed? In that case, we thinkStart at Home Decor might havejust the tutorial for you! Check out how they made their simple lower half wainscoting look happen in this small alcove space for under $50.
14.Wainscoting with a built-in magazine rack
Are you creating your wainscoting look in an older house that has all kinds of random dips and features in the walls where outdated things used to sit, and now you're looking for ways to repurpose or work with those little cubbies and alcoves? In that case, we think you might get areal kick out of the wayLittle Vintage Cottage took advantage of the space where an outdated radiator used to sit by keeping it in their wainscoting to serve as a magazine rack!
15.DIY faux wainscoting using chair rails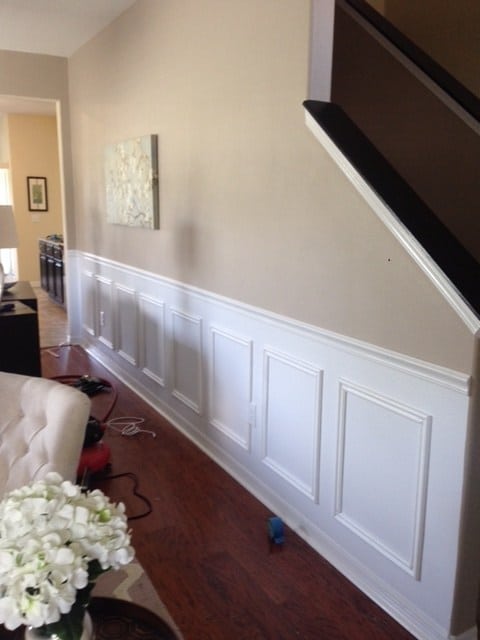 Were you actually so intrigued by the photo frame wainscoting hack we showed you earlier on our list that now you can't help wondering whether there areother tricks like that out there as well? In that case, we have a feeling you're going to get a real kick out of the wayFrills and Drills created an entire "faux" wainscoting wall using chair rails! This is a great starter project for a small space if you're just starting out in home renovations.
Do you know a fellow home crafter or DIY enthusiast who is intent on installing their own wainscoting but could also use a little bit of guidance along the way? Share this post with them so they have all kinds of help while they're at it!