13 DIY Backyard Light Ideas To Prep For Spring Nights
Once it starts heating up outside, you'll want to spread your wings a little and grab some fresh air. While you wait for the temps to rise, why not start daydreaming about how to style your patios and porches so they're ready when the weather is? Start off with lighting, which is create a foundational and friendly atmosphere for you and your friends to enjoy. Here are 13 DIY backyard light ideas to prep for your spring nights outside.
1. Hamburger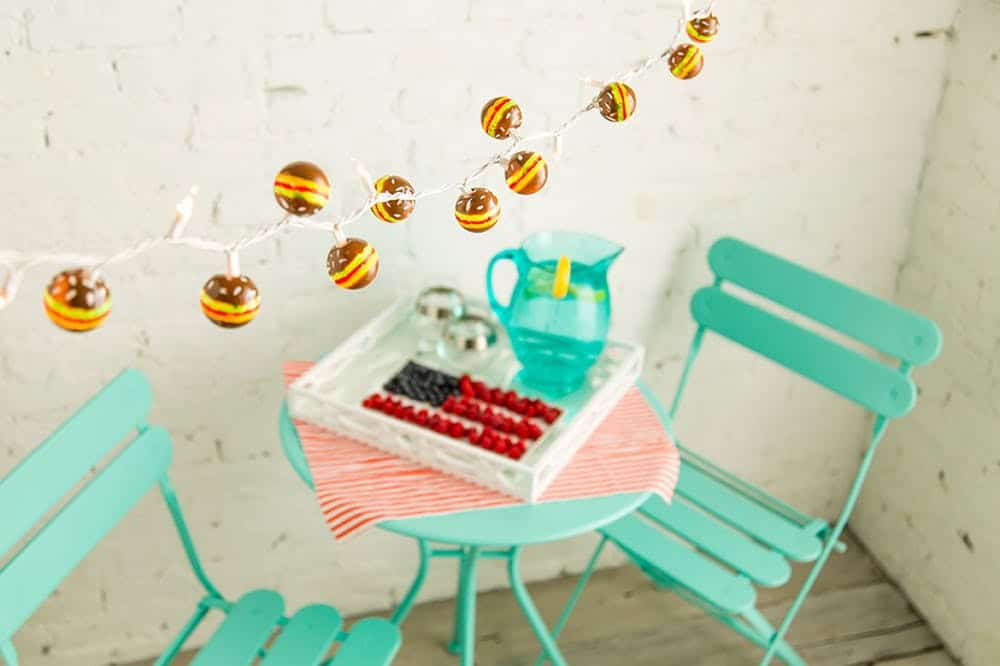 Brit + Co starts us off with these wildly funny and festive hamburger lights! All you need is a set of ping pong balls to get yourself started – and a bit of paint to add your toppings of course. Check out the details after the jump.
2. Paper Ranunculus
Add a bit of floral spirits to the outdoor entertaining area. Brit + Co has these lined up for us to learn from as well. Wrap them around the columns, hang them around the windows, drape them over the rocking chairs … there are so many ways to utilize these fun bits.
3. Cheese Cloth
Yes, you can turn cheese cloth into some wonderful string lights. Just visit Buzzfeed and learn how to make a rainbow design full of festivity and life. They're wonderful for adding some extra pizzazz to an area that needs some youthful appeal – especially when a lot of entertaining will be taking place.
4. Cotton Candy
If you run on over to Buzzfeed you'll find another foodie-inspired strig light design. This time you can make your cotton candy glow and hang them on the fences. Perfect for brithday parties, showers, and the like – even an afternoon tea party.
5. Blow Box
A Subtle Revelry created some Blow Box lights that would look really nice out on the patio as well. An array of colors (of course you can use neutrals to) they'll infuse a springtime flavor into the air. Grab all the details for their creation after the jump.
6. Yarn-Wrapped
We're loving this innovative way to take standard twinkle lights and turn them into something special. At You Are My Fave yarn is all you need to turn the functional bits into a piece of art and focus for the backyard. Take the leap and follow along with the easy-to-read tutorial.
7. Garland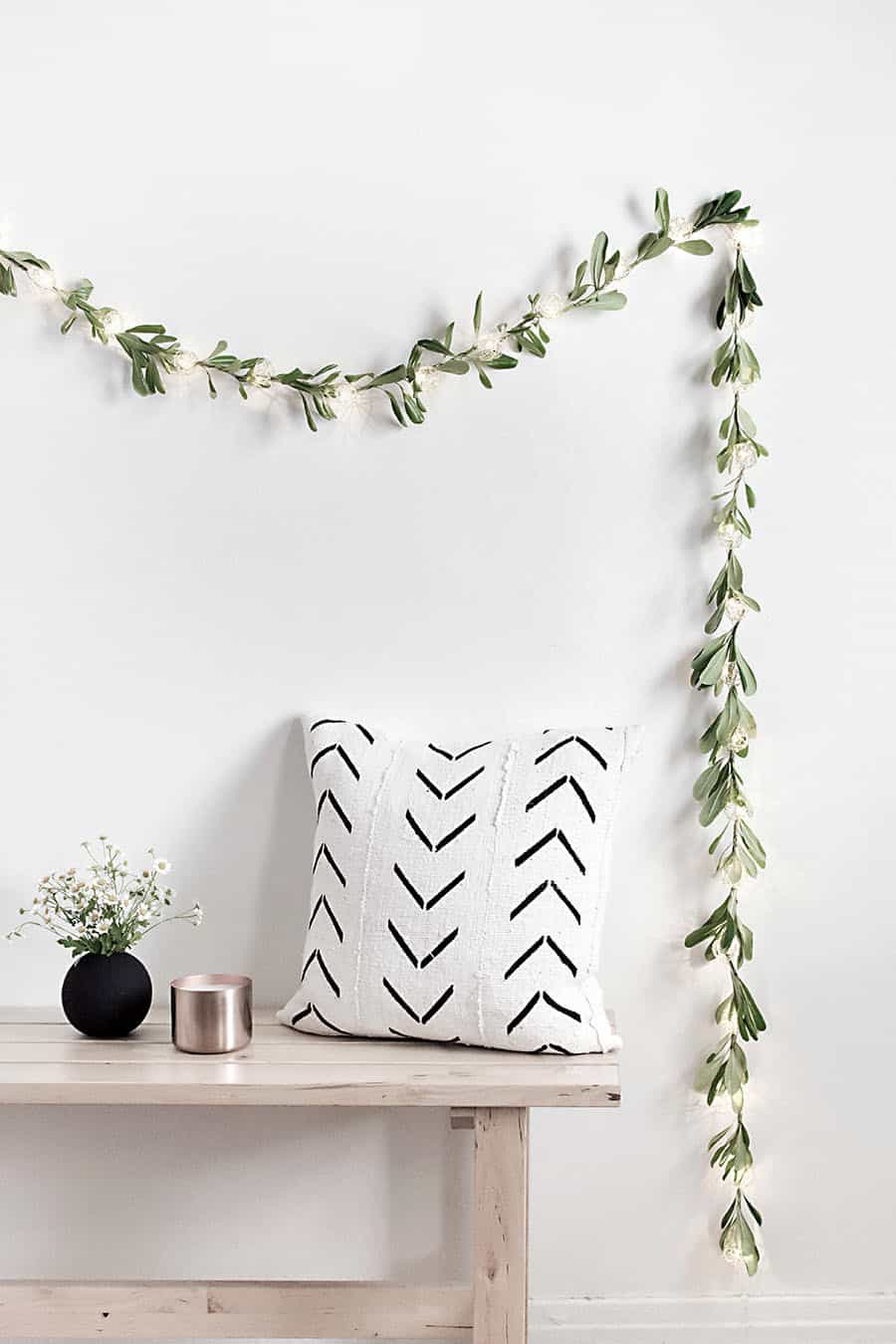 Make your twinkles a bit more subtle and blendable with the outdoors. Homey Oh My will show you what it takes to create string lights that look like traditional garland – which is great way to style with a more natural, organic vision in mind.
8. Rope
Maybe you like an industrial look, an edgy appeal, or some nautical inspiration, whatever the case, ropes work as a wonderful foundation for your twinkle lights. Not only will it help with your styling and vision but with hanging them up and situating them as well. Check it out at AMM blog.
9. Polka Dots
Here's another festive design that we are swooning for. We love the light-hearted and kid-friendly appeal. Chekc out these cuties by visiting Heart Handmade!
10. Coffee Filters
Yes, you can even use coffee filters to create some string light magic. We found this idea over at Craft Your Happiness. There's an extra special bout of romance included in these designs.
11. Paper Cups
Rhiannon Bosse used some classic Dixie Cups to create some string lights. We love how these small, pastel paper pieces can create something so easy and magical. Even a novice crafter will be able to whip some of these up without a problem.
12. Ribbon Tassels
Brit + Co did it again with these string light designs! Grab your ribbons and create something extra fun and festive. Do a monochromatic scheme or one with a bunch of colors.
13. Ping Pong Balls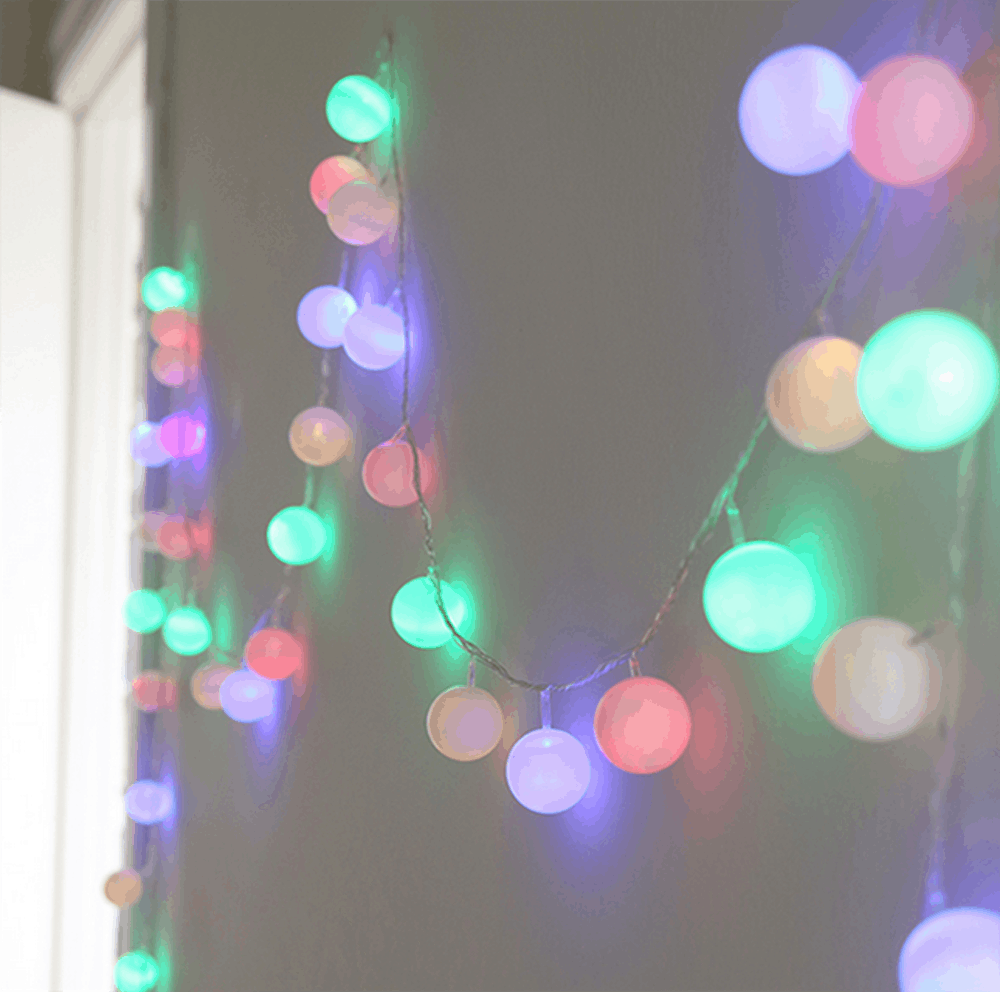 Say Yes used some ping pongs in their DIY twinkle lights as well. They're dubbed "cafe" lights because of their soft, pastel glow. Of course, they would do well inside a covered patio, but don't be afraid to take these inside to light any guest bedrooms, nurseries, or even loft areas.