Beautiful DIY Succulent Gardens
If you're anything like us and you like to keep an eye on different trends in home decor and DIY, then you probably know all about how popular succulent plants have been lately! Besides loving the way they look, we also love the way they add some greenery to a room in a way that's low maintenance, easy to care for, and easy to grow in all kinds of ways, directions, and containers. That's why we always have an eye open for fantastic DIY succulent garden tutorials that might help us add some character to our home, yard, and work spaces.
Just in case you love the idea of making awesome succulent gardens just as much as we do, if not more, here are 15 of the very best ideas, designs, and tutorials that we've come across so far in our search for inspiration and guidance!
1. Miniature rock succulent garden
In addition to being a huge fan of succulent gardens, do you also have a great fondness for rock gardens even though you don't have the space outside to make yourself a large one? In that case, we think you might prefer to not only make yourself a miniature rock garden that will fit anywhere in your home but that also features succulents dotted throughout the stones! Get the details for making one of your own on Miami Flower Market.
2. Rocky garden in a glass bowl
Are you quite a big fan of the idea of making a rock and succulent garden in a miniature container but your home actually has a slightly more kitschy or waterside themed aesthetic to it? Then we think you might get along a little better with something like this rocky succulent garden featuring water pebbles in a glass bowl! See what we mean on Hannah Hagler.
3. Succulent garden in a painted seashell
Does the idea of making a succulent garden in something small that you can put anywhere really appeal to you but we also really caught your attention when we talked about seaside aesthetics? In that case, we'd definitely suggest taking a look at how World of Succulents made this stunning succulent garden inside a painted seashell!
4. Wooden box succulent garden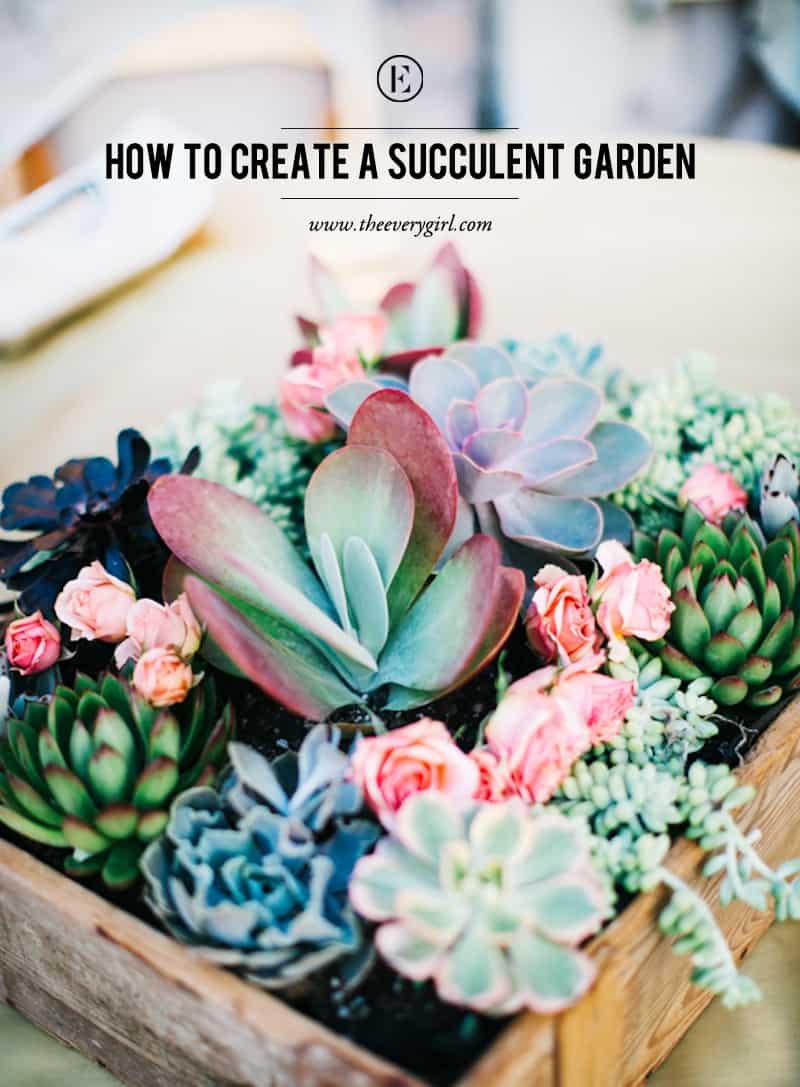 Perhaps you're very interested indeed in this idea of making a mobile succulent garden but you'd prefer to make it a simpler concept, especially if you have some kind of rustic chic aesthetic in your home? In that case, we'd absolutely suggest taking a look at how The Every Girl made this lovely succulent garden in a wooden box!
5. Succulent garden shadow box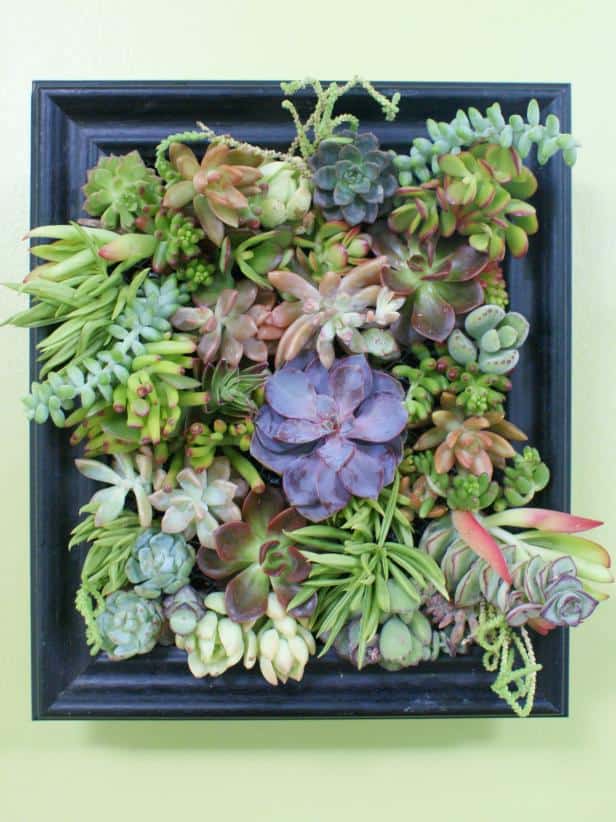 Do you actually quite enjoy the look of a succulent garden with a wooden border but you're not sure you have the table space for a boxed version like we've just shown you above? Then perhaps you'd prefer to make a succulent shadow box instead! We're in love with the way DIY Network did just that, outlining the steps nice and simply.
6. Felt succulent vertical garden
Have you actually been scrolling through our list thinking about how your lifestyle is so busy that even succulents might be a bit too difficult to keep in perfect plant health, despite the fact that you still can't help wanting to add some element of greenery to your space? In that case, we have a feeling you'll really enjoy the way Lia Griffith provides guidelines for making felt succulent garden boxes instead! These will stay lush and green looking under basically any conditions.
7. Spray painted succulent arrangement
Have you always loved the shape of succulents because they come in so many different styles but your sense of personal aesthetic and decor is actually usually a little more colourful than just average green life? In that case, we think you might be the perfect person to give these eye catching spray painted succulents a try! Flowers by Bornay guides you step by step through the process of making a whole colourful arrangement in purples, but we adore the idea of recreating this in just about any colour under the sun.
8. Driftwood succulents
Perhaps you actually love succulents so much that you're looking for something that's a little more of a statement piece? Well, this next idea is one that will actually work in large or miniature sizes, so we're more than a little partial to it! Check out how Tended planted their succulents right into the hollows of a piece of driftwood.
9. Upcycled pallet succulent living wall
Did we actually really catch your attention the best when we started talking about the idea of making a kind of succulent garden that harnesses a sort of rustic chic aesthetic but you're also the kind of person who loves taking any opportunity you can to upcycle when you craft? In that case, we think you'll get along very well indeed with the way Mountain Crest Gardens created this repurposed wooden pallet succulent garden by planting their succulents in the spaces between the wooden boards and leaning or mounting it on or against the wall.
10. Succulent planter from vintage books
If you're going to make yourself some kind of miniature garden from scratch, would you prefer to make something with a lot more kitschy character or novelty to it? Well, if you've ever been an avid reader them we're convinced HGTV has just the kind of project you've been looking for! Check out their tutorial to see how they made lovely miniature succulent gardens right in the centre of old or damaged hard cover books.
11. Painted vintage frame succulent garden
Perhaps you quite enjoyed the framed look of the shadow box succulent garden we showed you a little bit earlier on our list but your favourite part of it was how the outer frame surrounded the succulents and now you can't help wondering whether you can't make a slightly more decorative version? In that case, we'd absolutely suggest taking a look at how The Homespun Hydrangea made a miniature hanging garden using a vintage frame painted in bright colours for a bit of a pop.
12. Succulent fairy garden
If you're going to make something miniature and unique involving succulents, would you actually rather create something a little more whimsical and based in fantasy, since you've always found their shapes so interesting? Well, if you love fairies as much as we do, then we think you simply must take a look at the way Garden Answer made this fantastic succulent garden in a cake tin.
13. String wrapped hanging succulent balls
Perhaps you're the kind of DIY enthusiast who loves to make things entirely from scratch with your own two hands and you also really enjoy when things actually look a little bit handmade? In that case, we have a feeling you'll find this creative string wrapped succulent garden featured on The Hip Homestead very interesting indeed! We love the way they hung their orbs from a wooden dowel like a plant mobile.
14. Painted mason jar succulent gardens
Are you actually such a big fan of succulent gardens that you're also always on the lookout for crafty ways to share what you love with friends and family, either as something you can make together very easily or even something you can give away as a gift? In that case, we'd definitely suggest taking a look at how The 36th Avenue made these lovely chalk painted succulent gardens made in mason jars!
15. Mini succulent gardens in teacups
Have you actually been scrolling through our list hoping to come across something that will help you not only make yourself a charming miniature succulent garden but also that will suit your slightly more vintage chic aesthetic? In that case, we're convinced that these adorable thrift shop teacup succulents outlined step by simple step on Sustainable Home Hub will suit you quite nicely!
Have you made other kinds of awesome DIY succulent gardens before that you were very happy with indeed and that looked great inside and outside your home but that you don't see here on our list? Tell us all about what you created and how you did it or link us to photos of your finished work in the comments section!