Awesome DIY Projects for Your Bathroom
When it comes to overhauling the rooms in our house, we're always enthusiastic about adding and changing things in the decor scheme. What we love most, though, is using our DIY skills to make it happen! That's why we've always got our eyes peeled for awesome homemade decor pieces that we've never tried before. Recently, we moved into a new home and the only room left that still needs a little bit of a decor makeover is the bathroom, so we've been scouring the Internet for awesome bathroom based DIY ideas that might help us take our space to the next level.
Are you feeling quite enamoured with the idea of making DIY things for your own bathroom as well? Check out this list of 15 fantastic ideas, designs, and tutorials that we've come across so far in our search for inspiration and guidance!
1. Long bathroom mirror cupboard
Perhaps you're looking for something slightly less decorative and a little more practical but you're also hoping to establish a kind of rustic chic aesthetic? In that case, if you're not opposed to the idea of doing a little bit of super simple woodworking, then we'd definitely suggest taking a look at how Shanty 2 Chic made this awesome wall mounted reclaimed wooden piece that is part mirror and part supply storage.
2. Custom tile shower pan
If you're going to use your DIY skills to update part of your bathroom, would you actually much rather do something more permanent and will help the place function even better at the same time as it makes things look a little nicer? Well, if the idea of doing some custom tiling doesn't intimidate you too much, then we'd definitely suggest taking a look at how Apartment Therapy laid out the steps of their tutorial!
3. Mosaic tile bathroom mirror
Perhaps we've actually caught your attention quite well with this idea of doing some custom tiling but you're just not sure you're feeling quite confident enough to handle the entire shower tray? Then perhaps a slightly smaller piece that uses the same technique might be a better intro project. Take a better look at Centsational Style to see how they tiled the border of their bathroom mirror.
4. Easy DIY toilet topper tray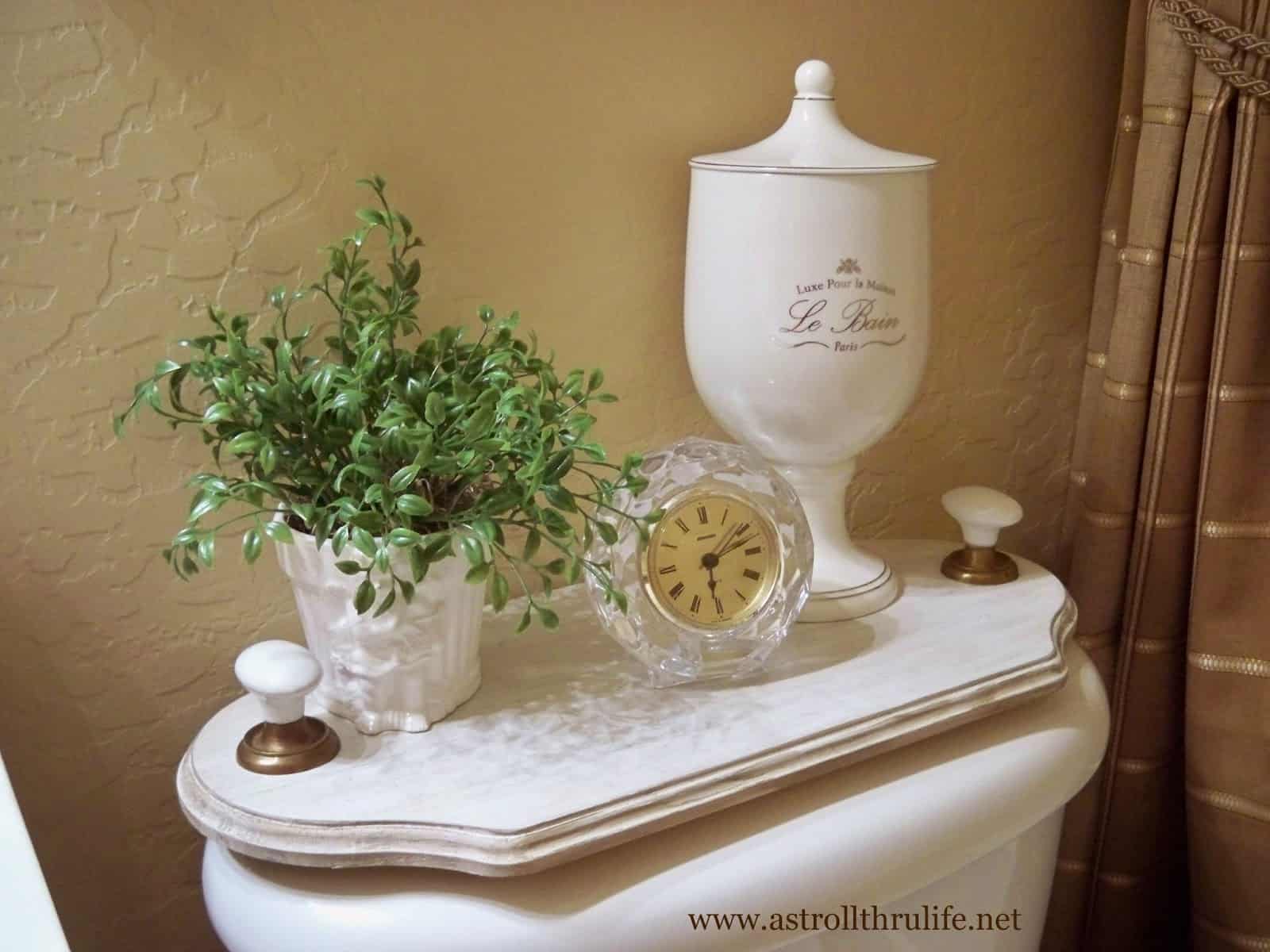 Have you always lived in houses with flat toilet tank tops that you got used to putting things on, but now you're in a new place with a tank that has rounded edges, so you find that anything you put there falls off? Then we have a feeling you might appreciate the way A Stroll Thru Life made this fantastic toilet paper tray that gives you an additional flat surface to set things on that they won't slip off of. It also adds a great vintage inspired aesthetic in a way that's very simple to do.