Lovely DIY Porch Swings for Warm Days
Even thought the weather isn't quite warm enough outside where we live to enjoy a porch swing right now, we're already thinking about how that's the first outdoor project we want to tackle for our home the moment things warm up. We're doing the research now so that we're prepared to make it happen when the time is right! We know you can buy all kinds of porch swings in stores, but we always just feel more satisfied when we've created something like that ourselves, so we took to the Internet for some inspiration and guidance and we were quite pleased indeed with what we found!
Just in case you're feeling just as interested as we are, if not more, in making your very own porch swing, here are 15 of the very best ideas, designs, and tutorials that we've come across so far in our search.
1. DIY $40 farmhouse inspired porch swing
Are you working on a budget and convinced that you can still make a great DIY porch swing happens even if you don't have all the money in the world to spend on it? Well, we're pleased to announce that you're actually correct about that! Check out how Shanty 2 Chic outlined their porch swing making process that only ended up costing them $40 and an afternoon.
2. Classic white wooden porch swing
Do you love the idea of a wooden porch swing that looks like something you might have seen at a farmhouse of auld, but you've also got a gorgeous white porch that you worked very hard on perfecting and you'd like it to match? In that case, we think you'll find just what you're looking for in this tutorial featured in detail on A Beautiful Mess.
3. Low back porch swing with a cushion seat
Are you actually scrolling through our list hoping to find something a little more casual and a little less high and large in its structure, because you find those take up so much space? In that case, we have a sneaking suspicion that you might get along a little better with this awesome tutorial from Simply Designing that teaches you how to make a porch swing with a low back and a comfy cushion seat.
4. Large modern porch swing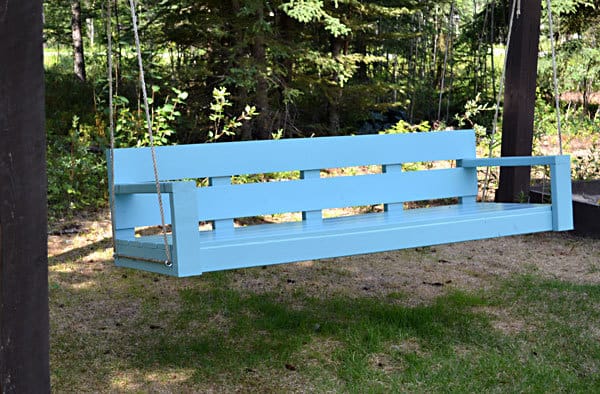 Do you come from a larger family with kids who are always trying to do things all together at once, so you find you simply have to make everything a touch bigger than usual? Then here's a porch swing design that might be a little more along the lines of what you need! This tutorial from Ana White shows you just how simple an extra long seat and a slightly modern looking shape can be to include in your porch swing design.