10 of the Best Gardening Kits For Kids!
If you have a little one itching to get their hands dirty, we have several great options to get them started! Afters scouring Amazon, we've created a list of 10 of the best gardening kits for the kids. Use them at birthday presents or gifts for the holidays. Or grab one to get started this spring! There's something that will catch the fancy of any of your children.
The Light-Up Fairy Garden Kit includes everything your kiddo would need to plant, grow, and style their own fairy garden. Throughout the day the greens will grow and at night the space will glow with the inclusion of LED projection lights. Also included in the kit is a garden plate, soil, wheatgrass and chai seeds,  rocks, figurines, small house pieces for building, trees, watering bottle, USB cable for charging, and instructions.
What's great about this kit is that it really is a learning experience built into something that stirs imaginative play too. Your little guys and gals will learn about plants life cycle while coming up with new, fantastical stories for their fairies.
View price on Amazon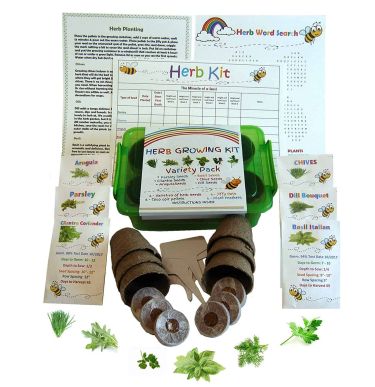 If you are looking for something a little simpler and with plants that are 100% usable, think about investing in an herb garden. It'll teach them and satisfy their craving for getting those hands dirty all at the same time.
This Kids' Herb Garden includes six different herbs that can be planted and grown for use! The price point is perfection and the pride your children will get from growing their own herbs from scratch is undeniable. Included are basil, coriander, chives, dill, parsley, and arugula.
View price on Amazon
Terrariums can be a really fun project to commit too and what's even better is they're really trendy right now too. If you're looking for one, we love the Mini Light-Up Terrarium Kit that contains a miniature garden inside. During the day, the plants will grow and at night it can be turned on to glow – which is a nice addition to a traditional terrarium setup.
This kit includes: a jar, light-up lid, USB charging cable, instructional booklet, soil, blue sand, rocks, wheatgrass and chai seeds, miniature figurines, stickers, spray bottle, and a wooden stick for planting. This too is an opportunity for both creativity and educational expansion for the kiddos.
View price on Amazon
For the children with an extra bout of artistic ability up their sleeve, grab this rock painting kit. They'll be able to paint to their hearts desire and then spread the joy. The Hide-and-Seek Rock Painting Kit gives you everything needed to create tiny piece of art that can inspire your garden or be hid for others around the community to uncover and cherish.
Your purchase will include rocks, waterproof paint, paintbrushes, stickers, and everything else you may need to conjure up some great designs. And the price point won't break the bank either.
View price on Amazon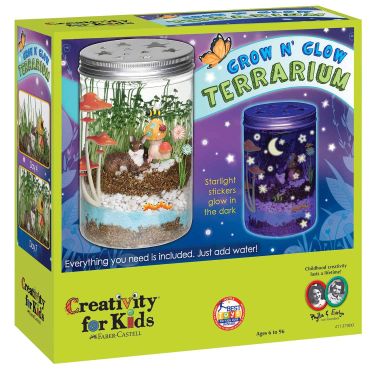 This Grow N' Glow Terrarium also give kids time to grow their greens and glow them too. And what's so special about this set-up is that your impatient little ones won't have to wait too long to see their habitat come to life-in as little as 3 to 4 days!
The kit is complete with everyone one would need to create two full plant life cycles. It's a lesson and a chance to explore all-in-one! You'll get a plastic mason-style jar, decorative lid, potting mix, organic chia and wheat grass seeds, garden figurines, decorative sand, river stones and a plant mister to keep your terrarium watered.
View price on Amazon
This set seems more like a traditional flower garden kit but with a personalized twist! Dan & Darci's Paint & Plant Flower Kit gives kids the chance to paint their own pots and planter markers to add a unique spin to the overall look of their garden. We love how it can show off personal style in this way!
With purchase you'll receive a tin planter, plastic liner, soil, seed packages, paint, paintbrushes, palette, plant markers, a shovel, watering bottle, and instructions. Want another reason to buy this for the kids? This product has been evaluated by STEM.org and has been authenticated to meet the highest standards of STEM learning.
View price on Amazon
Go for the Magic Bean Garden next! Kids get to plant their own garden and watch their beans grow and reveal hidden messages! There's a chance for creativity here too because you also get to paint your pot to your heart's desire.
This kit too pairs both educational requirements paired with artistic exploration. And it includes everything you need to make the magic happen without splurging on the next "big ticket" item.
View price on Amazon
We have one more terrarium kit on the list and its the Momila DIY Terrarium Kit. This too lights up but has a twist when it comes to the scene it'll display inside. Kids can create a mini garden inside the jar and watch it comes to life.
This box rolls education and play into one, inexpensive package. It's a great gift for all ages – but especially children curious about the world around them.
View price on Amazon
The Indoor Herb Garden Starter Kit is another wonderful option for all ages, but because of its beginner aim it's really great for kids to get started in this realm too. Each box contains 100% certified organic materials including Italian Large Leaf Basil, Coriander Cilantro, Peione Parsley, Broad Leaf Sage and Thyme seeds.
What's really great about the kit is that it can easily be used indoors on the windowsill or countertop – making it the perfect amount of accessibility for children. It's also a great gift idea for host and hostesses.
View price on Amazon
We end our list of amazing gardening kits with this charming Plant A Pizza Garden set. The display will hook the interest of the kids and the activity will teach and inspire too. There's everything you need here to create a real-life pizza (once the growing has ended.)
You start your pizza garden here and then eventually your plants will need to be transferred to a larger plater. Basil, tomatoes, oregano, and peppers can all come to fruition from this fun box! Decorate, plant, water, and grow – and watch the pride of your kids grow too.
View price on Amazon