35 Funky Pillow DIYS for Your Stylish Home or Dorm Room
Cultivating a home takes a lot of time. From picking out furniture to choosing colors, it takes decision-making and, sometimes, DIYing to finish. That goes for your dorm rooms and apartments too! And when it comes to the bedrooms or living room, it's all about creating a welcomed coziness. One way to do that is to have the right amount of pillows and blankets to transform the area into a relaxed, comfortable spot. And today, we're showing off 35 pillow DIYs that are a little funky, a lot stylish and easy to recreate.
1. Triangle-Stamped
This triangle-stamped DIY from Hello Lidy acts as a great way to update older pillows, decorate pillow cases or inspire one to make a new piece of cozy from scratch!
2. Appliques
We're in love with this colorful and creative appliquéd pillow. Creature Comforts made this pillow with a unique design using printable, patterned embellishments.
3. Heart-Stitched
Homedit showed off this heart-stitched pillow that we're completely swooning over. We love the printed fabric used to create the shape and the overall, chiming quality.
4. Button-Up Shirts
When we stumbled upon this idea at Ducklings in a Row, we knew instantly that we had to feature it. Create an incredibly personal and cozy home with throw pillows made from old button-up shirts!
5. Typed
Thanks to Brit+Co we can learn how to create three different kinds of type pillows. From using iron-on letters to stencils, every one is doable and adorable.
6. Extra-Additions
Spoonful of Imagination took a ready-made and made it more personalized. Starting with a pre-made pillowcase and pillow insert, the addition of some colorful heart appliqués creates a more fun and personalized look.
7. Pom-Poms
Inspired by a pillow seen at Anthropologie, I Heart Naptime created a pillow that was similar in style but still homemade and cozy. Using pom-pom garland to spruce, we're in love with this idea!
8. Rosettes
Learn how to create fabric rosettes from scratch and then use them on a pillow at the Crationary! This piece is a bit more rustic but there are so many different routes you can take with this tutorial.
9. Butterflies
And then at Ruffles & Stuff you can learn how to create a pillow and embellish it with felt butterflies. Of course, colors are up to you, but we love showing of this sunny and creamed-colored piece.
10. Designer-Ruffled
Honeysuckle Life shows us how to create a designer-style pillow … from scratch! We love the ruffle idea and how classy this looks in a formal living space or elegant bedroom.
11. Sweaters
Put those older sweaters to good use with this DIY. Cozy up your winter decorating with Brassy Apple's comfortable project.
12. Bunting
The Shabby Creek Cottage made this bunting-styled pillow from scratch and we're in love with its easy charm. Delicate and detailed, you can create something this special too!
13. Felted-Flower
It's not tiny flower appliqués or embellishments, with this DIY by Fab You Bliss you'll learn how to create a pillow that looks like one, plush flower!
14. Ruffled
This classic, traditional pillow is the perfect piece to your cozy home. And with Pieced Pastimes' tutorial you'll be able to recreate it easily and with no fuss.
15. Quoted
The Shabby Creek Cottage also shows us how to make a quick quoted pillow. You may need your computer for this one!
16. Leathered
Yes, even leather can  be used to create a chic and unique pillow to throw around the living room. And at Vintage Revivals, you'll find the right kind of inspiration to do so.
17. Cameoed
Trace and create a cameo look on your pillows with the help of Dear Lillie. We love its vintage flair and chic style for modern homes or retro spaces.
18. Pouffed
Instead of the average throw, over at Design Sponge you can learn how to create a lush pouf for the bedroom or living area. This takes a bit more work, but it's totally worth the end result.
19. Peacocked
If you love powerful prints and colors, you'll love this DIY from Positively Splendid. And you'll get to watch the step-by-step magic in its creation.
20. Gold-Leafed
Learn how to incorporate gold leaf into your pillow-DIYing over at The Gathered Home. We are head-over-heels for this feminine and chic home style!
21. Bicycle-Added
The 36th Avenue created this adorable "Enjoy the Ride" pillow that we're swooning over. Use stencils and fabric scraps to recreate it.
22. Sleeved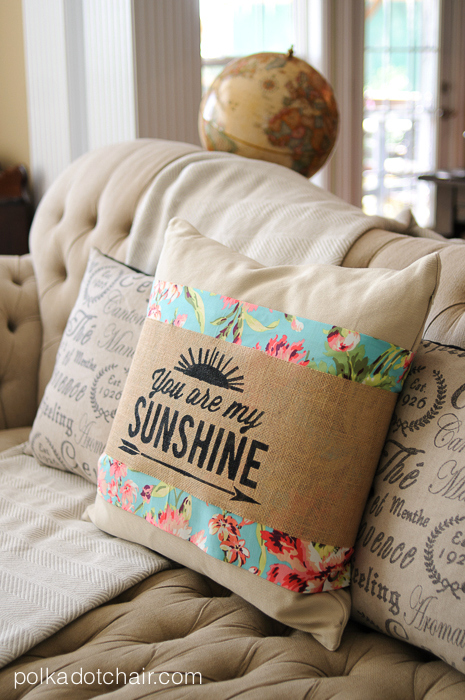 The idea of creating a sleeve for your pillow to embellish throughout the holidays is quite genius. Learn how to make some for your own at Tatertots and Jello.
23. Lumbared
The Sewing Rabbit did something at a bit of a different level than "throw style." They created a lumbar pillow for the bedroom using fabric scraps!
24. Napkin-Covered
Do like View from the Fridge and create a throw pillow using a fabric napkin! If you have extras this is a great way to upcycle.
25. Fall-Adorned
Add a bit more fall to your decor with this BHG special. It's as simple as an iron-on transfer when completing something similar.
26. Strawberried
The Purl Bee created these strawberry pillows and we're completely jealous. How fun would these be for the patio in the spring or your little girl's room?
27. Pocketed
Why not create a pillow with a pocket? See Kate Sew did it and we find it quite the charming, whimsical piece to adorn your home with.
28. Sunburst-Covered
Living Savvy made a sunburst pillow in traditional colors that we find quite versatile. The colors are great for a cozy home, but the design is interesting enough to be stylish too.
29. Tuxedoed
Very similar to the men's button-down project, this style is a more formal, tuxedoed look. And you'll see how to make it at My Own Road.
30. Shagged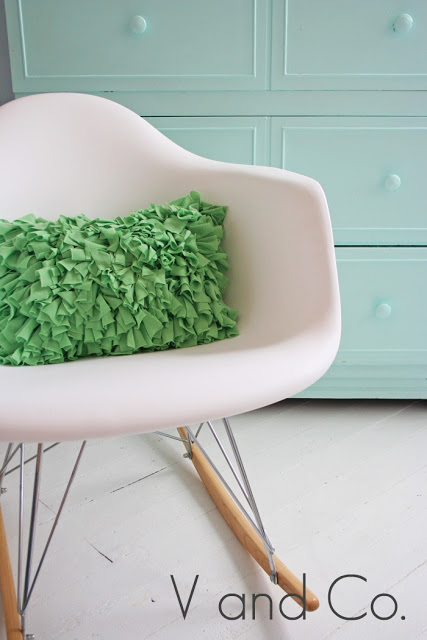 We've all see these trendy little treats in the store. And now, thanks to V and Co., you can have as many as you want – made by you – sprinkled around the house.
31. Monogrammed
Over at Casa de Lewis, you'll see how to turn pillow inserts into beautiful, charming parts of the home. Monogrammed names or fun words, get creative!
32. Doilies
We may have never thought of this on our own, but did you know that you can use doilies as embellishments for your pillows too? Check out the idea at Crap I've Made.
33. Buttons
Make it – Love it shows us not only how to use buttons to embellish your pillows but also how to make your own piping for that pillow!
34. Plush Poms
Bigger pom poms look pretty great on pillows too. Living with Punks made this eclectic cutie and let us in on how to do it for ourselves.
35. Herringbone
This is another Anthropologie-inspired pillow! Created with a stencil, Two Delighted shows us just what to do for making our very own.