If you ask us, summer time is the perfect time for making any kind of crafting of DIY project with flowers. Whether you choose to use flowers that are fresh or faux, the beautifully natural aesthetic you'll build with them is more than worth the effort it takes to weave, bend, glue, or even sew them into shape. Particularly with festival season upon us- our city is currently hosting festivals for music, art, food, and all kinds of things- the time for flower crowns has never been better! Where does one seek inspiration, though, when it comes to making a flower crown that really stands our in the crowd and doesn't just look like something you bought at Forever 21 like everyone else? Of course, there's nothing wrong with buying a flower crown if you're pressed for time, but any crafting enthusiast will tell you that making a crown of your very own is much more fun!
Just in case you need a little bit of mind-jogging when it comes to flower types, designs, shapes, or colour combinations, here are 13 awesome DIY flower crown tutorials that will either get your own creative juices flowing or teach you how to make these looks specifically. You'll look fantastic by the time you're done either way!
1. Peaches and cream rose crown
Roses are one of the most classic flowers to work with when it comes to crafting and DIY of just about any kind. Many people will tell you that roses in red, pink, or white are the best choice but if you ask us, there's another overlooked colour scheme that looks incredibly summery and playful when you weave them all around with stunningly green leaves and baby's breath! Soft peach coloured roses and rose blossoms in a perfectly off-white cream shade will look breath taking on you no matter the shape or style of your crown, but just in case you need a little more guidance in terms of actually construction one, here's a fantastic tutorial on Green Wedding Shoes.
2. Wire roses flower crown
Do you love the idea of working with roses but the only ones you have access to right now are the kind made from fabric and wire at the dollar store or the local crafting store? Well, there's nothing wrong with that at all! At least your crown won't wilt or dry out before your festival or party is finished, right? In fact, Psimadethisis here to show you how crafting with wire stemmed fake roses can actually be a huge bonus because you can wrap the wire around itself to form the base of the crown rather than needing to build on a hairband or other structure.
3. Multi-coloured crown with berries
Are you a huge fan of the idea of using flowers in all different colours, but you're still looking for an extra detail to add into the mix because you can't help but feel that something's missing? We felt the same way last time we made a flower crown for a friend, so we were pretty grateful when we came across this awesome tutorial from Best Friends for Frosting! Besides showing you great techniques for actually constructing the crown itself, they guide you through the process of adding delicate little blue berries to the mix so that they peek out between the flowers in a way that looks absolutely darling.
4. Baby's breath crown
Are you adamant that a flower crown is the perfect accessory for you but your personal style and colour preference is actually a lot more understated than what we've shown you so far? Don't worry, your options are far from over! We think perhaps you'd have more luck creating something like this simple, dainty baby's breath crown created by Green Wedding Shoes. They've used only the tiny white blossoms you see above, which is quite lovely because it lets you showcase something that's usually used as an accent to other, bigger blossoms rather than given centre stage itself even though it's got it's own brand of beauty. This look will stand our particularly well against dark hair thanks to the stark white of the tiny petals.
5. Autumn burlap flower crown
Perhaps you're very into the basic concept of a flower crown, but you're in the kind of crafty mood that makes you want to build something from scratch and you're not really concerned one way or another about whether actual traditional looking flowers make it into your design at all? In that case, you should definitely check out these adorably crafty burlap flowers that A Beautiful Mess made into a stunning autumn crown unlike anything else we've come across. Just because the real flower in your garden might start to wilt in the fall doesn't mean you can't go to the last few music festivals of the season looking like a nature queen!
6. Fresh coloured daisy flower crown
Are you determined to make your flower crown from real, fresh flowers for the most authenticity, but you're waffling between wanting something with lots of colour but also wanting something simple and playful? Then daisies are absolutely the flower for you! They're the kind of flower that will give you a classically whimsical look with lots of colours options but without starting to look to grand as you add more. See the whole idea in full detail on Refinery 29.
7. Fully floral crown
Perhaps you're not too bothered about the kinds or colours of flowers that you include in your crown as long as it's bright, fun, and full looking to give your look maximum natural style? In that case, we suggest using wide open blossoms that look like they've come to a full, happy bloom as opposed to smaller flowers that are still tightly wrapped and look like they need a little more time in the sun before they open all the way. The Wonder Forest is here to outline the idea for you a little bit better, just in case you don't quite know what we mean!
8. White and yellow faux blossoms
Is your primary goal in making yourself a flower crown to create a simple but bright colour contrast that will match your outfit, catch people's eyes, and really reflect the spirit of summer around you, but you're having trouble deciding on a scheme? Well, Green Wedding Shoes suggests using white and bright yellow for a great seasonal contrast and we'd have to agree with them! We especially love how they've combined wide open blossoms with smaller little flowers to give the whole thing visual texture.
9. Half flower crown
Maybe your personal style is every so slightly more subtle than some of the things we've shown you here and you're only looking to accent your outfit with just a few blossoms, even though you'd still like a complete crown? Then we think perhaps you'd prefer this blossom and branch crown featured on The Merry Thought! They've let the back of the crown stay au naturel with a pretty twisted showing of branches and vines while the front is adorned with flowers that all fall within the same pretty blush colour palette.
10. Pretty paper flower crown
Have you always been a fan of making things that are a little bit more artisan and uniquely handmade with your own personal touch, rather than pieced together? If you ask us, there's no going wrong with any type of DIY, but we totally understand that urge to create something from nothing with your own hands and customize it down to the last detail! That's why we fell so in love with this hand cut, twisted, and painted paper flower crown featured on The House That Lars Built! This piece surpasses being just whimsical and truly qualifies as wearable art.
11. Flowers and baby's breath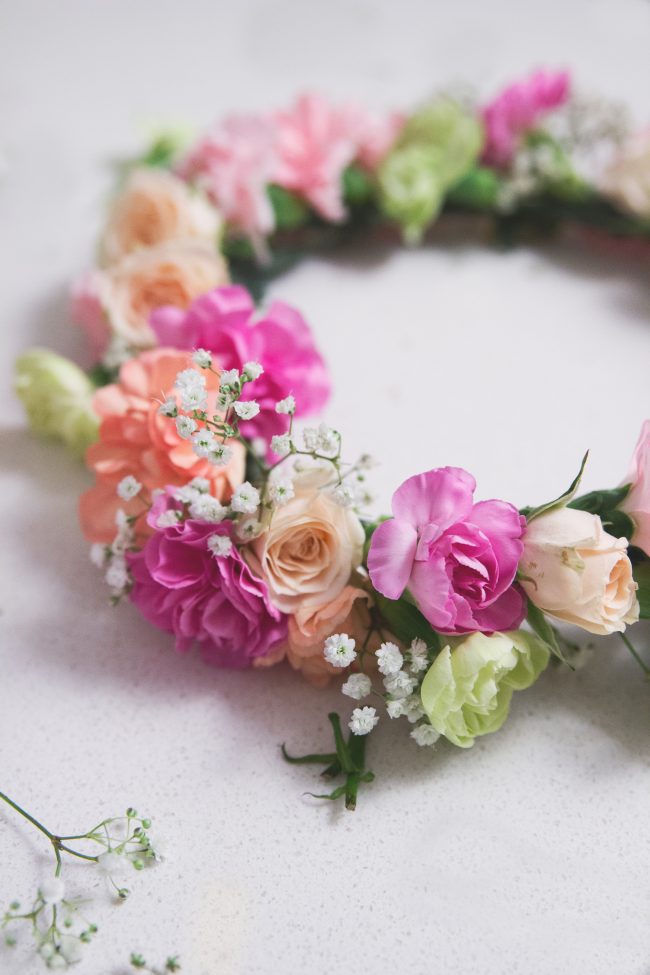 We've already shown you a lovely, delicate design made from just baby's breath, letting the oft overlooked flower take centre stage, but perhaps you absolutely love the look of baby's breath the most when it's used as an accent around and among your other favourite flowers? Then incorporate it into your custom DIY flower crown just like you would if you were selecting what to put in a bouquet at the floral boutique! Sisoo shows you the full instructions for making yourself one just like this.
12. Foam rose hairbands
Are you working on a budget right now and trying to create a set of lovely flower crowns for you and your friends but you'd really prefer to stick to supplies from the dollar store so the project doesn't get too expensive? Then follow in Garage Clothing DIY's lead and get your hands on some of those structured foam flowers! Besides looking incredibly realistic, they come in a wide range of colours and are great for gluing down onto simple hairbands because the glue bonds with them very well. You'll have an adorable matching set of crowns for you and your besties in just a few simple steps, and total on budget!
13. Stunning dried flower crown
Perhaps your favourite kind of flower to work with actually is the real kind, but there's something about a bouquet that's been allowed to dry out naturally that really just takes your breath away in a way that fresh flowers just can't do for you? We really appreciate the way the colours change when flowers dry, taking on a much more vintage appearance that becomes automatically stylish no matter what you're making. Dried flowers are very delicate and can be fragile, however, so you'll have to be careful when you're positioning them. Hi Lovely shows you how to do it all with a careful hand!
Have you created other beautiful flower crown designs that you were very happy with but you don't see anything quite like what you made on our list? Tell us all about how you did it or link us to pictures of your work in the comments section!