Cute Tea Light Candle Displays to Warm Up Your Space
Okay, okay- we know that tealight candles don't really give off that much warmth unless you're hovering your hand right over them (which isn't a very safe idea). Have you ever lit a candle, though, and suddenly realized just how warm the pretty glow of the tealight makes the space feel? Well, that's something we absolutely love, especially in the fall when the weather cools down!
Of course, any candle in your home is a great opportunity for some DIY work when it comes to display. Check out these 15 adorable, creative, and quirky tealight holders that you can make at home.
1. Mini pumpkin holders
Do you love nothing more than scattering your house with pumpkins the second the clock strikes midnight on October first? Then you'll love this tealight display idea by Martha Stewart! The tutorial shows you how to create a perfectly sized hole for a tealight in the top of a miniature pumpkin so you can make that classic fall decor glow without carving a whole bunch of full on Jack-o-lanterns.
2. Milk jug votives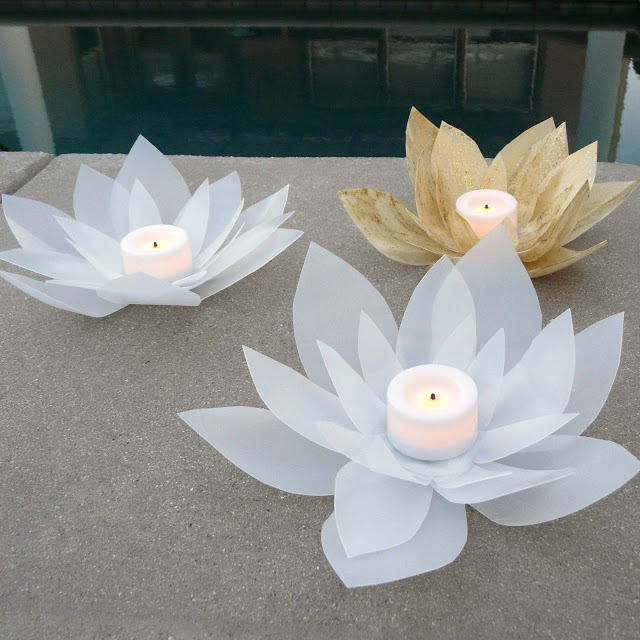 Are your favourite kind of DIY projects the ones that upcycle things around your home? Then make sure you wash out and keep those big two litre milk jugs your family zooms through, because they make great lily shaped votives if you cut them properly! Check out how these ones were made on Bliss Bloom.
3. Apple candles
Did you like the idea of the pumpkin candle holders, but you'd like a similar option for after Halloween is over too? Then take a look at this apple idea from Polka Dot Bride! We love the way the candle nestles snuggly right on top and we can picture it perfectly in the home office of a teacher.
4. Mercury glass candle holders
Mercury glass can be a difficult project sometimes because it's occasionally difficult to get a completely smooth metallic finish. We believe in you, though! We also believe that these super modern looking candle jars are totally worth the effort. Learn more about the technique at Homey Oh My.
5. Eggshell votive candles
Perhaps you'd prefer a novelty little votive set for each holiday of the year, rather than just for the fall season and Halloween? Then we definitely suggests these delicate little dyed Easter eggs in the spring! Felt Magnet shows you how they're done.
6. Mini terracotta votives
Are you a gardening enthusiast trying to build an earthy decor aesthetic around your home? Then these mini terracotta pot votives are definitely the right choice for you. Besides being adorable in a nice, simple way, these little planters are usually affordable too! See more details on Martha Stewart.
7. Punched paper votive covers
Were you hoping for a design that's a little more delicate or feminine looking? Then we really think you'll like this intricate paper hole punch idea! Grab your favourite scrapbooking punch, some thicker coloured card, and some complementary coloured tissue paper and follow the steps in this tutorial by Martha Stewart.
8. DIY lace cement votives
Say Yes has the ultimate hands-on candle holder DIY for people who like to get messy and creative! Not only does their tutorial teach you how to make your very own candle holders out of cement (which is certainly a unique achievement), but it'll also show you how to print them with a lace pattern for an extra pretty touch!
9. Chestnut votive centre piece
Have you ever heard the Christmas lyrics "Chestnuts roasting on an open fire"? Well, if you reverse that, you've just about described this awesome candle DIY from One O! This time, however, your open fire will glow atop a chestnut. These are easier to make than you might think!
10. Coffee bean votives
Do you love nothing more than the rich smell of warm coffee brewing in the morning? Okay, so maybe a tealight candle resting on coffee beans won't smell quite that good, but the adorable look of it certainly builds the aesthetic of a coffee connoisseur! Check out this simple, stylish idea on It's All About the Pretty.
11. Punched tins votives
Did you like the cutout cylindrical shape of the punched paper holders but you're wary of leaving candles burning in your home surrounded by paper? Check out this punched tin alternative from Project Wedding instead!
12. Seashell candles
Are you hoping to preserve the summer sun, or at least that cheerful feeling you get on a sunny summer day? Believe it or not, you can totally do that through home decor! We absolutely love this seashell candle votive idea from Burkatron and can picture it perfectly in a beach themed bathroom or kitchen.
13. Nespresso capsule candle flower
Do you have an automatic coffee machine at home that you love using, but that you feel a little guilty about because it produces so many plastic capsules? Fix that by making use of those cups in DIY projects rather than just throwing them out! We love how reclaimed chic this floral Nespresso cup candle holder by Craft and Fun looks.
14. Paint dipped balsa wood tealight holder
Do you enjoy making decor pieces that are simultaneously minimalist and colourful? Then A Beautiful Mess has the perfect DIY candle holder project for you! These simple stands are made of balsam wood dipped carefully in whatever cheerful shade of paint you choose.
15. Lacy vellum paper luminaries
Vellum paper is a gorgeous DIY tool because it's subtle and slightly sheer, making it perfect for pairing with the soft glow of a tealight candle. Check out how Martha Stewart made these gorgeous candle shades using delicate paper doilies for detail.
Have you made other styles of tealight candle holders and votives that you don't see on our list? Tell us all about them in the comments section!