Cute Tea Light Candle Displays to Warm Up Your Space
Okay, okay- we know that tealight candles don't really give off that much warmth unless you're hovering your hand right over them (which isn't a very safe idea). Have you ever lit a candle, though, and suddenly realized just how warm the pretty glow of the tealight makes the space feel? Well, that's something we absolutely love, especially in the fall when the weather cools down!
Of course, any candle in your home is a great opportunity for some DIY work when it comes to display. Check out these 15 adorable, creative, and quirky tealight holders that you can make at home.
1. Mini pumpkin holders
Do you love nothing more than scattering your house with pumpkins the second the clock strikes midnight on October first? Then you'll love this tealight display idea by Martha Stewart! The tutorial shows you how to create a perfectly sized hole for a tealight in the top of a miniature pumpkin so you can make that classic fall decor glow without carving a whole bunch of full on Jack-o-lanterns.
2. Milk jug votives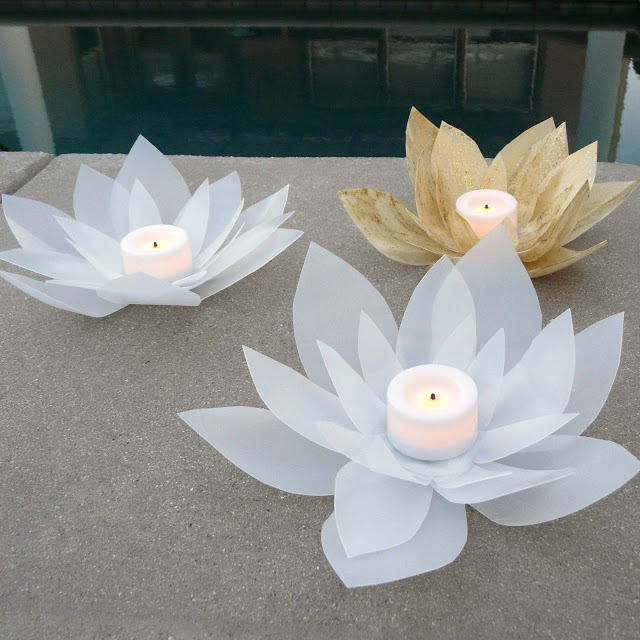 Are your favourite kind of DIY projects the ones that upcycle things around your home? Then make sure you wash out and keep those big two litre milk jugs your family zooms through, because they make great lily shaped votives if you cut them properly! Check out how these ones were made on Bliss Bloom.
3. Apple candles
Did you like the idea of the pumpkin candle holders, but you'd like a similar option for after Halloween is over too? Then take a look at this apple idea from Polka Dot Bride! We love the way the candle nestles snuggly right on top and we can picture it perfectly in the home office of a teacher.
4. Mercury glass candle holders
Mercury glass can be a difficult project sometimes because it's occasionally difficult to get a completely smooth metallic finish. We believe in you, though! We also believe that these super modern looking candle jars are totally worth the effort. Learn more about the technique at Homey Oh My.