15 Adorable Crocheted Doll Clothing Patterns
When we were much younger and had just learned how to crochet, one of the very first kinds of projects we learned how to make completely was doll clothing! That's definitely not to say, however, that all doll clothing is simple or easy to do. While some of it is great for beginners, we have since discovered that there are plenty of intricate doll clothing patterns for more experienced crocheters as well. That's part of the reason they remain one of our favourite projects to do as time goes on.
Check out these 15 stunning crocheted doll outfits that make wonderful gifts for the kids and collectors in your life!
1. Lavender Rose dress
This beautiful pattern by Amy Carrico is a complete set featuring a dress, and beret, and little booties, and what's better than a whole look in one project? As you can tell by the name, this pattern was titled after the original design, which was made in the pretty purple you see here, but that doesn't mean you couldn't make it in other nice colours too!
2. Doll Lace Tunic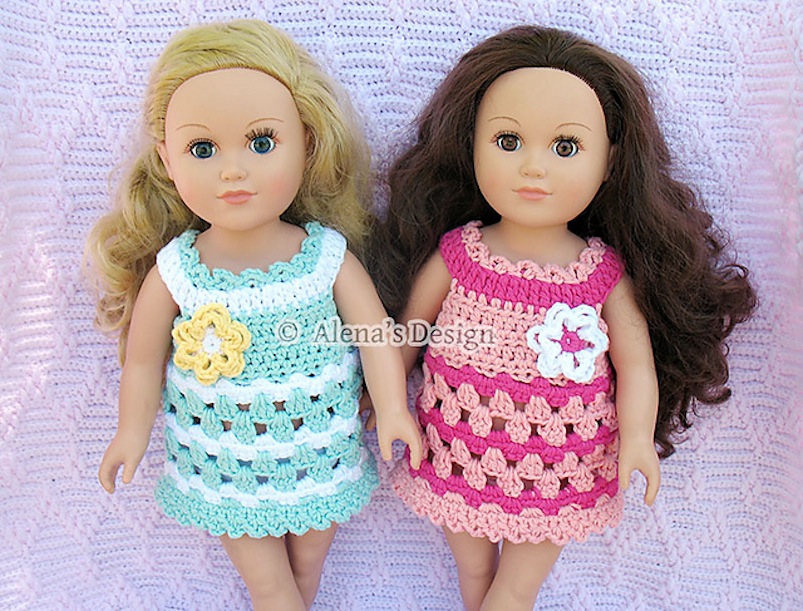 Have you always been a fan of casual lace tunic dresses on actual little girls while they go about their days in warm summer weather? Then why not make your favourite little girl's dolls a set of pretty dresses to match? This pattern by Alena Byers is simple enough to be a good introductory pattern to crocheted lace for those who are just learning, but it'll still be very impressive in the end!
3. Minnie Mouse dress
Do you know a little girl or a doll collector who loves Disney more than anything else in life (except dolls, of course)? Then this adorable Minnie Mouse inspired outfit is the perfect gift for them! Wanetta Cavanaugh guides you through the process of making the outfit and the mouse ears hat, as well as an adorable pair of matching doll slippers to tie it all together.
4. Rain coat and hat
Just like real little girls need clothing for all weather days, so do their dolls! That's why Ase Bence designed this adorable rain coat and hat set! It's sized for an average sized American Girl doll, which makes it a versatile pattern both because those dolls are so popular right now, and because it's quite an average size for many different brands of doll.