Crafty Ways to Document Your Year
Just because the year has already started, however, doesn't mean that it's too late for you to set new goals and try new things. Maybe one of your New Year's Resolutions was to get back into crafting or do more creative things in your spare time?
February is also the perfect time to start projects that document your life! Whether you prefer pictures, writing, or keepsakes, there are countless creative ways to display the important things you do this year so that you can look back on them later. By the beginning of 2017, you'll have a whole year's worth of great memories to browse when you're feeling nostalgic!
Check out these creative ways to document each of your special moments this coming year.
Cue cards, year by year
Some journaling ideas are good for more than one year! If you like the idea of continuing your project for years to come as well, try keeping track of your best moments on cue cards. Label a cue card with a date (month and day) for each dat of the year and prop them up in a decorative box, a container, or whatever you please. Separate the months with coloured paper, cute post cards, or old bookmarks. Every day, write the year and what you did that day. Remember, the goal is short and sweet, so each day only gets one line! When you're finished the whole year, start from the beginning in 2017! A few years from now, you'll be able to read a memory from that same day every time you make an entry.(Photo source: Design Sponge)
Journal-in-a-jar
Maybe you like the idea of journaling but writing long entries discourages you. Why not keep it short and sweet? Each day, write down what the best part of your day was on a piece of paper and date it. Put it in a jar (you can even decorate the jar if you're feeling extra crafty) and place the jar somewhere easy so you'll remember to do it every day. If you're ever feeling down and out, reach into the jar and choose a little piece of positivity to brighten your mood!(Photo source: Musings from Mommyland)
A jar of prompts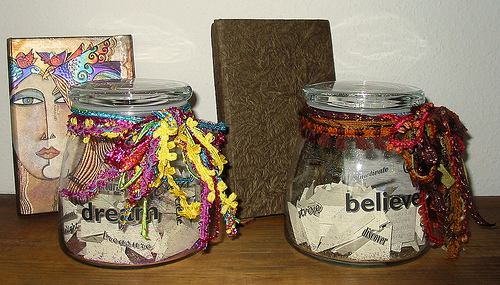 Not every journal has to be about what you did that day! Some people prefer to journal every day about what they're thinking or feeling instead. The problem is making sure you have something good to write about on days when your thoughts are still. Try a jar of journaling prompts! Before you start your project, write the names of topics, feelings, things, or people on little pieces of paper and fill a jar with them. Think of as many as you can! On days where you're having trouble writing as much as you'd like, choose a random prompt from the jar and write about what's on the card!(Photo source: Daring to Live Fully)
Thankfulness journal
Journaling is a practice in more than just documenting your daily activities. It can also be a way to teach yourself how to value the positive things in your life! Instead of just writing down the chores you did or the shows you watched, try sitting down at the end of each day and writing down something you're thankful for. At the end of the year, you'll see how lucky you really are!(Photo source: Janet Stobie)
Sketch journal
Some days, writing about your feelings just doesn't do whatever you're going through justice. If you're feeling particularly joyful or perhaps too sad to talk, trying to put those emotions into words can be overwhelming. Maybe you'd prefer to communicate in shapes instead? Keep a journal of sketches for one year, drawing what you're feeling or thinking about at the end of each day. Not only will you remember those feelings looking back, but you'll also have a beautiful artistic showcase to share if you feel comfortable.(Photo Source: Candace Rose Rardon)
DIY travel journals
Are you an avid traveler with a new destination planned out the second you get home? Maybe journaling about each trip you take would be more your style than journaling every day! During your trip, gather keepsakes to build a small scrapbook when you get home. Keep paper shopping bags from stores you've never been to, menus and event programs, and entry tickets. Write something about the things you saw at the end of every day. Put it all together at the end of the trip and voila! A gorgeous account of your journey.(Photo source: Patmiaou)
Envelope journal
What's better than writing in a fresh, blank notebook? Making your own creative book to record your day in! Why not shake things up a little by using envelopes instead of regular pages? Write your journal entry on some paper, fold it up, and pop it into the envelope labeled for that day. If you really want to run with the theme, format your journal entry like a letter to yourself or someone you love.(Photo source: Popsugar)
Junk journal
The idea is simple- take a journal and literally fill it with junk! Okay, so maybe you'll want to leave out pieces of garbage and such, but keeping a junk journal is a great way to document a year in your life for non-writers. Rather than talking about what you did, you'll collect things you used, saw, or found! Glue candy wrappers, movie stubs, pieces of fabric, and so on to the pages of your journal. If you feel like including captions or a little summary about your day, write around the junk or maybe even right on top of it!(Picture source: Little Black Kitty)
Movie stub journal
Are you a movie buff who never misses the latest box office hit? Save those ticket stubs and paste them into a movie journal! You can keep your journal in seasons to track the biggest movie of the summer, or in years so you can look back on which films you liked best in 2016. If movies aren't your thing, try this idea with concert tickets or musical playbills!(Photo source: Eu, Ele e as Crincanas)
Fabric journal
The inside of the journal is usually the important part, but that doesn't mean the outside can't be meaningful as well! At the beginning of the year, go through your clothes and find things that you enjoyed wearing, but that you've outgrown and that have become worn out. Cut them into strips or squares and sew a small quilt cover for the front of your journal. If you're not a sewer, paste them to the cover in a patchwork pattern! This journal lets you write about things that mean something to you under a cover of clothing that you once made memories in.(Photo source: Rebecca Sower)
Paint chip journal
This journaling idea is perfect for people with very little space but who love bright colours! Gather paint sample cards in your favourite shades and number them with the days of the year. On each square, write something about your day. It can be anything you like! Put the cards in an envelope, turn them into a collage, or punch a hole in the top corner of each and string them on a ribbon to make a little flip book. It's short, sweet, easy to store, and bright to look at.(Photo source: Amber O'Connor)
Trinket journal
Sometimes your day is notable because of the things you find! Create a journal made from pieces of transparent vinyl sewn together to form a book. Each page is a pocket that you can please things inside of. Think small trinkets like keys, buttons, old jewelry, and so on. At the end of the year, you'll have a collection of objects that remind you of all the places you've been and people you've seen!(Photo source: F*ck Yeah, Book Arts!)
Eco-friendly journal
Journal writing is already a DIY project, but making it a craft through and through can be even more fun! Why not upcycle some household materials and turn them into something you might keep forever? It's amazing what some paper bags, an iron, and a little glue can achieve!(Photo source: Judy Wise)
Upcycled book
If your journaling is very writing-heavy, then this idea might not be the best one for you. If, however, you prefer doodles, quotes, notes, and trinkets, then transforming an old book into a log of your year can be a lot of fun! You might even learn something new from an old book you've never read before. Get customizing!(Photo source: All Women's Talk)
Have you ever created your own unique DIY journal? Tell us about it in the comments!