DIY Cat Toys Your Furry Friends Will Love
Cat lovers know that our furry friends deserve the absolute best. There are hundreds of toys available at the store, but many of them have pieces that cats shouldn't chew on and some fall apart easily. Instead of wasting money on trinkets that won't last, why not craft your cat something fun yourself?
Check out these creative DIY cat toys that will give you both hours of fun!
Catnip yarn balls
Trend Hunter shows you how to make these adorable mini yarn balls that will drive your cat crazy- in a good way! All you need is:
Cat nip
Styrofoam craft balls
Mod Podge
Yarn
Paper
A hot glue fun and hot glue sticks
Menswear mice
Martha Stewart's tutorial for turning clothing into toy mice is perfect for sewing enthusiasts. This project upcycles old clothing (of course, you can use more than just menswear) and will have your cat running around in no time.
Toilet paper treat puzzle
If you've ever seen a cat tear apart a roll of toilet paper, you know how destructive they can be when they play. Catster shows you that cheap materials work well for DIY cat toys for precisely this reason! Collect some toilet paper rolls, glue them together in a shape you like, and pop a treat into one of them. When you set the puzzle down on the floor, your kitties will have to find the treat inside!
Pom poms
Knitters rejoice! Popsugar reminds us that the same cute pom poms you make for hats and scarves also make great cat toys. Next time you're making pom poms for projects, use up some old yarn scraps by making a few extras for your feline friends!
Crochet jingle fish
Ravelry's free pattern shows you how to crochet an adorable fish toy and fill it with cat nip or a jingling ball. No matter which option you choose, this fish will be your cat's new favourite thing in no time.
Mylar crinkle ball
Hopefully you don't come into contact with emergency shock blankets very often, but if you've ever seen one, you've probably noticed the neat material they're made out of. Mylar is shiny and makes a crinkling sound when it moves. Balls made out of these shock blankets, like Good Dogs Co did,  will keep your cats busy for hours
Plastic bottle puzzle feeder
The pyramid shaped toilet roll puzzle we already talked about is a great way to let your kitty enjoy a game and a treat at the same time. For cats who need a little more exercise before they get their reward, however, try All You's plastic bottle feeder! The more your cat rolls and moves the bottle, the more likely they are to make a treat pop out.
Cat perches
Okay, so technically these cat "perches" aren't toys, but playful cats love nothing more than climbing! Foxflat's simple cat perch idea uses particle board, shelving brackets, and pieces of carpet to create a scratch-able platform that any cat with love jumping to and from!
Tube Playhouse
Lowes shows you how to make the perfect playhouse for cats who like to jump, scratch, and hide! You can even add a few custom additions, like strings hanging down for your cat to chase from all angles.
Catnip zombies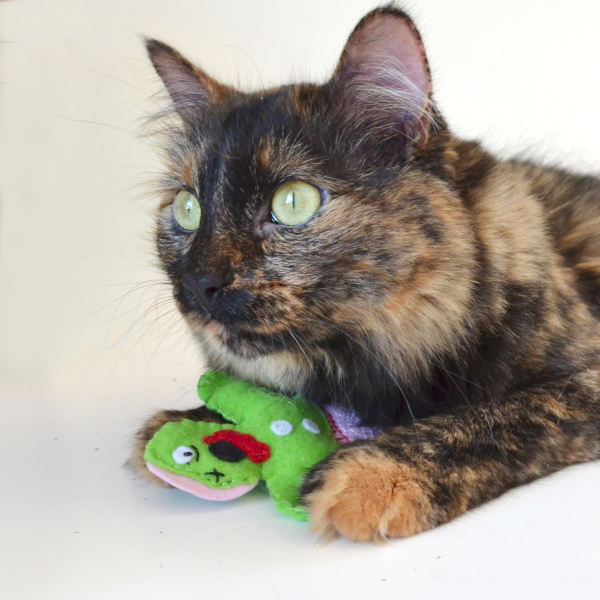 Okay, maybe some DIY cat toys are designed to amuse the human just as much as the cat. Dream a Little Bigger's tutorial shows you how to create a catnip-filled zombie using simple cutting and sewing techniques. Your cat will love their catnip creation and you'll get a kick out of watching your cat fight the zombie apocalypse!
Ribbon and ruler toy
Bowdabra has the perfect solution for any loose ribbons in your crafting kit. Using an old ruler, this tutorial shows you how to create a toy that cats will love to chase. If you don't have spare ribbons, shoelaces will also do the trick!
DIY cat tent
For some cats, playing and hiding are the same thing! Instructables shows you how to upcycle an old t-shirt to make your cat this easy but adorable cat tent. When your kitty is tired of playing hide and seek, this project will double as a cozy bed too!
Cardboard box maze
Not only does this project give you a way to recycle, but it can also be customized! Check out the video on Makezine to learn the basics and then create a maze of any size, shape, or configuration. Your cat will explore it for hours.
"Heavy duty" cat toy
Every cat owner knows how quickly their furry friend's teeth and claws can destroy things. Pretty cat toys from the nearest pet store don't always withstand Fluffy's ferocious playtime attitude. If your cat goes through toys like it's his job, check out I Eat Food for a great tutorial on making your own longer lasting cat toys!
Socktopus
One Good Thing's no-sew pattern for making an adorable octopus toy is the perfect way to make use of old socks or socks whose partner has been lost in the dryer. All you need is an old sock, some string, some cotton stuffing and a pair of scissors! If you want your socktopus to look especially cute, go ahead and add some googly eyes! These will probably intrigue your cat even more.
Do you have other great ideas for DIY cat toys? Tell us what you've made your furry friend in the comments!