15 Creative Candy Bouquets That Will Make Your Mouth Water
Floral centre pieces and flower bouquets make wonderful home and party decor. They also make great gifts! Some people, however, are allergic to flowers. They're also not the most kid-friendly idea in the world. If you're very intent, however, on the idea of a bouquet or centre piece, you can still make one of your own… using candy!
Check out these 15 ideas for delicious and completely adorable looking candy bouquets that will make your mouth water!
1. Potted lollipop tree
Crafts n Coffee shows you how to make a little potted lollipop tree by putting a foam ball inside the bottom of the pot and poking lollipop sticks into it so they stand up and around like an adorable, colourful bouquet of flowers.
2. Football candy bar bouquet
Are you looking for an unconventional treat idea for after your child's season end football game? These football themed candy bouquets are the perfect option! They also make cute, decorative dessert options at Superbowl parties. See how Terrell Family Fun made these ones.
3. Chocolate candy sleigh
Candy bouquets make great gifts at Christmas time too! Instead of just making the arrangement look like a pot of "flowers" like some of the other ideas, try building a little candy version of Santa's sleigh, just like these ones from Jak Health.
4. Candy barbie doll dress
Does your child have a special occasion or landmark to celebrate? Do they enjoy chocolate and candy more than they like baked goods or cake? Build them a candy bouquet instead! You can make it extra exciting, however, by shaping the candy to look like a Barbie doll's dress rather than a bunch of flowers. It's Casual Friday shows you how it's done.
5. Candy poppin' bottle rockets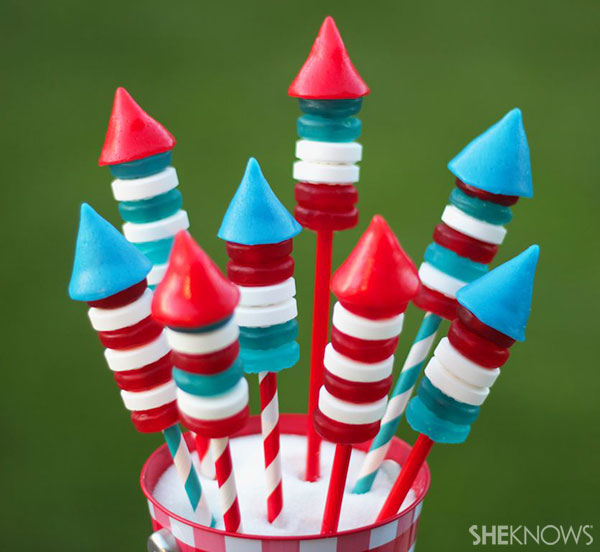 Sometimes candy bouquets are the easiest way to serve a snack at a kids' party without having to get everyone a plate and cutlery. Skewer gummy candies like little kebabs and stand them up in a little bucket of sugar, just like She Knows did here!
6. Candy cane flower vase
Do you have plenty of vases but none that really suit your Christmas or holiday decor? Instead of buying a new one, try transforming a vase you already own into a holiday centre piece using candy canes! Get the steps for this project at Living Well, Spending Less.
7. Soda can candy bouquet
Candy bouquets are cute looking no matter what you put them in, but sometimes it's nice to style them a little. Putting candy kebabs inside an empty can of pop says "sugar rush" like no other! Miss Kopy Kat shows you how to make one just like this.
8. Valentine's Day candy sundae
Cute plush toys and heart shaped trinkets make fun gifts on Valentine's Day, but some people just want the holiday candy! If your loved one has a sweet tooth, grab a milkshake cup and fill the inside with little candy bars, then make candy kebabs to stick out the top! Check out how Between Naps on the Porch made this beautiful candy milkshake bouquet.
9. Candy box and candy sticks bouquet
Does the person you're making a candy piece for prefer sugary sweet candies to chocolates or gummies? You can still turn them into a cute bouquet! Pizzazzerie shows you how to attach candy packages to kebab sticks and make a "vase" from bigger candy boxes.
10. Ribbon-filled candy land bouquet
Do you like the idea of putting your bouquet in a vase but the recipient's favourite treats don't come in a miniature version to fill up the inside? Consider following in Fun with Barb and Mary's footsteps and filling the inside of a glass case with pretty curled gift ribbon instead!
11. Peppermint topiary trees
Do you love the look of candy bouquets and decor even if no one intends to eat it at the end? These adorable little mint topiary trees make super fun Christmas and holiday decor, even if the process of making it takes away your ability to snack on the mints later. Show, Tell, Share teaches you the steps.
12. Big potted lollipop flower
Do you want to make a candy bouquet but you're concerned that not all of the candy will be eaten before it goes stale because some of these ideas are so large? This lollipop flower idea from Primitive and Proper lets you make a bouquet that's equally awesome to the others but with less candy so nothing goes to waste.
13. Lollipop malt milkshake bouquet
Did you like the malt milkshake idea from earlier on the list but you're not sure the person you're making for will eat chocolates and other candies? Try this version from Rada Cutlery that's made only with lollipops! We love that it looks like a little rounded, ice cream topped milkshake, only colourful.
14. Googly eyed lollipop tree
Perhaps you like the first potted "plant" idea on this list, but you'd like to make it for a kid who's into freakier things than just bouquets? Crafts n Coffee suggests making things more playful by sticking googly eyes all over the pot and the lollipops and adding eyes stuck on the ends of curled pip cleaners to make it look like a lollipop monster!
15. Twisting candy jar flower
This gorgeously creative flower jar idea from 30 Minute Crafts is a great way to give your loved one their favourite small candies without giving them so many that they go to waste. It also keeps all the little pieces in one place. When the candy's been eaten, they have some new, totally adorable decorative storage for whatever they like!
Have you made other styles of candy bouquets that you don't see here but that you're very proud of? Tell us about how you did it or link us to pictures of your work in the comments section!